7Likes
New Slash Race Replica Body
08-09-2018, 10:07 AM
Administrator
Join Date: Sep 2015
Posts: 118
New Slash Race Replica Body
---
Already renowned for speed, durability, and unbeatable fun, the 2WD Traxxas Slash (58034-1) is now available with a hot new Keegan Kincaid edition race-replica body. Black split-spoke wheels with satin beadlocks complete the package for an aggressive new look.
Slash Features:
· TQ 2.4GHz Radio System
· Waterproof Electronics for All-Weather Driving Excitement in Water, Mud and Snow!
· 30+mph* Top Speed!
· Titan® 12-Turn 550 Modified Motor
· XL-5 Waterproof Electronic Speed Control
· Metal-Gear Magnum 272™ Brushless-Ready Transmission
· ProGraphix® Painted and Trimmed Race-Replica Body
· SCT tires mounted on Black/Satin 2.2" Slash wheels
· Powder coated progressive rate white springs
· The speed control and receiver are mounted directly to chassis
· Adjustable steel turnbuckles with captured rod ends
· Includes optional 23-tooth pinion gear
·
Includes 4-amp DC Peak-Detecting Fast Charger and 3000mAh 8.4V NiMH Battery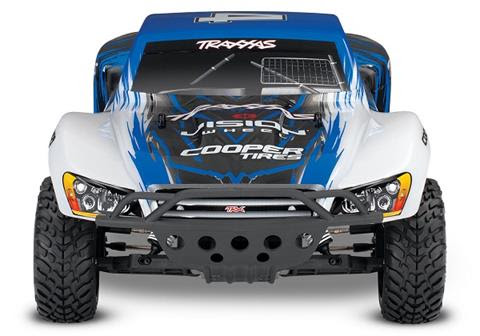 58034-1 UPC: 020334586810
Slash: 1/10 Scale 2WD Short Course Racing Truck. Ready-to-Race® with TQ 2.4GHZ Radio System XL-5 ESC (Fwd/Rev), and ProGraphix® Painted Body. Includes: 7-Cell NiMH 3000MAH Traxxas ID™ Battery and 4-amp Peak Detecting DC Fast Charger
08-22-2018, 12:30 AM
Tech Elite
Join Date: Dec 2012
Posts: 2,996
---
looks good, i was wondering how old is this platform now ?
08-27-2018, 05:25 AM
---
09-23-2018, 08:45 PM
Tech Rookie
Join Date: Sep 2014
Posts: 19
---
Slash is what got me hooked into this hobby! We club raced SLASH for a year. Great fun. Now I have more cars than I know what to do with. How did that happen! hahaha Nice looking SLASH!
10-29-2018, 08:16 PM
Suspended
Join Date: Oct 2018
Posts: 7
---
amazing article
11-06-2018, 02:22 PM
Suspended
Join Date: Oct 2018
Posts: 7
---
Good I needed a new body my fox body is tore up from the floor up n needs replacing, I like the white, black n blue pretty cool Traxxas
11-12-2018, 09:00 AM
Tech Master
Join Date: Aug 2015
Location: Rapid City SD
Posts: 1,139
11-13-2018, 08:32 AM
Tech Adept
Join Date: Feb 2017
Posts: 108
---
Thats good looking I like that, these guys do a great job and they definitely get people hooked on the hobby
01-19-2019, 10:58 AM
Tech Rookie
Join Date: Jan 2019
Posts: 6
01-22-2019, 10:56 AM
Tech Rookie
Join Date: Jan 2019
Posts: 6
06-02-2019, 07:38 PM
Tech Addict
Join Date: May 2004
Location: Arizona
Posts: 576
---
I love(ed) the stock slash class until it all but vanished....hey traxxas, rerelease using the LCG chassis and whatever mods and start the spec class revolution again.
06-10-2019, 09:10 PM
Tech Rookie
Join Date: Jun 2019
Posts: 10
---
This body scheme is nice
06-10-2021, 07:42 AM
Tech Rookie
Join Date: Feb 2019
Posts: 1
---




When introduced in 2008 the Slash featured two of their new features; all Metal geared transmission and water-proof electronics.



Do some of the Traxxas chassis date back to the mid 90's? Yes it's why so many in our sport/hobby started out with a Traxxas Stampede, Rustler or Bandit.
Currently Active Users Viewing This Thread: 1
(0 members and 1 guests)
Posting Rules
You may not post new threads
You may not post replies
You may not post attachments
You may not edit your posts
---
HTML code is Off
---