Roar Region 5 Offroad Race @ Summit R/C
05-12-2013, 12:35 PM
Roar Region 5 Offroad Race @ Summit R/C
---
Summit R/C Raceway will be hosting the Roar Region 5 Race this August 17th
All entries need to be in by August 1st. This is to ensure an indoor pit spot, help us get an accurate count for trophies and prizes, and ensure we get off to a smooth start on Saturday.
Feel free to print flyer out and mail it in to address on flyer, or you can scan and email it to us.
If you have any questions don't hesitate to call or email us.
[IMG][IMG]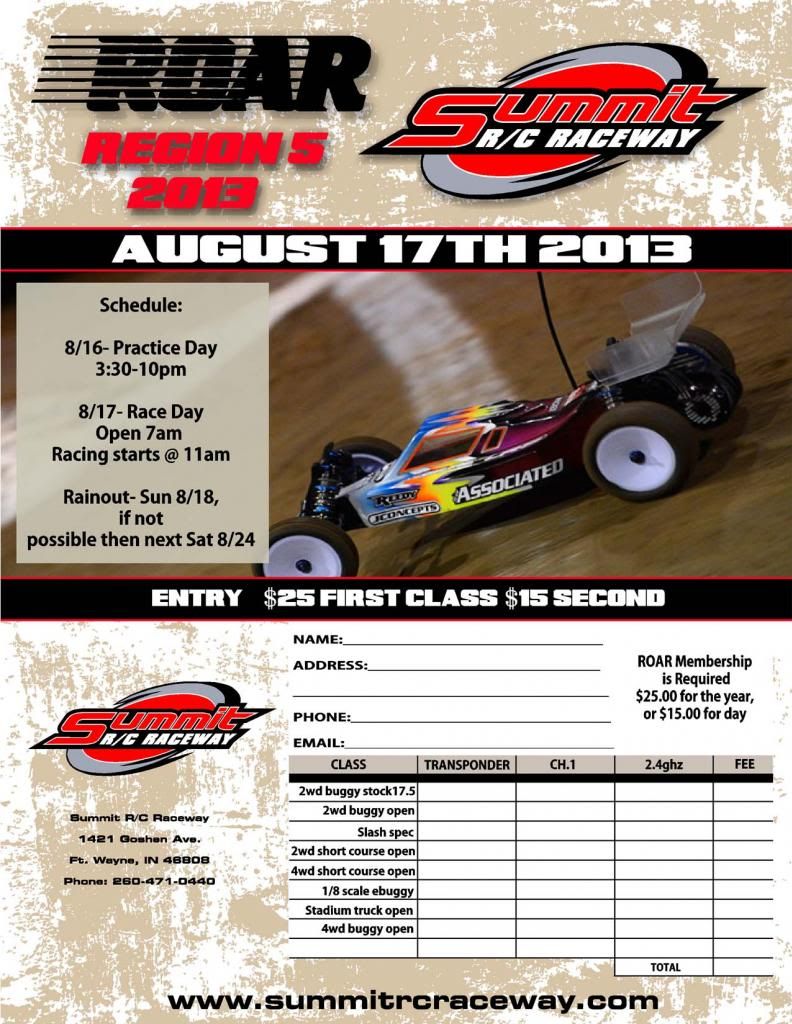 [/IMG][/IMG]
07-17-2013, 03:34 PM
07-18-2013, 12:32 AM
Tech Elite
Join Date: May 2006
Posts: 2,453
---
Indoor ac pits and a smooth not blown out track. One if the best elec tracks around.
07-18-2013, 02:24 PM
---
Summit Raceway is proud to announce that NOR-CALs own Kevin Jelich will be designing and building the layout for the 2013 Roar Region 5 race Saturday August 17th.

Kevin has been chosen to build the 2013 Roar Nationals and IFMAR Worlds tracks at Silver Dollar Raceway in Chico, California among many other Nationals tracks.

He will be at Summit Raceway building the track August 2nd-4th. Feel free to stop by and check out the progress.

*Like and share our Face book page for an opportunity to win a free entry to this race. Drawing will be August 10th.
07-20-2013, 08:27 AM
---
What is the policy for if I pre-register for the 17th and it gets rained out? I can not make the 8th or 24th with my job?
07-20-2013, 08:30 AM
07-20-2013, 02:59 PM
07-21-2013, 02:28 PM
---
2013 Roar Region 5 Offroad Race
Track Address:
Summit R/C Raceway
1421 Goshen Ave.
Ft. Wayne, IN 46808
http://summitrcraceway.com/
Hotel Info:
Regency Inn 260-484-9730
Red Roof Inn 260-484-8641
Knights Inn 260-484-2669
Best Inns 260-483-0091
Clarion Hotel 260-484-7711
Econo Lodge 260-484-6262
Travel Inn 260-484-6764
Motel 6 260-482-3972
Valu Lodge 260-482-4511
07-22-2013, 07:28 AM
---
By mailing in the registration form does that guarantee me an indoor ac pit spot?
07-22-2013, 07:31 AM
07-22-2013, 07:38 AM
---
Awesome. Thank you. I misread and thought I had to pre pay for that. I'm bringing my brother with me and he is kind of like a 7yr old girl. Lol
07-22-2013, 10:59 AM
07-24-2013, 04:07 PM
---
07-25-2013, 04:04 PM
07-28-2013, 03:55 PM
---
Entries are rolling in and pit spots are being reserved!
Make sure you get your entry in ASAP to ensure yourself an indoor pit spot in the A/C.
You can mail in entry form or email to us at
[email protected]
No payment needs to be sent. You can pay when you arrive.