Is GPM Racing Products Good?
12-11-2002, 11:15 PM
---
Originally posted by ernestf
this thread should really be renamed as "How bad is GPM". Someone get it wrong ...

Most the kids like GPM, as they think the car run better if it look better (is alloy parts really make the car look better ? i don't agree with that but most of the kids do).

As a conclusion,
Kids like candy, and GPM products.
Kids do like GPM alloy stuff coz it gives off the intimidation factor against the opposition. Analogy: i have a stock Losi XXX-s, somebody walks in with a Losi XXX-s Matt Francis edition, i might get intimidated by the sight of all the red stuff and might be forced to buy the stuff too. But i'm not the type to do the "monkey see, monkey do" thing. i prefer the stock look as it looks more right to me.
11-08-2009, 04:24 PM
Tech Master
Join Date: Dec 2008
Location: socal
Posts: 1,158
---
i have used their stuff on a savage build about 4 years ago, and i found that their stuff is much better than intengy's the alloy mix is stronger, and last longer. some pieces the edges are squared but that saves time, and extra machines making them cheaper to buy. (integy's parts are soft so the cutting bits last longer which makes them cheaper to buy) ever since that savage i have bought gpm alloy, fastlane, nova, parts no integy.
number one has alot of integy...i learned after this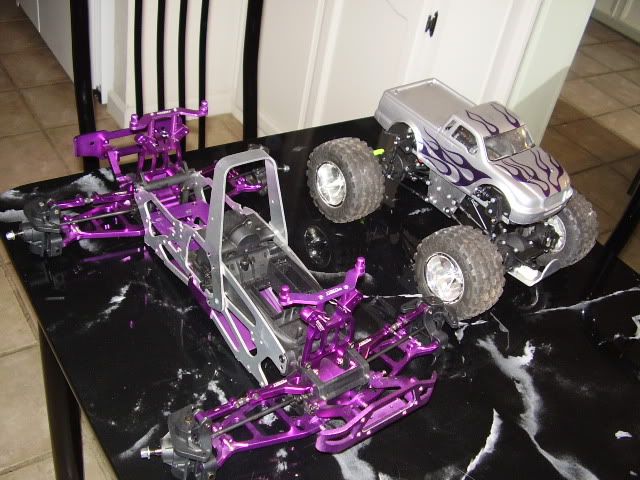 Originally Posted by
Tommi Makkinen
GPM may be good quality wise... but sometimes they slip up. i bought a mini-z motor mount but strangely the mount does not have the threads in them to put the screws in. it was a waste. i bought a team homies mount for my car and the GPM mount is on my table. a reminder to me to be wary of GPM in the future... Having said that, i'm using GPM narrow front and wide rear rims on my mini-z...
my first savage was missing parts while it was new in the box from the hobby shop, but yet i don't hate hpi. did you email gpm, if so how did they fix the problem? must have taken a week or so but you got the new part right?
02-22-2010, 01:33 AM
Tech Rookie
Join Date: Feb 2010
Posts: 3
Need help with finding good parts
---
I'm trying to make my hpi mt2 stronger. I want to make it all aluminum!! I'm having problems locating GOOD parts... I'm sick of braking stock parts and sick of my wife yelling at me when I buy new parts... I want to make my truck ALL aluminum and saw that GPM makes the parts I am looking for to complete my goal, I want to start buying the parts now to get it ready for spring/summer... I would like someone to point me to the best place to buy my ALL ALUMINUM PARTS... Thank you for your time...
08-22-2011, 08:19 PM
Tech Master
Join Date: Jul 2011
Posts: 1,458
---
I bought a full GPM aluminum chassis for a Savage XL. I didn't use it all in my build, but the chassis every piece fits perfectly. The lower arms had minimal scratches while the frame rails had been tweaked. Hmmm how soft is it really?!? If you make a all aluminum frame get ready to bend stuff, it's inevitable, but as tweaked as the frame was the GPM alloy is straight as an arrow.
Integy on the other hand i have bent and broken chunks off (rear carriers). Not only that but GPM also use titanium in a few places
.
I can understand bad experiences leave bad impressions. I've not had any bad experiences with my GPM parts, but you never know.
Keep in mind, if you play hard it takes a toke
09-04-2018, 08:58 PM
Tech Apprentice
Join Date: Nov 2011
Posts: 55
---
GPM parts are garbage.
Currently Active Users Viewing This Thread: 1
(0 members and 1 guests)
Posting Rules
You may not post new threads
You may not post replies
You may not post attachments
You may not edit your posts
---
HTML code is Off
---