SWEET WATER RACEWAY (WEST METRO ELECTRIC OFF ROAD RACING)
04-30-2012, 06:06 AM
SWEET WATER RACEWAY (WEST METRO ELECTRIC OFF ROAD RACING)
---
Hello all in Georgia RCTECH forum!
I am excited to let you guys know there is a new place to practice AND RACE some off-road RC right here on the West Metro Atlanta side of town!
The track is located on route 92, in between Hiram and Douglasville
The track main focus is 1/10th scale electric R/C, but 1/8thE are welcome as well!
This is a Private track, I am placing on the public forum to gain a few folks to race with us!
!!!!!!ALL RACING IS FREE!!!!!!
!!!!!!TRACK RUNS SOLELY ON DONATION BASIS!!!!!!!!
Track hours = (MON - FRI 3pm to 9pm) & (SAT - SUN 9am to 9pm)
Racing Schedule for this summer (May 5th - AUG 11th)
-EVERY Thursday night (racing @ 7pm)
-2 Fridays a Month
-1 Saturday a Month
-1 Sunday a Month
Track is/has:
-outdoor track
-medium size track (8-12" LANES)
-clay surface
-power
-Lights
-AMB 20 SYSTEM
-water
-concession
-out house bathroom
-good fishing (sweetwater creek)
Future plans:
-AMB RC3 SYSTEM
-Lights
-More power outlets
-More clay = More jumps
-driveway right off 92
Current address for track is 63 Marvin Park, Powder Springs GA, 30127. There will be a new address soon when new driveway from 92 is finished. When coming out just drop me a line here on rctech and/or call this number 770-943-7595 (Track number)
Here are some pics and vid of track as of now.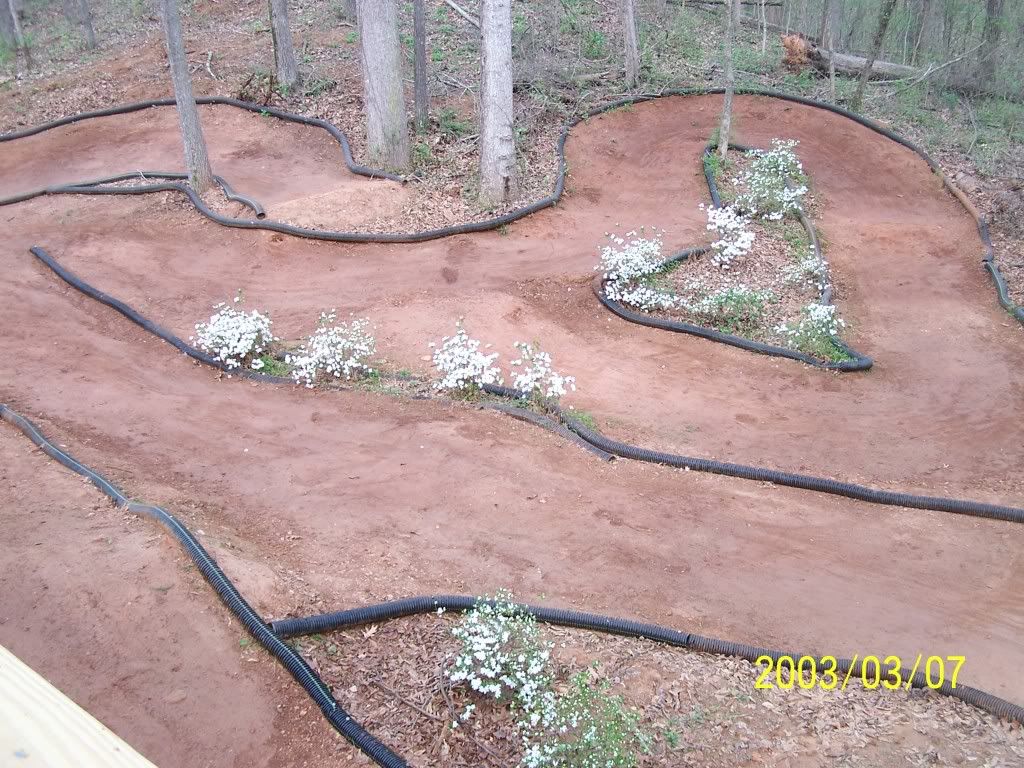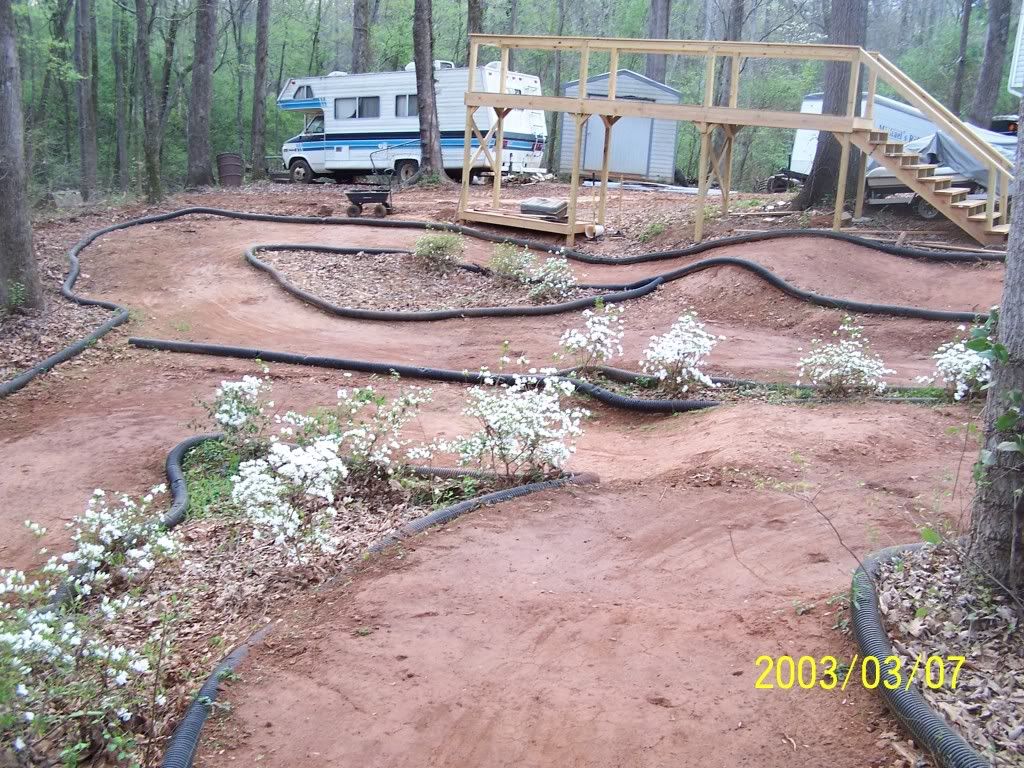 ---
Last edited by synap2012; 05-13-2012 at

08:17 AM

.
04-30-2012, 06:22 AM
---
Track video of current layout
!!!!!WARNING VIDEO CONTAINS RAP MUSIC!!!!!
04-30-2012, 06:25 AM
---
If anyone wants to help with testing the lap counting system out we are getting a few cars to gather this SAT (MAY 5th) for some soft racing!
05-01-2012, 12:56 PM
---
Thanks Bro!!!!! Its been alot of work over the years!!

I have been working on the track the past couple days, driving better each time I get on it! weather is looking good for the weekend too.


!!!!!!!!!!!!!!!!!ONE IMPORTANT CHANGE!!!!!!!!!!!
We are moving our test day from this SAT (May 5th) to the following day, Sunday (May 6th) Track opens at 9am and we will start racing (testing the system) when enough folks show up!

Bring what ever electric vehicle you got out and lets get some track time!
05-03-2012, 01:02 PM
---
!!!!!!!!!!!!!!!!!!!!!Racing Schedule and Classes for MAY 2012!!!!!!!!!!!!!!!!!!!!

ALL RACING IS FREE


----Thursday Night Racing-----
Date:
May 10th
May 17th
May 24th
May 31st

Classes:
2wd Open SCT
2wd MOD Buggy
4wd Open SCT

Start Time:
7pm

format:
2 qualifiers (5min)
1 main (8min)
1 Money Main (5min) (inverted qual order) ($5 buy in) (100% pay out) (Winner take all)
---
Last edited by synap2012; 05-03-2012 at

06:49 PM

.
05-03-2012, 05:57 PM
Tech Regular
Join Date: Sep 2007
Location: Atlanta/Savannah, GA
Posts: 487
---
Darn, thats too bad ... Ive got a 4WD SCT.
You need to have a "open" class available, Just for whatever shows up !
05-03-2012, 06:48 PM
---
twist my arm
OPEN 4x4 SCT will be run as well!
Help get the word out to the other 4x4's!
See you at the track!
05-04-2012, 08:51 AM
---
The track needed some rain! I am pretty sure the track will be ready to rock this Sunday for a Test run of the system!

I will keep you all informed on track conditions as we get closer.
05-05-2012, 06:51 AM
---
Track looks perfect for tomorrow! (May 6th) I will be out on the track early, so come on out!!!!!!
05-05-2012, 09:10 AM
Tech Adept
Join Date: Jun 2009
Location: Douglasville
Posts: 243
I'm in
---
I'll be there tomorrow around 10:00-12:00. Trying to get a couple buds to come with me but if anything else I'll Marshall and learn to run the amb.
05-05-2012, 10:03 AM
Tech Master
Join Date: Jan 2008
Posts: 1,089
---
I should be there around noon.I'll bring 4wd and 2wd sct and maybe 2wd buggy.
05-05-2012, 09:07 PM
---
Awesome. I'm totally game for this!!
I run both, 2wd Mod Buggy and 2wd SCT.. I have quite a few diff motor setups, so I'm open to running anything that people are more accustomed to or comfortable running with (motor-wise)
Plus, I work for myself, so I can make my own schedule and would be free to help out anyway I can, whenever!
Cheers guys, looking forward to coming out and running with ya'll!!
05-06-2012, 05:27 AM
---
Working on the track now, should be ready to rock by 10ish! See you guys soon!
05-06-2012, 07:51 AM
---
Light rain, just enough to water the track! Clay looks good!

I will keep you posted on the tracks condition, so far the track is fine.