**Georgia Local Buy/Sell/Trade **
08-12-2009, 10:49 AM
Tech Adept
Join Date: May 2009
Location: Mcdonough, Ga
Posts: 124
cleaning out the closet, take a look, stuff for sale
---
1. xray t1 fk with bmi chassis. set up for rubber tire or vta with integy set up station. add your electrics and have at it. foam tires are just for looks. have some spare parts and foam springs to go along with it, also another bottom plate. $150.00
2. recoil with cfex chassis and aluminum upgrades. add your electrics and have fun. $115.00
3. hpi e-firestorm with novak havoc 10.5 brushless, set up and ready to race. have multiple spare chassis parts for this one. no rx or tx is going to come with it, must add yours. this truck will be at turtle trax 8/29 for benefit race.
can change to factory electrics instead of novak if u like, will make rtr with hpi componants. $230.00 with novak system or $115.00 for hpi rtr system.
4. hpi sprint rtr with traxxas scorpion motor. ready to go add battery and take off. $115.00
5. two slash bodies, 1 slash/slayer body $15.00, 1 proline hard core with XXX moto livery (one split in the left rear corner) $45.00
-i only loaded a couple of pictures due to space, send me an email (
[email protected]
) and i can send some more if needed. text me @ 404-735-9849 to let me know what u want.
i am at hobby hangout on thursday and friday nights, just let me know if i can provide anything else.
************WILL TRADE ALL COMPONANTS FOR LOSI L8MODEL IN GREAT SHAPE, MUST HAVE ENGINE, NO RX OR TX.****************
---
Last edited by HONDANUT; 08-13-2009 at

06:36 PM

. Reason: UPDATE
08-18-2009, 06:39 AM
Tech Addict
Join Date: Nov 2007
Location: Roswell, GA
Posts: 703
Turbo 35 GFX charger.
---
I have a Competition Electronics Turbo 35 GFX for sale. Best offer takes it. Have not used it in a long time. The black plastic box has blemishes on it from some sort of chemical. Give me a call if interested. 404-323-5626. Possible trade for a Slash.
08-18-2009, 07:25 AM
Tech Addict
Join Date: Nov 2007
Location: Roswell, GA
Posts: 703
RC18T for sale.
---
I have an RC18T for sale with Castle Creations brushless motor/ESC combination. Comes with a 6-cell 1100mah Nickel Metal Hydride battery and a bunch of extra parts in a small sized clear parts bin. Also comes with one set of new foam tires/rims that have never been put on the car and a set of new off-road racing tires that have never been mounted. I have no idea what the market is for this type of thing right now, so any decent offer will get it. Although I have not touched it in a long time, I do remember that the thing is STUPID fast on the street or driveway. Probably way too much power to use on the dirt, so you would realistically have to get another motor/esc to mess around on a dirt track.
---
Last edited by toolmbx6; 08-18-2009 at

07:10 PM

. Reason: Was wrong about the battery.
08-19-2009, 05:59 PM
Tech Initiate
Join Date: May 2009
Posts: 38
---
I have a few items up for sale 1. losi 8e limited #039 2.savage flux ran maybe 10 times. May trade for T311 4043928837 call or text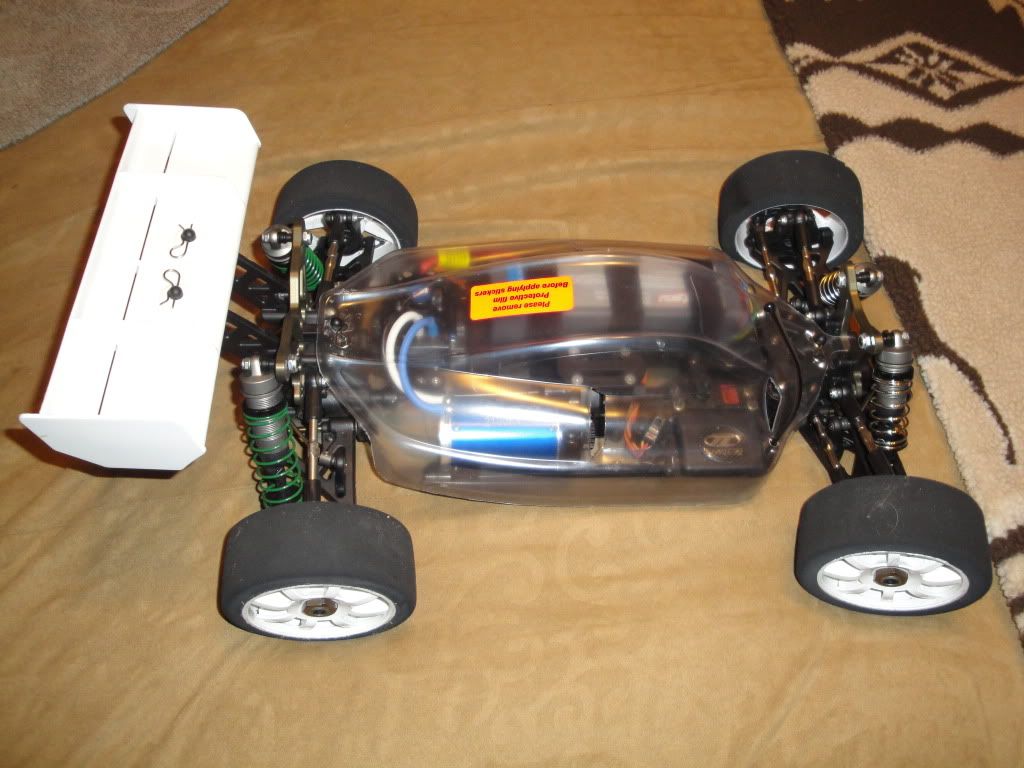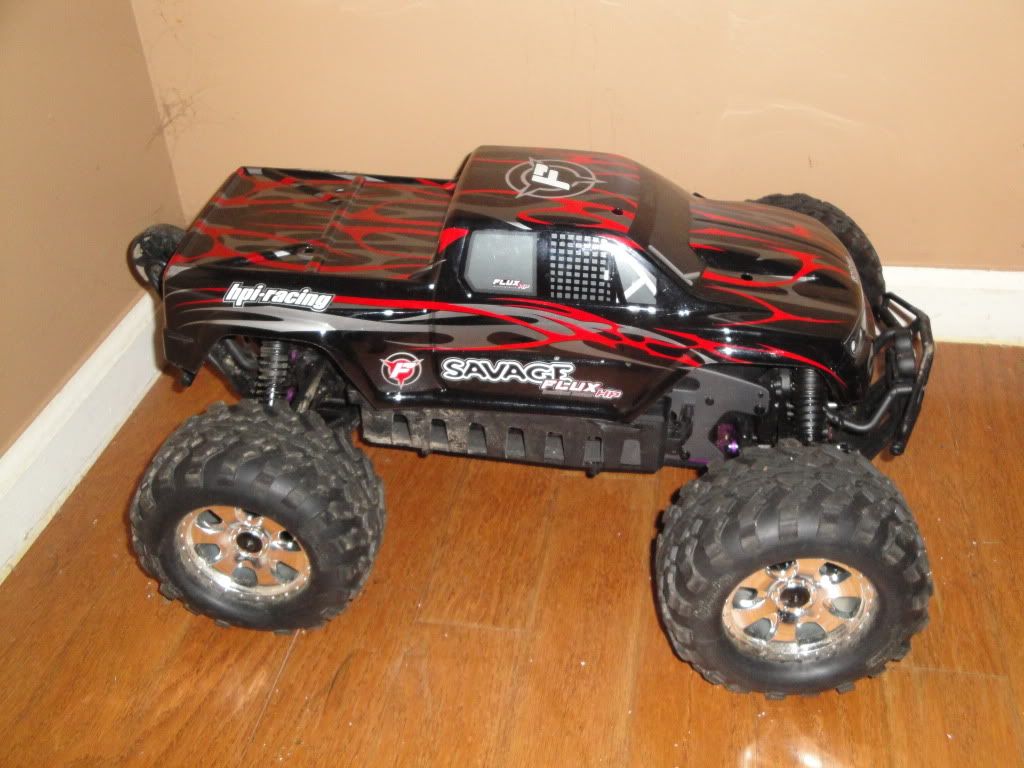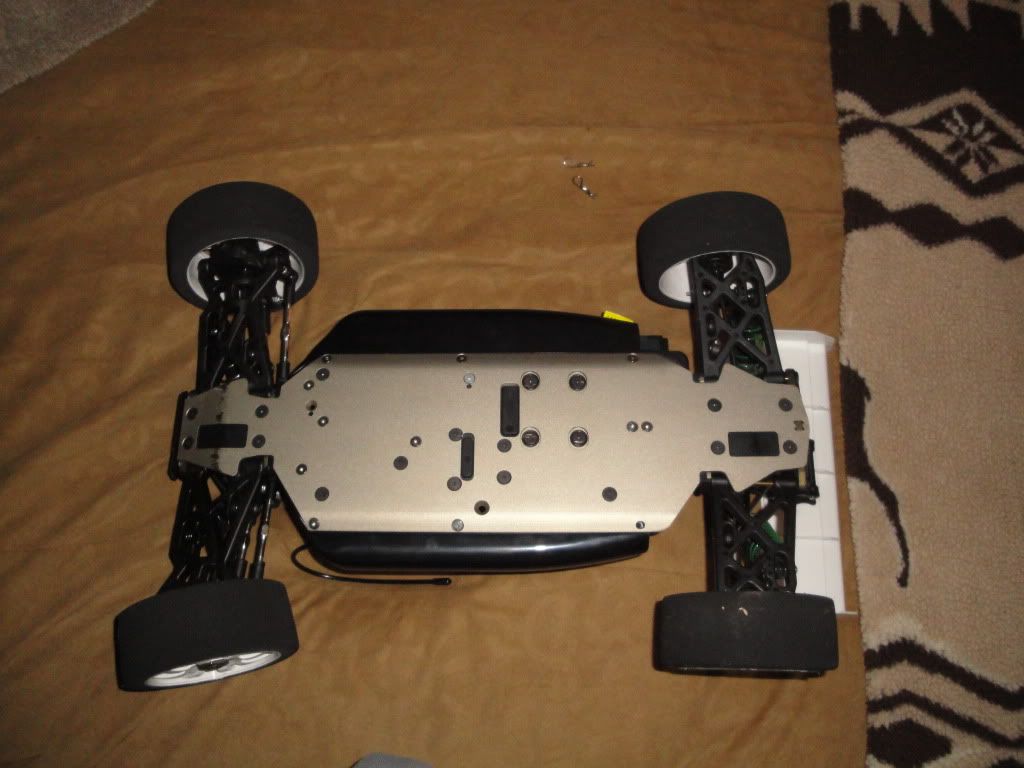 http://s976.photobucket.com/albums/ae249/dannie0203/
here is the link to see more pic's
---
Last edited by D0203; 12-17-2010 at

08:29 AM

. Reason: trying to sell
08-20-2009, 06:43 PM
Tech Adept
Join Date: Aug 2008
Location: dalton GA
Posts: 218
---
08-22-2009, 07:09 PM
Tech Addict
Join Date: Feb 2007
Location: Georgia
Posts: 749
On-Road Sell Out
---
I got a HB Cyclone that i don't really use anymore due to a job and school.
HB Cyclone
It has a messed up Top Deck but still runs fine.
Working GTB with 13.5 Brushless -
GTB Sold
13.5 Sold
Futaba Receiver and Servo
Has the 3PM radio with it
AMB Transponder -
Sold
Full Set of Xray/HB/Associated Springs
Xray Spings Sold
An array of spare parts
2 Bodies
5 sets of tires good for racing
2 sets of tires that are a bit old
Chargers
Brand New Triton EQ
Eagle Racing charger for Ni-Mh/Ni-Cd
Li-Po
SMC 4100 7.4v - Ran once
Sold
Tools
Full Integy tool set
2 T.O.P. Racing Tools
Heat sinks/Ride height guages
Accessories
MuchMore car stand
Ni-Mh/Ni-Cd Battery Case
Various Shock Oils
Sold
A Team Wingtote bag that is in good condition.
2 C0-27's (lol brushed motors)
STILL TRYING TO SELL ALL 8/29
I have no concrete price but im open to offers on all items individual and together.
PM me you email for pics.
678-986-0876 call me for more info.
Tyler Owenby
---
Last edited by TylerOwenby; 08-29-2009 at

08:40 PM

.
08-23-2009, 04:10 PM
Tech Fanatic
Join Date: Oct 2007
Location: Soddy Daisy, Tn
Posts: 784
OFNA 1/8 or 1/10 starter box Bump Box
---
gone. Thanks.
---
Last edited by Randy Nukem; 09-29-2009 at

04:27 PM

.
08-23-2009, 09:28 PM
Tech Master
Join Date: Oct 2007
Location: Cleveland, TN
Posts: 1,980
CEN Matrix FRE
---
CEN Matrix FRE (Factory Race Edition)
Comes with extra everything except electronics and motor, even has an extra race chassis (extended) for bigger tracks.
New lower price$200.00
for everything plus you pay shipping
Ive got a CEN Matrix FRE ( factory race edition) with 3 brand new diffs upgrade installed, lightweight composite chassis braces, Carbon fiber rear shock tower, Upgraded race front shock tower and Bell crank, and over 90 NIP parts ranging from $2.00 to $25.00 and so many spare parts slighly used that i don't have 3 days to count them including extended race chassis for big races. About 35 new and used clutch shoes, big handful of used springs, and 4 very used bodies and wings. Have several extra fuel tanks (Mugen, they're better), more shock springs than you can hold in your hand, tons of screws and bolts.
No motor or servo's included.
08-24-2009, 08:59 AM
Tech Regular
Join Date: May 2008
Location: ATL
Posts: 470
---
looking for 13.5 motor use in good conditions
08-26-2009, 02:27 PM
Tech Regular
Join Date: Jul 2008
Location: Stone MT. GA.
Posts: 336
Desert rat body
---
I have a new desert rat body for sale. (for slash) Asking 20.00. Send me a pm if interrested.
08-28-2009, 04:40 AM
Tech Regular
Join Date: May 2008
Location: ATL
Posts: 470
---
I have a P.T $75.00 (AMB)
08-29-2009, 06:16 PM
Tech Fanatic
Join Date: Feb 2008
Location: Dayton TN
Posts: 983
---
Hey guys I have a brand new losi xxx nt sport 2 for sale or trade for slash rtr, I was going to let my son have it, but due to not being able to buy 20% for it and 30% for my buggies i have to let it go . I am realy realy looking to trade for a rtr slash so my son can start racing with me. Its is brand new, never seen fuel but it dont have the box anymore and it has differant tires then stock. sombody please trade me a slash for it so my son can race.
09-01-2009, 05:52 AM
Tech Master
Join Date: Mar 2007
Posts: 1,070
FUTABA BLS 351 - FUTABA BLS451
---
FOR SALE or TRADE !
FUTABA BLS 351 – Only used once, damaged connecting wire. Futaba
replaced wire. Like NEW !
FUTABA BLS451 – Brand New
$195.00 for both - Including Shipping
Or possible trade considered for Ko Propo Ex 10 radio.
Send email to :
[email protected]
JP