FORGASS Race 1, Sept 13-14, @ Homestead RC Raceway
05-31-2008, 06:58 AM
FORGASS Race 1, Sept 13-14, @ Homestead RC Raceway
---
Homestead RC Raceway is delighted to host the season opening FORGASS Race #1. This prestigious event will be held, September 13, 14, 2008, on our fast and car friendly race track. All interested racers are invited to experience "Excitement in the Fast lane" at our racing facility for this event.

Preliminary race information can be viewed below.
06-06-2008, 08:46 AM
Tech Rookie
Join Date: Jun 2008
Posts: 3
Interruption
---
SPAM
---
Last edited by TimPotter; 06-06-2008 at

09:03 AM

.
06-07-2008, 06:00 AM
Homestead!
---
Wooooooo nice!
---
Last edited by Jspeed; 06-07-2008 at

06:28 AM

. Reason: Add Pit Picture
06-21-2008, 06:06 AM
06-27-2008, 10:45 AM
06-27-2008, 05:07 PM
Tech Addict
Join Date: Aug 2004
Location: Pompano Beach, Florida
Posts: 639
---
That just seems like to long.
Doug you list the club race dates and the practice day dates also.
I'm there are some people that would love to get some track. I know they won't be disappointed at all.
I can't wait, the track is so much fun.
Greg
06-27-2008, 06:22 PM
Tech Champion
Join Date: Dec 2004
Location: Sunshine State
Posts: 8,261
---
Doug can you list hotels in the area as well
Look forward to seeing everyone
06-27-2008, 10:16 PM
Tech Master
Join Date: Mar 2004
Location: Palm Bay, FL.
Posts: 1,236
---
as flowing as that track is i might need to get my fuel gun handy for a splash n go. 4 mins is not going to cut it
06-29-2008, 06:56 AM
06-29-2008, 11:30 AM
Directions
---
[IMG]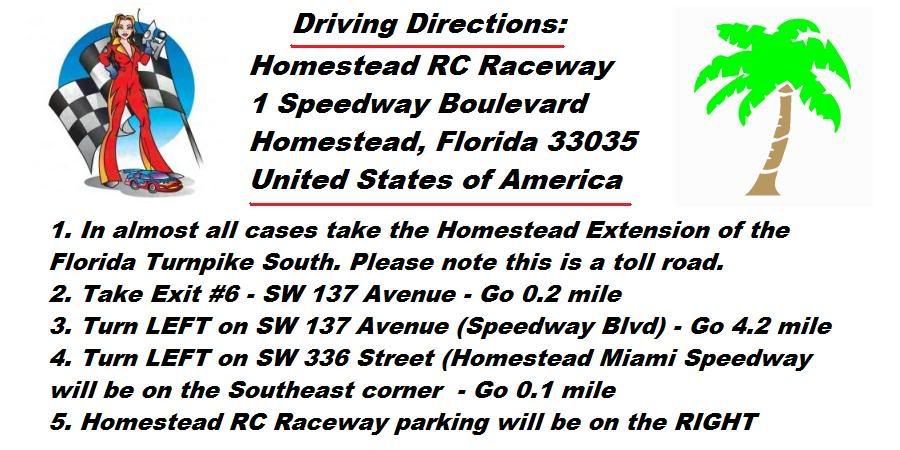 [/IMG]
06-30-2008, 05:30 AM
Tech Addict
Join Date: Mar 2008
Location: st james city
Posts: 637
---
this should be a really fun weekend in homestead i will be there for sure
06-30-2008, 07:45 AM
Tech Regular
Join Date: May 2005
Location: PALM BAY FLORIDA
Posts: 254
I can't wait
---
10 weeks to go
06-30-2008, 11:17 AM
Tech Champion
Join Date: Dec 2004
Location: Sunshine State
Posts: 8,261
---
Thanks Doug look forward to the 1st race
07-02-2008, 02:21 PM
07-03-2008, 10:23 PM