Infinity IF14
04-28-2017, 02:06 PM
---
Infinity have officially introduced their new IF14 1/10th scale electric touring car kit. Originally based off of the SMJ CX11, the kit was refined with the help of Infinity's factory on-road team that includes World Champions such as Marc Rheinard, Jilles Groskamp, Naoto Matsukura and Andy Moore to name just a few. The car makes use of a new, fully symmetrical chassis and topdeck design for precise steering action and equal traction characteristics while the somewhat unconventional suspension mount design has the lower arms attached to the front and rear aluminium bulkheads rather than the chassis as it is standard for most of today's electric touring cars which results in a more natural chassis flex. Composite bushings make for swift and easy suspension geometry changes, such as toe and anti-squat, without the need for additional suspension brackets. Other suspension parts include low-profile big bore shock absorbers with genuine SMJ springs, the kit utilities 1-piece or split-type anti-roll bar mounts for easy to tune and maintain swaybar action and red anodized aluminium turnbuckles make for visual impact. Also included are newly designed double joint front driveshafts, a floating aluminium servo mount, alloy battery mounts, 20T aluminium center pulley and a zero-gap foam front bumper. The kit, that already has proven its capabilities by winning high-class races such as the recent opening round of the AOC, is set for a release around mid-May.
Features
* Aluminium suspension holder directly mounts to the 7075-T6 lower bulkhead for unhindered chassis flex
* Resin eccentric bushings for easy toe angle and anti-squat adjustments
* Short big bore shocks and SMJ silver line spring
* Newly designed D. J. CVDs in the front as standard
* 2.25mm-thick main chassis and 2.0mm-thick top deck
* One piece type & split-up type sway bar holders
* Red anodized lightweight aluminium turnbuckles
* Aluminium battery holder
* 20T Aluminium center pulley
* Front axle: Rigid axle (38T)
* Rear differential: Gear differential with oil encapsulated (38T)
* AXON spur gear TCS (64 pitch) is included
* Second speed reduction ratio: 1.9)
RCMart have it on preorder for $549.90US.
04-28-2017, 02:14 PM
Tech Addict
Join Date: Dec 2001
Location: Austin, Texas
Posts: 585
---
04-30-2017, 10:47 PM
Tech Master
Join Date: Oct 2005
Location: Hayward, CA
Posts: 1,544
---
Looks like my CX11 I bought and upgraded 3 months ago. Maybe this time I will buy the INFINITY model.
05-09-2017, 09:28 AM
---
Anyone got one on pre-order? My local shop says they are due 18th May.
05-19-2017, 05:59 AM
Tech Regular
Join Date: Jun 2006
Location: Michigan
Posts: 478
---
Manual is up!
http://www.infinity-rcshop.jp/pdf/99...ION_MANUAL.pdf
A few changes so far from the CX11. Bearing swaybar holders are now screw mounted instead of integrated into the bulkheads. 4 screws for the shock towers, and hopefully the motor is dropped a bit since the chassis is now relieved for it.
Mike
05-23-2017, 08:26 AM
Tech Fanatic
Join Date: Aug 2005
Location: Orillia, Ontario, Canada
Posts: 843
---
From what I understand they are starting to ship out, looking for build photos soon....
05-24-2017, 10:54 AM
---
First lot was sold out
Spare parts arrived
2nd lot next week arrive !
05-25-2017, 04:43 AM
---
Kits is starting to show up in our LHS and someone already started building it. Pictures are taken from a local forum. Hope this appears for everyone.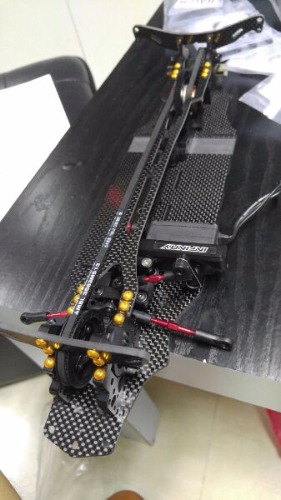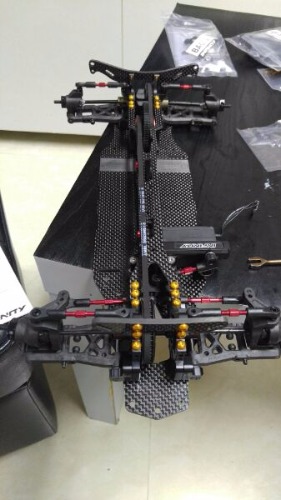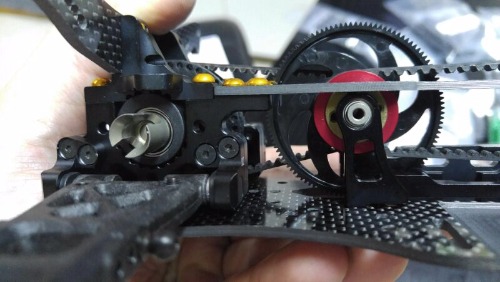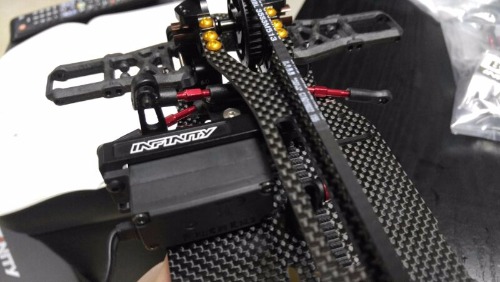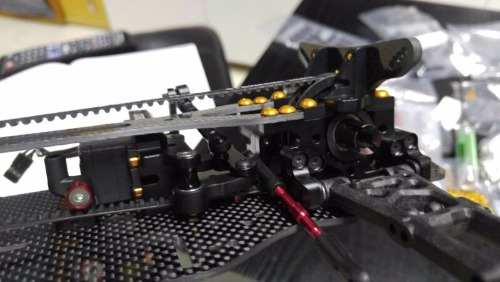 My initial impressions is they didnt really do much with the car. Basically a bone stock SMJ CX11 with different color anodizing. Separate bolt on swaybar mounts, holes for a chassis mounted steering arm, and battery mount with integrated battery strapping holes. Aluminum turnbuckle and rear CVD shaft instead of spring steel.
05-25-2017, 05:56 AM
Tech Elite
Join Date: Jul 2010
Posts: 2,552
---
Don't forget the holes in the chassis to make running an Xray T4'17 motor mount easily....
05-25-2017, 07:36 AM
Tech Fanatic
Join Date: May 2010
Location: Oxfordshire, UK
Posts: 928
---
Gold screws with red turnbuckles? I've just had to stab myself in the eyes so I never have to look at that again.
05-25-2017, 08:30 AM
---
Comes with red turnbuckles and black screws, Im sure he just bought some aftermarket screws in a different color to stand out. Its boring enough to find everyone with the same cars, might as personalize it.
05-25-2017, 09:04 AM
Tech Master
Join Date: Mar 2011
Posts: 1,138
---
I use T-Works gold plated steel screws in all my cars which are mostly Xray so they clash horribly with the orange but at least I can see the damn things.
05-27-2017, 07:34 PM
---
Marc Rheinard is within reach of a sixth Reedy Race title after the Infinity driver wrapped up Day 2 with a 5th win at the 20th running of the event.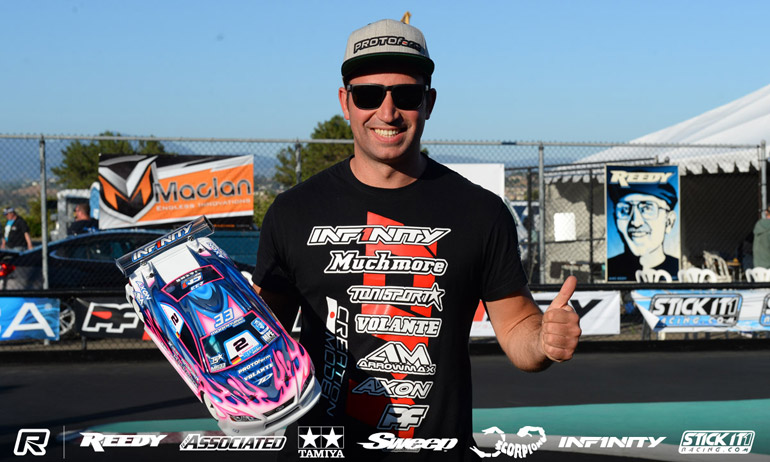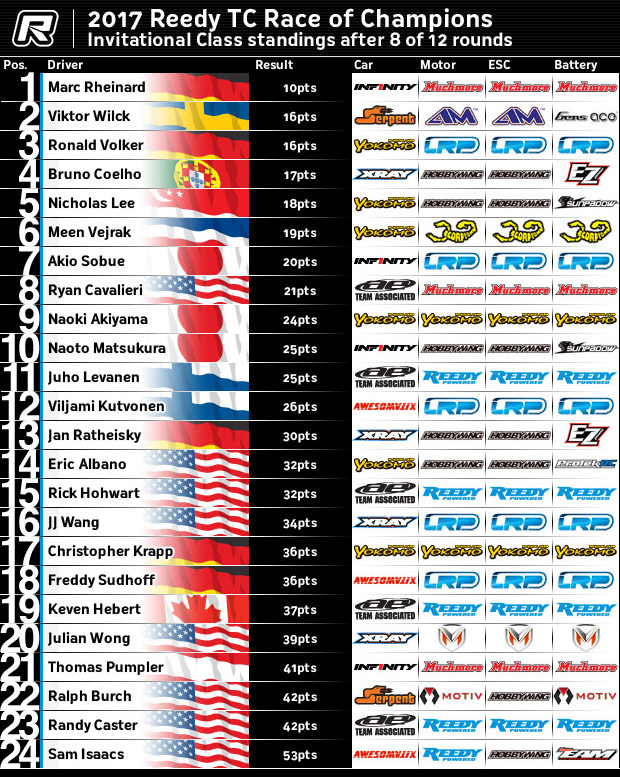 05-28-2017, 06:46 AM
Tech Fanatic
Join Date: Mar 2016
Location: Tracy, CA
Posts: 889
---
Well I'm pretty sure we will start to see infinity at my local track now.