Bittydesign 1/10 TC 190mm bodyshells!
03-07-2017, 01:38 PM
Tech Adept
Join Date: Dec 2005
Location: nor cal
Posts: 183
---
would you mount the m410 forward for asphalt? and if yes how many mm?
thanks
03-07-2017, 04:15 PM
03-07-2017, 04:21 PM
Tech Adept
Join Date: Dec 2005
Location: nor cal
Posts: 183
03-08-2017, 03:44 PM
Tech Initiate
Join Date: Apr 2014
Posts: 22
---
My new m410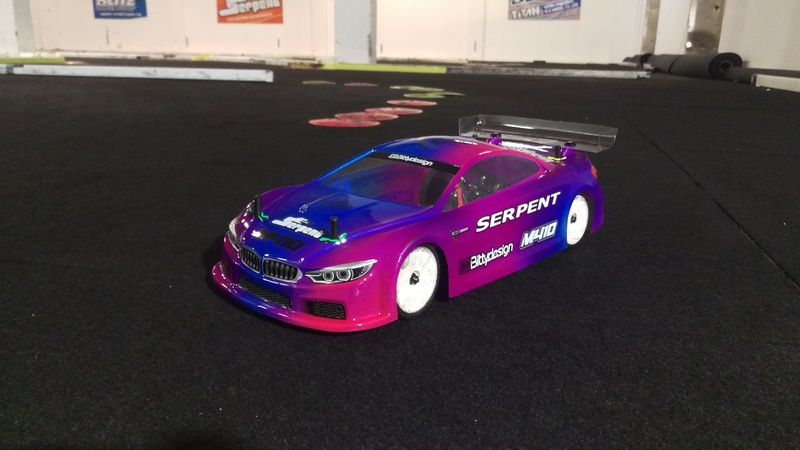 03-08-2017, 04:06 PM
Tech Regular
Join Date: Aug 2007
Location: Irmo S.C.
Posts: 270
03-09-2017, 07:09 AM
Tech Regular
Join Date: Sep 2008
Location: Italy
Posts: 272
---
Thank you guys for sharing the pics of your new M410 shells, we are very pleased to read your comments all very positive about the new body, everyone who is testing/using the M410 for the 1st time is amazed by the performance, with the new thermoforming process the body is at the top of the class.
In the meantime we've also prepared the following pic, the M410 packaging has no equal!
>>
Genuine Lexan® Light weight clear body shell
>>
Promotional brochures with all the features of the product
>>
Extended Bittydesign decal sheet
>>
Window mask with new material that not leave any glue when removing
>>
Complete kit of screws, nuts and large plastic washers to fix the rear wing
>>
Pre-Cut M410 decal sheet of premium quality
, best ultralight and ultrathin pvc material on the market, high precision serigraphic printing
03-10-2017, 02:16 AM
03-10-2017, 07:04 AM
Tech Fanatic
Join Date: Feb 2014
Location: Saskatoon, Canada
Posts: 907
---
I cut out my m410 last night and was surprised at the rigidity of the lexan. Bittydesign have managed to keep the lexan thick in the splitter area yet thin in the rest of the body.
I hope to cut out my new Nardo body tonight and paint them either tonight or tomorrow and compare the new nardo with my old one.
So far, everything that BD has said about the new lexan is true. It is thinner and lighter, yet more rigid.
03-12-2017, 04:26 PM
Tech Fanatic
Join Date: Feb 2014
Location: Saskatoon, Canada
Posts: 907
---
Ran my m410 for the first time at todays club race. As Bittydesigns says: "my face was speechless." Lol. When trying to explain the characteristics of the body, nothing really stood out about the car other than how consistent and easy it was to drive on our tight technical medium grip carpet track. It was less floaty and more stable than ms6, and very neutral. I was running a 1mm hard wing today, but i feel that the lighter kit wing would be an improvement. I ran my own personal best with this body on our layout.
Also, the material that it is made out of is FANTASTIC. I had a few crashes, and there isn't even a mark or crease on it.
03-13-2017, 09:44 PM
Tech Adept
Join Date: Jun 2012
Location: Edmonton, AB
Posts: 208
---
I don't think that I have ever heard of mounting a body forward but can you explain why one would do this and how do you go about it other than the obvious just move it forward..
Thanks
03-13-2017, 10:20 PM
---
03-13-2017, 11:32 PM
Tech Regular
Join Date: Jul 2008
Location: Mesa az
Posts: 471
---
Just picked up 2 of the 410 bodies and the window masks were not cut all the way through. I also picked up a ascari body as well and it was fine. Looks like the new 410 bodies have a glossy sheet of window masks, I may have just had bad luck. Just kind of jacked a body by using the exacto / masking tape. But at least I get to test it. Looking forward to it, stickers couldn't save it either...