2016 U.S. Indoor Championships Cleveland, OH November 24th-27th
06-08-2016, 06:47 AM
Tech Regular
Join Date: Apr 2004
Posts: 316
2016 U.S. Indoor Championships Cleveland, OH November 24th-27th
---
The 2016 U.S. Indoor Championships will be held from November 24th to the 27th at a new venue. We have moved to the Embassy Suites in Independence, OH. This facility is better equipped and staffed to serve our needs.
This year marks the 37th annual running of this historic race. Last year, the U.S. Indoor Championships, "The Champs", or "Cleveland" as many refer to it, was one of the largest carpet on road races in the U.S. with over 325 entries. Cleveland invented the hotel race concept. This race has returned as a premier on-road carpet event, but we are not content to rest on past performances as we work to continually improve the racers' experiences.
Stay tuned for more exciting information to come. If you have any questions feel free to contact us at
[email protected]
. We hope to see you this fall at Cleveland!
Here is the hotel information. Below is a link and everything you'll need to get the discount.
http://embassysuites.hilton.com/en/e...l?WT.mc_id=POG
Group Name: U.S. INDOOR CHAMPS
Group Code: USI
Embassy Suites by Hilton Cleveland Rockside
Address:
5800 Rockside Woods Boulevard
Independence, Ohio
44131
Phone Number:
2169869900
-Sean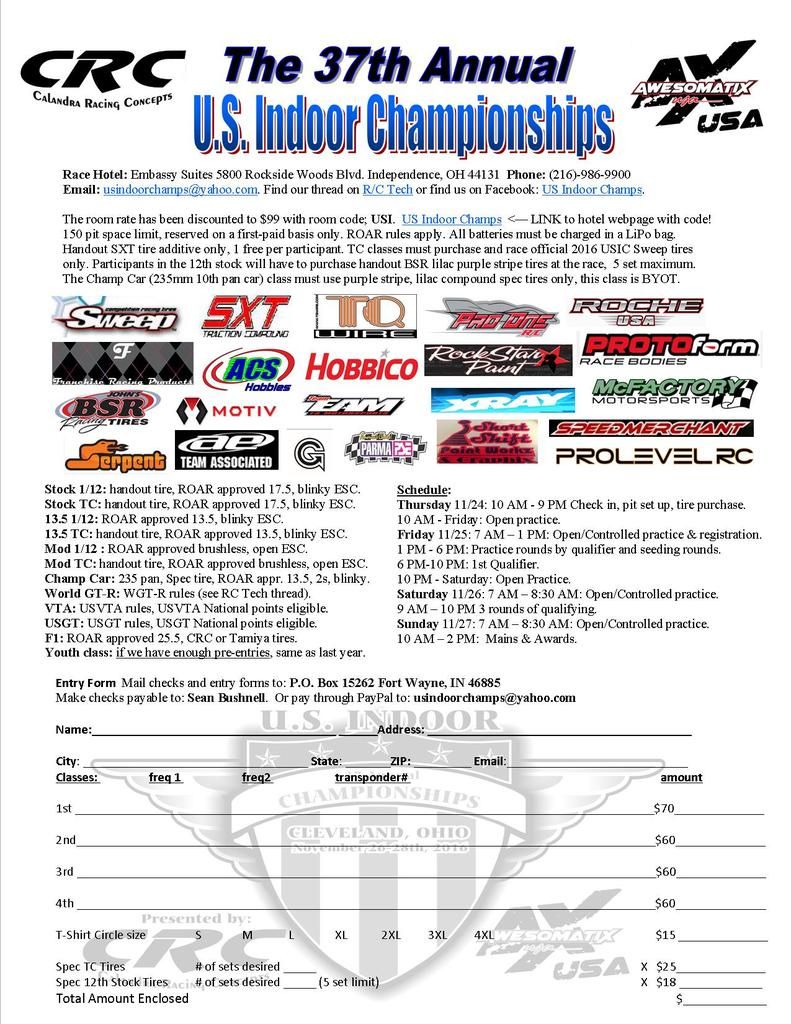 ---
Last edited by Hustler; 08-05-2016 at

12:39 PM

.
06-08-2016, 07:14 AM
Tech Addict
Join Date: Oct 2011
Posts: 728
---
Can't wait. Always a blast!
06-08-2016, 03:04 PM
Tech Adept
Join Date: Dec 2003
Posts: 140
---
Hotel reservations made and confirmed

Robert
06-08-2016, 04:34 PM
Tech Master
Join Date: Jan 2013
Location: Palmyra, Virginia
Posts: 1,936
---
I have to try getting to this race this year.. from what everyone has told me last year was fantastic!!!
06-08-2016, 04:47 PM
Tech Regular
Join Date: Feb 2014
Posts: 462
---
I am angry, what used to be a 5min drive for me to the Strongsville Holiday Inn has turned into a 15min drive. Curse you!

Although, I am happy to see it return to it's former city of greatness.
06-08-2016, 04:59 PM
Tech Master
Join Date: Mar 2007
Posts: 1,570
---
i'll be there. looking suite (so to speak)....
06-08-2016, 05:08 PM
Tech Apprentice
Join Date: Jun 2014
Location: salem, oh
Posts: 55
---
man i really hope i can save up to run this event, ive heard about it for years but never could join the event. This year ill be trying my best to save up.
06-08-2016, 05:54 PM
Tech Master
Join Date: May 2010
Location: Chi-Town West Burbs
Posts: 1,682
06-08-2016, 06:14 PM
Tech Master
Join Date: Nov 2006
Location: New Bern, N.C.
Posts: 1,526
Deja vu.
---
That posted photo looks awfully familiar. I do seem to remember attending an indoor champs there way back when....like maybe 20 or 25 years ago.
06-13-2016, 01:48 PM
Tech Apprentice
Join Date: Jun 2014
Location: salem, oh
Posts: 55
---
Will there be any "racers" discount on rooms?
06-13-2016, 02:45 PM
Tech Elite
Join Date: Apr 2008
Location: Columbus, OH
Posts: 4,818
---
How do ya'll pull this off?

Skip Thanksgiving completely?