Tamiya TB-Evolution III
01-11-2010, 06:57 AM
---
Originally Posted by
tbox
I'm glad you guys like it!
Since you asked nicely...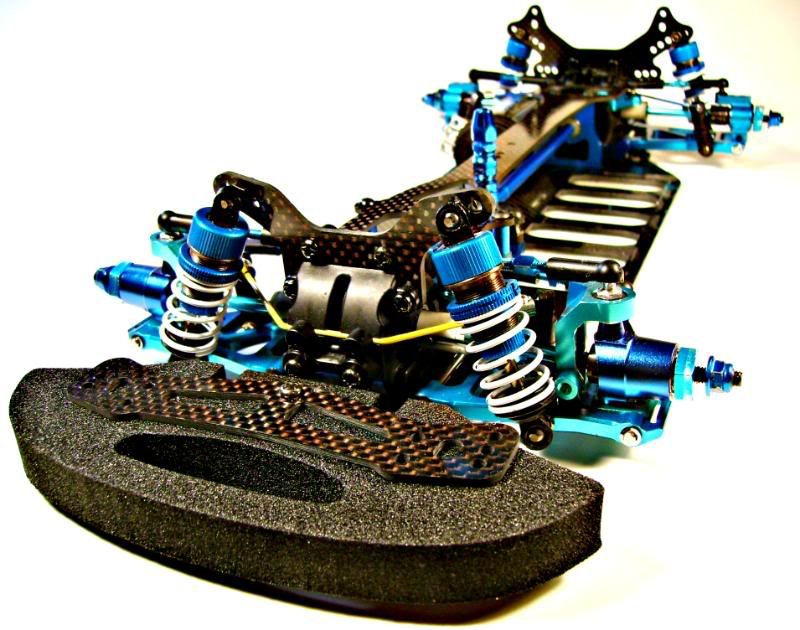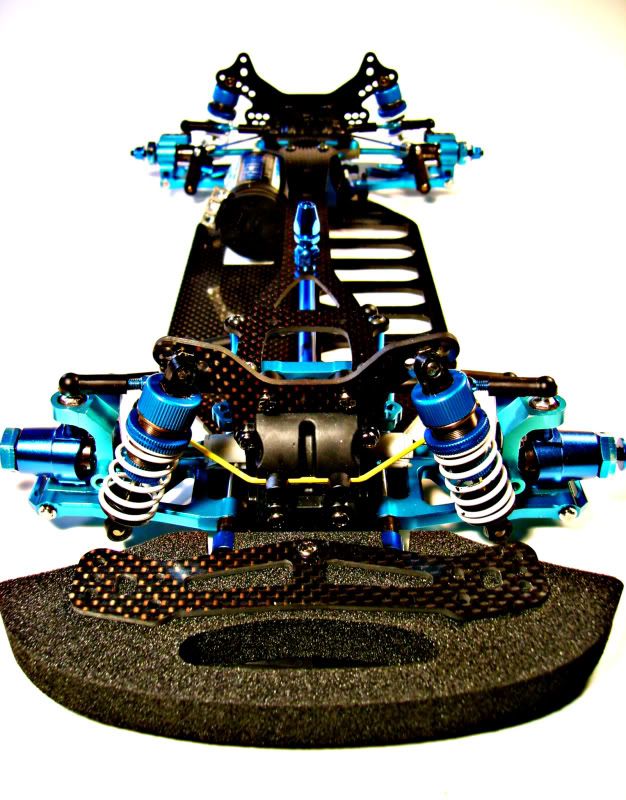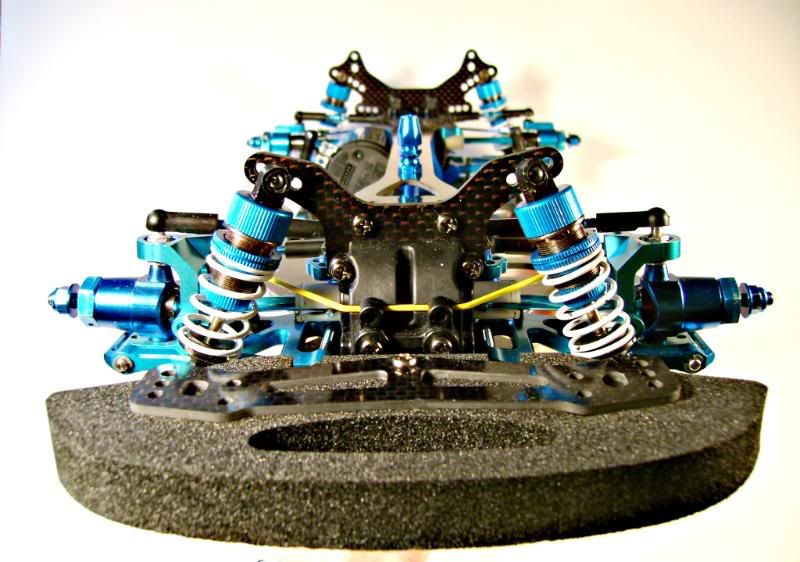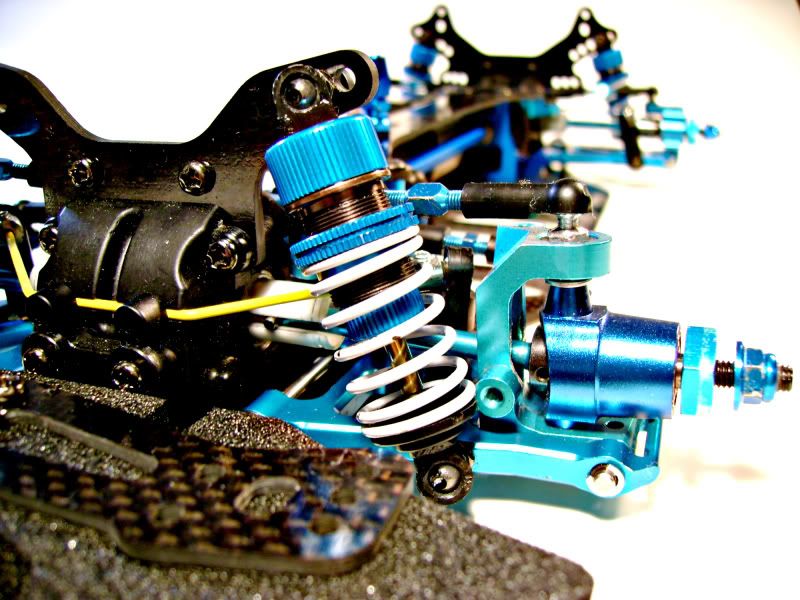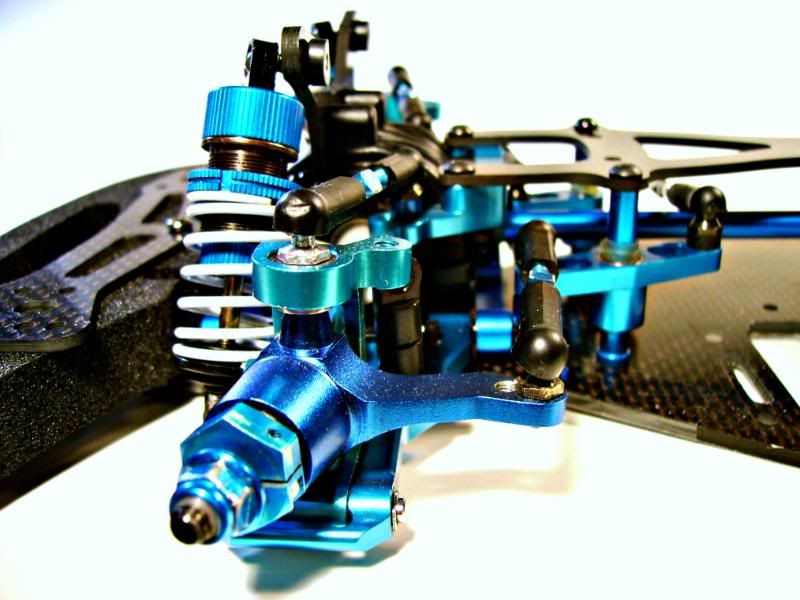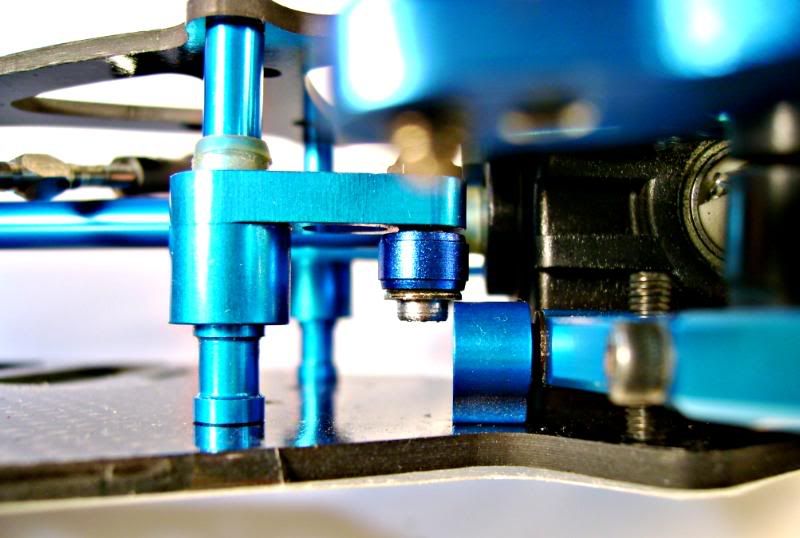 This was the kingpin that gave me trouble! A little machining did the trick
Also, a few tiny rubber bands (used with orthodontic braces) solves the moving center shaft problem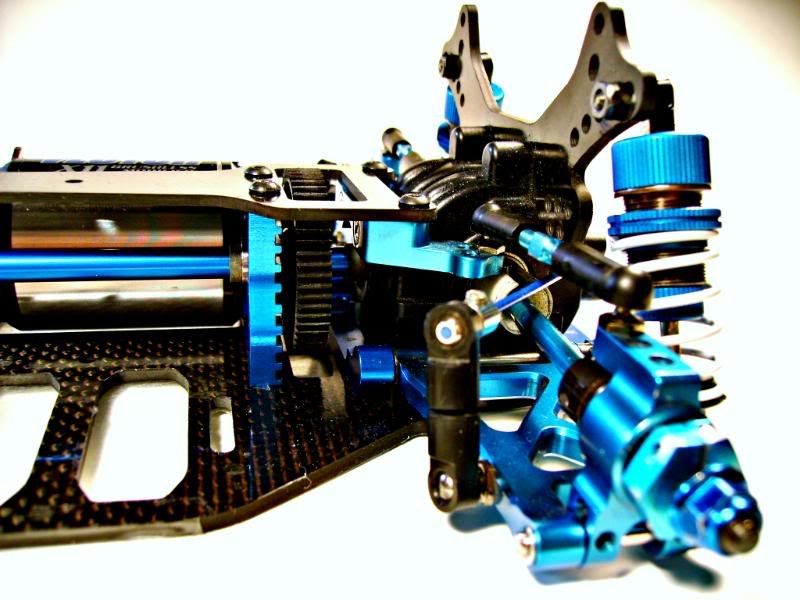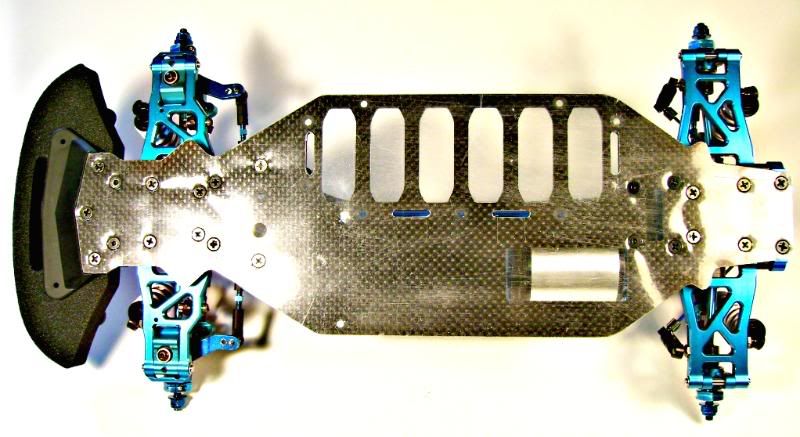 Let's hope this chassis protector does its job...
BOOTY SHOT
Once again, your feedback is very much appreciated!
Damn cool, the car now looks like TRF kit
.
01-11-2010, 07:38 AM
---
just check the alu arms. did they came along with the blue conversion kit.
01-11-2010, 12:20 PM
---
Unfortunately the arms did not come with the blue conversion kit; they were some aftermarket part that came with the TB02 when I bought it. This was everything that came with the kit:
Also, if you guys want a deal on the upper and lower carbon deck for evo III, PM user
x414x
, I think he still has a set for sale
01-12-2010, 06:37 AM
Tech Master
Join Date: Sep 2003
Location: Malaysia
Posts: 1,707
---
that is one of the coolest blue evoIII i ever seen... Im in process building my Tb02 Bling bling. after that i,the evoIII.
01-12-2010, 07:50 AM
---
tbox, which company produces the after mart part for the arms. Can I substitute it with arms for Tamiya 416 or X series. Are they compatible?
01-12-2010, 10:48 PM
---
Thanks KREATOR1! Post up pictures when you're done!!
Toh WL: as far as I know, GPM, Topcad, and Yeah Racing all make aluminum arms that fit TB02/TA05/EVOIII. Topcad ones are rather hard to find since they have been discontinued, but GPM and Year Racing ones are all accessible through either Ebay or RCMart:
GPM
Yeah Racing Front
Yeah Racing Rear
Topcad front
Topcad rear
As for if they fit on the 416...I have no idea because I don't own one, but I can tell you if they fit on the 415MSXX MRE maybe tomorrow, if that helps.
Now that the project is over, I guess I should share my inspiration.
This is
the
COOLEST/BLUEST EVOIII anyone will
EVER
see:
01-13-2010, 12:18 AM
---
Looks cool in blue... now it much less look alike the TB Evo 5 which I had too..
06-08-2010, 10:26 AM
Tech Rookie
Join Date: Apr 2010
Location: Valencia (Spain)
Posts: 14
---
Hi Gus! I Have a Evo III Surikarn Edition BNIB, Can Help me to find a spool for them? the one way dislikes me.
Greetings From Spain!
06-09-2010, 08:32 PM
Tech Master
Join Date: Jan 2003
Location: Auburn, WA
Posts: 1,633
06-09-2010, 09:06 PM
Tech Rookie
Join Date: Mar 2010
Posts: 18
---
sweet car!
08-09-2010, 12:25 AM
Tech Rookie
Join Date: Dec 2008
Location: adelaide
Posts: 14
---
how did u find a nib shurikarn?
im glad i found a carpet raced one.

dont let the thread die hehe, evo III ftw. and i need a good place to find parts and get others feedback :P
08-26-2010, 10:34 AM
Tech Master
Join Date: Jan 2002
Location: Global Citizen
Posts: 1,931
---
TechRacing used to make one, probably out of production now.
I hear some ppl have fitted the 3Racing TB03 spool.
I have tried Tamiya's TB03 spool and it doesn't not fit right, too wide.
YeahRacing made alloy diff outdrives for TB02, could just assemble your own spool by bolting them solid.
08-26-2010, 01:12 PM
Tech Master
Join Date: Feb 2007
Posts: 1,159
---
10-02-2010, 01:15 AM
---
ommmmmg that's so cheap...I got the cf base plate when they used to be $60
10-13-2011, 10:25 AM
Tech Adept
Join Date: Apr 2010
Posts: 196
---
just picked up a used Tamiya evo 3...

HELLO HELLO....ANYONE HOME.. TIME TO WAKE UP.. ALREADY SLEPT FOR OVER A YEAR...