Roche Rapide F1-2016
02-06-2017, 04:18 PM
Tech Elite
Join Date: Nov 2007
Location: Fort Fun, CO
Posts: 3,147
---
Originally Posted by
Nexus
How are everyone's Roche F1 running...

Looking for more offpower turn in..

6* caster
2* camber
4.5mm ride height
Tamiya silver front springs
AE silver rear side springs
Stock.shock spring
Sideways pack

Was debating going back to Kyle's setup and try 9-12 caster with lower camber.

black CRC carpet...11 sec lap time down to 10.4 for fastest guy.
As mentioned you could add more rear droop. Some toe-out up front. Reduce Ackermann (move bell crank forward), I liked this at 5280. May not have been good at Snowbirds with the greasy grip though. Mark Burt was the fastest with a Roche F1. He qualified 4th. When i looked at his car it was rather conventional, meaning like most other F1 setups.
02-07-2017, 10:25 AM
Tech Champion
Join Date: Nov 2002
Location: Chicago, IL
Posts: 7,674
---
Going to recheck my droop and go over car tomorrow to test based on some of the recommendations.

Thank all!
02-25-2017, 06:52 PM
Tech Master
Join Date: Apr 2011
Location: 5280 CORRC Denver,Co
Posts: 1,363
---
Need some help, no matter which way I turn. It diffs out. Any ideas
of what to do?
02-25-2017, 07:25 PM
Tech Champion
Join Date: Sep 2007
Location: @ the post office
Posts: 8,687
02-26-2017, 05:31 AM
Tech Elite
Join Date: Jul 2008
Posts: 3,087
---
This looked like a cool idea.
I get some chassis sag...and a keen yokomo driver came up with this. Testing today.
02-26-2017, 06:01 AM
Tech Master
Join Date: Apr 2011
Location: 5280 CORRC Denver,Co
Posts: 1,363
---
Thank you sir and I will.
02-26-2017, 05:57 PM
Tech Initiate
Join Date: Nov 2008
Location: Oak Creek, WI
Posts: 25
---
Originally Posted by
bkspeedo
I need to add a few more things to the pivot ball assembly sticking issue.

Slide a M3 wrench shaft through the pivot ball of the bushing and pivot ball assembly (you could use the king pin as well it's just easier with a wrench). Using a pair of pliers or something else you prefer. Hold the pivot ball bushing by the part that fits into the carbon arm. Squeeze with a fair amount of pressure and move the pivot ball around with the M3 wrench. Move the pliers to a new location of the pivot ball bushing. Repeat this until you've gone all the way around the pivot ball bushing, about 5 different locations.
I bought a used rapide and ran it for the first time. It was easy and fast, with a little understeer. Anyway, the pivot balls do not move freely, so I want to try the above procedure. But I can't get those bushings/pivot balls out. Before I break one, is there any trick to remove them without destroying them? Thanks. Otherwise I love this kit!!
02-26-2017, 06:30 PM
Tech Champion
Join Date: Dec 2002
Location: WASHINGTON
Posts: 8,910
F1
---
Hello
I brought a used F1 2016...and it is a cool looking F1...This is my first time race the car last night on Grey Carpet and I TQ and won..not bad..
next two week ,I will be runing the P12 2016....cant wait...
02-27-2017, 01:54 AM
Tech Adept
Join Date: Oct 2010
Posts: 109
---
Our car still very competitive here in Europe!
We put 2 cars in top10 @ETS!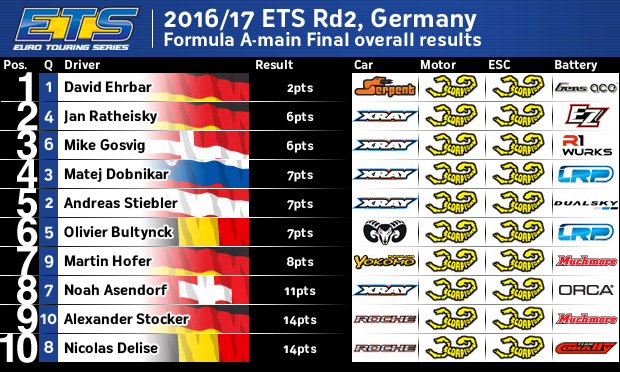 02-27-2017, 02:10 PM
---
Can somebody please tell me the internal ration of the F1 Roche
02-27-2017, 03:29 PM
Tech Elite
Join Date: Mar 2006
Location: Ca
Posts: 2,940
02-28-2017, 02:26 PM
---
Also deos there need to be an o ring but in the dampening bats that attach t the motor mount the shock oil seems to leak out. I'm a newby to f1
02-28-2017, 03:39 PM
Tech Regular
Join Date: Nov 2014
Posts: 336
02-28-2017, 08:09 PM
---
Sorry shithouse typing. Any idea what size orings are needed
03-05-2017, 11:13 AM
Tech Elite
Join Date: Sep 2004
Location: "Racing Budget" is an oxymoron
Posts: 3,815
---
Just built a Rapide F1-2016 for a friend. Rear axle adjusters are on the low setting and with Pit Shimizu 575 rear tires, the rear ride height is at 4.2mm measured at the back of the pod. What do you have to do to get it up to 5mm to run outdoor or even on black carpet ?

Panda
---
Last edited by Kevin CBR; 03-05-2017 at

12:10 PM

.