The Tamiya MF01 X Chassis Thread
04-30-2017, 12:36 PM
Tech Adept
Join Date: Oct 2014
Posts: 247
---
I just got a Jimny kit today. My plan is to build it into a light trail truck for a friend of mines first rc.
Havnt built a 1/10 or a tamiya or a trail truck in years. Any suggestions?

I already have the bearings and rc4wd mud thrasher tires. I was planning on locking the rear diff, and using thick grease in front so its a bit more capable for light crawling. Planning on brushless, low kv. Looking for very long battery time, and ease of use more than anything.

Anything else I should do to make it ready for the trails?
Good shocks for trails?

Any opinions on the yr long travel kit?
How about the active hobby seesaw towers?
05-01-2017, 07:37 AM
Tech Regular
Join Date: Oct 2013
Location: Naples FL
Posts: 352
---
It's totally fine. I did an M06L 911 GT2 build. If you use extra wide wheels, if anything the wheelbase is too short.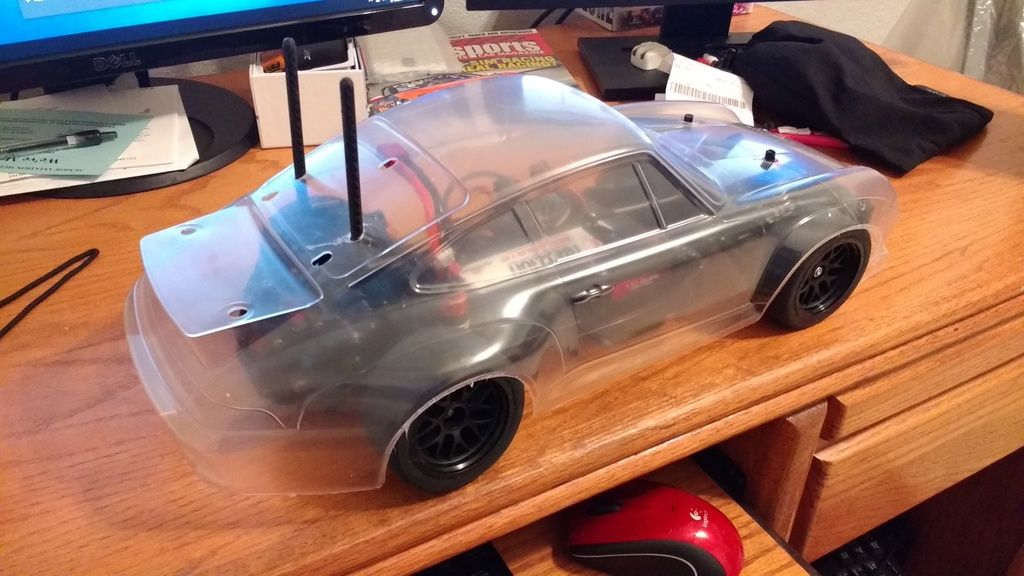 07-15-2017, 04:27 PM
Tech Regular
Join Date: May 2012
Location: Da Burbs
Posts: 276
---
Has anybody dropped the coin for those double cardan style CV's from Tamiya?
https://www.tamiyausa.com/product/it...oduct-id=42300
I've got too much lift on mine to clear the tires on it and I keep popping the rear dogbones out of it if I make the rear suspension work...........even in the mild rock shown here.
20170714_193912
by
bjoehandley
, on Flickr
09-08-2017, 04:48 AM
---
Does anyone have side-by-side comparison of MF01 and TL01? Since MF is inspired by TL01 design, I would like to know, if it's possible to pair rear part of TL01 to MF01 front? MF01 has corrected some problems of TL01, but I dont like rear motor position...
Edit: So apparently it can be done
This is what I found on Tamiyablog.
It doesn't look that hard to do as I would expect. It even fits SWB shell. Now I don't get why Tamiya chose motor behind axle
---
Last edited by Papi; 09-08-2017 at

05:55 AM

.
09-14-2017, 01:52 PM
Tech Addict
Join Date: Dec 2010
Location: Douglassville, PA
Posts: 608
---
Picked on of these up a while ago, and built originally as an off road vehicle. Wasn't overly happy with it so have now turned it into a 210mm mini. Pretty versatile chassis.
A few chassis pics - pretty stock except for CVA's and bearings. It has aluminum arms which are from the off road build - I would have taken them off, but they remove a lot of slop so on they stay. Also added the TL01 speed tuned gear set to get the gearing somewhat in the ball park for the mini wheels. Set up currently with a 17.5.
Dropped on a CRX body and HPI wheels. Ready to go!
03-18-2018, 05:39 PM
Tech Adept
Join Date: Oct 2014
Posts: 247
---
I built this for a friend as her first RC...but it was too nice. So I built a stock one for her with the same wheels and tires and kept this one for myself. We take them out driving a few nights a week, mostly pavement with a little light offroad driving.
This one has a lot of upgrades going on.
Yeah Racing long travel suspension kit
yeah racing TC shocks with stock springs
tamiya alum driveshaft and servo mount, servo horn
carbon fiber rear shock tower
front magnet mounts
rc4wd 1.55 wheels and tires
locked front gears
heavy duty rear gears
printed body mount braces
45t motor, waterproof 200oz servo, wp esc
led strips in the body for night driving
My opinons -
Tamiya should stop being such cheapskates with their kits. No bearings, too much plastic, philips screws. Its pretty ridiculous.
I love this truck. Its fun to drive and a great truck for light duty trails. So far it has broken nothing over many many hours of driving. And I think it looks great, much better in person.
The yeah racing kit is excellent. It comes with a ton of stuff. Full set of arms, turnbuckles, cvds, and more. It is a very noticeable difference from stock. Relatively easy install. Removes all the slop.
The YR shocks are super smooth, and feel very high quality. No leaking, no problems. The springs they come with are too hard, but the stock springs fit and work perfectly. Huge difference in handling, no more bouncing.
Tires and wheels look perfect. Had to cut the body a bit to get them to work. But they are not good for any type of surface really and they dramatically raise the center of gravity. It handles more like a real suv does, lots of roll. The tires are not particularly grippy on any surface I have tried. And they are skinny. The stock tires look stupid though.
03-01-2019, 08:06 PM
Tech Rookie
Join Date: Dec 2015
Posts: 4
---
I own 2 G320s. Thinking of buying the VW for on road fun.
Wonder if I can keep up with the M07s my friends race.
05-26-2019, 11:47 AM
---
This is my (WIP) MF01-XL with mid motor. Since this chassis came out, I was thinking about rebuilding it to TL-01-esque chassis, which was my first RC. It solved most of TL01's flaws, but added new one: rear motor. It puts too much weight to the rear axle, especially with short or super short lipol.
First I was thinking about mating TL01 back to MF01 front, but it was too different and I never really liked motor sticking out.
So I decided to print my own center part, which will take motor and spur to main drive drive shaft.
shaft. Weight distribution is now 50:50 with super short lipo.
Other mods include: Modified bumper from TL-01B, custom printed long suspension arms (6mm longer than TL01, so I could use 45mm driveshafts from TB03 and 190mm width), front universal shafts, front ball differential, custom aluminium transmission shafts, custom front damper stays, CVA mini dampers.
I'll post more pictures once it's finished.
10-27-2019, 09:27 AM
Tech Rookie
Join Date: Oct 2019
Posts: 1
Steering issues
---
Anyone have any issues with the axles coming out of the hub during turns and locking up? Any good solutions? This is my first RC car
thank you!
10-27-2019, 11:04 AM
Tech Adept
Join Date: Sep 2009
Location: UK
Posts: 163
10-27-2019, 11:34 AM
---
Do you have O-rings pressed in diff and axle cups?
10-28-2019, 03:13 AM
Tech Adept
Join Date: Nov 2017
Posts: 102
07-29-2020, 02:58 PM
Tech Adept
Join Date: Sep 2010
Location: Maryland
Posts: 176
---
its a long shot but does anyone have any spec-r racing hopups for the MF01x they would not mind parting with? Bought some put only to partially complete the car - looking mainly for the front and rear carriers. Thanks.
11-16-2020, 08:31 AM
Tech Regular
Join Date: Aug 2001
Posts: 292
---
Extremely Fun vehicle to drive after YR suspension upgrade. I think it would be a great rallycross car. Check out the body roll and inner front wheel lift!!! No traction rolling issue with stock M-chassis tires in front. I think it is track ready but too bad the closest rally-cross club is 120 miles away from me
12-17-2020, 05:01 PM
Tech Regular
Join Date: May 2012
Location: Da Burbs
Posts: 276
---
Does anybody know of body mount braces for these and that might fit the M-03 as well? I have issues with the body posts bending on both if something is leaning against the bodies. Here's how bad my Jimney is bent.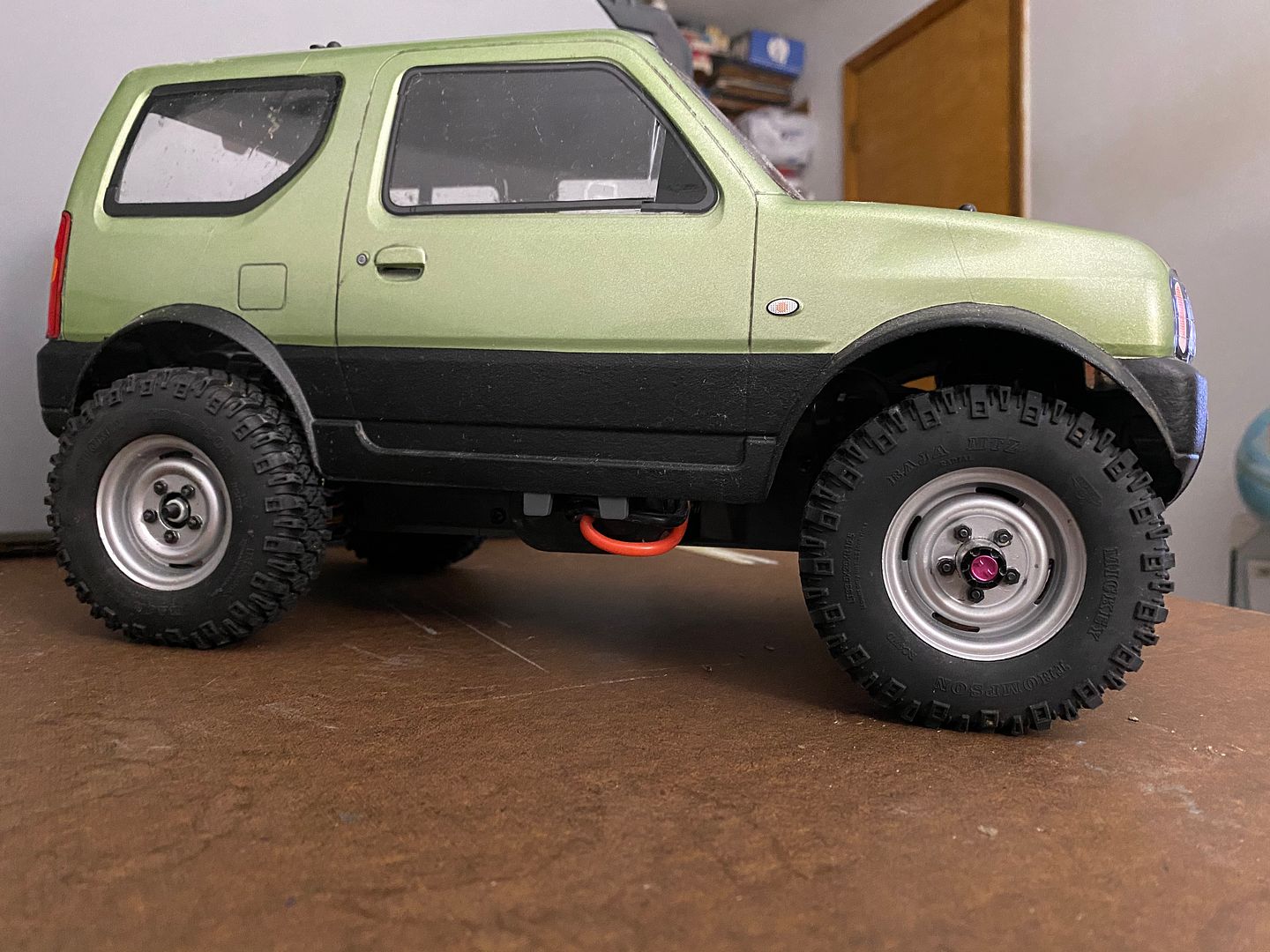 Oh, has anybody tried the gear reduction hubs from the Monster Beetle TR and Dynahead on this chassis?