Team Tamale Xray T4'14 Chassis
06-21-2014, 05:11 PM
Team Tamale Xray T4'14 Chassis
---
Hey guys,
I get the privilege to introduce the Team Tamale Xray T4'14 chassis. Larry Bradshaw and I have been developing this chassis over the last month. Everything is done here in the states and the aluminum is top notch.
When I approached Larry about the project, I told him I wanted a chassis that was as easy to drive as the Xray 2mm aluminum chassis but as fast as the xray 2.25 carbon plate. This is what we came up with.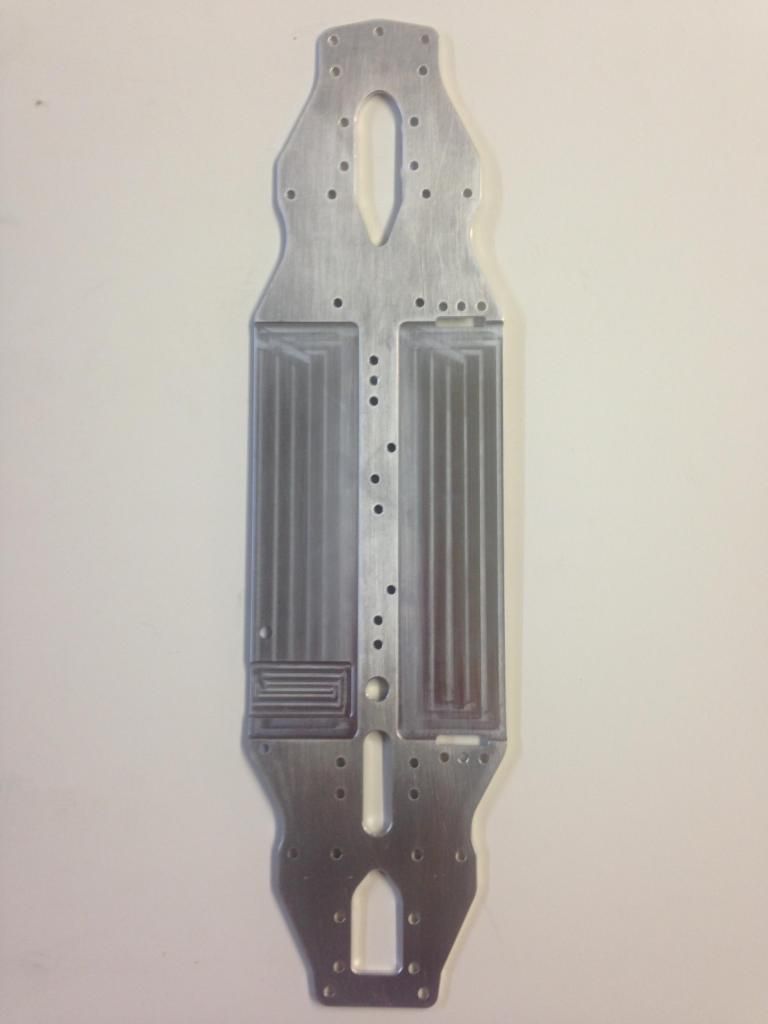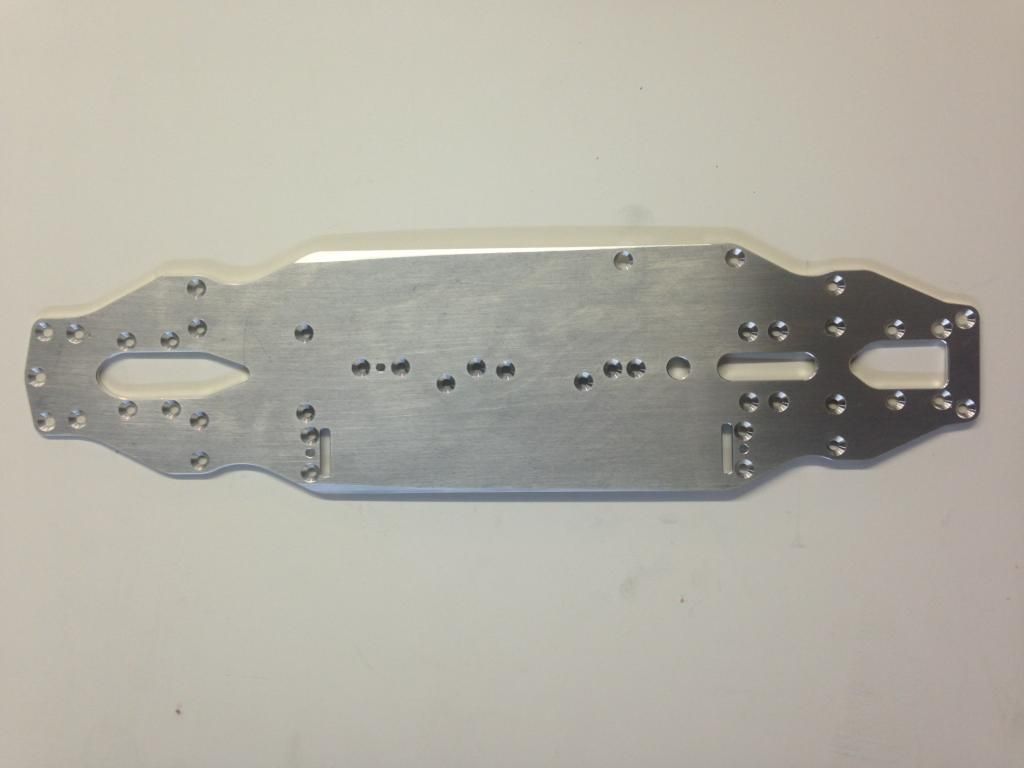 From the pictures, you can tell that the battery compartment and the electronics side have been milled down. The chassis is 2mm thick and the cutout brings the chassis thickness down to 1.5mm. This allows the battery, speed control, receiver, and servo to sit lower on the chassis as well as increase the flex through the middle of the chassis. I did not put the servo on the chassis and instead have used the floating mount.
The motor recess has been made 2mm narrower. The only time I have seen a stock Xray aluminum chassis bend is at the motor recess. We looked to decrease the size of this to limit its weakness. The prototype chassis I used was the standard width and worked very well but had excessive rubbing down the motor side. To limit this we narrowed it and added a taper down each side. This will also help with the edge of the chassis catching on the race surface. All edges are beveled and look very clean.
I along with two other racers received the production chassis yesterday (June 20) and it was a perfect bolt on. The countersinks are perfect and allow the user to use either titanium or the stock steel screws without worry of them sticking out the bottom. The final version will have a few changes made. First off, it will be anodized black. Black is clean looking. No one can deny that. Second, the balance holes found on the stock chassis will be put back onto the chassis. They should of been on these that were made but Larry overlooked this. Last, we will have a taper at the front of the chassis to try and limit the extra rub that can be seen with soft springs in high traction.
Since this is not a product coming from China, Larry must charge an appropriate price for the labor and quality. The chassis will be sold for $100.00.
To order the chassis or find out more info, please contact Larry or I. The chassis will be up on the website shortly.
www.Teamtamale.com
Larry -
[email protected]
---
Last edited by Chris Adams; 06-22-2014 at

07:20 PM

.
06-22-2014, 07:15 AM
---
Thanks Hanulec. Im going to worlds so I'm 99% sure I won't be at Vegas but I bet Larry goes. I wish I could attend both races but I'll be in my final semester so I'll be hitting the books.
06-22-2014, 07:18 AM
Tech Elite
Join Date: Jul 2008
Posts: 2,931
---
That does look really good. Can't wait to see it in black.
06-22-2014, 08:48 AM
06-22-2014, 09:27 AM
Tech Adept
Join Date: Jun 2010
Posts: 103
---
These are up for order now at teamtamale.com. Working on them now. If anyone is interested, shoot me an email at
[email protected]
. I will be at IIC this year and will have some with me.
---
Last edited by team_tamale; 06-22-2014 at

11:08 AM

.
06-22-2014, 09:32 AM
Tech Master
Join Date: Jul 2011
Location: Kaohsiung City, Taiwan
Posts: 1,570
---
Very nice chassis!
06-22-2014, 09:33 AM
Tech Elite
Join Date: Jul 2008
Posts: 2,931
---
I'm definitely interested. Running 13.5 and Mod TC at Vegas, so if things work out I may get 2!
06-22-2014, 09:35 AM
06-22-2014, 07:19 PM
---
Thanks AWD. It took a slightly different setup than the carbon but I am very pleased at how the car is working.
I have been asked a few times via pm on what chassis thickness I would pick. IMO, 95% of the racers should go with the 1.5mm. It allows you to use the 1.6mm topdeck if you need more flex and will be more durable than the others just based on thickness. This is the thickness that I have been using on an indoor carpet track with 2x4's as barriers and have had no problem with breaking or bending. Another note here is all my testing has been done with modified. IMO if it has the traction to get around the track in modified, it has the traction to get around in 17.5.
06-22-2014, 09:15 PM
Tech Initiate
Join Date: Apr 2014
Location: Las Vegas
Posts: 34
---
Interesting. Looks like it will take a beating for sure.
06-22-2014, 10:05 PM
Tech Fanatic
Join Date: Nov 2003
Location: dark side of the moon
Posts: 935
---
Chris, has there been any testing on asphalt? No carpet around/near me.
06-23-2014, 01:37 AM
Tech Regular
Join Date: Dec 2009
Location: London
Posts: 274
Alu chassis
---
Really like the chassis guys, well done, did you think about adding two more holes for the ars system?