If the question is "Can you use electric TC3 parts on a TC4?", then the answer is yes. There are various replies/examples in the TC3 and TC4 thread here in the on-road forums on RCTECH.
If the question is "Can you use nitro TC3 parts on an electric TC3/TC4?", then the answer is also yes. The best example that I know of is an aftermarket chassis for the TC3 made by Xtreme Racing. Check out the following link to see an electric TC3 with Nitro TC3 suspension & steering. (
http://www.xtremercracing.com/Produc...10040&pID=1155
).
Here is a picture of the bottom of the chassis (note the multiple holes for a-arm mounts):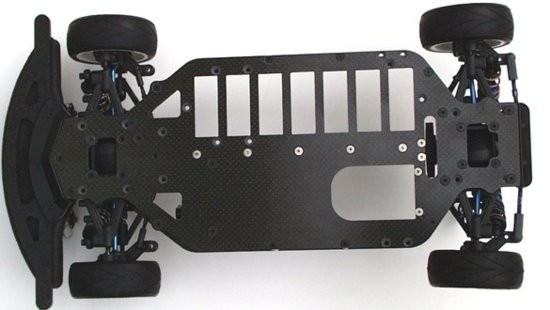 ----------
The main challenge when swapping parts between the NTC3/TC3/TC4 involves modifying parts for the different diameters of the hinge pins.
Sometimes can enlarge a hole to accommodate a larger pin, but you will weaken the part.
You might also have to sand/file some parts to fit, which can also weaken parts.
---------
If you were simply wanting to install something better to adjust rear toe, Associated makes 3.0, 2.5 and 2.0 degree rear blocks (in blue aluminum). 3-Racing also makes rear blocks in 3, 2, 1, and 0 degrees. Here is a link showing 3-Racing TC4 upgrades (
http://www.3racing-parts.com/shop/te...1_596_666.html
)