Speed Passion brand new Spec Racing LeMans car - The LM1
02-21-2014, 06:50 AM
---
I just upgraded to aluminum parts: the lower arm mounts, the steering bridge, the damper tubes as I snapped off the plastic threaded end on one of my originals when lubing and swapped out the plastic posts. I still haven't done the servo mounts, but am thinking I would like those as they are threaded. Hoping to get the car back on track Sunday to give these parts a shakedown.
I still want the left side pod plate! Solara, get to work on this!
02-21-2014, 08:02 AM
Tech Champion
---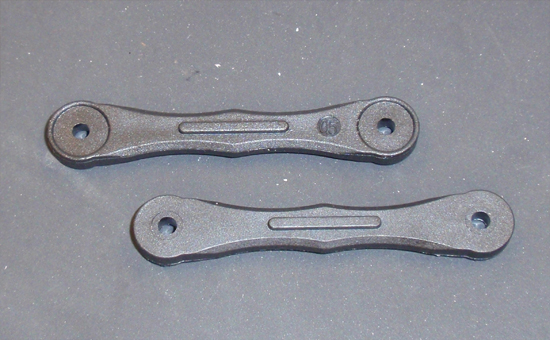 In this race, I ran a stock LM1 and the silver car had some aluminum hopups. The other cars in the main were closer to stock. They all run great either way. The only change I made was for ride height and using a CRC Durashock instead of a front damper.
http://www.rctech.net/forum/13016672-post746.html
02-21-2014, 08:39 AM
02-22-2014, 07:33 AM
---
Hi, quick question...when installing the battery ( 2s shorty lipo ) in the lm1 do you have to loosen up the upper deck to get the battery in position? And once in position whats the best way to secure it? Thanks, D
02-22-2014, 09:01 AM
Tech Champion
---
Maybe in the future but no immediate plans. Running two works perfect for indoor carpet racing.
I've seen it numerous ways...
Foam underneath, double sided tape under battery, strapping tape with a foam block in front, etc.
Most cars I've seen, including my own, run a double sided tape and it never shifts.
02-22-2014, 10:08 AM
---
Great thanks, double sided tape it is! So i take it you just charge the battery in the car?
02-22-2014, 10:27 AM
Tech Champion
---
02-25-2014, 07:05 AM
Tech Regular
Join Date: Mar 2010
Location: Brevard, NC
Posts: 289
---
Hi, Finally was able to get some decals so I changed livery from Bilstein to Audi.
Regards
Norman2
02-25-2014, 09:52 AM
---
Looks great!!!! Mine was gonna look close to that but couldnt find the correct decals so it ended up like this......
02-25-2014, 11:25 AM
Tech Regular
Join Date: Mar 2010
Location: Brevard, NC
Posts: 289
---
Hi, That looks good. There are so many paint schemes you can use on these bodies. I had to wait 4 weeks to get my decals from Hong Kong and they wer
for an Audi R8 LMS so i just used the ones i needed. Next body I will make
to my own taste. Regards
Norman
02-25-2014, 12:30 PM
---
What was the name of the decal place in Hong Kong?
02-25-2014, 12:36 PM
Tech Adept
Join Date: Dec 2012
Posts: 235
steering linkage hanging
---
Sorry if it has been covered earlier...I am having problems with the steering linkage 'hanging up/getting stuck' when turning. It is getting caught on turnbuckles (see enclosed pic in the red circle area).

Is there a fix or did I mess up something during assembly?

Thanks,

-Rich