3D Printing. Does it have a future in r/c?
03-05-2013, 06:26 AM
Tech Elite
Join Date: Jan 2003
Location: Tokyo, Japan
Posts: 2,030
3D Printing. Does it have a future in r/c?
---
I recently came across a video about 3D printing and how versatile it is. I couldn't help but wonder when it will be integrated into r/c world. Think about all the endless prototypes and option parts that we could create on our own.
http://www.wimp.com/printingchange/
03-05-2013, 06:40 AM
Tech Regular
Join Date: May 2003
Location: U.k (Essex)
Posts: 306
---
Its used already. A UK based company (Atomic Carbon) use it for rapid prototyping and in some instances parts that can be used for race purposes (depending on application).
A small thread about the process on Oople (RC UK Forum) - posts 18 and 20 are most relevenat..
http://www.oople.com/forums/showthre...ighlight=print
Cheers,
Chris
03-05-2013, 02:47 PM
Tech Adept
Join Date: May 2012
Posts: 124
---
3D printing can be really useful for mold making.
Molds can serve as a base for body shells and precision composite parts.
03-05-2013, 02:59 PM
Tech Elite
Join Date: Dec 2005
Location: La Jolla, Palo Alto
Posts: 2,490
---
3D printing is already being done within the industry. 3D printing is nothing new for anybody who actually designs and creates parts.
03-05-2013, 03:17 PM
Tech Champion
Join Date: Jun 2003
Location: Newcastle, Australia
Posts: 7,122
---
Is 'Electric Onroad' the correct forum for this topic?
03-05-2013, 03:34 PM
Tech Adept
Join Date: Feb 2013
Location: Rhode Island
Posts: 159
---
In RC, they use it for rapid prototyping to verify that everything is working properly before they make the molds of the parts. However, 3D printing is not strong enough for part like suspension arms and shock towers. In short, 3D printing is good enough for prototyping, but not for making actual parts for these vehicles. Of course it depends on application. For certain parts, it would be too weak, but in parts that are not abused, it could work out. Many major manufacturers use 3D printing in their vehicle prototypes, but they don't use it for the production vehicles.
03-05-2013, 04:10 PM
Tech Regular
Join Date: Oct 2011
Location: Cypress, Tx
Posts: 307
03-05-2013, 04:24 PM
Tech Regular
Join Date: Mar 2002
Location: Australia
Posts: 299
---
After attending the 2011 RC motorcyle world championships in Lostallo, switzerland, i definitely would NOT agree with this statement. The bike that won superbike (pretty much run what you want if it meets dimensional criteria and 7.4v lipo battery) was very much just carbon fibre and 3d printed parts. With the bikes topping out at 50-60mph including quite often crashing at these speeds, i don't believe these parts broke at all.
It all has to do with what type of 3d printing is used as there are numerous systems.
It is not used for production because it is not cost effective when compared to injection molding and such.
As an example, I got a quote for a job at work for 108 off of a particular item and 3d printing was $120 per item compared to $1.27 per item plus the tooling. Even with $7600 for tooling, it worked out over $4000 cheaper than 3d printed.
03-05-2013, 05:15 PM
Tech Elite
Join Date: Dec 2004
Location: Marietta, Ga
Posts: 2,179
---
The video mentions shapeways as a place to load and print your 3d model. I would NOT reccommend them. I designed a piece that was to be used as a spacer for my F1 car to work with the hudy 1/12 pan car system. Fairly simple really, 7mm OD 5mm ID. The OD was like 7.5mm and ID was Oval shaped and 4.5 - 4mm. There are other more precise methods of 3d priniting, but shapeways does not use it.
03-05-2013, 05:20 PM
Tech Master
Join Date: Nov 2006
Location: Monclova, Ohio
Posts: 1,658
---
. i saw a show on tv recently that was talking about how 3d printing will become cheaper in the future
and you will be able to buy 3d printers anywhere like regular printers.....maybe parts could be prototyped cheap...but who knows how tuff they will be....would still allow a mock up....very neat technology
03-05-2013, 05:30 PM
Tech Elite
Join Date: Oct 2001
Location: Hickory Hills, IL
Posts: 2,185
03-05-2013, 05:32 PM
Tech Adept
Join Date: Feb 2013
Location: NY
Posts: 152
---
I am pretty familiar with 3D printing, use it for work, and yes it's perfect for RC. In 10 years you may have a printer in your home that will allow you to download and print parts for your RC cars. Paypal, print, install.
Look at DDD.
http://www.3dsystems.com/
Home systems have already fallen in price, lower than some of your RC vehicles.
http://cubify.com/cube/
Prints in ABS plastic also.
Printer prices are going to fall quickly as the market develops around it. I just hope they can keep cartridge costs under control.
03-05-2013, 07:43 PM
Tech Elite
Join Date: May 2011
Location: Victoria, BC
Posts: 2,092
---
I knew about 3d printing from the 90s when they were mostly stereolithography but only recently went looking for info again to see just how
Mainstream the tech is now.
You can build one at home, buy one for about $2k and start making stuff. Those machines only work with low temp thermoplastics like abs or pla but its enough to print the whole car, assemble, and have a test.

Some printers like makerbot have print resolution good enough to make
Molds for most rc parts. Since most parts are 2.5d its perfect.

Of course for finish quality stuff you need to look at a objet or similar. I think they start at $25k for a desktop system. One that could do a 1/10 rc body would be a lot more i would think.
03-05-2013, 08:04 PM
Tech Master
Join Date: Apr 2005
Location: Colorado
Posts: 1,128
---
I experimented with 3D printing to make some a-arms for project of mine a few years ago. My school had a 3d printer...they said it was valued at $22,000.. and it looked like a weird refrigerator. It printed with ABS. The parts ended up cracking within minutes of real-world testing. Perhaps other methods with strong plastics is stronger.. but, the parts I made were too weak for testing purposes..great to see if the parts fit though.That was 3 years ago perhaps 3d parts are stronger now. I don't see them as a future production alternative to injected molding as the process takes too long and is too expensive.. but, they are nice for prototyping purposes.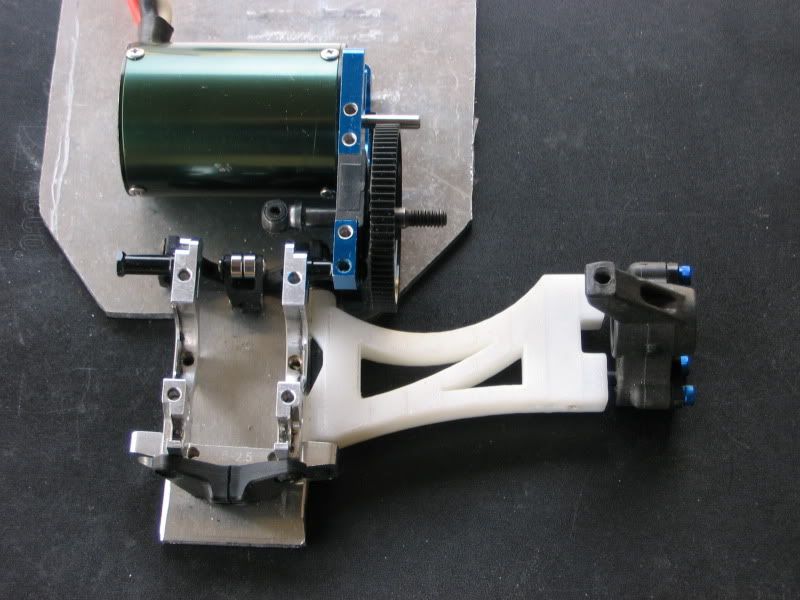 03-05-2013, 08:16 PM
Tech Elite
Join Date: Dec 2004
Location: Marietta, Ga
Posts: 2,179
---
My school has a few 3d printers too. It prints a weed eater wire type plastic. I have seen a few pieces they printed and they seem very strong. I twisted on a couple and they flexed but did not crack. Not sure how they would react to the sudden jar of a rc crash though.