Tamiya TA05 Touring Sedan
01-20-2010, 06:45 AM
Tech Regular
Join Date: Dec 2006
Posts: 341
---
by the look of it is the steering plate the problem.
01-28-2010, 03:16 AM
---
Help!
I stripped the head of one of the 4 (small) screws that secure the centre plate on my TA05.
Any tips on how to remove stripped screws?
Thanks
01-28-2010, 03:19 AM
Tech Addict
Join Date: Jul 2005
Location: Johannesburg, South Africa
Posts: 745
---
Cut a slot in the head with a dremmel and use a flat screw driver to turn it out.
01-28-2010, 03:21 AM
---
Sweet, thanks for the quick response. I will give that a go, i ll have to try and fine a small one though coz it's abit sunken into centre plate...

I just saw somewhere where people have had success with sticking an allen key and super glue, I'll give that a go first.
01-28-2010, 03:43 AM
Tech Master
Join Date: Oct 2008
Location: Sydney, Australia
Posts: 1,928
---
Didn't work for me, but a tool called an "ezy-out" did it. It's like a tapered reverse drill bit that drills slowly into the screw until it grabs more than the screw does and the screw then just turns out. After that, I replaced all those screws with titanium hex drive ones and bought a good quality driver
01-28-2010, 01:08 PM
---
Dang, the super glue trick didnt work...

Ezy-Out here I come...

otherwise I will just have to do the Dremel trick.

The funny thing is, these are the 3Racing titanium screws. No good if you ask me.
01-28-2010, 01:49 PM
---
Once you get it out, the best way to avoid it again is to replace it with better screws. The best to get are the grade 12 black oxide coated ones. The kind Tony's Screws sells. Thanks to me and a few others he does have a kit listed for the TA05 now.
And then as said above, make sure you have a good quality set of allen drivers.
01-31-2010, 03:17 AM
---
Got it!

Ended up drilling into it, the screw never came apart but it just came loose by itself... Oh well, happy anyway!

Thanks for all the input.
01-31-2010, 04:25 AM
Tech Rookie
Join Date: Jan 2010
Posts: 9
---
When all else fails force is the way!
02-04-2010, 11:38 PM
Tech Adept
Join Date: Jun 2006
Posts: 100
---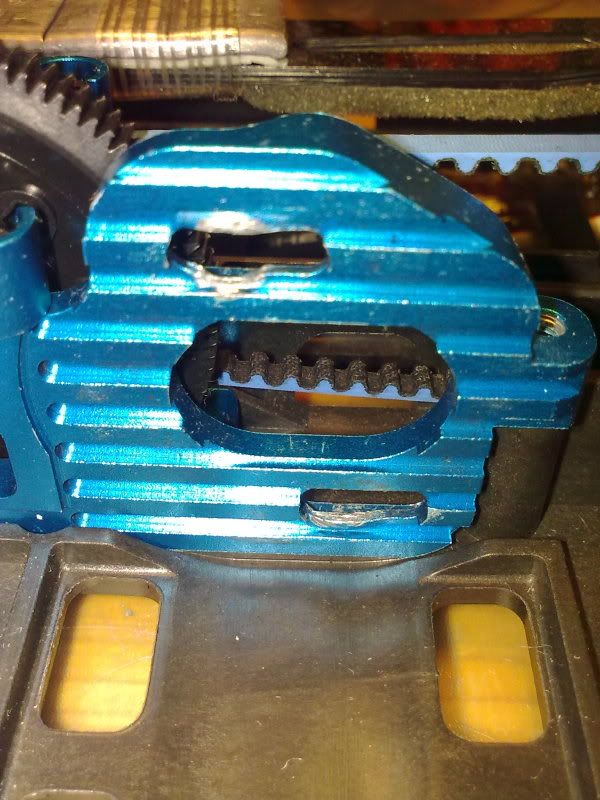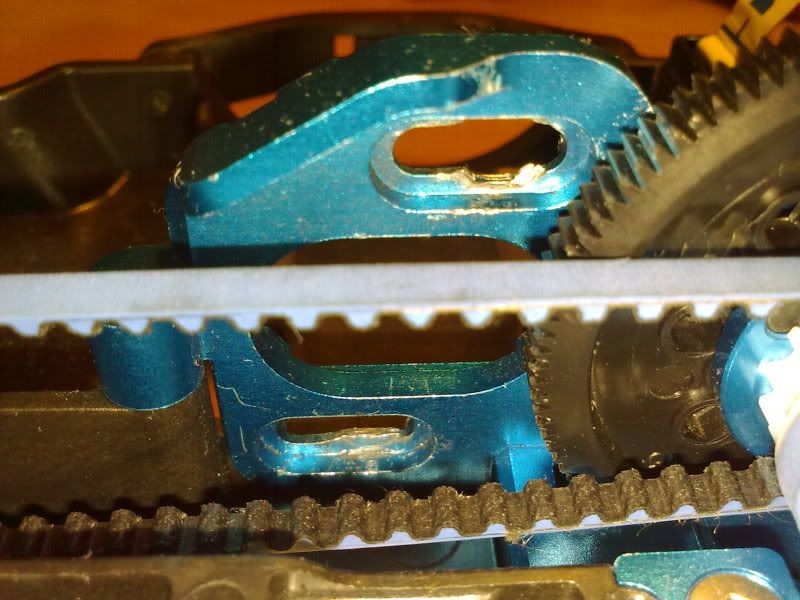 Anyone have experience like this with the aluminum motor mount?
Anyway to fix it without spending another $40 for another tamiya motor mount?
02-05-2010, 02:42 AM
Tech Elite
Join Date: Feb 2009
Location: All over the place
Posts: 2,965
---
Are you sure that's a Tamiya mount?

You need to use the right screws there, that's why you have problems. Cap screws. Also, I use a washer and a spring washer under the screw head so I don't have to tighten like I'm trying to hold the Titanic with it.
02-10-2010, 09:18 AM
Tech Regular
Join Date: Sep 2005
Posts: 444
---
02-10-2010, 05:44 PM
Tech Addict
Join Date: Aug 2009
Posts: 692
---
02-10-2010, 06:28 PM
Tech Fanatic
Join Date: Jan 2008
Posts: 832
---
Originally Posted by
zake540
TA05 has narrower bulkheads and longer dog-bones than the TRF cars. That diff won't fit as it's too wide...