Tamiya TA05 Touring Sedan
06-09-2009, 07:59 PM
Tech Apprentice
Join Date: Oct 2008
Location: Fort Collins
Posts: 72
---
Originally Posted by
joe of loath
They have to be over 40. The only time I've ever seen them work properly is when I was testing my car on the street the day before I raced, and ran vtec 27's (which overheated and caused the car to be unpredictable). So, I glued the stock tyres up (I was saving the rims too
), and although they offered slightly less grip than the vtec's they were more predictable, and I could not get the back end more than 20 degrees out (so some drifting, but not much). It was a really warm day, air temperature was 27 degrees C, and the temperature of the ground was over 40 degrees C.
Yeah, I guess the pavement has to be almost melting in order to run the stock tires
07-05-2009, 01:39 AM
---
Hi,

I just raced my TA05 for the first time at the local track on Friday night.

I went in with pretty much stock everything, except I had front and rear stabilizers.

It seemed to handle fine, I had my ride height at about 10mm, that's following what the manual says. Then I was told that 10mm is too high, I should be running about 5mm.

I have now adjusted it to 5mm but I m just wondering if I would need harder springs now as I dont want my chassis to be scratching on the ground everything I m coming around the corner.

Any ideas?

Thanks.
07-05-2009, 05:22 AM
Tech Elite
Join Date: Feb 2009
Location: All over the place
Posts: 2,965
---
Ask the people who told you 10mm is too much what exactly is it too much for?

If you're happy with the car (and your times are on the pace) then never mind what others say. A lot of people try to follow what they see elsewhere without properly understanding why they do this or that. Ask them what is to be achieved from lowering the car and if they don't have a good answer, just disregard whatever they say.

People run very low ground clearance in higher powered classes where they allow very little roll to make their cars quicker to react to steering inputs. That is not the only way to do it and ultimately your driving style is going to decide what your best setting is. Running outdoors on road is taxing on the bottom of your chassis so I prefer a bit higher ground clearance than normal too. That way you need to learn to drive a car that rolls a bit more. On our track (rubber on low traction carpet indoors) some of the fastest guys have a lot of roll, others have very little. When you watch the race you can see straight away the difference. The low riding cars handle like toys or computer game cars (point and shoot) whereas the others handle like real cars, lean into corners, etc. Differences in lap time come from driver skill and the most consistent fast guy is someone with a car with a lot of roll and higher ride height (his car actually lifts the rear inside wheel off the track and the car is still stable, responsive and predictable).
07-05-2009, 06:43 AM
---
Cool thanks for that.

I didnt think it would make too much of a difference, specially in 540 class, and also because I m fairly new to racing, I dont have a preference so I can build my driving skill with what I currently have.

I'll leave it at 5mm for now and give it a go next week and see if I like it.

I've got some harder shock oil here so I might change that as well. Which brings me up to another question.

What's the best way to clean out all the old oil? Dishwashing detergent?
07-05-2009, 07:47 AM
Tech Elite
Join Date: Feb 2009
Location: All over the place
Posts: 2,965
---
Silicone oil is by its very nature not readily dissolving in detergents meant to increase the surface tension of fatty substance. Likewise with oil based products (turps and the like). The best (because it's simple) way to clean the shocks is drain as much as you can, if you have one, use your buggy spray when they're empty (if you don't have spray, don't worry, it's not worth buying it just for this) and the clean tissues twisted around to make sure they get all the way down. Blow any fluff out with a hairdryer or similar and you're ready.
07-05-2009, 10:50 AM
Tech Master
---
NIz, I agree with you and disagree with you.

It kinda sounds like you are confusion chassis roll and roll center. A higher roll center will allow the chassis "leverage" into a turn, but chassis roll is a different dynamic altogether. Clearly, you hit a point of diminishing returns with a low chassis, but there is a reason that most people stay within 5-6mm ride height. 10mm is far to high. At 10mm, your chassis is rolling over a turn instead of rolling into a turn.

obviously, driver skill will always improve any car, but you can't assume that setting up your car to your driving style is gonna as fast as you can go. A better set-up will push the car and driver to better lap times and ultimately to a better set-up car. Human nature is always looking for improvements.

rnd,

In 540 and stock racing set-up and especially driving are absolutely important. In these 2 classes, wherebrakes are rarely used, you have to have a set-up that can maintain a high entrance and exit speed because 540 class has very little torque. maintaining speed in and out of a turn is gonna make you a fast driver. A high ride height is gonna strip away that in and out speed that you need to place well.

Here's a set-up for asphalt (loose to medium)
You will need a tamiya spring kit and sway bar set if you can!

frt:
yellow springs-50wt oil, stock 1-hole piston
yellow sway bar
outer hole on arms, middle hole on shock tower
1.5 deg. camber

rear:
red springs, 50wt oil, stock 1-hole piston
no sway bar
outer hole on arm, #3 hole on shock tower
(hole 1 is closest to center of car, hole 4 is after the body mount)

now just find the tires your competition uses and your are 85-90% there.

if your track is high traction, try the blue springs up front and yellow in rear, then white up front and blue in rear if on carpet or if your track is VERY HIGH traction.

As a side note. the kit silver springs are stiffer than the whites.
Let me know how this works for you. Feel free to PM me.
I'm not a ta05 expert, but I've run this car for 3 years now (it's a tank) and can keep up with the big boys.--Al
07-06-2009, 12:41 AM
---
Cool! Thanks for the cleaning tip niznai. I'll try the new oil, so it's not absolute critical to get every single residue of the old oil out? I was thinking of soaking all the stuff in some WD40 or something.

big al, currently I do have a stabilizer set on my front and back, and I m using both the yellow ones. I'll try your suggestion with just the front and see how I go. I m also running 1 degree negative camber on all wheels, does the 0.5 make that much of a difference?

I was looking online for some springs yesterday and came across the TA05 hard springs set (#49389). Do you reckon I would be better off just changing to a harder oil than to change both? I think I will get them anyway just to experiment.

I'll do adjustments bit by bit. I have noticed that with 540 I barely even used the brakes. Like you said I think it's about keeping the speed around corners as the gearing is up high and there is not much torque.

For now I'll just lower it to 5mm and try the harder shocks and see how I go.

Thanks.
07-06-2009, 03:00 AM
Tech Fanatic
Join Date: Apr 2007
Location: Brisbane Qld
Posts: 905
---
is anybody else having trouble using the search function for this thread. I can search on every other thread but this one
what I'm trying to locate is information on a suitable foam tyre for asphalt track with a mid to high grip surface.
i don't race, but wish to try out foams on a race track to try something different with the car and see how it shapes up grip wise.
any suggestions would be appreciated.
07-06-2009, 12:16 PM
Tech Master
---
rnd,

You can try a stiffer oil, but I wouldn't go stiffer than 60 wt. The stabilizers are gonna keep your chassis flatter in the turns. Definitely don't make than one change at a time. Your best bet is to make one change, put down a few minutes of practice laps and look for improvements. You want to make sure you are giving your tires enough time to get warm. Also, keep in mind that the tires alone make an incredible difference. Ask the local fast guys what they use and get some. you can tune the hell out of any chassis, but without the right tires you won't get as fast as you can. The correct tires and an ok setup are better than the reverse.

I think that the stiffer springs are gonna make your car lose traction. You would eliminate chassis roll because your tires aren't able to dig in. But hey, there's only one way to find out. I have only once used the kit springs up front and the whites in the rear (high traction carpet) any other time it's been white-frt, blue rear or yellow front, red rear (asphalt). keep in mind that the ta05 is a bit heavy and that roll is they way the car handles it's best. Every car rubs at some point...

Let me know how it goes.--Al
07-06-2009, 01:39 PM
Tech Initiate
Join Date: Jul 2009
Location: LITH
Posts: 29
---
Just started to upgrade my TA05
So far the upgrades are:
Tamiya
Carbon Reinforced Bulkhead
Tamiya
Black Motor Mount
Tamiya
5.5mm Spacer Set
Tamiya
Carbon Fiber Front & Rear Towers
Tamiya
LW Center Shaft
Tamiya
Diff. Protection Stickers
Futaba
Z590M Servo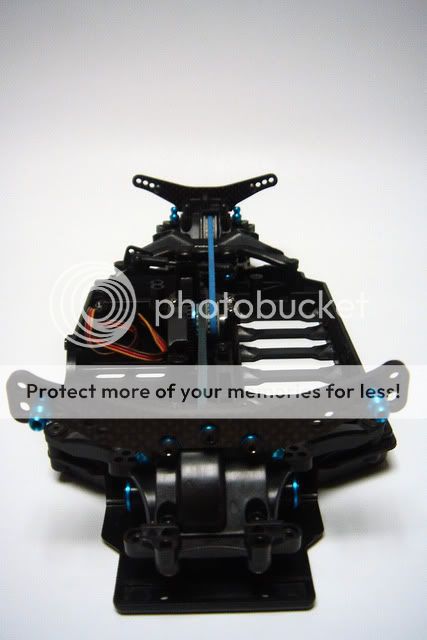 My question is, what suspension and pinion/spur gear combination do you guys recommend for a curvy track with a lot of turns where acceleration is key?
07-06-2009, 07:28 PM
Tech Master
---
What happened Double E???!!! This is Albert, Shook's friend.
07-06-2009, 09:01 PM
---
Nice car squidd. Those diff covers were what I was after as well but couldnít find any Ė would you be able to give me the part number?

big al, Iíll give the shock oil a go first, then Iíll try out the springs if itís still bouncing around too muchÖ It didnt lose traction when I was up at 10mm, but now at 5mm I donít know how it would act with the same shock setup.