Tamiya TA05 Touring Sedan
10-24-2007, 05:53 AM
---
DNA2 I found left a lot to be desired for rear end grip, Mazda6 I felt better, something a little less agressive.
10-24-2007, 03:12 PM
---
I don't run sway bars these days, tried it, don't like them.
10-24-2007, 04:38 PM
Tech Master
Join Date: Jul 2006
Location: La Mirada, CA
Posts: 1,122
10-24-2007, 04:53 PM
---
Since every one is on about rear grip ive only just found a balance for mine, im now using a medium/ hard rear spring set up with 60w team associated oil in the rear and front is a hard spring with 60w oil, and the help of the Dodge Stratus 3 cover with the rear wing mounted in the middle hole. Before i all this the rear end would step out very easily when accelarating out of a corner, generaly very slidy with every movment.

Edit: i havent used sway bars yet, and now i dont think i will have to
---
Last edited by Blue_VB_SL253; 10-24-2007 at

05:25 PM

.
10-24-2007, 04:55 PM
Tech Adept
Join Date: Oct 2004
Location: N. Cali
Posts: 200
10-25-2007, 02:37 AM
---
Personally I dont run sway bars, and if I was to consider using them it would only be on high traction tracks.

They stop the car hooking up too aggressively in the corners, but it is a very crude way of doing it. I prefer to work on the springs/oil/camber links and shock mounting positions than to just hide a setup problem with sway bars.

My take on it is that the sway bar is a very artificial way of getting the car to aid compressing and rebounding its suspension. Also, by playing with the rest of your setup you are running less weight by not having the sway bars on your car.
10-25-2007, 04:08 AM
---
I have updated my setup, as the car seemed a little hard to drive with a one-way in, so here it is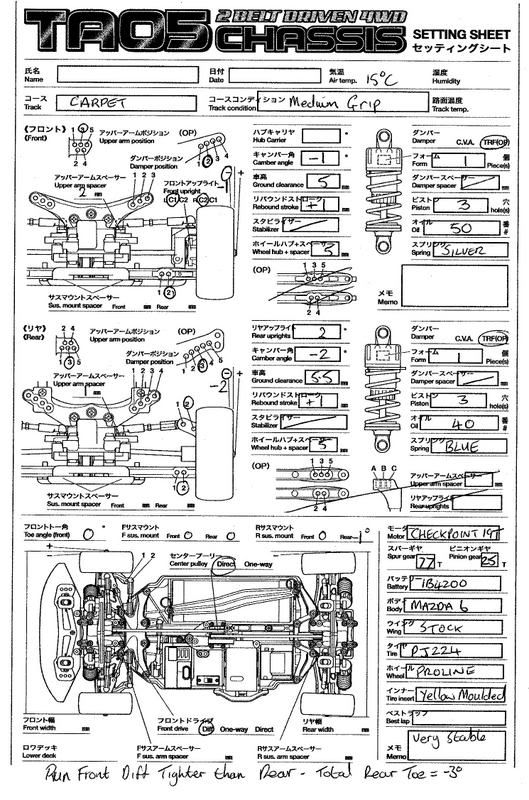 10-28-2007, 08:04 PM
---
DA_cookie_monst, im just wondering why on your set up sheet, you have the front diff tighter then the rear belt, whould this be so there isnt as much power going to the rear wheels so it spins during accelaration?
---
Last edited by Blue_VB_SL253; 10-29-2007 at

08:08 AM

.
10-29-2007, 02:43 AM
---
Blue:vb By allowing the front diff to be run a little tighter it allows for slightly better turn in, but not so fierce as a spool.
hth
10-29-2007, 06:07 AM
---
10-29-2007, 07:20 AM
---
d'oh, misread
10-29-2007, 07:28 AM
---
I am assuming the poster meant diff's as I made no reference to belt tightness on the sheet.
10-29-2007, 08:09 AM
---
Yea guy's i did mean diff's, also thinking about belts at the same time while posting that. Thanks for that anyway, might have to try it for a little more turn in