Team Associated RC10R5.1 FT World GT
01-05-2013, 07:49 PM
---
JoostK could you list the parts you used for front end? MFG, part #'s?

Looks interesting
01-06-2013, 01:55 AM
---
01-06-2013, 09:51 AM
---
Thanks JoostK
01-07-2013, 05:44 AM
---
Thanx guys... I know that nowadays a lot of people just use the cars as they come but I am from the old days of RC racing and back in the days we always read the Radio Control Car Action articles about the winning cars and were amazed by the amount of after market parts that were used. That kinda gets into your head so I still like and enjoy doing that. Even if the advantage is minimal, it still gives me a good feeling about the car.
01-07-2013, 08:47 AM
Tech Champion
---
The CEFX axles are great. However, AE does sell a less expensive inline axle option. I have been running it since I got the car.
Item# 8441
Item# 8443B
If you wan to run the ball end king pin this is also avaialbe from AE. Its is from the B3/T3 and is a direct fit to the R5 front end, springs fit like stock...
Trim 6mm from the end of the plastic ball cup to make it fit.
The advantage of this mod is less camber gain as it places the pivot closer to the axle. Note that the axle carrier is taller than the CEFX one so the 2mm spacer used by Joost is not needed.
Item# 7211
---
Last edited by AdrianM; 01-07-2013 at

11:11 AM

.
01-07-2013, 08:53 AM
---
Also a great (and cheaper) way to go with the Associated parts. A friend of mine runs these kingpins on his RC10L2 Pro10 and it is a really good update! Far less play in the front suspension and less moving parts that can attract dirt and bind.

I also have the inline axles from CEFX and I think that I will run these also in the cars, WGT & Pro10.
01-10-2013, 07:38 AM
Tech Champion
---
My car was insanely good last night. I am running an old Trinity D3 and old batts against guys with new stuff and I got 2nd. Getting a new D3.5 and batteries today for big race this weekend.
Setup attached...
01-14-2013, 07:32 AM
Tech Adept
Join Date: Nov 2012
Posts: 103
Associate 5.1 and Lrp Flow sweep the board
---
First major event in the Uk for 2013 was the AUTO SPORT car show Approx 100,000 people attend. The BRCA arranged the event for invited and the best WGT10 drivers in the Uk.Spectators lined the track 5 deep for the entire 2 days.
Four drivers running the Associated 5.1 out of a field of 40. format was 1s 10.5 boosted and reedy format.Associated swept the board 1st,2nd,15th,and 20th.
Crc team driver Mark Stiles was 3rd and Chris Kerswell former 1/12th European champ was 4th driving serpent.
Event was won by Olly Jefferies , Zak Smith 2nd. Both had 9 wins and a 2nd but olly took the title with recording the fast lap on the count back. Both using sonic 10.5 and the lrp flow esc.
ps by the way I was 20th, not bad for a pensioner.
01-14-2013, 12:40 PM
Tech Master
Join Date: Dec 2005
Location: Tewkesbury, UK via Plymouth, UK.
Posts: 1,259
---
Here's a pic of the top 2 Associated cars from the Autosport meeting:
Zak's: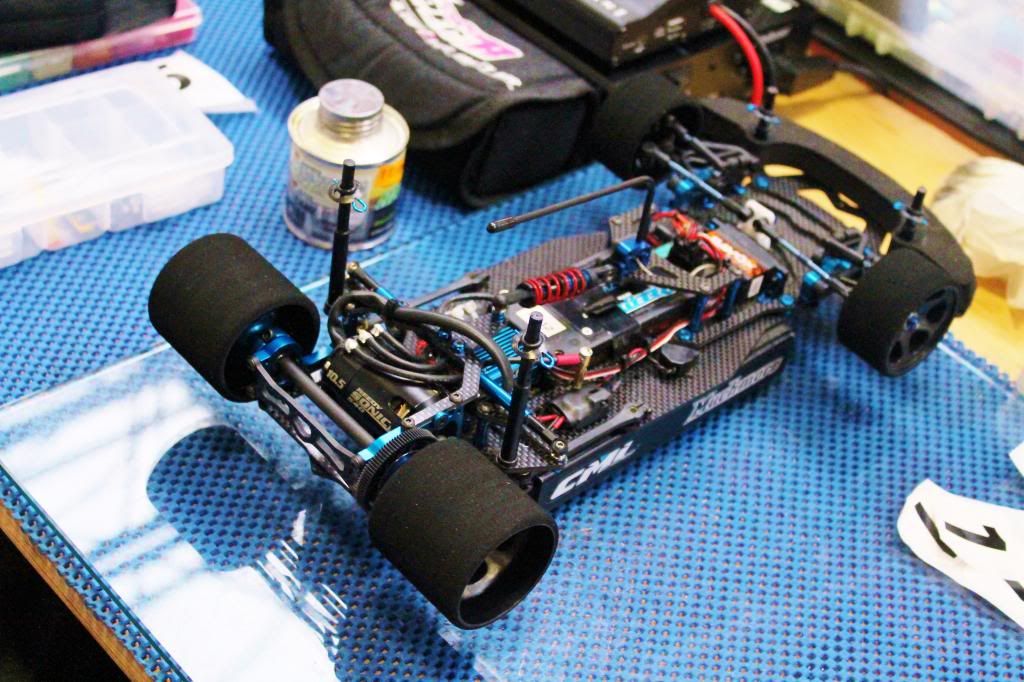 Ollie's:
Corner speed of both cars was amazing to say the least!
01-18-2013, 05:55 PM
---
How do you initially setup the side springs?
01-18-2013, 07:43 PM
Tech Champion
01-18-2013, 10:20 PM
---
Thanks AdrianM
01-19-2013, 01:37 AM
Tech Adept
Join Date: Nov 2012
Posts: 103
kit side side springs
---
im using kit springs and so are the Uk team drivers. no preload both side screwd back as far as possible so barely touching. Olly and zak are as good as any WGT10 drivers in the world,so its good enough for them ,get my point ????
01-19-2013, 07:42 AM
Tech Champion
---
At a high grip track the gold springs and red center springs make the car undeliverable. It turns in too hard and makes the inside rear tire lift. You'll see the setups on rc10.com are also softer than kit.

I bet with some more time on the car the UK drivers would make some changes.