Spec-R R1
02-22-2013, 03:07 PM
Tech Initiate
Join Date: Dec 2012
Posts: 40
---
I think the fact you have different length bushings is your problem with you spur. Grab some flanged bearings or put both white bushings together as a set and sand them down to fit. Use verniers if you have some to be right on the money.
That was not an easy build. Let's hope it runs better than my TC4 and makes it all worthwhile. I'm still worried about my spur assembly rubbing on my top brace and my rear diff is flinging oil...

A couple notes I'll share to make part of the permanent record.

I found a couple errors in the manual. On page six of the S1 manual it shows a picture of a 3mmx6 button head but says 3mmx8, and indeed that's what you should use.

Also when building the front suspension arm the layout shows them as they go in both the build and installation picture. But when you do the rear arms the arms are flipped over from the build picture to the install picture. And that makes the droop screw in the wrong place.

It would be nice in the manual if they mention why you're putting those 3mmx12 button heads in the servo mount and the one by the motor. A simple "these will keep your battery from sliding inward later on" would do wonders...

My biggest issue was that my steering link rod was not threaded on one side! Yup, that one got through the Chinese machine shop QA. Luckily I had something that will work.

Changing out pinions on this sucker sure ain't easy.
02-22-2013, 03:20 PM
Tech Addict
Join Date: Jan 2012
Location: Indianapolis give or take...
Posts: 659
---
Thanks. I'm just going to swap out my spur with the Spec-R version and use the white bushings.
After doing some fancy math, I figure a 106 tooth 64p Spur will allow me to use the same range of pinions that I use on my TC4 for both VTA and USGT.
What is amazing is that I dropped by my local track and ran for about an hour in prep for tonight's racing. In under 60 minutes I was faster than my TC4 and it was MUCH easier to drive. So much so that I brought it home and changed out a pinion, got it up to weight and will drive it tonight. Not a single spare part in 500 miles, but I'll give it a go...
02-23-2013, 04:43 PM
---
If it wasn't for bad luck, I'd have no luck at all with my S1. I added the sway bars last week and went to practice today in prep for a club race tomorrow. The car was dialed and I when I pressed for a hot lap I tapped a board and broke more parts.
This time the top of the front right shock sheared clean off and the front lower hinge pin support also broke where the round ball site. The suspension arm, steering knuckle and C-hub are fine. I'm pooched yet again! The plastics on this car are as brittle as the bones in a geriatric 90 year old.
02-23-2013, 05:47 PM
Tech Regular
Join Date: May 2002
Location: Sweden
Posts: 410
---
thats the opposite of my experience, i havent broken a part yet with my r1, 45-50 runs with the car and its still going strong, i dont crash much, but when it happens its often quite hard (had some full speed crashes) i run in 17.5 boost class...

to me the car seems to be as durable as the xray cars
---
Last edited by Bappe; 02-23-2013 at

06:08 PM

.
02-23-2013, 06:04 PM
Tech Fanatic
Join Date: Jan 2005
Location: Northwest Ohio
Posts: 996
---
02-23-2013, 06:34 PM
Tech Addict
Join Date: Jan 2012
Location: Indianapolis give or take...
Posts: 659
---
Well, I've got one qualifying heat and one main on my S1 and I hit the inside rail one time and I broke a steering rack. Wondering if that is a common area of weakness?
02-24-2013, 01:17 AM
---
Hello

If any body is looking for a good up grade to get for the car? The alu rear drive shafts and centre spur shaft are a must, fitted them and have saved about 10g of weight off the drive train.
02-24-2013, 02:57 AM
Tech Master
Join Date: Jan 2003
Posts: 1,955
---
If a $120 kit breaks, I'm still thankful. Parts have to be cheap, like the kit.

I think if anyone is coming in second to last with this kit, they win. For $120 in the touring world - a value. Think about how many X-Ray parts will cost you.
02-24-2013, 08:34 AM
Tech Regular
Join Date: Jun 2011
Location: So Cal
Posts: 499
02-24-2013, 09:43 AM
02-24-2013, 10:27 AM
Tech Regular
Join Date: Jun 2011
Location: So Cal
Posts: 499
---
Do these fit front, back or both?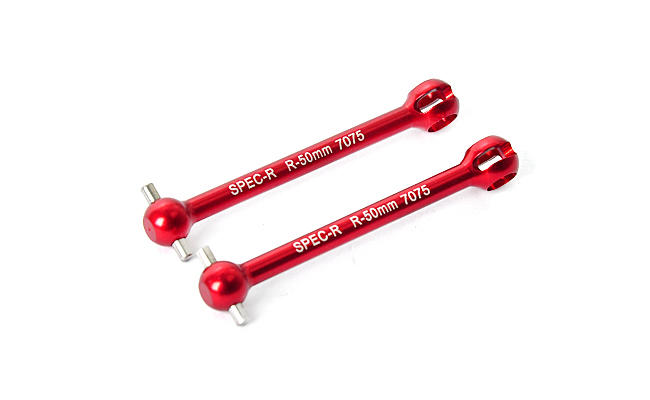 02-24-2013, 10:41 AM
Tech Master
Join Date: Nov 2003
Location: Highwood, IL
Posts: 1,789
02-24-2013, 12:26 PM
02-24-2013, 01:40 PM