Spec-R R1
11-22-2015, 01:30 AM
Tech Initiate
Join Date: Aug 2015
Location: Nederland
Posts: 47
---
Getting a email the r2 carkit is back in stock good news
11-22-2015, 04:15 PM
Tech Apprentice
Join Date: Aug 2006
Location: victoria
Posts: 94
---
I think I will use one of these for my VTA car, the price is right
11-22-2015, 05:13 PM
---
it should work out for you great. make sure you buy a xray t2 hard front bumper and some tamiya ballcups. blake has the ballcups and you can prob ask him to bring in a bumper.
the aluminum steering blocks also very good to get.
its really hard to complain about the r2ex. you get everything you would expect in a top of the line car and if you take your time building it and making sure its right, its going to be pretty damn fast.
11-22-2015, 09:24 PM
---
Racing a S2 (got a deal on it and the guy didn't have a R2) for VTA.

Had raced a TC4 best laps were 13.8-9's, changed to the S2 (same motor, esc, body and tires) turning 12.9-13.1's!!!! Same track out door parking lot, races were 60 days apart.

Maybe I need a R2 now!!!!!
12-05-2015, 11:25 PM
---
Just thought id share my r2 setup from this evenings practice.
WCICS switched to 28 compound sweep tires this year but ive not been able to afford to go to those races yet. wcics 5 is coming up which is the biggest one with all the big peeps coming, so its almost my annual report card of progress in my driving.
blake was nice enough to give me some of his used wcics tires for practice and i got to setting the r2 up for mod.
ive done wholesale changes compared to what i used to do. sometimes a complete change of perspective is needed.
our track is 100x40ft for club racing, 100x48 for wcics. 12th scale 13.5 cars can lap it mid 10s. modified i was able to get down to low 10s without much practice on a new car.
fastest i was doing with this car was 11.2 with an 11.4 average so its very consistant for my driving style. id say smoother driving on the line than point and shoot aggressive.
the biggest thing ive noticed about my r2 is pushing weight forward just makes it handle better in all situations. less weight transfer forward off throttle and less darty, but more overall traction and drivability. so im running my front arms pushed all the way back and the rears somewhere in the middle.
for carpet this is working really good. so hopefully this is helpful for other spec r users. im running arm sweep and wider rear possition on the hindpins. bitch still wants to rollover in high speed corners so thats next thing to work out.
# i forgot to add droop settings but generally front and rear are 3mm lift ORH. also not running any roll center shims in rear, but 1.0 shims up front.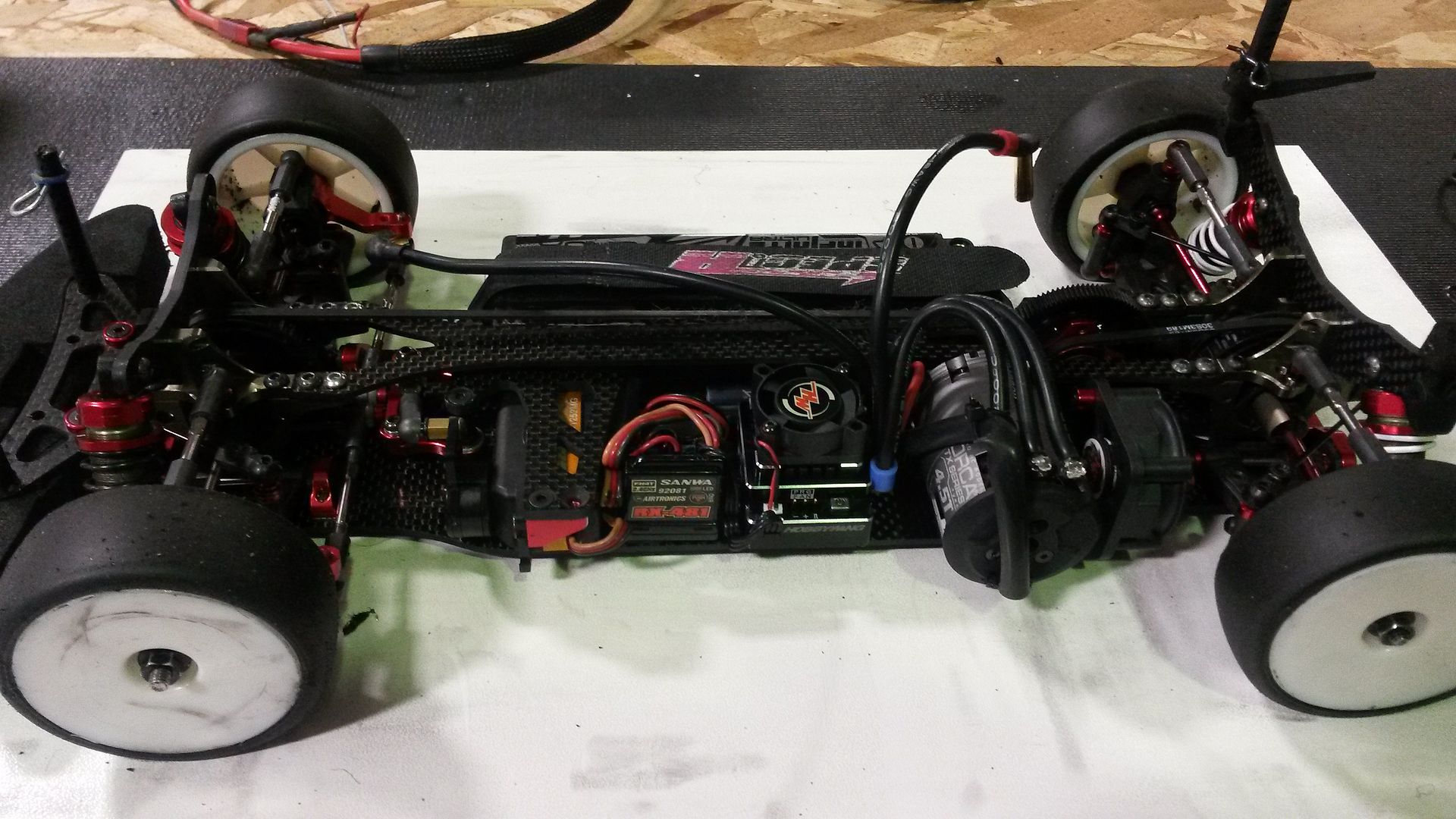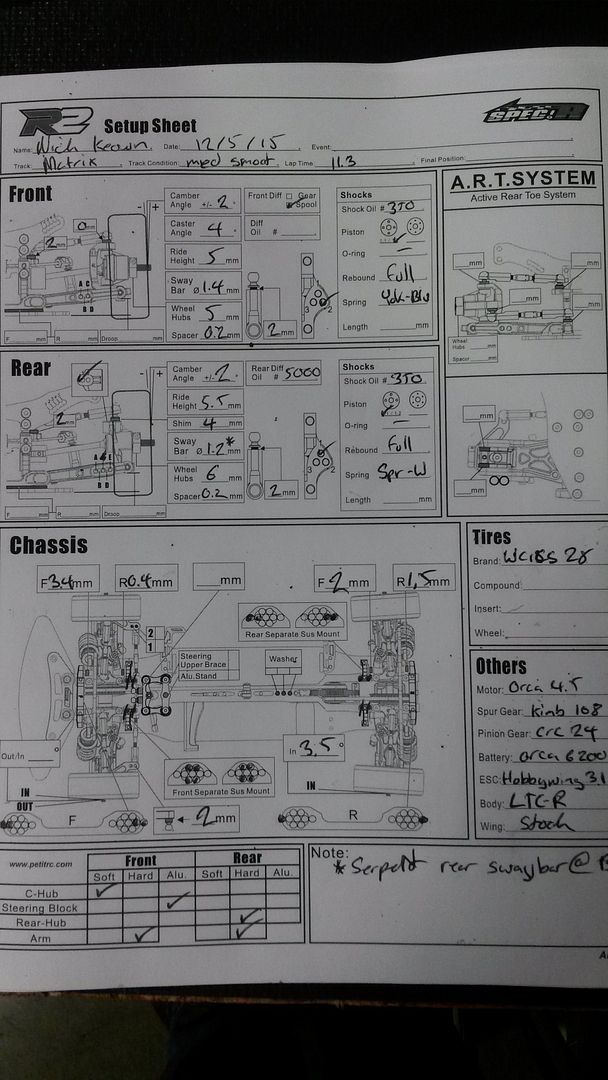 12-11-2015, 07:22 PM
Tech Master
Join Date: Nov 2007
Location: Christiansburg VA
Posts: 1,068
---
What is a decent condition R1 roller worth?

Is it still a decent platform for club level rubber tire 17.5T?

Looking for a TC to play with and a friend has one for sale as a VTA car (which I have no interest in running) but he will sell it as a roller.
12-13-2015, 08:33 PM
12-13-2015, 08:47 PM
Tech Regular
Join Date: Dec 2005
Location: nor-cal
Posts: 495
---
Originally Posted by
tmail55
I think that's a mini prototype
12-17-2015, 04:14 AM
---
Any updates on an r3? Just got a second hand r1 in excellent shape and running it this Saturday. The steering track seemed a bit sloppy so I had to file on the pivot posts slightly and that pretty much took care of that. I also just bought the collection of parts a few posts back and got the floating steering setup to try and there is no slop in that stuff. Which tamiya ball cups are the ones to buy? Thanks, Peter
12-23-2015, 03:12 PM
---
now I'm getting concerned about spec r's following. I'm really quite happy with this cars performance and reliability this past weekend of racing in AZ. I had been completely out of on road rc racing for about fifteen years and managed 4th place out of ten cars in a 17.5 sportsman class. I know that driving skills and experience are as important as having the newest, best chassis and I'm sure I'll improve with time. I would like to try an additional class like spec gt to help fill the time spent with the 20 plus heats we ran. I'm happy so far with this car but hesitant to invest too much in the brand with the lack of parts availability when I can buy a used yokomo or xray 15 for about the cost of an r2 kit.
12-27-2015, 01:20 AM
Tech Regular
Join Date: Jun 2014
Location: Australia
Posts: 290
---
Hi all,

What's the lowest fdr I can achieve with the R1?

I'm currently running a 45t pinion and a 65t spur. I've order a 46t pinion but I'm not sure it's going to be enough.

Has anyone found a bigger pinion or smaller spur?

Cheers
12-27-2015, 04:03 PM
---
Are you running 64 pitch gears? Sounds like you're running 48 pitch but they're are certainly larger 64 pitch pinion gears available. Amain sells a Robinson racing aluminum pro 47 tooth rrp1347
---
Last edited by tudor39; 12-27-2015 at

04:11 PM

. Reason: Aditional info