Spec-R R1
03-24-2015, 06:47 PM
---
Originally Posted by
32819toon
What Spur gears do you guys use ? Myself & my son have gone through 4 spur gears this year. I want something tougher than the Spec R ones. They're also quite coarse which produces noise, therefore more resistance which means power loss. My car has noise whereas others are quiet and smoother.
I use Associated. Which I think are Kimbrough? They are a little thicker than the kit spur, and take up the slop that was in my S1.
03-24-2015, 06:50 PM
---
I used to get the hpi spurs because the were thin in the middle. Then they went away. Recently new ones from Panaracer have appeared and they appear to be identical.
03-24-2015, 09:01 PM
---
Is the R2 motor and layshaft mounts backwards compatible with the R1/S1/S2?

The R2 shocks look very much like Xray T4 shocks. Has anyone compared them side by side? The S1/S2 shocks I have had experience with compare to my TRF m-chassis shocks (pistons, guides and all seals able to be built with Tamiya service items).
03-24-2015, 10:21 PM
---
s1/2 doesnt really have an upgrade path to anything r2 specific. all the bronze parts in the pictures are new and the holes are all different. the upper and lower trans bulkheads are not compatible with r1/s12 chassis layout, mates to the chassis are moved apart and toward the extreme ends of the car.
motor mount is not compatible. uses a triangular hole pattern specific to the r2. r2 topplates likely not compatible.

to explain the shocks.. the oil filled usable body is the same length as the old r1 shock, i think they just took away some top and bottom thread and made the top caps a little shorter. the body are 1mm larger in diameter. pistons now have a 4 hole option. also undrilled pistons included.
shafts are still 26x3mm. not sure why they different part number.. maybe a revision to the coating?
they look the same.

the shocks travel the same but due to the shorter top cap, they took away the 3mm the shock towers took away on the s2. the springs are short, but my yokomo ones go right on without issue. you just wont need any preload for initial setting perhaps.

suspension mounts are unchanged from the r1.. this is a good thing. that setup works very well for adjusting the hingpins, though the r1 plastic bits fit kinda tight. hopefully these ones are a little easier to pop in and out.

they did include METAL pivots this time though which is nice. also the hd geardif included with mine has hex screws rather than the philips s2 users have had to deal with.
i really need to get mine together.. prob wont have time to do a video or anything as i had planned, but if anyone has any questions, wants pics ect i could do that. wouldnt mind getting my r2 out for practice within the next week.
03-24-2015, 10:30 PM
---
Thanks for the reply! More has changed than I had originally thought.

I am currently running a hybrid S1/S2. S1 bottom deck, S2 top deck, S2 floating servo (with the two screws in the bottom it holds it at the same position as a standard S1), S1 motor mount, S1 front shock tower. Plus alloy shock bodies, sway bars and alloy hexes.

I found the S2 shock shafts shorter than the S1 or was I seeing things?
03-24-2015, 10:41 PM
---
s1 and 2 shocks are identical, but you should measure. i just chucked my s2 parts car in the bin with all my r1 stuff lol. i actually went back to the s2 shocks on my r1 to save a little weight. i think it was a 4gram difference using plastic bodied shock. for indoor worked great. i think outdoors you would want the aluminum bodies for sure though.

one thing you could upgrade to though is the new swingrack/servo mount. that thing is epic.

have my r2 shocks on the bench now for assembly. looks like we have a choice of 4 hole pistons. tapered and not. as well as undrilled with 6 pilots punched in. also has extra e clips THANK GAWD!. innards a tiny big different but they now are inset to the body as well as the cap as it was before. should hold the shafts nice and square compared to the old style.
03-25-2015, 08:27 AM
Tech Apprentice
Join Date: Feb 2014
Location: Woodstock, Ontario, Canada
Posts: 92
---
I found the shaft guides look like they should hold the shaft nice and square, but don't. They had a fair amount of play still. I wasn't impressed. I think I need to add a very thin shim in mine as well. They seem to leak. The spring perches are always slightly oily and collecting carpet fuzz.
03-25-2015, 11:23 AM
---
I agree. But he pistons don't fit the bore at all. If they made them a little bigger they would ride nice and square. but then people would get emo about friction ect. I couldn't use my yokomo orings which sucks. Too thick. Ill have to keey my eyes peeled for an alternative.
The shocks have exactly the same wobble dispite the changes. I also miss the texture of the old caps. Trying to tighten and thread the new ones is a mess with the overspill you get building shocks.
Bladders seem better than the old ones but very easy to murder with the super sharp threads on cap.
Improvments could still be made. But ill have to see how they perform on track.

Ill be testing mine in modified on practice nights. Only way to really get meaningful track time.
Ill also be building it with the rsd prototype chassis. Gonna save the cf for outoors.
03-28-2015, 12:42 AM
---
Got to assembling the r2 these last two evenings as a break between my full scale work that needs doing. i prob wont get to the track to test it out until.. maybe wednesday/thursday? ill see how far my full scale gets in reassembly. busy busy month. I hadn't planned to even buy an r2 for a little while but couldnt really pass up the deal i got.
car went together pretty well using the RSD prototype chassis. I received an early prototype so refinements are likely to be made to the final version you can buy. everything in the drive train bolted up just fine and aligned perfectly. one thing i noted as this being my first aluminum chassis car was how accurate everything seems to be in contrast to carbon. cf is good, but it seems like the countersinks can be more easily deformed than aluminum.
I had to do FAR FAR less tapping and adjusting of the countersinks trying to take tweak out of the car and this was very welcome considering what building a spec r properly entails heh.
id say this car was.. BETTER to build than my r1 and s2's ive built for the club. the new plastic parts are finished better and fit together better. though im sad to say MOST of the plastics are unchanged. ballcups seemed to be made of the new plastic they used for the lower arm inserts. they are better than previous version, but still fit too loosely on the balls.
an improvment, but not the right one i think.
as for the lower arm mount inserts, they do fit into the blocks easier and push out easier. id say its kind of a stubtle difference but you can feel it.
you get metal pivots this time instead of plastic, should last a while.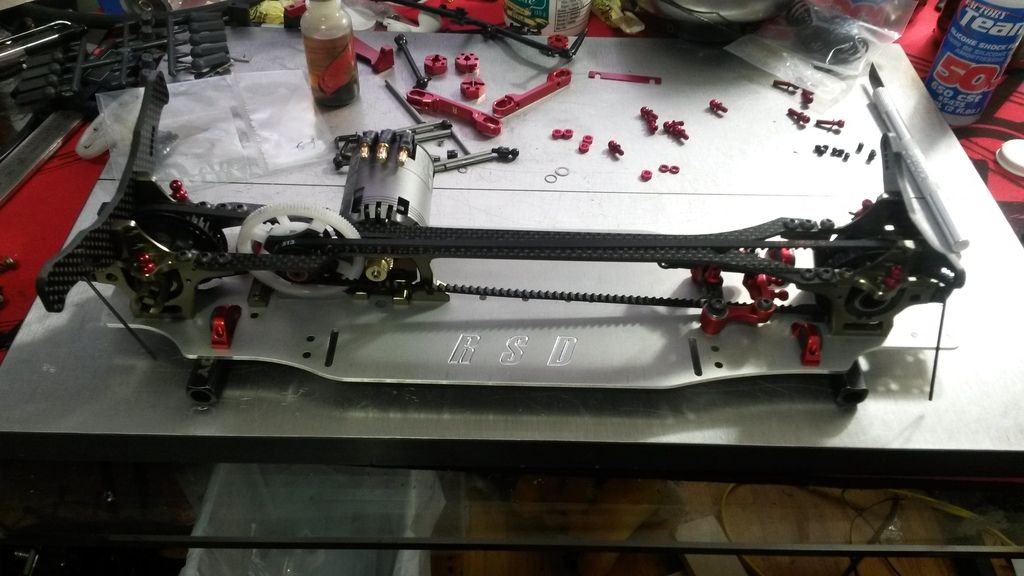 you can see the bulkhead clearly here and im sad to say there i just no compatability with the r1 platform, including s2.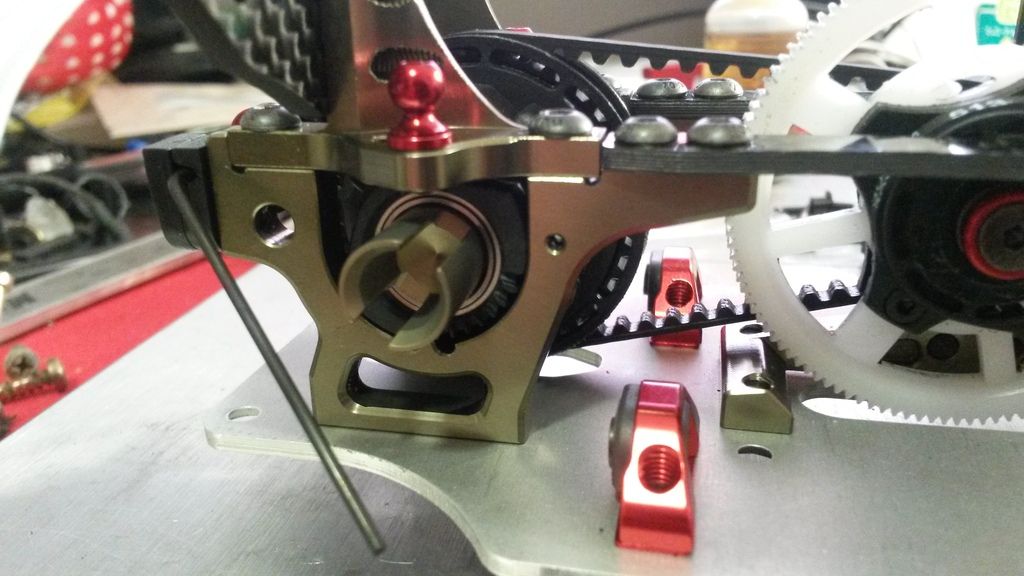 as i said, all the bronze/green parts are all new and the chassis is drilled differently for them.
sadly the top plate hole spacing is also different.
I know the one side layshaft is all the rage, but im not sure what i think of it, esp in mod. when you want to run your belts tight to handle the power, its totally gonna tweak on the layshaft. you have to be super careful how you shim it to keep it right in the center.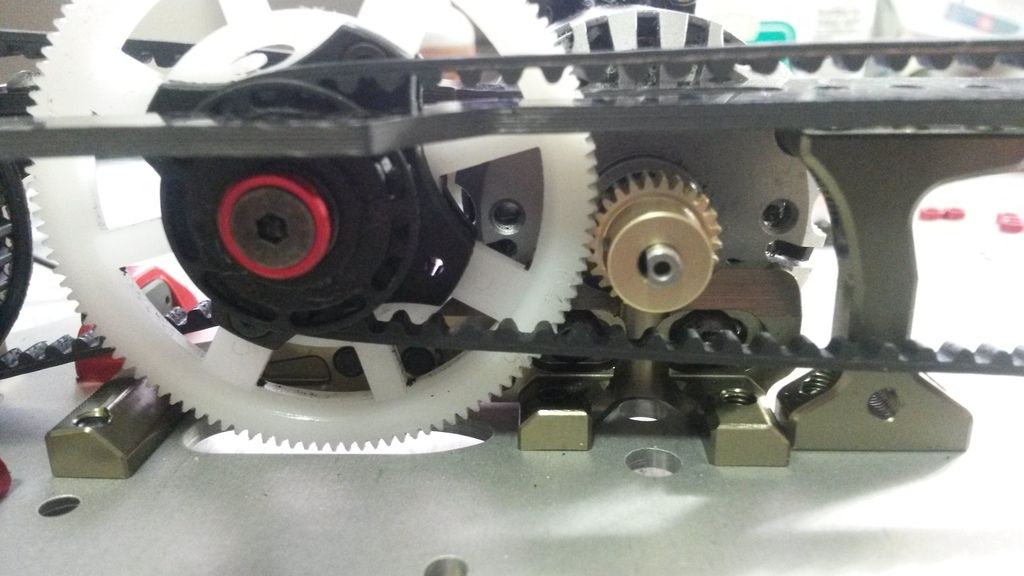 swaybars are unchanged. as for the new shocks.. they are a few mm shorter to properly match the lowered shock towers. regular touring car springs work just fine. i use yokomo springs.
i didnt have any problems having to adjust the rod ends or anything to get the right droop, and ride height is no problem, something s2 owners were fussing about. they look sharp and adjust well, but i miss the knurled finish for assembly ha. I drilled all the caps rather than mess with rebound setting. i have undrilled if i should want to test.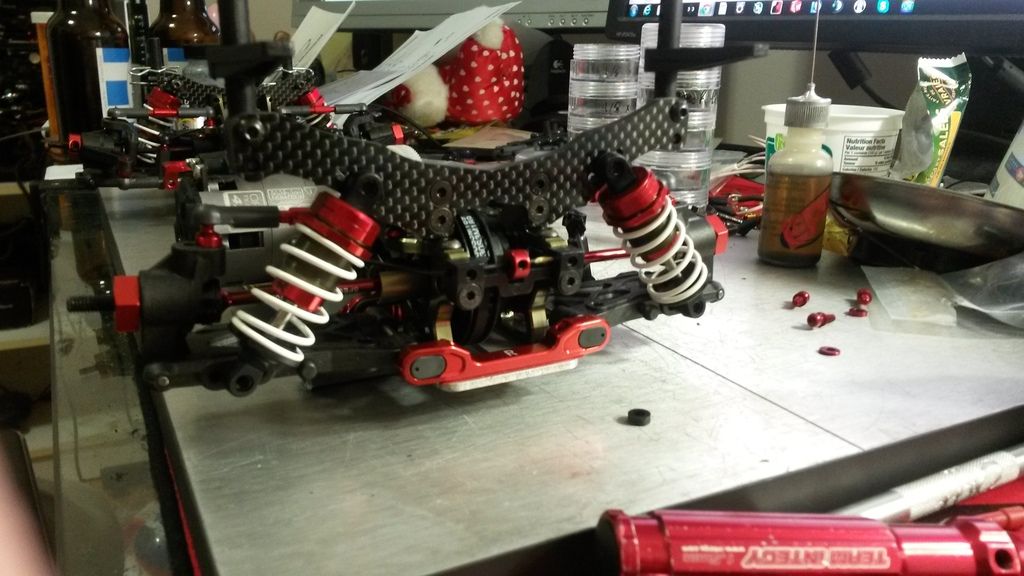 its too bad they look so good BEFORE you put your stuff in them.. I almost dont wanna finish it lol.
hopefully the next revision will have matching aluminum bits. car looks sharp though.
03-28-2015, 03:28 PM
---
Two questions... (running VTA/USGT on carpet)

1. Broke a hard carbon front A-arm on my new R2. Do I really need to replace with hard carbon parts? What is the benefit, and HOW MUCH benefit can I really expect? I'd prefer to not have to stock both types of parts.

2. This is an odd one. My left rear wheel wobbles. Right rear spins perfectly smooth. It is not the wheel, I've tried many different ones on that corner. I've also swapped out the hex and the driveshaft, thinking maybe the end of the shaft was bent. Still wobbles. The only things left are the bearings and the rear hub. Could the holes be out of alignment? What am I missing? What could it be?
03-28-2015, 04:36 PM
---
considering they all come out of the same injection mold its unlikely you have one out of alignment. id change the axle stub, then the carrier, bearings ect. if you smack the boards enough those axles will definitely bend though. dogbones usually first, but both can bend.

as for the hard carbon parts they are completely interchangable, just try to keep them the same per axle. the carbon parts have less flex to them and less forgivness. the older ones will deform if you crash repeatedly, but will have that forgiveness. expect to be shimming the old ones if you hit a lot.

id prob use the carbon lower arms and possibly steering blocks, but i personally stay away from the chubs. i broke one of those in five minutes of switching heh. the older style has more forgiveness this way.

the parts fail as there isnt muc meat where they do fail. changing the composition just changes how they fail in the same place really. spec r needs to give us more meat!
03-28-2015, 08:38 PM
Tech Apprentice
Join Date: Feb 2014
Location: Woodstock, Ontario, Canada
Posts: 92
---
So after a crappy day of breaking c-hubs, and not having any replacements, I've found that the Team Associated TC6.1 c-hubs will fit. These are the only other c-hubs I've found that fit, they are much beefier than stock and as an added bonus, they have adjustable caster!!
03-29-2015, 01:01 PM
---
Originally Posted by
Butler02
So after a crappy day of breaking c-hubs, and not having any replacements, I've found that the Team Associated TC6.1 c-hubs will fit. These are the only other c-hubs I've found that fit, they are much beefier than stock and as an added bonus, they have adjustable caster!!
What is the caster set to on the standard Spec-R C Hubs?