Spec-R R1
08-24-2013, 12:12 PM
Tech Addict
Join Date: Jan 2012
Location: Indianapolis give or take...
Posts: 659
---
I have a full size servo, a Spektrum SR300 receiver and my Novak Edge speedo all side to side in mine and it just barely fits. The speedo is real close to the motor.

At some point I'll swap out the servo for the low profile Savox 1251 and swap my Spektrum 3100 receiver into this car and I'll have tons of room.

Honestly the big issue with my new R1 in VTA is finding a place for all the weight.
08-24-2013, 12:29 PM
Tech Addict
Join Date: Jun 2007
Location: Canal Fulton, OH
Posts: 597
---
Originally Posted by
Kevin K
Just looking at your posted setup you should change the oil in your shocks first. 25wt in the front is really light and will lead to massive amounts of steering when the rear is a heavier wt oil if both have the same size and number of hole pistons installed. It really sounds like you want 35wt in the front and 25wt in the rear. Also dont use so much tire compound on the front tires. Maybe cover the whole rear tire and just the inside half of the front. Also you can put the compound on the rear tires first and let it set for an extra 10 minutes before you put any on the front tires then clean them both off at the same time. Also make sure you have the stiffer of the two kit springs on the front shocks and the softer springs on the rear. Good luck!
Thanks. I have the S1; it only came with one set of springs.
What about rear toe? Should I bump it to the 3.5-degree mounts?
You guys talking about moving the camber links on the S1: there's only one place to mount 'em...how do I move 'em up or down?
08-24-2013, 12:42 PM
---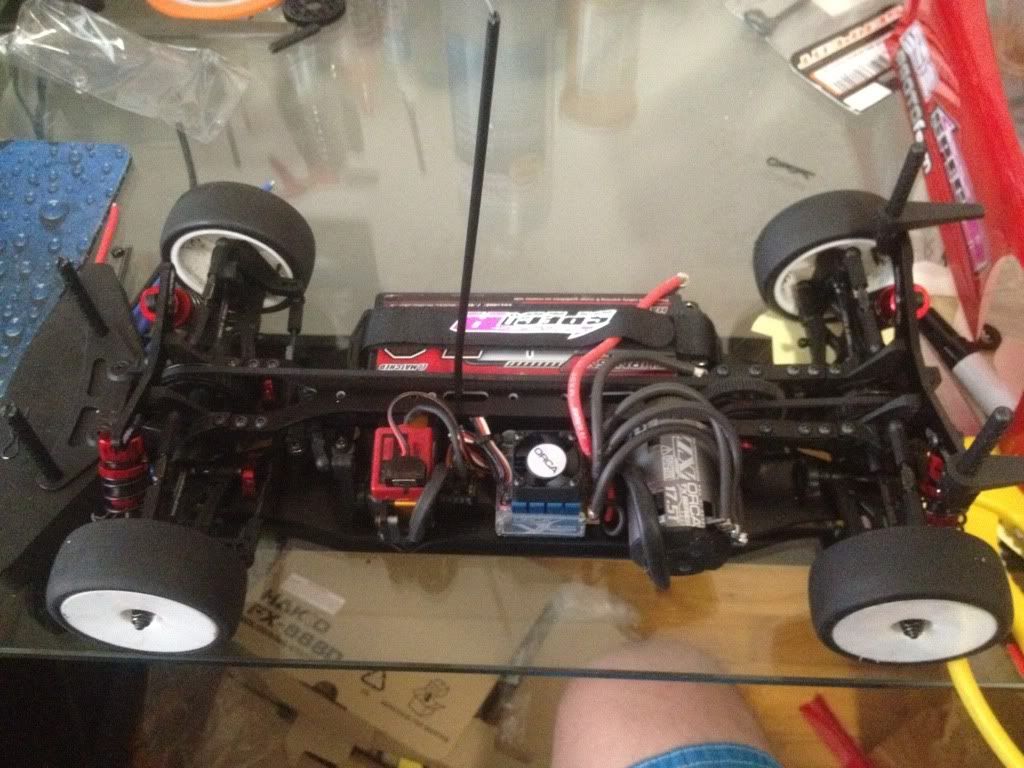 Not up to my usual standard but the best i could really do given the room. not sure if ill need a cap or not. orca says 2a bec, so we will see. havent needed a cap since moving to airtronics though..
this is a sunday of new for me. new chassis, new esc, new motor. new tires ive never run before.. lol. should be interesting. my serpent is super forgiving and easy to drive fast. doesn't try to kick its ass out very much in stock but i was trying to take some traction out of it to rotate ect.
thinking ill be chasing traction more with this car by how stiff it is but im very excited to benchmark $100 car against $500 cars. might et a few more spectators interested in the sport.
i mean... cause its really fair to drop ultra high end electronics into a cheapy car and try to sell the class... but.. lol. my reventon stock club setup should be here soon which is the intended platform for this car.
08-24-2013, 12:55 PM
---
There is only 1 set of springs but they are different rates....softer of the two should be used in the rear.
Thats its a normal amount of rear toe you can maybe run down to 2deg but 3.5 is fine.
You move the camber links by adding or removing spacers under the ball studs.
08-24-2013, 05:24 PM
Tech Addict
Join Date: Oct 2012
Posts: 538
---
First time out with the s1 today. Overall for 129$ I'm pretty satisfied. Other than breaking a servo horn and a ball end nothing else was broken.

I'm running all stock setting that the manual says. Car feels super lazy in the corners, any suggestions?
08-25-2013, 07:10 PM
---
Not a bad first outing with the car. No Broken parts. Qualified third overall and finished second. I would have still finished second to blake no matter what heh.
My driving style loses too much corner speed i think. I like to slow down and keep a tight inside line. Car had tons of turnin and could overrotate super easy. Very lively.
Gonna focus on swaybars and getting a little more flex out of it.
There is also quite a lot of wobble in the steering. Ill have to address that.
08-26-2013, 12:17 AM
Suspended
Join Date: Jun 2011
Location: Brisbane
Posts: 1,696
---
I have been having this conversation for about an hour with a Pro Driver from my club. A lot of it has to do with the conditions of where you drive. Sets are a bit of a waste of money in a way. You will end up with either a lot of soft or a lot of hard springs you wont use.
Xray springs are great, find the set you need and then get 1 set either side of that, this will cover most situations you will find yourself in, if you only drive at the one track regularly.
08-26-2013, 11:47 AM
Tech Regular
Join Date: May 2002
Location: Sweden
Posts: 410
---
trying to make the s1 car softer might be hard, i went nuts on my s1 chassi, its still stiff! the glassfibre used is crap.. only thing i can imagine that would make it softer in a good way is to mill it down in thickness
if you want to make the car softer then the new cf chassis will make a big difference, i have the option 2.25mm chassi on my car now, center motormount and new topdeck is on its way now too. new carbon chassis is totally different than the first ones that were released in terms of carbon, flex and feel
will post a pic of my car when i got all new bits installed
08-26-2013, 12:34 PM
Tech Regular
Join Date: May 2002
Location: Sweden
Posts: 410
---
mill it down if you have the chance.. my s1 chassi is badly tweaked after all drilling
but i think that its more worth buying carbon parts, after all, they are quite inexpensive from spec r, the s1 glassfibre is way stiffer than the newer usa grade carbon
---
Last edited by Bappe; 08-26-2013 at

01:34 PM

.
08-27-2013, 11:02 AM
Tech Apprentice
Join Date: Jun 2011
Posts: 68
---
I had my first run with the R1. Running 10.5t boosted on mid-low traction
asphalt. The car is very easy to drive. But on my third pack, the gear diff started to make noise, like jumping gear noise and eventually i had stripped a lil of the inner bevel gear. I added 0.1mm shim on four of the small bevel gear (first built was no shim,follow 100% manual) and it only last for another 3 packs.
I have fully replaced a new set of inner gear with 0.1mm shim on four of the small bevel gear. Hope this could solve it.
Anyone have any suggestion or advice? Btw, this is my first brand new built out of the box. Previous car was all used car.
Regards.