Hot Bodies TCXX
09-08-2012, 01:48 PM
Tech Apprentice
Join Date: Nov 2011
Posts: 73
09-08-2012, 01:53 PM
Tech Elite
Join Date: Oct 2008
Location: Chicago, IL/St.Petersburg,FL
Posts: 2,316
FOR SALE TCXX
---
HAVE BNIB TCXX FOR SALE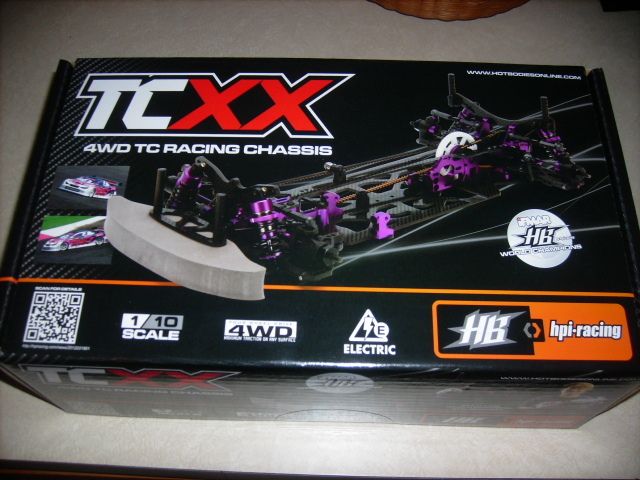 09-09-2012, 02:55 AM
Tech Regular
Join Date: May 2005
Location: England, lincs
Posts: 317
---
any one got a part number for the gear diff i really need one for my tcx. got the manual but its not got the part number in for the whole set. mind you after looking at the tcxx i just want one of them lol
09-09-2012, 03:38 AM
Tech Master
Join Date: Jan 2010
Posts: 1,238
---
09-09-2012, 07:51 AM
---
Here is the part number for the Gear Diff so that you can continue to check the HB site to know when it's in stock and can be ordered by your LHS.
68833
09-09-2012, 05:51 PM
Tech Regular
Join Date: May 2005
Location: England, lincs
Posts: 317
---
Thank you very much
09-10-2012, 08:09 AM
Tech Regular
Join Date: May 2007
Posts: 349
---
They look like Yokomo HD ball cups to me, think the 207HD ones, but he's done well to get hold of them... I ran them on my TCX.
Has the aluminium been improved on the bulkheads for the TCXX.... As in does it come with HD bulkheads + motor mount? What about the steering posts that the dual crank sit on? I bent the shiz out of that too !
Cheers.
09-10-2012, 12:58 PM
Tech Adept
Join Date: Jan 2012
Posts: 208
09-10-2012, 01:47 PM
Tech Elite
Join Date: Oct 2008
Location: Chicago, IL/St.Petersburg,FL
Posts: 2,316
09-10-2012, 02:09 PM
---
09-10-2012, 02:25 PM
Tech Master
Join Date: May 2011
Location: Hoffman Estates,IL
Posts: 1,484
---
well i made my mind up prep time should be done soon
ive bought a kit from transplantlife before he is a good guy,he just likes selling stuff not that he doesn't like it ...