Mod XO-1 Night Drifter
05-06-2012, 12:24 AM
Mod XO-1 Night Drifter
---
I've been working on this for a few days and have finished the body and thought I'd share a few pic's with you guy's. I'm running a Neu 1527 1.5d 1500kv motor and the Mamba XL2 speedo (only for the data and maybe oneday plugging in 8s and having some speed fun) and will run 6s 5000mAh nano's and gear it to do 60-70mph. I'm hoping that the lower gearing will increase runtime so I can go for late night walks through the street's when the roads are dead, we have some nice new hot mix road's in the main street and this thing sounds awesome echoing from shop window to window, wow, F1! (almost on scale)
If anyone's interested I can post the build?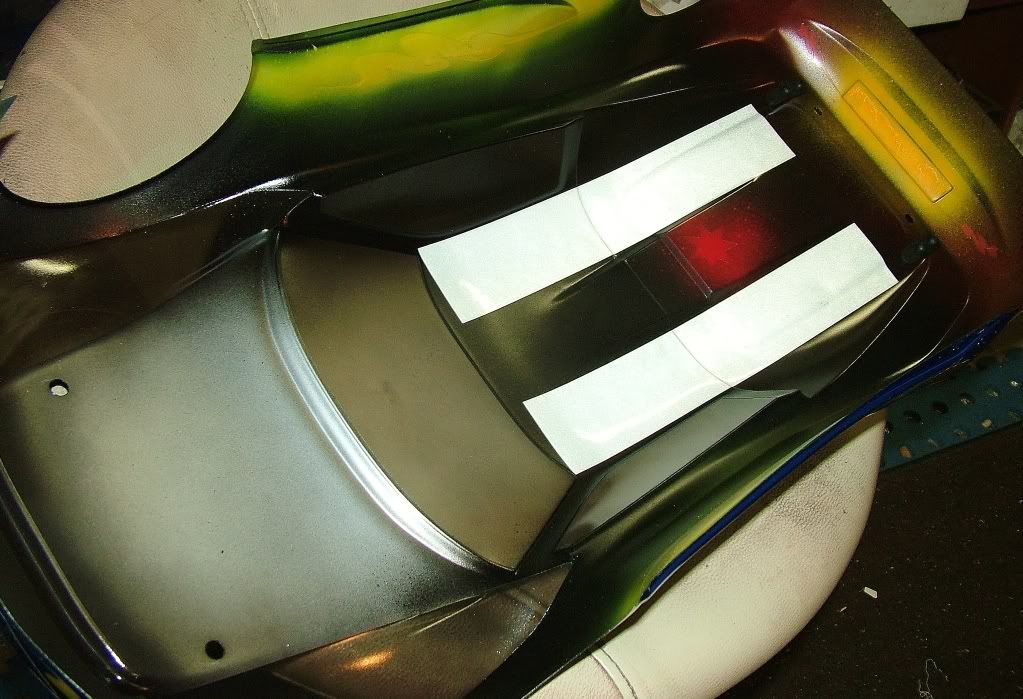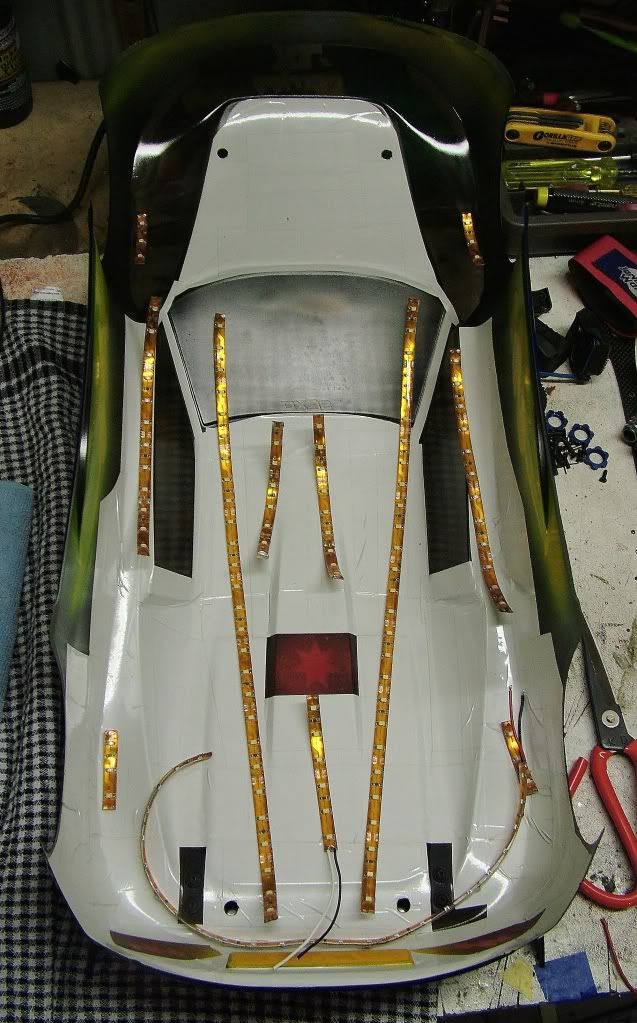 05-13-2012, 02:15 AM
---
05-13-2012, 01:38 PM
Tech Apprentice
Join Date: Mar 2012
Posts: 68
---
Not feeling the lights... I say less is more. Just my 2 cents.
05-14-2012, 06:25 AM
Tech Elite
Join Date: Oct 2005
Location: Netherlands
Posts: 2,501
---
This was supposed to be the fastest rc onroad production car made for speedcontests not for drifting. For that money I should buy a 1/8 Kyosho corvette and convert it to an electric drifter.
05-14-2012, 09:37 PM
Tech Initiate
Join Date: Mar 2012
Location: USA
Posts: 43
---
very lovely car body design
05-16-2012, 02:19 AM
---
I picked up the a new roller at a good price and I already had the motor, I've bought a few set's of wheel's and so far I still have change from selling my merv package to a mate who know's the super deal I've done for him. Not a bad upgrade in my book, I'll put a different motor in the boat that this motor was for and I'm no worse off. The town I live in is too small for the car's full potential, even 100mph is too much for most the road's I have to play with around here but the few that will work are still high risk. I plan on driving until I'm confident that I can save the loose model at the 65-80mph mark on a narrow road with big fat gutters on each side. This stretch of road will be sweet as it's almost a kilometer long but has round abouts each 200-300meters and is newly laid hot mix, although it is on public road so I may have to hit the skid's and pull a few quick manoeuvres to avoid disater so Im happy to play for a few set's of tires before chasing too much speed, only someone who's driven a car with a 1527 in it would know, you need a lot of road to build speed if you want to maintain traction with the road, doesn't matter who you are.
I upgraded most part's on my merv before I'd driven it so this time I want to drive and play and see what part's I tend to brake the most, then I'll upgrade them. At this point it's looking like RPM arms as I've already broken 2 rear lower arm's and when I find other issue's, I'll tend to them then.
Thanks to you guy's who like it, I hope it'll give you an idea so you can enjoy more time with your toy's after dark.
05-16-2012, 01:29 PM
Tech Apprentice
Join Date: Mar 2012
Location: NY
Posts: 58
---
Great idea for night play!
05-20-2012, 04:23 PM
---
I thought I might share the build with you guy's, I won't go into too much detail, it's all pretty basic.
The car was picked up as a new roller and I had the choice to put either a castle 1717 1580kv or the Neu 1527 1500kv motor and after running the 1717 hard in an XXL and a few different boat's, I figured I'd go with the 1527 so I could one day open her up and run 8s knowing the motor will love it rather than kill it. To be able to run 8s I went up to the Mamba XL2 speedo, the data logging is awesome but it'd be nicer if it held the top speed, you can't have everything. The electronic's don't break a sweat runnings a 6s 5000mah 45-90c nano-tech lipo for up to around 30-40 minutes of off/on drifting and thrashing about, longer if I'm just walking the street's playing about. Here's a few pic's of the body.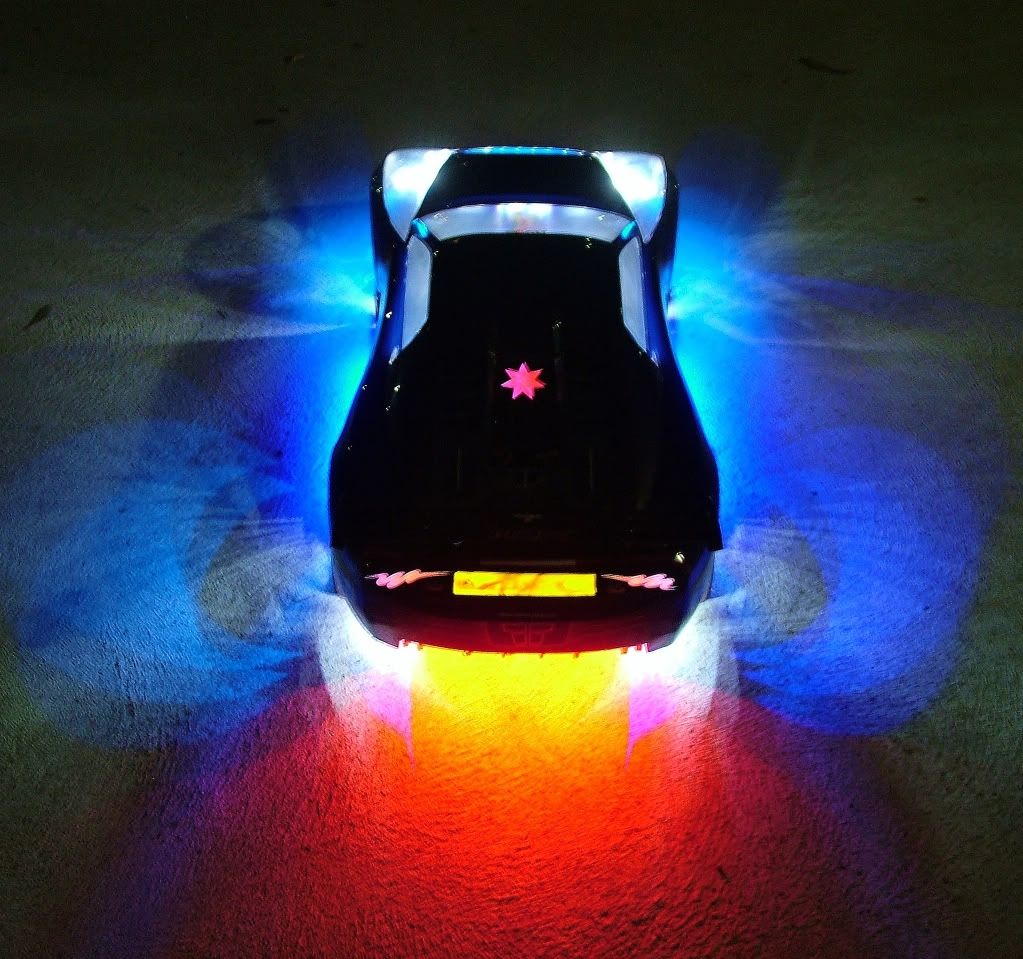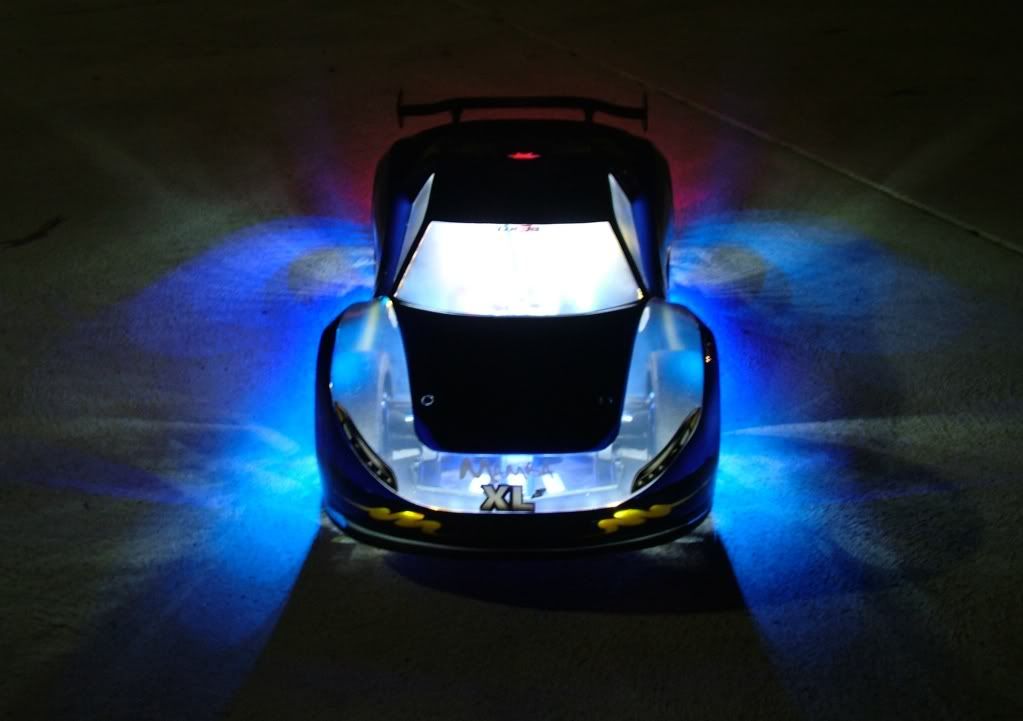 05-20-2012, 04:24 PM
---
The day I received the roller I stripped out the traxxas plastic's and re-fitted with a aluminium servo mount, hitec 7955 servo, neu 1527 and a mamba monster speedo with external castle BEC. This set up ran well enough to end my 4 hour driving session with a cold tire 75mph "super" crash that was my PB for cartwheels by both number and speed resulting only with a broken rear lower a-arm, front splitter and plenty of scratches on the stock body. This was a nice lesson to learn early on......, I can't drive. I am happy to run 6s and gear it with a 25t pinion and 50t spur, 75% punch control, throttle curve and plenty of brake, this is a good fun set up that can still get you in heaps of trouble if your heavy on the trigger, I'm finding that if you drive like a dick, it'll cost you just as it would with a real sport's car, only on a scale ratio.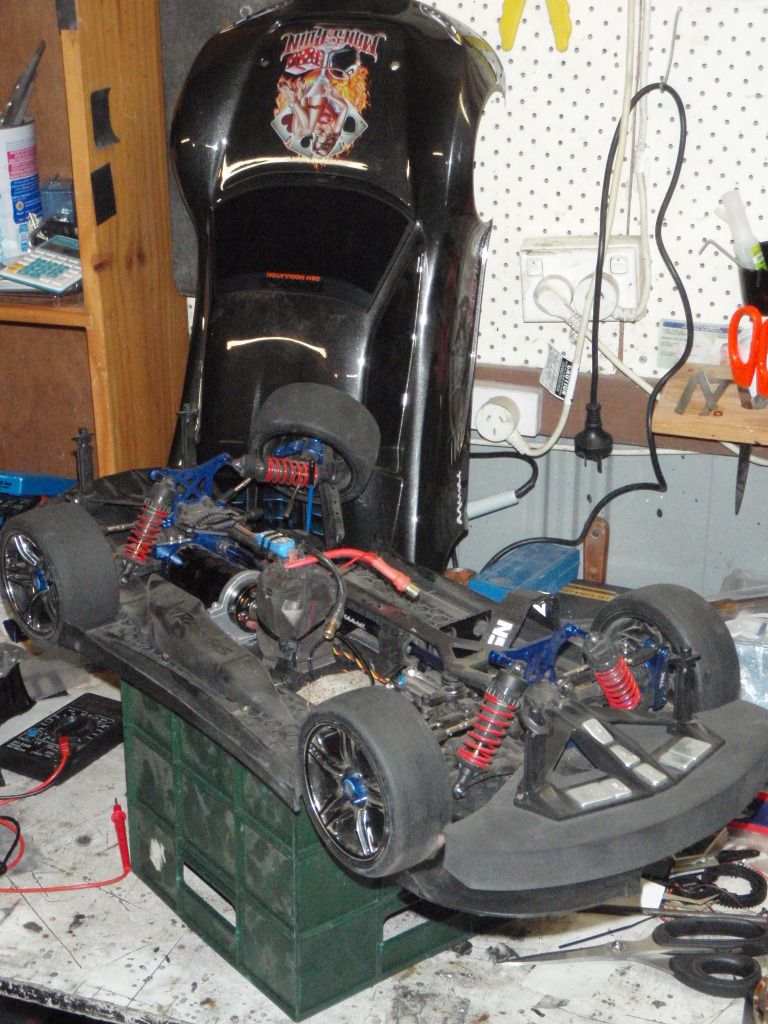 After the crash the carbon chassis and a couple of goodies arrived so it was build time anyway. I've found myself hopping up everything I buy, sometime before I've driven the model, this time I'm only going to up-grade things as needed. On the list so far is the A-arms, way to brittle (for my poor driving).
The first thing I needed was a safe home for the battery. I used a cabon fiber battery tray and made a side plate out of 2mm c/f sheet. The side plate act's as both a battery support and protection from the drive shaft and shaft support bearings. The tray is raised by c/f blocks so I can get the velcro straps under and around the battery and sticky back 5mm rubber foam added between the c/f and battery. The velcro strap's needed to be longer so I joined 2 by applying ca glue on the velcro's "hook" side, locking the velcro closed and then stitching with 80lb braid to reinforce it.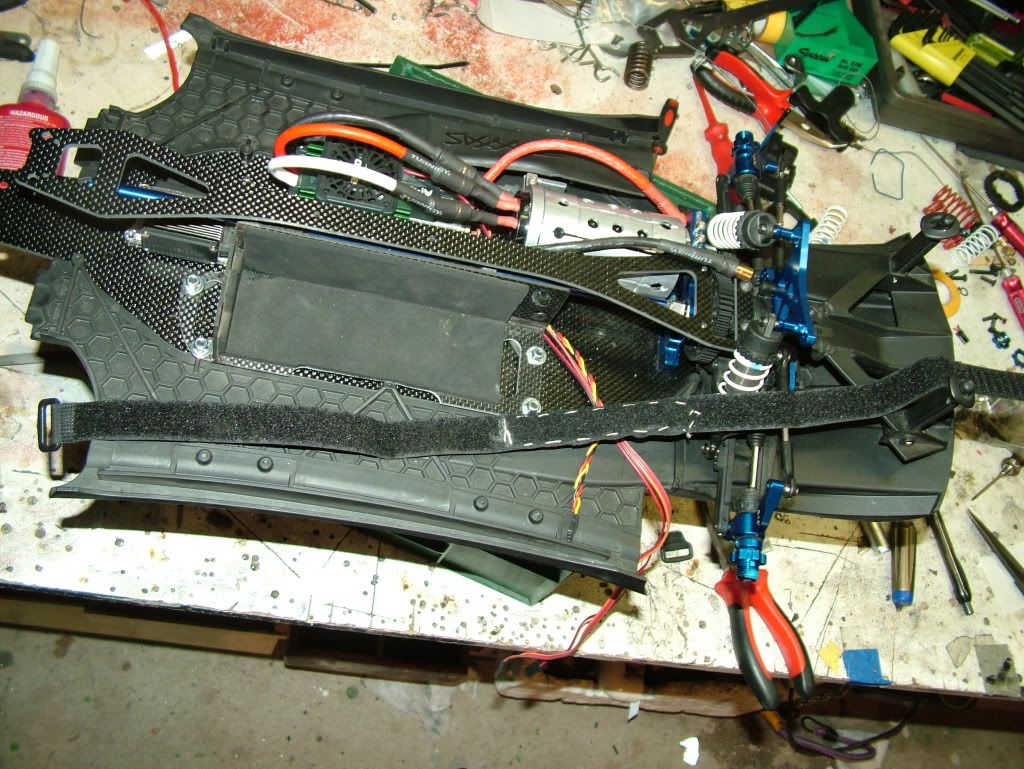 05-20-2012, 04:25 PM
---
My first crash also taught me that my motor needed to be more secure in the event of a prang so I measured the gap between the 1527's aluminium (boat) rear support mount and the c/f side plate on the battery tray and made a spacer to suit and bolted it up, no more side movement!...
The aluminium cooling can on the motor is a water cooling can made for the motor, I cut and drilled to allow the air to be caught in the spaces and hopefully help cool the motor(I don't need any of this for 6s, it's just incase I decided to unleash 8s at some stage in the future). I applied thermal paste in the small gap where the water would normally be for heat transfer, gotta be better than nothing and it'll be a while before this motor see's any heat.
05-20-2012, 04:26 PM
---
I played around with the shock mount's a little to gain some ride height but I think I'll need to re-adjust the front end as it's riding a little high. The white springs lasted about 3 minutes until I had them srewed so far down I figured I may as well put the red(green mark) springs back, a lot firmer.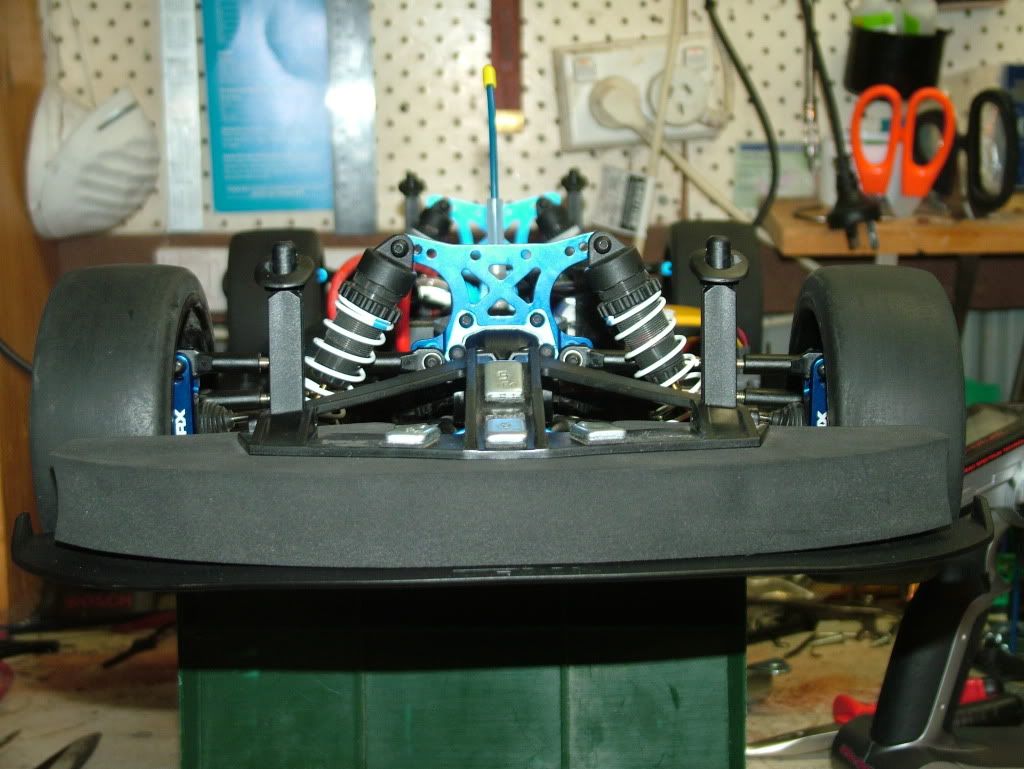 I did my best to keep the weight dispersed evenly in both length and width, the battery forward of the motor along with the 2x 2500mah 3s LED batteries up front counteracts the weight of the motor side. The COG is just forward of center so the front wheel's stay on the ground a little better.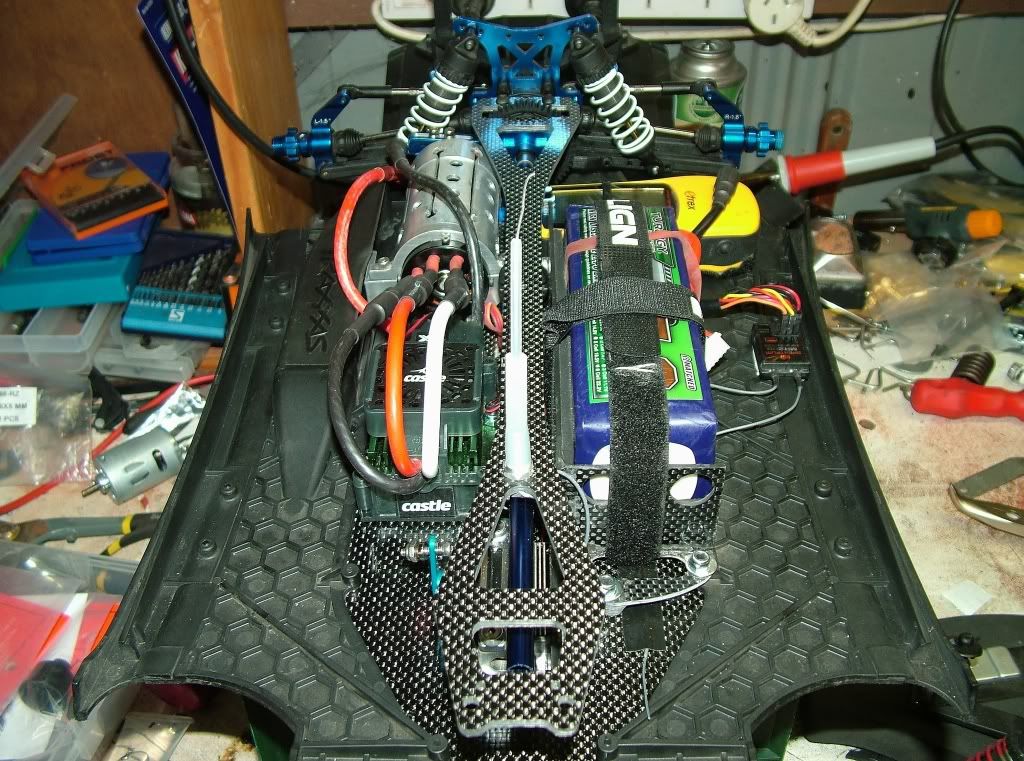 I was also able to keep the weight low with this set up, the 1717 add's weight at a higher point.
I have received a few set's of wheel's, ofna rim's in bright yellow for night and chrome for day with taped PL road rage tire's and extra mod firm rear foam's and firm front foams, I'm not sure how they'll go but if they last a few night's they'll be good for ripping around the street's, I'll keep you posted.
07-01-2012, 04:25 PM
---
now modded to suit my family
Currently Active Users Viewing This Thread: 1
(0 members and 1 guests)
Posting Rules
You may not post new threads
You may not post replies
You may not post attachments
You may not edit your posts
---
HTML code is Off
---