Sweep F1 tyres.
03-22-2013, 05:48 PM
Tech Elite
Join Date: Dec 2004
Location: Marietta, Ga
Posts: 2,267
---
03-22-2013, 07:14 PM
Tech Addict
Join Date: Sep 2010
Location: RC dojo
Posts: 705
---
Ordered them on 032013 - got them today. Really fast turnaround for free shipping (IMO). It even came with a free decal sheet.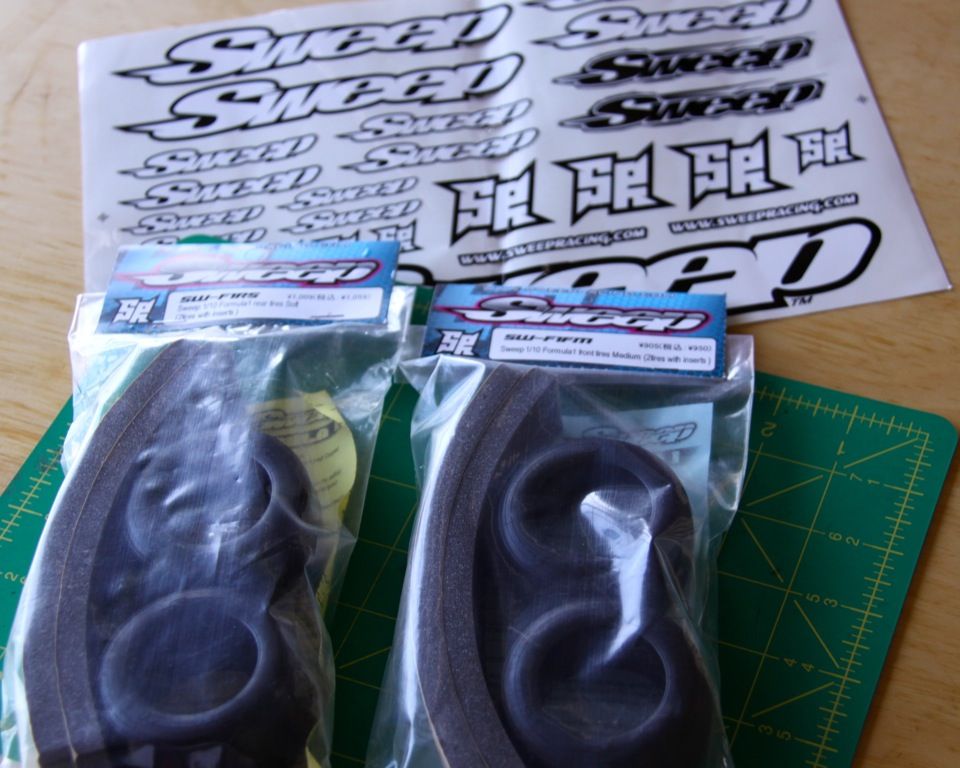 Hope I installed it right...
Here is the foam insert + Tamiya rubber wheel: (front inserts are a bit narrower than the rears)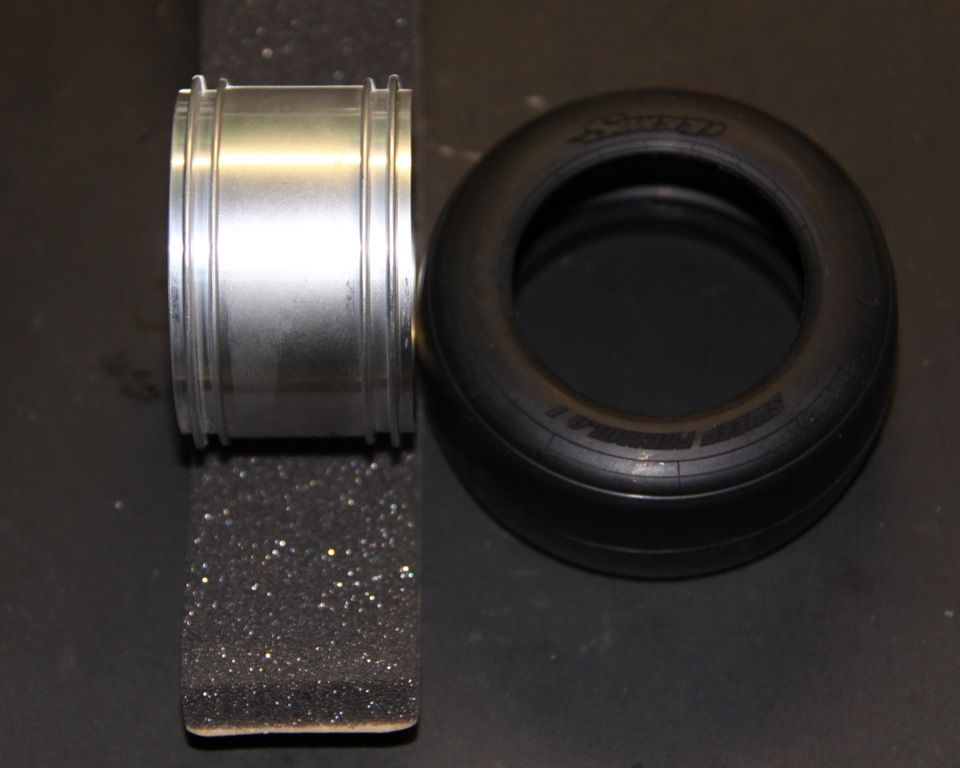 Adhered the sticky side of the foam insert within the raised edges of the inside bead lip: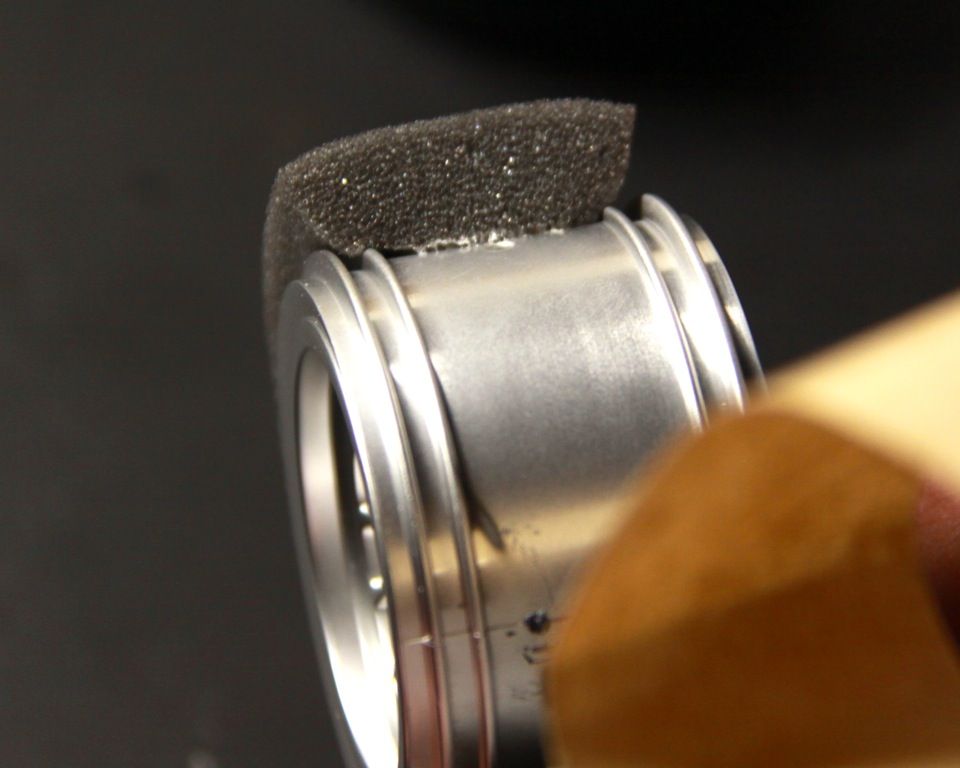 Worked the tire over the rim / insert assembly towards the back of the wheel. Seated the bead into the rim by pushing the foam
flush and making sure the tire seats flush to the bead ring of the rim: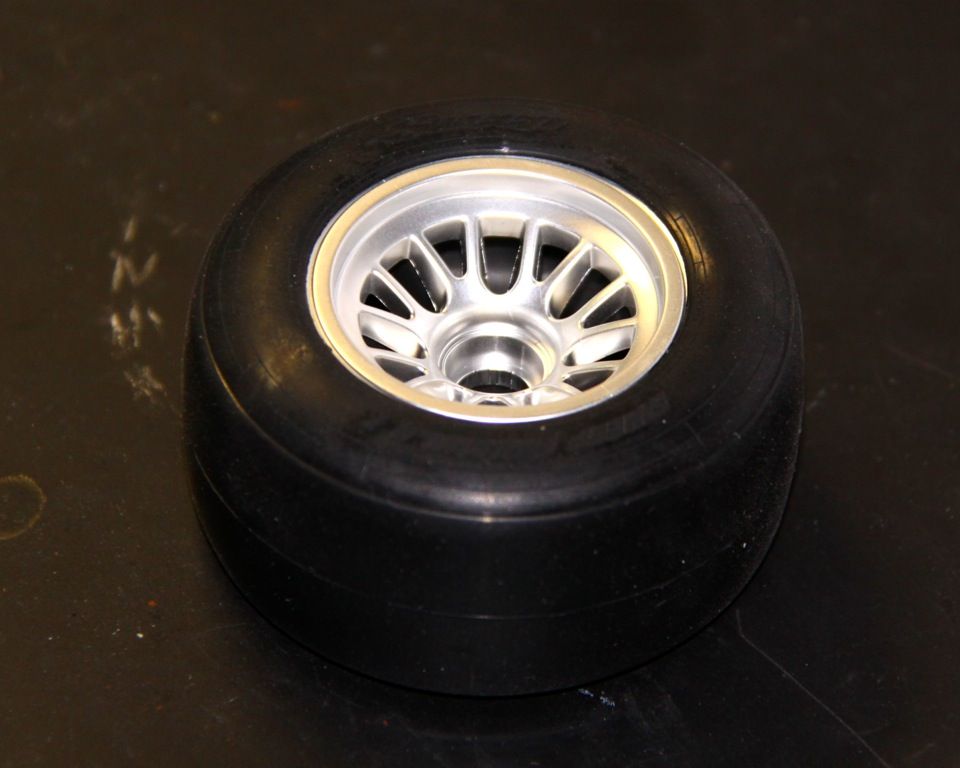 The fit looks better than my previous attempts @ gluing rubber tires to foam rims. The SWEEP tires + F104 rubber wheels
does not look like it is prone to sidewall tearing or chunking like my other setups.
---
Last edited by macavant; 03-30-2013 at

05:57 PM

.
03-22-2013, 10:12 PM
03-23-2013, 06:34 AM
Tech Apprentice
---
Hello Sweep Racing,

I still see no official answer(just the answer from InspGadgt):
Will your tires fit on FGX and formula 10?

Thank you for your help
03-23-2013, 06:40 AM
Tech Apprentice
---
Correct me if I am wrong, Ride R1 tires for fgx and F104 fit on ride specific rims (63mm) only . They do not fit on Tamiya Rims nor on FGX rims.
Besides, the pit shimizu for F104 will not fit FGX rims because it is not same diameter...
03-23-2013, 12:58 PM
---
03-23-2013, 08:43 PM
Tech Regular
Join Date: Feb 2006
Posts: 393
---
Are you saying there is special Exotek rims for pit shimzu tires for FGX, thanks.
03-23-2013, 08:53 PM
Tech Regular
Join Date: Feb 2006
Posts: 393
---
Does the pitshimizu tires for F103 fit the FGX rims,thanks.
03-23-2013, 10:04 PM
---
Yes the Exotek rims are for the Pit Shimizu tires...but those rims don't fit the FGX
03-24-2013, 03:25 AM
Tech Regular
Join Date: Jul 2010
Posts: 275
Limited stock why?
---
I am glad that some guys have got their new sweep f1 tires, but at the moment the stock situation is pretty frustrating. on both known websites the tire compounds which are going to be most used(judging by sweeps temp range guide) are all sold out.
I would have thought that when a co. like sweep markets then releases a new product onto the market they would keep a few sets on the shelf ready to go...
03-24-2013, 05:30 PM
---
Thanks for updating with pics Mac...that should clear up any confusion!
03-25-2013, 03:10 AM
Tech Apprentice
---
Originally Posted by
InspGadgt
Ride and F104 tires fit on the FGX rim, the HPI rubber tire rims, the Ride rubber tire rims for the F104, and the Tamiya rubber tire rim for both the F104 and the F201. The Pit Shimizu tires are for the Tamiya FOAM tire rim and the new Exotek rim. Basically all the rims that are made specifically for rubber tires can mount the same tire. They are all based off of the old F201 rim design.
No this is incorrect.
F104 tires do not fit FGX rims there is a gap between the rim and the tire. this is very true for pit Shimizu tires, there is a "trick"provided in the FGX thread to adapt these F104 tires on FGX rims.
You may want to check this excellent article from rcformula.com.au regarding tires
http://www.rcformula1.com.au/index.php/tech-tips/tyres
Rim diameter on F104 is 44 mm
Rim diameter on FGX is 39 mm
Rim diameter on F103 is 36.5 mm
(I will check the rim diameter for my F201 asap)
With different rim diameters I don' see how you can fit the same tires.
Please also check the note in rcformula article:
Note: Ride rims for rubber tyres are all 39mm internal diameter and so can be used to mount any Ride tyre and any Pit Shimizu Grooved tyre. They can not be used to mount Pit Shimizu slick tyres as they have an internal diameter of 44mm. Use foam rims to mount Pit Shimizu slick
03-25-2013, 07:40 AM
Tech Champion
Join Date: Feb 2011
Posts: 7,043
---
I guess the Tires fit the fgx / f201 rim loose and also fit the F104 rims tight then.....
03-25-2013, 08:26 AM
Tech Champion
Join Date: Feb 2011
Posts: 7,043
---
I think a Sweep Rep needs to post pictures of their Tires on FGX wheels , in order to appease the spirits.... I think they will fit loosely....