Exotek F1R
12-26-2012, 03:40 PM
---
Regarding the side shock a few of the carpet guys are trying 104X1 dampening tubes. The feeling is the tube style is easier to change lube obviously and freer too. Only problem of course you have to maintain it with fresh lube and clean the internals often.
12-30-2012, 09:49 AM
---
Got my f1r in the mail a couple days ago and it already built and equipped with electronics! I'll post some pictures tonight and do some shake down runs tommorrow.

What a great looking chassis!
12-30-2012, 09:53 AM
Tech Master
---
I raced it last night and it was lot of fun. I have the shorty pack placed all the way back because I am still learning and prefer stability over more steering. The car felt good.
12-30-2012, 12:02 PM
Tech Rookie
Join Date: Dec 2012
Posts: 5
---
what do you guys think about this for a first on road car
12-30-2012, 01:25 PM
Tech Master
12-31-2012, 06:40 PM
---
01-07-2013, 11:21 AM
Tech Master
Join Date: Mar 2012
Posts: 1,560
01-16-2013, 01:44 PM
---
Thsi car rocks! I have put it through its paces during practice sessions and now it is my primary race car. The F1 Ultra can rest for a while.

I like the car so much I just had to put a new shell on it. Used a Tamiya F104 pro body with decals by F1 paintlab.
01-16-2013, 02:50 PM
Tech Addict
Join Date: Oct 2012
Location: Detroit
Posts: 589
---
What kind of shorty pack is good to get?
01-16-2013, 04:54 PM
Tech Master
---
Do you know if your track allows any battery? Then i would recommend any 2s shorty with higher than 40C rating. I like to buy used reedy 4000mah shorties on this forum in the for sale section. They range from $35-50. New, they cost $71 and up.
01-16-2013, 05:16 PM
Tech Master
Join Date: Jul 2012
Location: Florida
Posts: 1,063
---
01-21-2013, 06:24 PM
Tech Apprentice
Join Date: Mar 2011
Posts: 50
---
hello, sorry for the ?
I have a f1r with a diffing out problem on hard 180's witch is most of the track. and when you stab the gas it pulls hard to left, I tried adjusting the radio and esc for smoother starts, or is this the nature of the beast?
pics may help
tires are 571F/575R 50wt side shocks and 35wt in center, hard front springs and red side springs. Also I have new set of 577 572 if that helps
thanks andy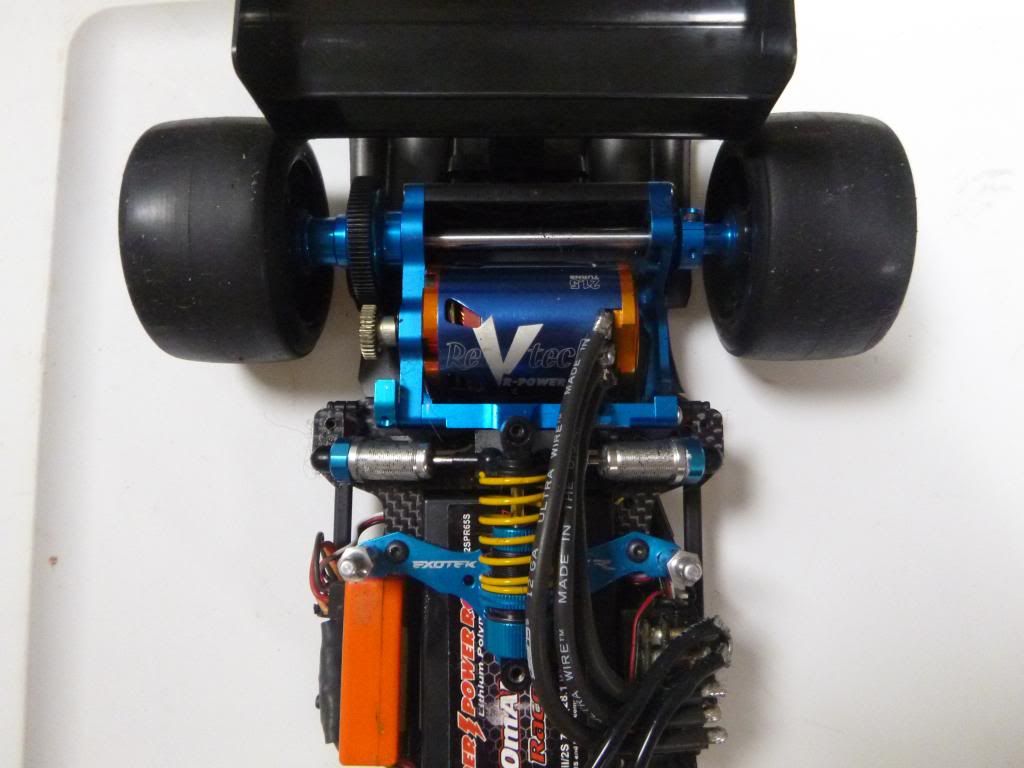 ---
Last edited by sobie20; 01-22-2013 at

03:36 PM

. Reason: .
01-21-2013, 07:05 PM
Tech Master
Join Date: Oct 2005
Location: Hayward, CA
Posts: 1,838
---