TA05 M Four
01-09-2018, 04:24 AM
Tech Initiate
Join Date: Jan 2017
Posts: 33
---
Originally Posted by
Aitutaki
some news,
i upgraded the 3racing alloy bulkheads . the blue is not exactly the same, but you will hardly see if you don't know
see enclosed pics.
i also had the first race with it, and won against M-05s and M-06s , i have been a little slower with my top speed, but guys i made it in the infield
my fastet lap, 22 seconds, was nearly 2 seconds faster then the second one
i switched back to tamiya 60d tyres, because of the bigger diameter, and higher top speed.
next race will be held at our model-exhibition..
Hey guys,
Can someone please tell me the belt lengths for the Tamiya TA05 M FOUR?
Thanks
10-04-2018, 10:10 AM
---
Well, I am beginning to get some projects finished up and was wondering if anyone has had any luck with a 540 conversion yet? If not, that will be my next project. I found a source for metric drive belts as I do believe that I will end up having to raise the topshaft for clearance to the motor. Already picked out a nice "shorty" motor.... Holmes Hobby 300kv Shorty sensored Brushless.
01-01-2019, 01:19 PM
---
please delete
---
Last edited by packhntr; 01-01-2019 at

01:31 PM

. Reason: please delete
01-01-2019, 01:28 PM
---
Well...Since I had the holidays off work, I decided to reverse engineer my unbuilt TA05 M-Four to see what it will take to fit a proper sized motor.
So.....For the motor, I am using a Holmes Hobbies Sensored Brushless Stubby 3300Kv motor. I ended up with new center bulkheads (only need to make 2 new holes in the chassis) I reused the front carbon fiber upper plate, but have to design a new rear. The center bulkheads are a bit rough but dimensionally, they work. Going to add a center stiffener. For belts, I found some at Square Racing that are going to be the correct lengths (both front and rear are needed). Gearing, Well, the stock gear ratio is 3.555/1. So, Since I am using a significantly stronger motor, I believe I can readily get away with a 90t 48P spur and a 30t 48P pinion giving me a 3/1 ratio. Going to use a Savox SC-1251MG low profile servo (still need to model it up). Receiver is small enough to sit on top of it. And there is enough room on the chassis for a ESC. That leaves a lot of room for a battery. But the configuration is "weird". A shorty LiPo is actually too long. Half of a saddle pack will fit, but that's only 3.7v. So, I am going to look at soft packs.
---
Last edited by packhntr; 01-01-2019 at

02:09 PM

.
01-01-2019, 05:47 PM
---
Quick update. All that I have left is to find a battery that will fit. Available space is: 60mm x 56mm x 21mm. That is the MAX size.
01-02-2019, 05:04 PM
---
WOOHOO! Found a battery that will fit! Had to raise the rear upper deck by 5mm and design longer rear upper deck supports (simple lathe operation) and tweak the design of the rear deck. Drawigs this weekend followed by machining!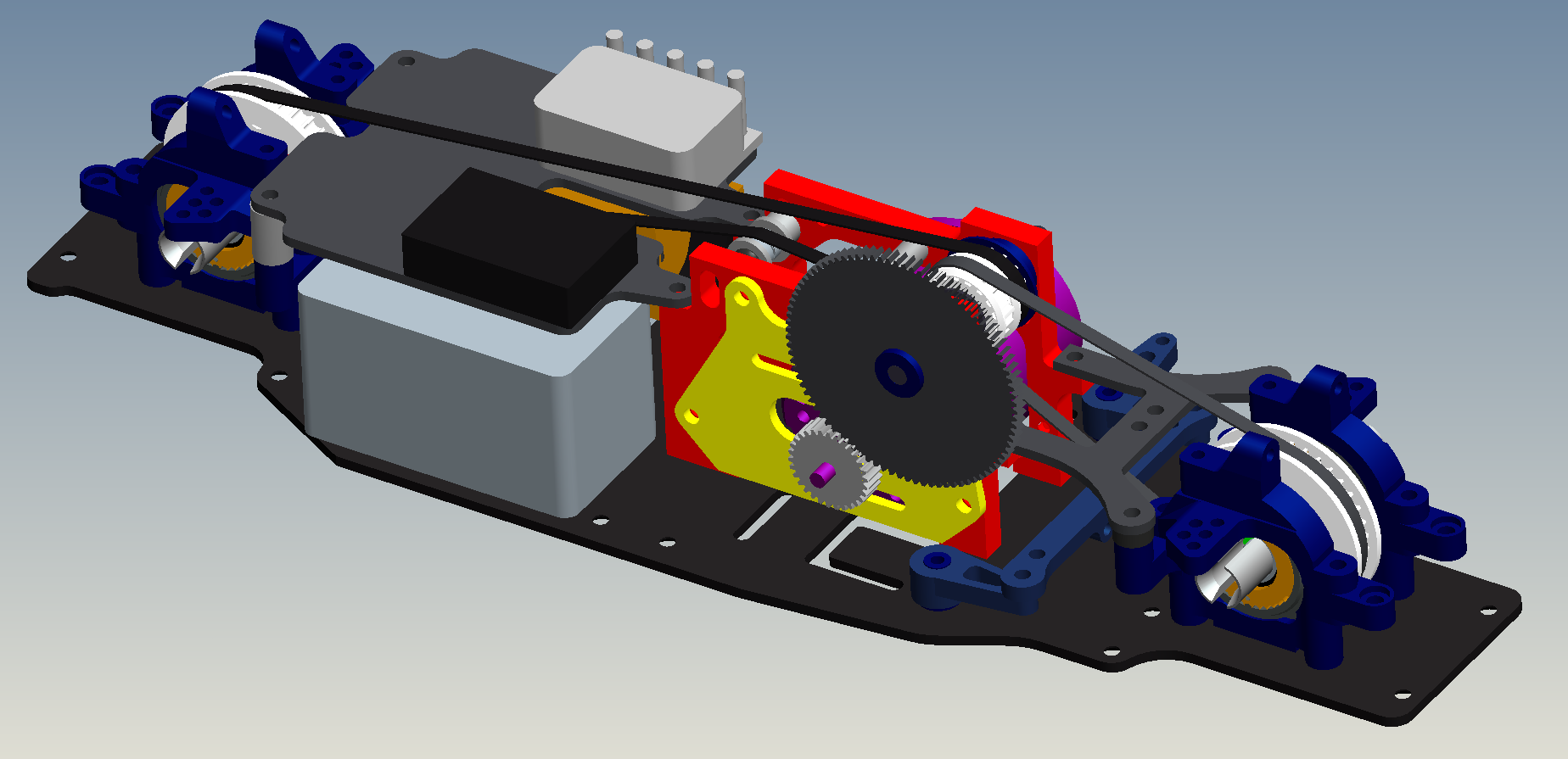 01-02-2019, 05:06 PM
---
01-02-2019, 06:49 PM
Tech Initiate
Join Date: Oct 2018
Location: Melbourne
Posts: 24
---
Hobbyking has "super shorty packs" that might help you. Same size as a single saddle, but they're 7.4v.

I tried adding a link, but I'm not allowed, still a low post noob lol. Just google hobbyking super shorty 2600mah.
01-03-2019, 12:12 PM
---
Thanks! I found a pack on AMain. It is a 2s LiPo for the Dancing Rider by Arrowmax. That's what I have mocked up in the screenshot. A Mini-T LiPo pack will mostly fit, but I would have to make a protector for it as it would stick out of the chassis slightly.
01-03-2019, 06:58 PM
01-04-2019, 07:21 AM
---
It can easily take it....the entire drive line is from the TA05. It just has shorter belts and M-Class arms. Going to start making the necessary drawings tonight. Maybe start machining next week. MAYBE. Got a lot on my plate and I am back to work from holiday break.
01-28-2019, 10:04 AM
---
Quick update. Got the new battery and have completed but one drawing. That drawing is for the battery "box". Since this battery is a soft pack, I am designing up a pseudo box to enclose it. Had to wait until I got the battery to make the box to make certain al dimensions are spot on. Next up on the purchase list is the new belts. Then maybe aluminum bulkheads. Found a source and they are in stock as well. Just $$$$
02-02-2019, 12:39 PM
---
I was actually thinking about that. If there is enough interest. I would only be supplying the bulkheads, the rear upper deck and spacers. And if they wanted to use the same battery, the "box". I would supply the information for the battery, the belts, motor and gears as they are readily available and I do not wish to be a reseller. I just received the 2mm carbon fiber plate to make the upper rear deck today! All geeked up to make it! Gotta wait as I am a bit laid up. Case of cellulitis on my leg...have to keep it elevated. Been working from home for a week. Got a great boss! If there is enough interest, I will strongly consider making some conversion kits. They won't be stupidly priced either.