So many choices...
07-11-2011, 09:21 PM
Tech Master
Join Date: Nov 2010
Location: EL Jebel
Posts: 1,498
So many choices...
---
I am looking at getting a touring car again. Last touring car I had was the original Yokomo MR4-TC. I will be running on asphalt parking lots with rubber tires for the most part. So I need a car that is good on asphalt and is not to exposed to dust and dirt. There are only a few others around me with touring cars so fitting a specific rule set is not an issue. I do think I am going to go more the USGT route with the body. I like having a nice scale looking body and might go as far as working lights. For now i will probably be running a 17.5t motor no timing or boost.

I have been looking at various cars today and there seems to be quite a few choices. As for belt or shaft I am not leaning towards one or the other. I have been looking at some of the Tamiya cars(TA05 VII, TRF cars) but seems like Tamiya is always discontinuing and changing things around. I was looking at the TC5 but it seems like the belts and diffs are exposed to debris from the parking lot. A fair amount of durability is nice since everything for me is mail order. So if I do not have the spare part on hand I will be waiting for shipping.

I will be looking at getting a used car first but if I can get a new one for not much more I will go that route. This car will be more or less a third class for me so the lower the cost the better. Just trying to get a list of options narrowed down so I can do more research.
07-11-2011, 09:50 PM
Tech Addict
Join Date: Sep 2008
Location: Brooklyn, NY
Posts: 671
---
FYI Associated has the TC5 kit for $200, it's a steal.

With belts and shaft you risk rocks and debris. When you run on a parking lot you're bound to get something caught somewhere. I ran a shaft drive car in a parking lot and a pebble flew into the car and jammed between the shaft and chassis while I had the throttle pressed all the way with the car traveling over 40mph, half the parts were mangled, gears, pinion, shaft bent, etc...

If you are just gonna bash have you tried a 4wd buggy? I used a B44, best parking lot basher yet IMO.
07-11-2011, 09:57 PM
Tech Master
Join Date: Nov 2010
Location: EL Jebel
Posts: 1,498
---
I am not bashing. This past weekend we setup a full course with AMB system. It is just hard to really race when there are only 3-4 of us. 2 of us came from 45 mins away.
Last weekends setup: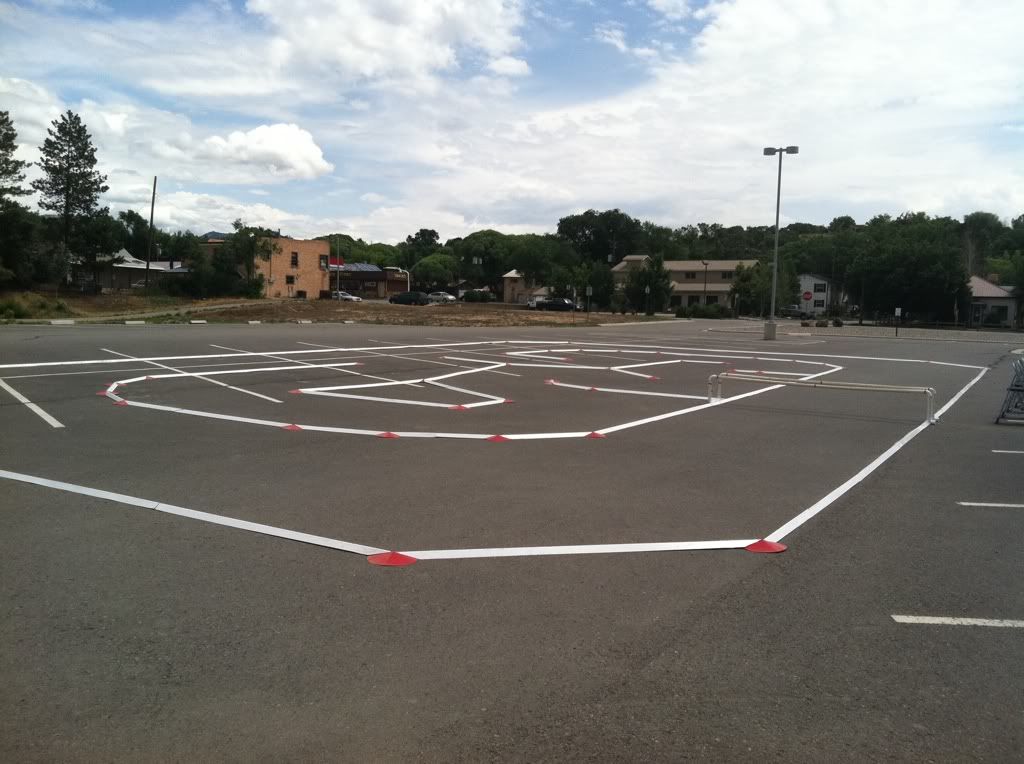 The reason I do not like the TC5 is the bottom of the chassis is open around the diffs making it easy for debris to get into the belts and diffs.
I have a Schumacher Cat SX2 that I race a few times a month. I also have a F104 with an Exotek chassis. Again the only reason I am not racing is the lack of people to drive against.
07-11-2011, 11:04 PM
Tech Champion
Join Date: Feb 2011
Posts: 7,073
---
Under these requirements, only the tc4 rtr can do the job !!! Just two minor outdrive upgrades and you will never have to worry about rocks and debris: years go by before any maintenance is needed !!! Also checkout robinson 48pitch 49t/52t/55t/60t spur gears, so you can run 17.5t....Belt cars in parking lots require a lot of maintenance.....
07-12-2011, 12:14 AM
Tech Addict
Join Date: Nov 2008
Location: NZ
Posts: 678
---
It may do the reverse, let the debris out, rather than let it get jammed under/in the pullies.
There's quite alot of TC5's at our track(also a part time car park) , they dont seem to have issues with stones & grit
With my old Xray 2007, I had to cut the holes under the diff much bigger to let the small stones & debris out,it helped quite a bit but still had issues. My cycloneTC has quite big holes as well but no issues with grit & debris.
Xray07 was so bad with grit, small, stones etc I eventually sold it , my Xray 2008 & T3 no issues.
Original TA05 was the worst car Ive had for dirty tracks(both of them), it was like a vacuum cleaner sucking up grit into the spur/pinion
07-12-2011, 02:54 AM
Tech Elite
Join Date: Oct 2005
Location: Netherlands
Posts: 2,492
---
If the chassis is open you can alway put a thin sheet of lexan or protective film underneath the chassis. Seals the chassis against scratches and keeps the dirt out.
07-12-2011, 08:36 AM
Tech Champion
Join Date: Mar 2006
Location: UK
Posts: 6,151
---
Many years ago I used to race on a track simliar to yours, using an open parking lot.
We used to sweep the area clean before putting the track down and that prevented most problems with the drivetrain/stones when using belt driven cars.
Failing that, look at getting a cheap tc4 as per a previous post
07-12-2011, 03:06 PM
Tech Champion
Join Date: Feb 2011
Posts: 7,073
---
Other than the tc3/tc4 you can get the ofna jl10-e shaft, the hpi pro4(fast), the kyosho tf5 shaft readyset, or the Awesomatix A700 when they release it... You can go to youtube and type : yokomo euro touring series rd6 , and watch the A700 crush the belt competition in the pro stock division !!!!!! Don't trust anyone telling you shaft cars are slower than belt cars !!!
07-12-2011, 04:01 PM
Tech Addict
Join Date: Mar 2011
Location: Hobart
Posts: 707
---
I run a very similar surface to that myself. We use a big industrial vacuum to clean our track before the barriers go down, and my mi1 (which has no holes under the diff) is ALWAYS getting rocks wedged under the diff pulley. I've just recently cut out a space under the diff to prevent that, as none of the cars with holes under their diffs have this problem at our track. My tf5 rtr (not much left of the RTR part now..) will do many laps no probs with the track un prepaired. Best thing to do is get Robinson gears. Hardened pinions and the skinny spurs. Really really tough, I have never damaged the teeth on one of them.
07-12-2011, 04:27 PM
Tech Elite
Join Date: Dec 2009
Location: Warsaw Indiana
Posts: 2,237
---
go with the TC5 Hands down i have ran one on some crap tracks and never had 1 issue with rocks geting in the way.. Great CAR!
Currently Active Users Viewing This Thread: 1
(0 members and 1 guests)
Posting Rules
You may not post new threads
You may not post replies
You may not post attachments
You may not edit your posts
---
HTML code is Off
---