Track layout ideas
06-30-2011, 09:24 PM
Tech Master
Join Date: Nov 2010
Location: EL Jebel
Posts: 1,498
Track layout ideas
---
With on road it is easy to setup a track for an afternoon of driving. I thought it might be cool to have a thread for people to share drawings of track layouts they have done for others to try.
I will start with two I have.
This was for a local cement pad that measured 140'x38'
This is for a large parking lot. The track has a 110' straight.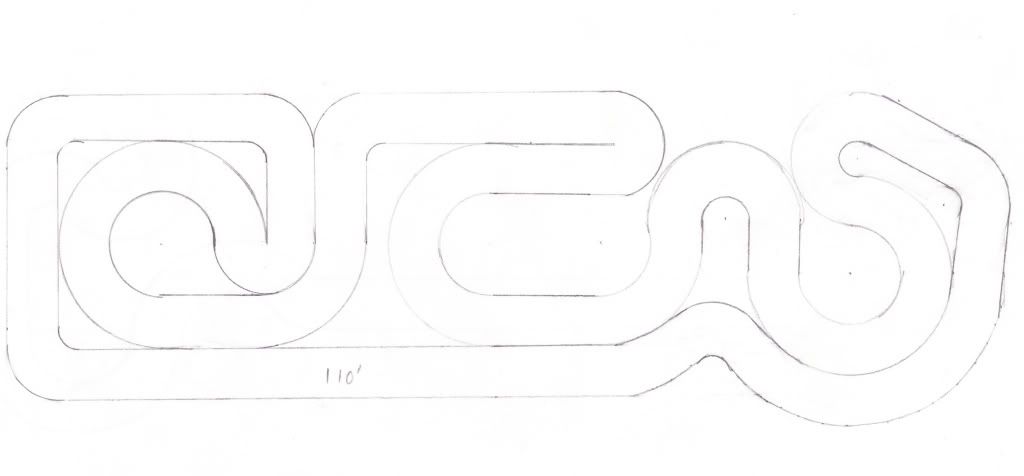 I just went to Walmart and bought a box of sidewalk chalk. I measure out and mark the track with the chalk. I use a string marked off at various radius measurements to draw out the corners. Just anchor the string at the center then hold the chalk at the 10' mark on the string and draw your curve. Then hold the chalk at the 20' mark and draw another line. This will give you a ten foot wide corner with a 10' turning radius. The best part about the chalk if you keep going back over a few days and it has not rained you spend 10 minutes freshening up some of the lines and after awhile you have a very well marked out track. Then it rains and you get to try a new layout.
Currently Active Users Viewing This Thread: 1
(0 members and 1 guests)
Posting Rules
You may not post new threads
You may not post replies
You may not post attachments
You may not edit your posts
---
HTML code is Off
---