3 racing new F1
05-23-2012, 01:49 PM
Tech Champion
Join Date: Jun 2010
Posts: 5,938
---
05-23-2012, 02:24 PM
Tech Elite
Join Date: Apr 2008
Location: Thousand Oaks
Posts: 3,610
05-23-2012, 02:25 PM
Tech Elite
Join Date: Apr 2008
Location: Thousand Oaks
Posts: 3,610
---
Originally Posted by
MantisWorx
I should have taken pix while i was doing it but the front is just 104 knuckles and regular 104 wheels/tires (no extender actually feels better!!). For the rear all i did was basically take a 104 foam wheel and grind it completely out so that it is just a tube, slid the tube over the FGX wheel CA and then mount the tires like normal. Just make sure when you slide the ring over that it is flush with the front side of the FGX wheel. At least on my car the 0571 fronts had waaaay too much steering so choose wisely on the pit fronts but also know that if you use the RIDE 104 front wheels all of the normal FGX tires fit that wheel.
Yeah... I've done the same thing and always wondered if Home Depot doesn't carry tubing the same diameter and thickness... also the cost of two wheels per tire
05-23-2012, 02:29 PM
Tech Champion
Join Date: Jun 2010
Posts: 5,938
---
If my memory serves me correct i the OD is 1.75" and the ID would need to be 1.625"
05-23-2012, 03:22 PM
Tech Elite
Join Date: Nov 2002
Location: CORONA , CALIF.
Posts: 4,061
---
home depot has nothing close .. I chk'ed them out .. I did find some lexan wraped around the rim before inserting one in the other fills the gap and keeps the rims true ..
05-23-2012, 06:43 PM
Tech Elite
---
Thought I would post these, the latest project from the 'LAB I loosely call it the Red Devil package. I am thinking about doing one for myself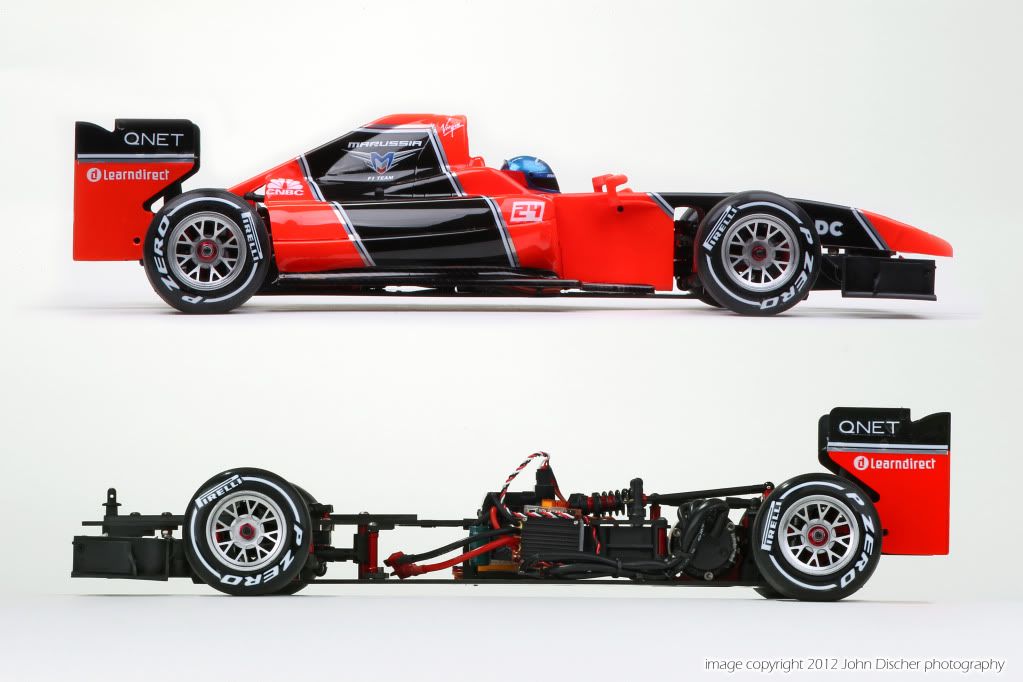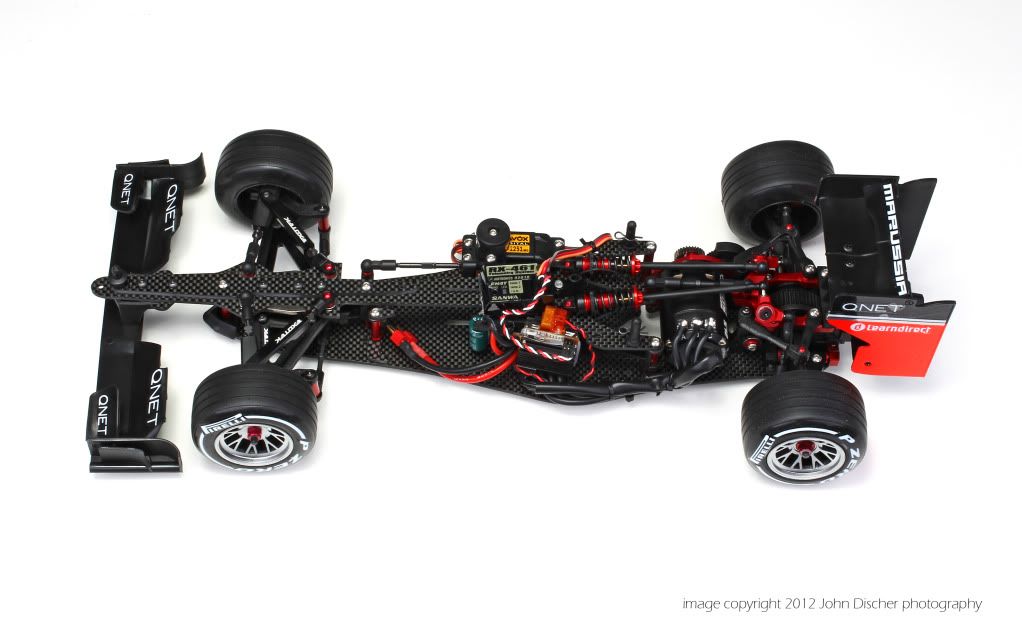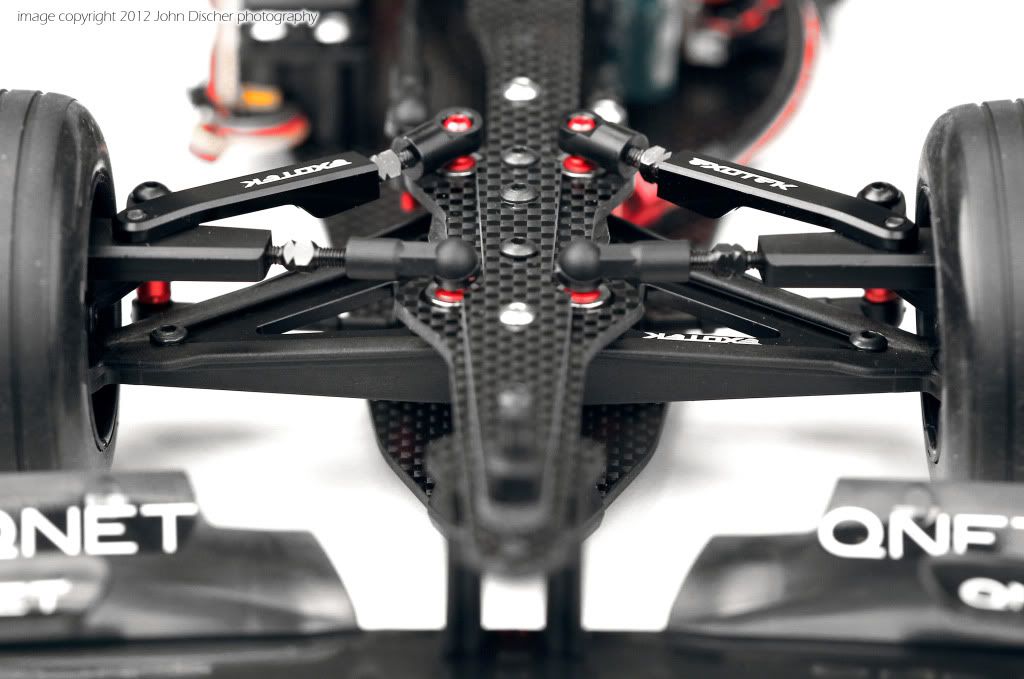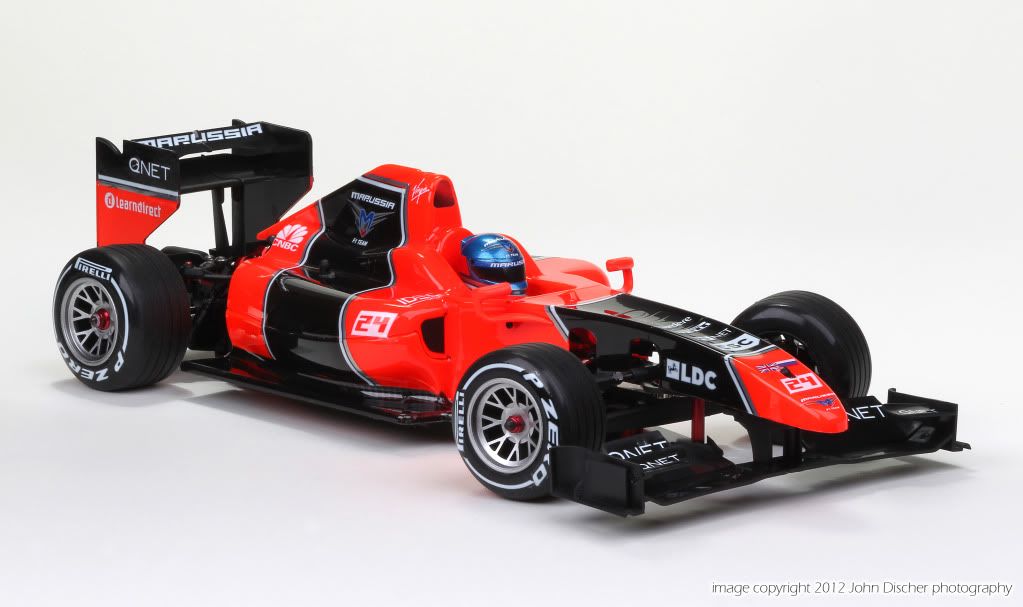 05-23-2012, 10:24 PM
Tech Initiate
Join Date: Mar 2012
Location: NorCal
Posts: 26
---
The red looks sweet!
Did you anodize all the red yourself?
05-23-2012, 10:39 PM
Tech Elite
05-23-2012, 11:13 PM
Tech Regular
Join Date: Jun 2011
Location: Melbourne, Australia
Posts: 349
---
Hi, never raced F1 before and looking at getting one. Does the front suspension on F1 just rely on the Flex of the lower arms?? If not how does the front suspension work?
05-23-2012, 11:25 PM
Tech Champion
Join Date: Nov 2001
Location: Hawaii, USA
Posts: 7,192
---
Hey BP...your not the same Palmer as in Palmer Pursuits from paintball are ya?
05-24-2012, 04:18 AM
Tech Adept
Join Date: Sep 2011
Location: Czech republic
Posts: 232
05-24-2012, 04:46 AM
Tech Fanatic
Join Date: May 2008
Location: Australia
Posts: 847
---
Looks hell better than the pinky purple!
You made me contact a local anodizing business now
Also how did u color your rims, if paint what did you use?
05-24-2012, 06:10 AM
Tech Elite
05-24-2012, 09:45 AM
Tech Master
Join Date: Apr 2008
Location: Dayton,OH
Posts: 1,250
05-24-2012, 10:00 AM
Tech Master
Join Date: Feb 2011
Location: Forney Texas
Posts: 1,650
---
Get one, let people drive it. You'll have an F1 class in Dayton in no time. That's how it starts.