RC muscle car suggestions.
03-14-2011, 11:32 AM
RC muscle car suggestions.
---
I have had off road electric and gas cars for 20 years but i've never had an on road car or lived by a lhs that really carried them. I picked up an 200mm HPI Cuda body and I want a electric awd muscle car to rip up and down my street with. It doesn't need to be the latest and greatest $500 world champion kit but it has to be something that will always have parts available and be a really nice chassis. I have a spare MM and CC 57kv to put in it for power and only stick lipo packs no saddle types. Does anyone have any suggestions for new kits or older ones? Thank you very much.
03-14-2011, 11:35 AM
Tech Adept
Join Date: Feb 2010
Posts: 198
---
HPI Sprint 2 Sport

Team AE TC3,4

Ofna JL10/E
03-14-2011, 12:04 PM
---
You said that you had power to put in but the RTR Sprint 2 Flux comes with some more Castle parts and another Vintage shell.

No chassis has parts support forever. TC3 seems to have done pretty well. Its old as all get out and there are still a lot of them running.
03-14-2011, 08:39 PM
---
Will the vintage muscle car wheels from one company like HPI fit different brands cars like Associated? In other words do all 1/10 awd electric cars use the same hub pattern or size? Thanks
03-14-2011, 09:13 PM
---
03-14-2011, 10:47 PM
Tech Elite
Join Date: Jul 2008
Location: Sonoma County
Posts: 2,018
---
Most companies use the same sized hex. So, a vintage HPI wheel will fit an Associated hex.
03-15-2011, 04:38 PM
---
Originally Posted by
snoopyrc
Your Cuda paint job is awesome! What kind of model is it?
03-15-2011, 04:42 PM
Tech Regular
Join Date: Jan 2011
Posts: 434
---
Originally Posted by
snoopyrc
Those cars are beautiful!
03-15-2011, 08:30 PM
Tech Addict
Join Date: Sep 2010
Location: RC dojo
Posts: 705
JL10E
---
It fits pretty good on a JL10E. An added bonus - the shaft drive of the JL10e makes this sound that reverberates inside of the 'Cuda body like a 'proper' muscle car.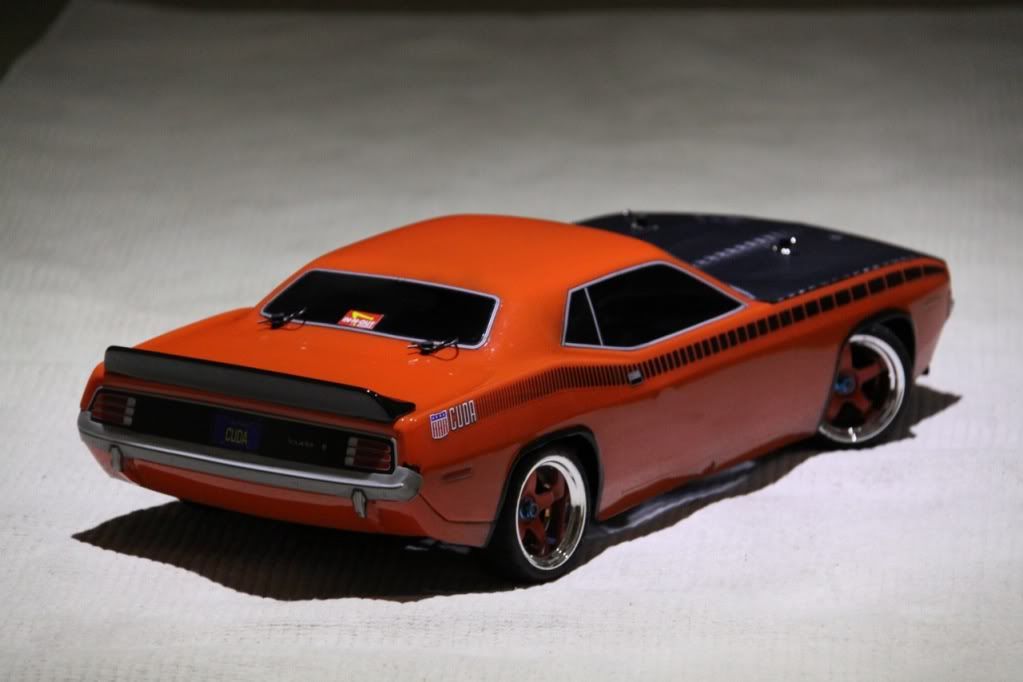 03-17-2011, 07:55 PM
Cuda
---
If anyone else has a sick Cuda lets see it.
03-18-2011, 09:23 AM
---
03-18-2011, 09:54 AM
Tech Regular
Join Date: Jun 2008
Location: Houston
Posts: 278
---
Not a Cuda, but muscle nonetheless.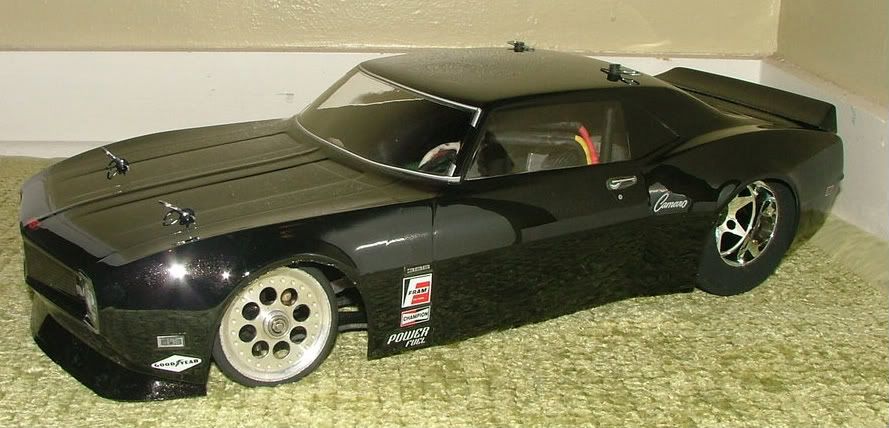 03-18-2011, 10:14 AM
Tech Master
Join Date: Aug 2006
Location: europe
Posts: 1,110
---
If you want to run it in the street definitely get the Hpi sprint. It is for sure a bit less brittle than a TC3 ( which I love).

Be careful though, you may want to race sooner than you think. In that case go for a tc3 or tc4, it will be approximately 2X better than the HPI on a track.
03-18-2011, 10:18 AM
Tech Elite
Join Date: Nov 2002
Location: NY/FL
Posts: 3,378
---
Losi XXX-S.
Associated TC4

Like Snoopy said, no chassis lives forever but there are those that were produced for long periods of time so parts availability is still good.
I have 4 xxx-s cars and i'll never be without one. Just a geat, smooth, quiet chassis that can handle any power.
03-19-2011, 09:37 AM
---