USRCF1 Formula One national event!
02-23-2011, 01:04 PM
Tech Master
Join Date: Aug 2003
Location: Seabrook, TX
Posts: 1,089
Count me in. I think????
---
This thread needs a bump. LoL
I just need some Serious help finding out what gear to get and what class it would fall into. This is what I narrowed it down too any help, advise or suggestions greatly appreciated.
Car: either F104 Pro or FX10 (hpi with exotech conversion and every hop up avaliable)
Esc and motor: I have no idea, but I do want to go brushless, and FAsst!! Always ran brushed.
Batteries: no clue, but want to go lipo, but dont know what fits or what goes with motor combo.
Servo: what fits
Tires and wheels: I understsnd tamiya and hpi hubs are different sizes, so do I stick with brand of car on wheels and both rubber or foam.
Bodies: what brand what fits with what, all I know is theres a narrow and wide 140/160 and you want a realistic paint job or solid color.e.m.
Classes: after reading this thread and trying to understand the concept of the race, this is what I gather.
Across the board car bodies must look realistic or painted a solid color. Either Tamiya or Hpi.
F1 open: anything goes (chasis, motor, esc, batts, etc., concept prototype), But you have to run rubber tires, No Foam. =F1 Open Mod, with rubber tires only.
Gp3: Any flat pan style chasis, any (motor, esc, battery) But must run Foam. =Gp3 Open Mod, pan/flat chasis, foam tires only.
Gp2: Any chasis, Except pan/flat chasis, Motor limited no boost 17.5/silver can, rubber or foam tires Allow chasis upgrades and hop ups. If enough show we split rubber and foam. = Gp2 stock class, any tire. If enough to split :Gp2 R stock, rubber tires only, Gp2 F stock foam tires only.
Gp1:Bone stock Rc Rtr, motor limit as stock Gp2, rubber tires only, No chasis upgrades, or hop up or after market parts. Maybe allow BALL BEARINGS, and any servo.
Like I said I need help. Thanks
02-23-2011, 01:36 PM
Tech Champion
---
looks like you pretty much got it! we are racing F1 tomorrow night at M+M you should come check it out PM me for my number and i can tell you what you need to get.
alright guys FINALLY got the hotel information monday and the new flyer. i will post hotel information hopefully no later than tomorrow but it looks like we will get a 65-69.00 rate per night, that is pretty good!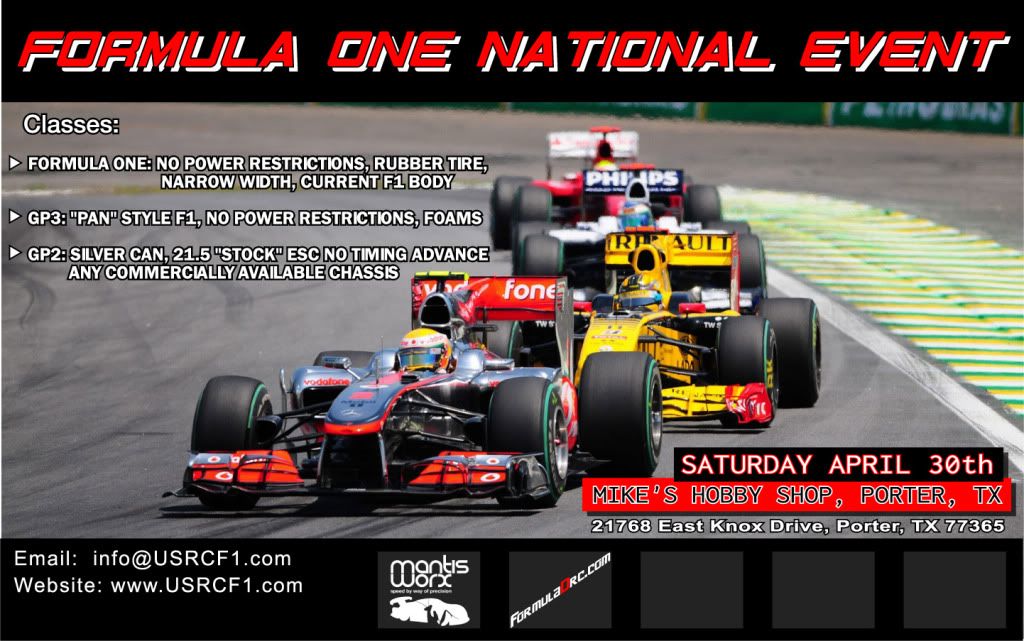 oh and GP2 is 21.5/silvercan not 17.5
PRE-REGISTER is almost setup
---
Last edited by MantisWorx; 02-24-2011 at

06:51 AM

.
02-23-2011, 03:38 PM
Tech Elite
Join Date: Aug 2001
Posts: 2,583
---
Marcus

How's your F1 car doing? Haven't been keeping up.
02-23-2011, 04:14 PM
Tech Champion
---

its getting quicker and quicker! last week a matched the times for TC 17.5 class and i am on rubber. the chassis i am currently driving is a short wheelbase with 3* of rear toe in!! its INSANE how it handles, toe in changes the car in so many ways.
02-24-2011, 06:35 AM
Tech Champion
---
so lets start a preliminary drivers list, PM me with your info and i will add to the first post.
PRE-registration is open!
first class is 40.00 second class is 25.00 copy and paste this format please:
Name
Email
1st class
2nd class
3rd class
send payment to
[email protected]
as a gift
02-28-2011, 07:13 PM
Tech Champion
---
hotel information posted on first post of this thread! me and the crew will be doing some testing this saturday so i will post some video!
03-10-2011, 11:41 AM
Tech Champion
---
well with only 7 weeks til the race i am not getting much response. is anyone making it out? it cost me to rent the track and if no one but locals are going to show its going to put me in the hole. i am adding 12th scale pan car to the classes to draw some folks from Dallas. So if you even remotely entertaining the idea of showing up post or PM me........
03-20-2011, 08:12 PM
---
I was cheking in to see what the latest is. Right now I am sitting at home with a bunch of F1's around me and I cant even go out and play with this !!!#$ flu thing that is going around. Don't panic yet, just keep pumping the info to every forum out there. Besides, I want to see how far I need to move over when your new car is on the track.
03-20-2011, 08:18 PM
Tech Champion
---
well, i hope it goes down, i just finished my GP3 entry today for Jacob to drive. He is coming down from Austin in two weeks to begin testing. My car is ready, toe in works phenomenal! i have been doing alot of offroad racing lately but hop to get some video of the cars on the track so you can get an idea of the speeds.
03-20-2011, 09:50 PM
Tech Champion
---
there is about 10 guys that race 12th scale on thursday's here! i can add the class in easily.how many racers are willing to come down with you?
03-22-2011, 02:57 PM
Tech Champion
---
well i am at a crossroads, i need to order trophies shirts and stuff real soon. obviously i dont want to spend 300+ dollars on this stuff and no one shows up. So please if you have any intention on coming down let me know. if not im just going to downgrade the event to a club race and add TC gas and electric.
03-22-2011, 03:01 PM
Tech Champion
---
BTW i can house one or two people at my house if need be, you would still have to get transportation ( my STI cant hold much!) but that would save someone over 100 bux!