Xray T3 2011
10-31-2010, 08:52 PM
Tech Champion
Join Date: Jan 2004
Posts: 7,379
10-31-2010, 09:32 PM
Tech Regular
Join Date: Jul 2009
Posts: 490
---
Originally Posted by
Yokomo_Ant3
I ran my car for the first time yesterday, the car has a lot more rear grip than the T3 and the steering is much smoother. I was having issues with driveshafts for some reason yesterday
I ran it 3 races, all 3 my rear driveshaft pins came out, and in the 1st race the whole rear driveshaft fell out
Yes they were loctite'd. Then in the 3rd race i completely sheared a front driveshaft, just from driving. Oh well, time for some flat spot pins and stronger loctite. never had that issue on my T3.
I definatly need more time with this car as it wasnt driving perfectly yesterday. It needs more overally steering, and definatly needs more high speed steering. Anyone have any suggestions?
Here is the setup sheet
http://forum.teamxray.com/xform/inde...&setup=t3_2011
Here is what i was thinking of changing. Thoughts?
http://forum.teamxray.com/xform/inde...&setup=t3_2011
Thanks,
Antoni
Hey Ant,
At the NSW State titles this weekend I was having LOTS of trouble with rear end grip on power. Ended up with a stiffer spring on rear, winder rear track, stiffer swaybar... and still stepped out at times, but was a lot better.
See you at the Nats!
Gav
11-01-2010, 12:13 AM
---
I have plenty haha, 2 much! I just need more steering, in general high speed as im losing 2-3 metres a lap to other cars on the sweeper
And yes will do! Looking forward to Nats
11-01-2010, 02:43 AM
---
Serves me right for not trying kit
I might put kit setup on this weekend and go from there
Congrats on your win Craig!
11-01-2010, 03:16 AM
Tech Regular
Join Date: Jul 2009
Posts: 490
---
I think Ari also ran a thicker rear swaybar.
11-01-2010, 06:54 AM
Tech Master
Join Date: Mar 2008
Location: The LOU
Posts: 1,941
---
Ant

I would just try going up in diff oil like 2000 filled. When I was testing diffs I felt that the lighter fuild let the car feel pushy on power when I went up in weight the car wanted to start to brake loose in the rear which gave me more on power steering.

Just my thought.

Thanks Drew
11-01-2010, 08:43 AM
Tech Apprentice
Join Date: Jul 2002
Location: Sunny Malta
Posts: 87
---
here is mine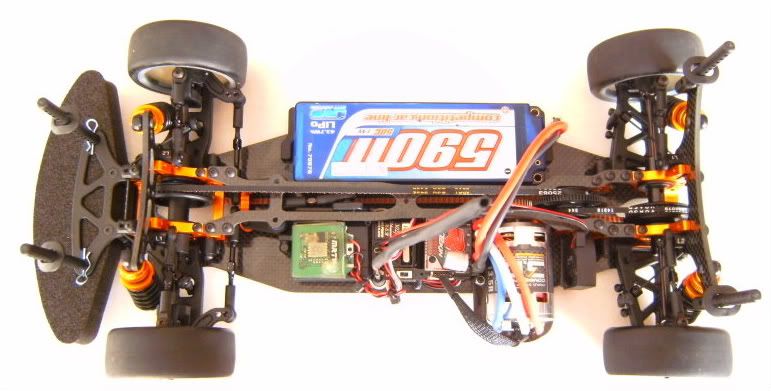 11-01-2010, 10:09 AM
Tech Elite
Join Date: Aug 2007
Location: Belgium.
Posts: 2,289
---
Crowded in there.
like mine, but yours is cleaner.
anyone hacked a Sakura diff in a T3 already?
11-01-2010, 10:17 AM
Tech Master
Join Date: Aug 2005
Location: The Netherlands
Posts: 1,448
11-01-2010, 01:01 PM
Tech Apprentice
Join Date: Jul 2002
Location: Sunny Malta
Posts: 87
11-01-2010, 01:06 PM
Tech Fanatic
Join Date: Dec 2008
Location: Around the world
Posts: 854
11-01-2010, 06:10 PM
Tech Master
Join Date: Jul 2007
Location: Perth, Australia
Posts: 1,075