Am I the only one that likes Group C cars?
07-27-2012, 05:42 PM
---
I always have a soft spot for Group C and LeMans Prototype cars.
I pulled one of my F103 cars out of retirement. And while I love seeing everyone's cars, I think they look better on the track.
07-27-2012, 05:53 PM
Tech Adept
Join Date: Aug 2009
Location: Puyallup, WA
Posts: 249
---
what headlight setup does anyone use and how is it mounted?
07-27-2012, 11:19 PM
Tech Addict
Join Date: Sep 2010
Location: RC dojo
Posts: 705
07-28-2012, 06:52 PM
---
Nice pictures Sir HeliYogi!
We ran all silvercan or Tamiya Formula Tuned only, no brushless
fixed gearing 3.71 FDR or closest to that for fair racing.
15mins qualifying (single fastest lap) 3x15 mins mains
foams for the rookies and newbies and rubber for veteran and experienced drivers.
My set up
Tamiya silvercan
Novak GT7 esc
spur 70/ pinion 19
Turnigy NanoTech 4200 40C
And some of my mods Id like to show you.
I used a 3Racing F104 motor mount to lower the CG coz the motor now sits lower. It also comes with a fan for motor cooling. I replaced the rear shocks with TRF one, also did some suspension mod to the rear.(taken from the Pro10 classic website) I flipped the servo and use a Yeah racing short servo stay to lower the CG up front. reinforced the front arms by using a 1.5mm steel allen, zip tied and CA'd to place. And the Yeah racing Ti turnbuckles with Tamiya adjusters.
Right now Im practicing with rubber coz I already graduated with foams.
Have a Good day!
---
Last edited by sir miles; 07-29-2012 at

01:13 AM

.
07-29-2012, 11:42 AM
07-29-2012, 03:53 PM
---
Mr Miles, I find it amazing how we came to fix the front arms
Some Q
By using the 3Racing F104 motor mount, do you get more forward space so to fit a bigger pinion that the original motor mount? I always wanted to get back to the stock gearing but can't fit a 20 pinion which would be ideal.
Also can you post photos of the rubber tires? really intrigued how you mount them on the C rims and what type/brand is working for the car.
Where are you located?
Cheers!
07-29-2012, 04:29 PM
---
Hi HeliYogi,

With this set up, the biggest pinion I can fit is 19T which is ideal for me using the stock spur that gives me a 3.68 close to 3.71 that our club requires. If you want to experiment about the spur/pinion, try the smaller spur 63t (Tamiya #50506) it also comes with a spare plastic diff which you can also use.

To tell you honestly, it took me sometime to figure out what I can use if I wear out my orig foams. Clever tamiya design, its not far from F103 in some ways. I use the Tamiya F103 rubber tire type B directly like you do a F103 tire mounting. You just have to take out the hex part that attaches to your stock rear wheel. And you put the thrust bearing and washers inside the F103 rim, the mesh design of the rim which is detachable will hold them in place.

BTW, have you noticed the 2 sliders that attaches to the side of my rear suspension?

I'm from Manila Philippines. Im racing this baby against a bunch of multi branded F1.

AYT!
---
Last edited by sir miles; 07-29-2012 at

04:43 PM

.
07-29-2012, 04:39 PM
---
Hi TwoWheel, The Nissan R91CP is about 5mm longer than the F104 in full extended form. It has 3 position wheelbase selector. Shimizu tires will not fit a groupC wheel. You can use a shimizu rubber tire fitted to a rim thats designed for F103 rubber tires.
BTW , I love your Toyota! maybe I can mount one someday in my GroupC modifying the wheelbase.
heres a sample video of our race. im the only groupC chassis user here.
http://www.youtube.com/watch?v=bppGv...watch_response
---
Last edited by sir miles; 07-30-2012 at

03:46 AM

.
07-31-2012, 04:29 PM
Tech Rookie
Join Date: May 2010
Posts: 14
---
Hey,
can you tell me what partnumber you use for rubber tires?
I tought the f103 tires was mutch smaller in diamater?
08-01-2012, 01:47 AM
---
Sorry Guys for the confusion, the tires installed in the picture is the stock foam tires of my R91cp GrpC. F103 tires are much smaller than the stock.
08-01-2012, 08:52 AM
---
Originally Posted by
sir miles
I have not been back to the Philippines in some time, but that track looks great! Is it A/C as well? I see three huge vent fans in the background, so I'm guessing not? I only ask because I remember how humid it can get there for the better part of the year.
08-01-2012, 04:08 PM
F104 Rubber on C rims?
---
OK, not that I don't have a gazillion things waiting to be done but I could not stand the incognita whether the F104 rubber tires (F1 ) can be used on the group C rims.
The answer is YES! They are a little big on the front so it's going to take rubber bands and careful "CA ing" but it's doable. I have not tried the Pitz Shimitzu (wich are far better that the Tamiya for grip) but it's no longer an issue..
For the photos I only had two Tamiya front tires to show, so yes the F104 rubber rear will be taller and cover more rear rim. The height is a little lower on the rubber, but easily adjustable on the chassis.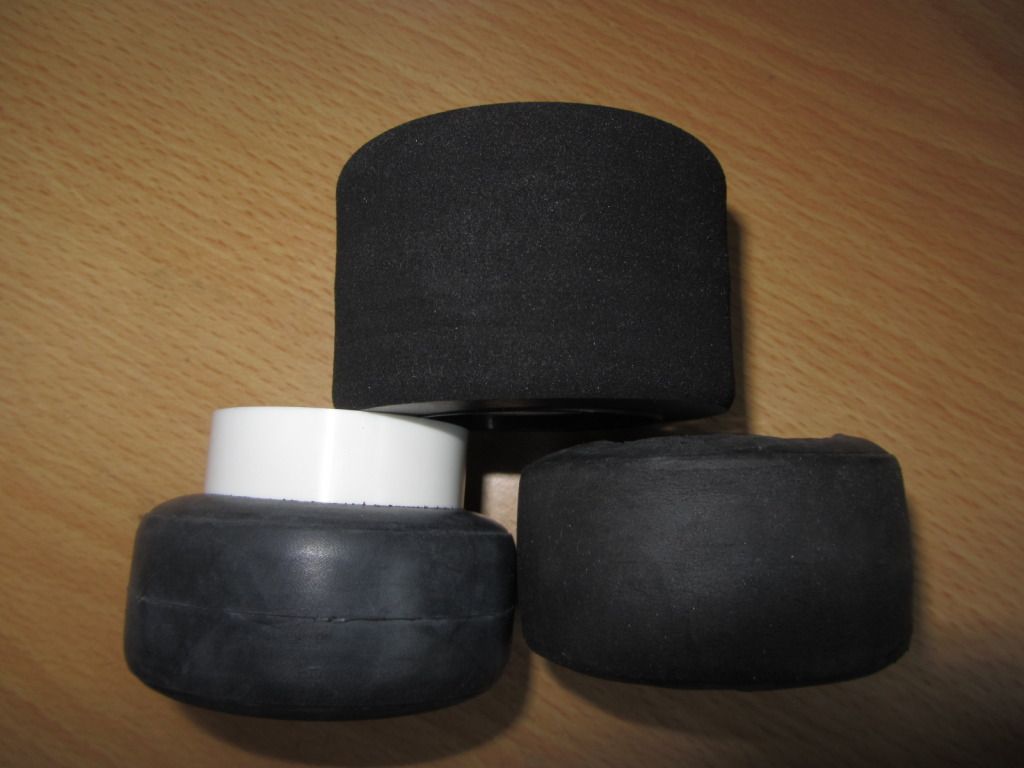 With rubber you get:
No more trimming tires and adjusting the chassis as with the foams (just applying CA as needed)
I am sure the car will be as good to drive as it is with the foams. Maybe lose a little traction especially on carpet but be better in dusty parking lot tracks.
At the club I can be in the brushless 21.5/Rubber class and blow the !#$#&* Silver Can/Foam (always good news lol)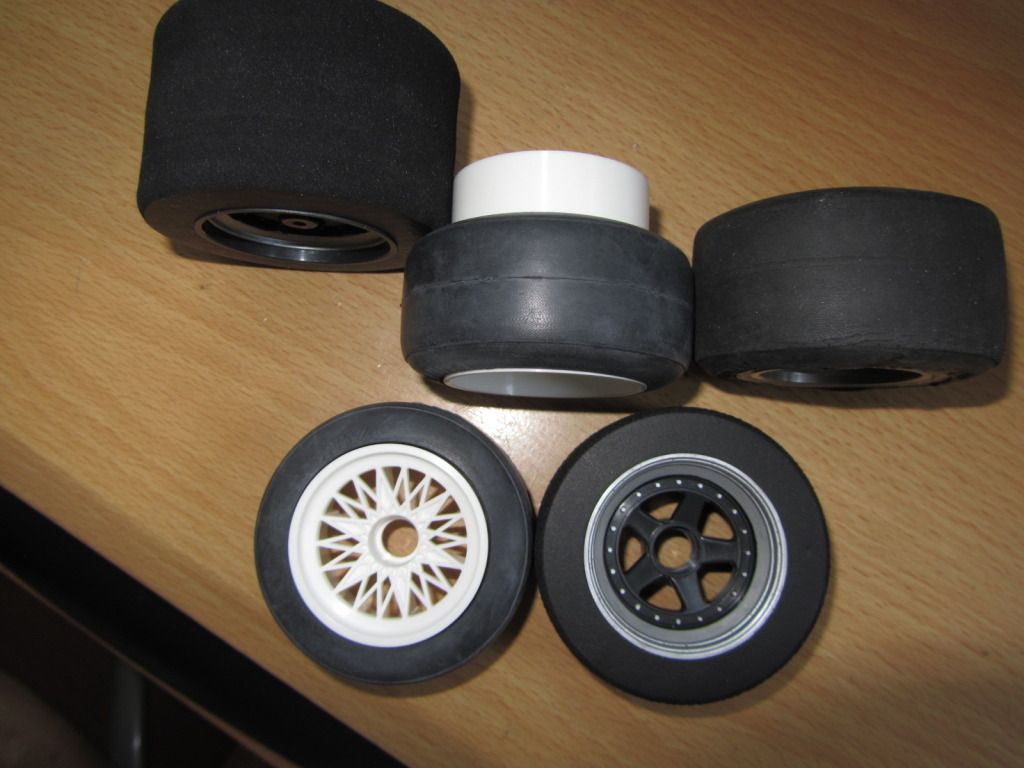 More good news for the rubber crowd: Tamiya is releasing a new rubber compound tire for the F104 that looks as good as the Pit Shimitzu that we are using now.
http://www.tamiyausa.com/tcs/tcs.php?article-id=556
(PS don't forget to drill at least 2 small holes in your C rims before you glue on the rubber tire, it needs air flow )
Cheers!
---
Last edited by HeliYogi; 08-10-2012 at

10:39 PM

.
08-01-2012, 04:40 PM
R91 shell back to buisness
---
O man what a pain, but thanks to Howler suggestion headlights are back!
If you need to remove PS paint Body Cleaner by Dynamite is the right stuff!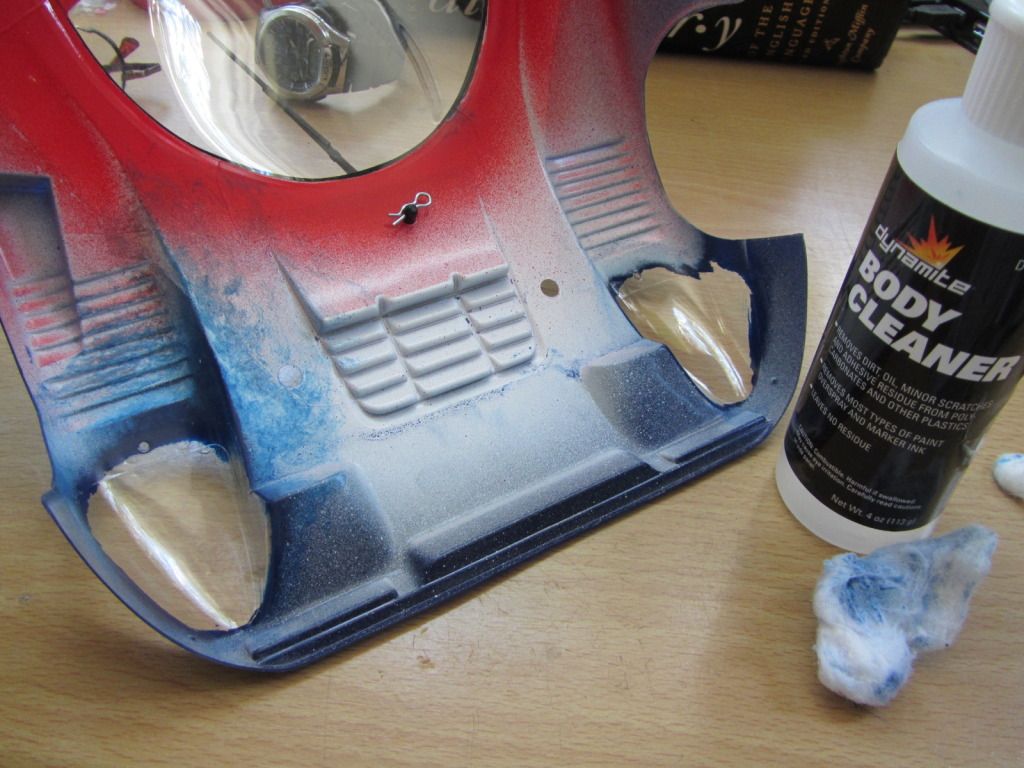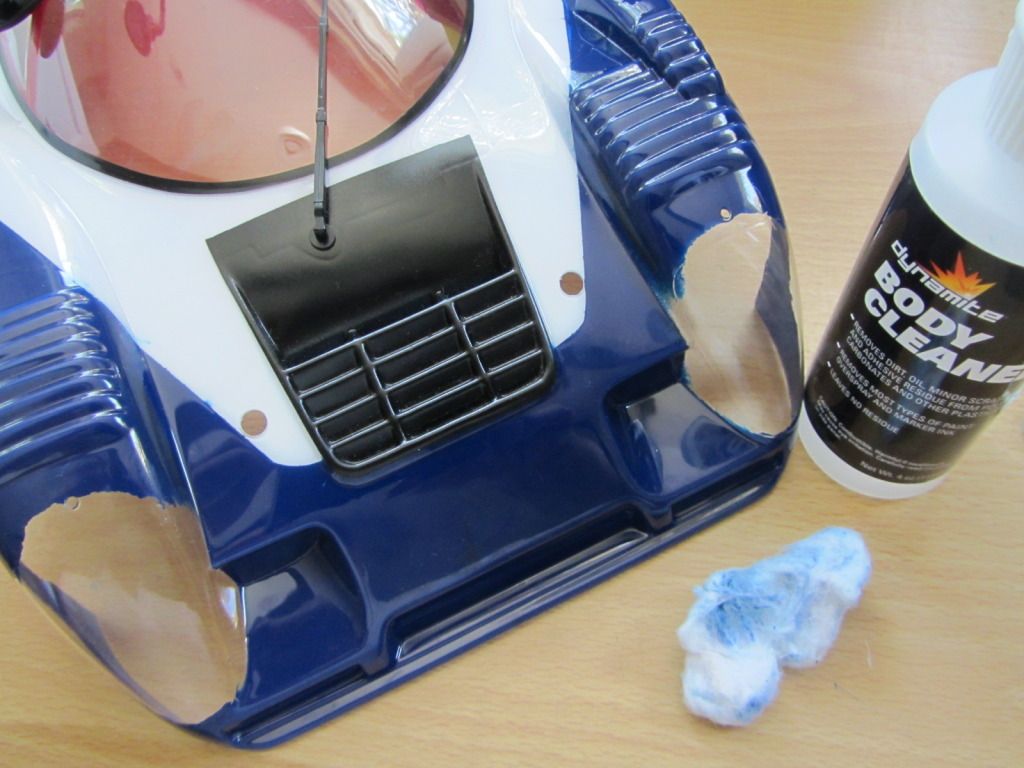 ---
Last edited by HeliYogi; 08-01-2012 at

04:59 PM

.
08-07-2012, 10:13 PM
Tech Initiate
Join Date: Feb 2009
Posts: 34
---
no problem with realistic porsche 962C 1/10 (corally 10SL chassis)
08-07-2012, 10:15 PM
Tech Initiate
Join Date: Feb 2009
Posts: 34
---
I have 5 bodyshell (camel, blaupunkt, newman,jagermesiet and one is clear yet