how do you store/carry/organize your charger and batteries?
07-17-2010, 12:23 AM
Tech Elite
Join Date: Feb 2005
Location: SoCal
Posts: 3,542
how do you store/carry/organize your charger and batteries?
---
title says it all! i'm looking for some ideas on some charger carrying case ideas/pit setups as i just got a new charger and some batteries. My xenon racing box is almost at the point where it needs to retire, so i'm open to ideas!!

let's see what you guys got...hopefully, i can conjure up something that will fit my needs.

thanks for the help,
valentin
07-17-2010, 01:30 AM
Tech Fanatic
Join Date: Nov 2003
Location: dark side of the moon
Posts: 935
---
07-17-2010, 11:11 AM
Tech Elite
Join Date: Feb 2005
Location: SoCal
Posts: 3,542
---
Originally Posted by
vabroom
thanks for the battery box idea, i kinda figured someone would post that up. I was heading towards more of...something like what containers/cases people use to haul around their chargers and powersupplies, or how they display them at the track and whatnot.
please keep em comin' guys!
07-17-2010, 06:33 PM
Tech Apprentice
Join Date: Jul 2010
Location: Townsville, Australia
Posts: 91
---
buy yourself a el-cheapo aluminum brief case. get then at kmart, supercheap auto and the likes

then use foam rubber and cut it to fit in the case

then you can mark the battery and charger on the foam with a marker pen and then cut the foam out with a hobby knife

hope this makes sense, but is quite cheap and only takes a little time and you can custom make a few layers in the brief case
07-17-2010, 07:04 PM
Tech Master
Join Date: Mar 2007
Location: SOCAL
Posts: 1,210
---
I just store and carry them in their original boxes in my Hudy pit bag. Unpack them, setup my pit, pack them back in and call it good.
07-18-2010, 09:45 AM
---
That was a good question, that also came to me, since in 3 weeks I will have to pack everything rc on my (real) bike and ride about 1100km's to a major race. More specifically, I am riding my '98 BMW R1100GS fitted with topcase and original plastic BMW saddlebags from Athens to a ferry (225km) that will carry me to to Ancona, Italy, then another 850-900km to Grenoble, France to attend the RC Motorcycle World Champs.

So, this time it's not a car that can carry everything inside its rather cavernous boot, but only the three smallish 35-45 liter bags. And they have to also contain my non-riding clothes, plus rainproofs, extra gloves, shoes etc...

I MAY temporarily borrow a pair of 41-liter aluminum Touratech Zega panniers, from a friend who has a similar motorcycle...
Still, I have to find how to store an rc bike, my (big) stick transmitter, two slim chargers, a smallish Nosram 10A power supply, 8-10 2S lipos, some (basic and few) tools, a small and simple soldering iron, spare wheels/tires, and a few parts... What concerns me more are the lipos, which I plan to stack inside big lipo-safe-bags and then all together inside a metal container of some sort... Just to be on the safe side...

It will certainly be very interesting!!!!
---
Last edited by steliosh; 07-18-2010 at

09:50 AM

. Reason: spelling...
07-18-2010, 10:45 AM
Tech Elite
Join Date: Dec 2001
Location: Bristol, UK
Posts: 3,998
---
My charger and power supply is kept in an aluminium pistol case - the eggshell foam has kept them free from damage for years. A bit like this but without the combination locks...
In the past I had another plastic foam-filled case for my batteries, but since I only use one LiPo in the car now, I don't need it.
07-25-2010, 02:30 AM
---
So, I managed to borrow my friend's Touratech aluminum cases, which hold 41 liters each, as can be seen in the attached pics.
The only problem seems to be that the bike is being extremely wide and needs extra care when riding in crowded streets or... getting near the toll booths to pay at Autostradas, taking care not to grind the left case against the wall!!!
It's just over 1 meter wide, now, while with the plastic BMW bags it was "just" 84cm! (The protruding engine cylinders are only 74cm wide).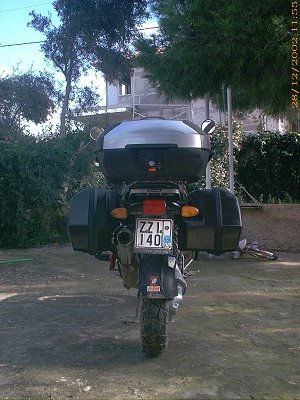 My BMW original cases would hold 23 and 31 liters respectively. The smaller capacity goes to the left, because of the exhaust being in the way!
I also found locally an aluminum case similar to the one proposed by sosidge, so I will get one to carry my batteries and store it deep on the right side hard case, clearly away from the exhaust heat (just in case!)
08-26-2010, 09:39 AM
---
So, I successfully did the trip! The bike was NOT a handful to ride on the Motorways of Italy and France or on the twisties! The only problem arose with the width of the bike (almost 1 meter wide at 98cm!!!), which prevented lane-splitting, but that was expected! Thankfully, I was never faced with thick and slow traffic, to need to split lanes... I was just overtaking like a car! Using the center of each lane, just in case
The right bag (away from the exhaust!) carried the rc stuff. The left one, my clothes for the trip.
I packed everything inside hard carton paper boxes: One box had the wheels, tires and spares of the rc bike. Another had the few selected tools I needed. Another one had the two chargers, this one a small one. The Nosram power supply was in its own box. Another small box carried the shock oils, CA glue, loctite, and other fluids like a small motor cleaner spray (never used, the motor was sealed with lipstick!), WD40, bearing oil etc, each in its own ziplocked small bag, just to be safe. I tried and found small carton boxes that would fit the particular space of the aluminum bags pictured above.
I stored my batteries in a hard plastic case, which I used to carry my Nimh's in. Very similar to the ProMatching ones shown in a previously given link. In hindsight, I could just have taken 3-4 batteries with me, and not my whole lot of 10. Lipos can be recharged 2-3 times daily, and I KNEW THAT!!! Anyway, I removed the slotted foam, added a thick foam layer on top, another one on the bottom, secured the lid opening with two zip ties and that's it.
The bags came with inner cordura bags, so I just removed the cordura bag every day at the races. I also removed one of the aluminum bags, to have a seat to sit down, since the track didnt provide seating! I used my rainproof bag as a... pillow, so I don't sit on the bare aluminum for hours...
I carried an extra rc bike fairing and a rider inside the other bag, which was filled with my clothes, and stuffed the lexan bits with socks and t-shirts, so they didn't lose their shape!
My radio (in its own hard case) was carried in the BMW top case, along with the bike and my rainproof overalls.
Some pics can be found here:
http://picasaweb.google.com/steliosh1/
(My own pics), and:
http://rcbikeworld2010.com/more.html
on the event's site.
In all, it was easy to do, and I will probably do the RC Bike Worlds again, next year. It will be held at the famed Lostallo, in Switzerland, again during the first or second weekend of August. (To be confirmed), which is another 2500km trip for me.
This year it was 2660km.
Currently Active Users Viewing This Thread: 1
(0 members and 1 guests)
Posting Rules
You may not post new threads
You may not post replies
You may not post attachments
You may not edit your posts
---
HTML code is Off
---