F1 Conversion kit from Yeah Racing
11-03-2010, 10:30 AM
Tech Addict
Join Date: Sep 2008
Location: Jackson, Mississippi
Posts: 550
11-03-2010, 01:09 PM
Tech Regular
---
Thanks,
My Xtreme Stock ESC fits like it was purpose built for this chassis
11-03-2010, 03:32 PM
Tech Addict
Join Date: Sep 2008
Location: Jackson, Mississippi
Posts: 550
---
NICE!!! It fits like a glove. By the way, I like your website too.
I wish I could read it.
11-03-2010, 08:30 PM
Tech Rookie
Join Date: Aug 2010
Location: New Zealand
Posts: 16
---
InZane
Could you please tell me if that servo mount will fit directly into a F109, If so i will have to keep my eye out for them when they become available by them self's. Just what i have been looking for.

Cheers, and keep up the great builds and reviews.
11-04-2010, 03:11 AM
Tech Regular
---
11-04-2010, 05:08 AM
Tech Adept
Join Date: May 2010
Location: Cinci, OH
Posts: 112
---
Your conversion looks GREAT! Couple questions, is there an advantage to running the battery long ways like you've done versus placing it width wise?
Second, will this kit be a direct fit replacement for a tamiya f103gt frame (ie front end, rear end)?
12-15-2010, 07:26 AM
Tech Regular
---
Ready for track testing ...
12-15-2010, 07:45 AM
Tech Regular
---
No - I decided to build it as a link car from start.

Maybe I will try the T-bar version for my back up chassis.
12-15-2010, 11:51 AM
---
What's with the wide spacing on the rear axle?
12-15-2010, 01:07 PM
Tech Regular
---
We are using Tamiya F104 Rubber tires as control tires for the Swedish F1 winter Cup. The spacing is used to make the rear wider as we're having big problems with traction roll when running the narrow rear end.
12-15-2010, 02:12 PM
---
Makes sense...are you then using an F104 rear pod to get the right height correct?
12-15-2010, 10:26 PM
Tech Regular
---
Yes you can use the F104 motor pod - it's a direct fit but chose to stay with the original pod as I like the design/looks of it.
I use a 3Racing 3mm shim motor mount for the F103GT (
F103GT-25/WO
) sandwiched between the pod and the carbon motor plate. Ride height is 4mm - same as if I use the F104 motor pod.
12-15-2010, 11:22 PM
Tech Regular
---
If you can't fit your electronics on the chassis plate between the links and the lipo a nice solution is to mount a 3Racing Graphite Radio Tray for M05 (
M05-11/WO
).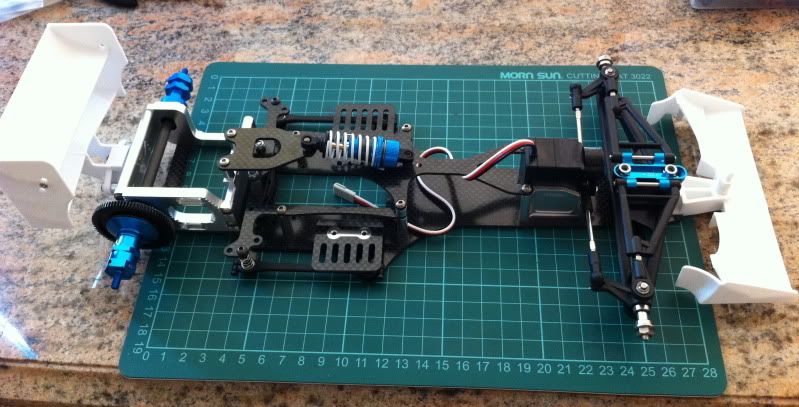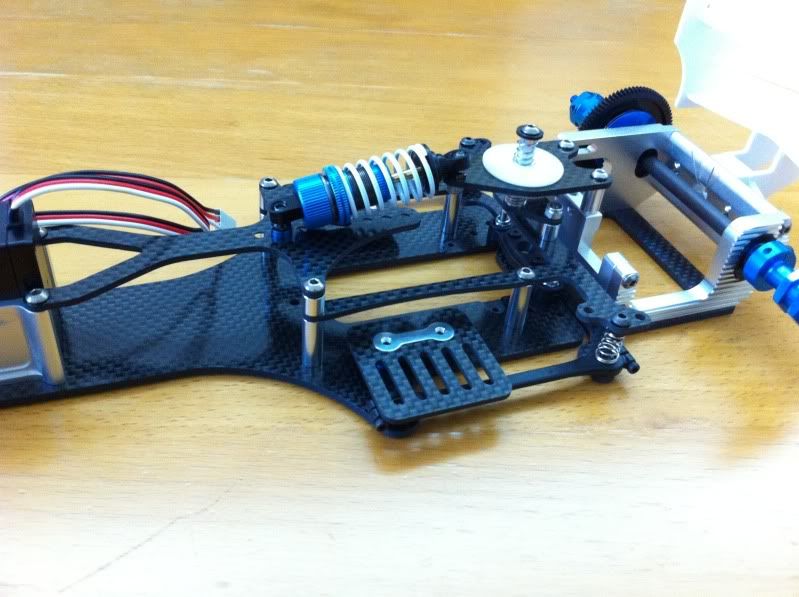 12-16-2010, 11:02 AM
---
Cool...didn't know 3Racing made a part specifically for the ride height...would have saved me having to cut one for my F1-09.