Team Associated TC6 Thread
06-23-2011, 04:06 AM
---
Using Spec-R Yokomo BD5 Gear Diff for TC5/TC6.
It fits, but the CVD and out drive is tight.
Need to sand off CVD ends a little bit to make room for out drive.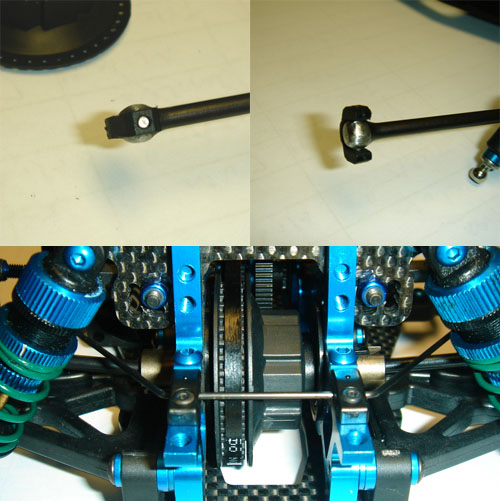 Click here for more information.
FYI.
What's a good starting point for oil in the gear diff?? Running the car on a tight technical outdoor asphalt track. Medium to high grip.
06-23-2011, 04:07 AM
---
Hello there

I am looking at fitting a Sakura diff gear in my TC6, the parts are on the way, will let you know how I got on as soon as it is in.
06-23-2011, 04:37 AM
---
Hey guys thanks for the info.

well looks like I will be going with this ride very soon as long as my finacial advisor is okay with the purchase(aka the wife) lol

my next question is is there any info on building the perfect car,

from the time I opean the box to the momment i place her on the track.

I would also like to find a decent ashpalt stock set up too. to use as reference.
The given manual is the way to build the car. If you have problems with building just check this thread around page 40 and up. We all started building our cars from november 2010 and later. There are a lot informations. If you own a TC5 you already know how to treat a TC. The TC6 is not much different. For setups check the AE website. The things Keven Herbert did to his car work in most cases. One or two pages ago someone posted an asphalt setup which seems to work good.
06-23-2011, 04:52 AM
Tech Fanatic
Join Date: Jan 2005
Location: victoria BC
Posts: 810
---
thanks for the reply

i will start and read every thing i can prior to by build
---
Last edited by cyrrus; 06-23-2011 at

05:03 AM

.
06-23-2011, 08:56 AM
Tech Elite
Join Date: Sep 2003
Posts: 4,004
---
There are two diffs for the Yokomo BD5 that work in the TC6, one from Yokomo and one from Spec-R. I can't say for certain that the same modification is required for each but it should be.
First, the Spec-R diff is slightly too wide which means you will need to modify the main diff bearing holder so that the diff will fit. There should be a description of this mod in the Keven Hebert/TC6 question forum. You can also turn the diff in a lathe and remove material where the main bearings ride. I don't even think the need a lathe. If you can spin the diff (drill press or dremel?) you can sand the material away. You don't have to remove much.
Second, the drive cup is too small for the AE bone. Some people modify the dog bone or you can grind the cup (this is better). It does not take much to make the bone fit.
06-23-2011, 09:42 AM
---
Yes you can also changed the dog bones for yoks, but then you need to change the bearings in hub and have different hex holders (Xray works fine apparently)

the SpecR is deeper in outdrives than the original yoks.

So any ideas on releasing date for AE gear diff? I can wait until end of August for mine, the season restart in September.
06-23-2011, 11:01 AM
Tech Fanatic
Join Date: Jan 2005
Location: victoria BC
Posts: 810
---
hey guys just curious. since i've been in Pan car mode since last August.

What is the benefits of running a gear diff compared to a regular rear diff.

Thanks
06-23-2011, 11:38 AM
Tech Master
Join Date: Jun 2007
Location: PPDBillet.com USA
Posts: 1,845
---
They say....quicker acceleration out of the corners, easier / more tuning options with oil weight or putty or owl feathers or what you want to put in it, and less maintenance / longer lasting then ball diff. Also when used in front more turn in as you have slight diff action but similar to spool while on power.
Dont know from experiance yet, these are things being said from others.
Read up here for more info.
http://www.rctech.net/forum/electric...ll-diff-5.html
06-24-2011, 08:47 AM
---
But then on slippery track a ball diff could be better...more options to tune.

So far the ball diff works great with the spool on front.
06-24-2011, 12:14 PM
Tech Master
Join Date: Oct 2007
Location: Currituck, North Carolina
Posts: 1,893
---
I've personally found that the gear diffs are better and more consistent in super stock and modified. In stock and even super stock, the ball diffs are lighter and smooth after many runs. Front diff offers more initial turn in, but that can be solved with simple tuning.
06-24-2011, 01:36 PM
Tech Master
Join Date: Jan 2005
Location: Da 'Burg
Posts: 1,246
---
Verndog said... owl feathers
06-24-2011, 02:52 PM
Tech Master
Join Date: Aug 2006
Location: Gilroy, Ca.
Posts: 1,998
---
If anyone is particular about the finish of their Yokomo or SpecR out drives, I will be happy to turn them on our lathe for about $5 per pair plus shipping. I can also turn your diff housings to free them up between the bulkheads.
I have good feedback here and make many custom parts for other cars. Some for the TC6 soon, as this is my ride of choice right now.
PM me for more info.