Yokomo R12
08-10-2010, 07:45 AM
Tech Master
Join Date: Jul 2003
Location: Alberta, Canada
Posts: 1,165
---
i have a question and would like your opinion. how do you think this car will handle on a bumpy indoor carpet track? will the front end help or be more of a pain?

thanks in advance for your input
08-10-2010, 04:42 PM
Tech Fanatic
---
about 70% done on mine! from this build I have a strong feeling that the front end will play the major roll when it comes to carpet and aSSpalt
. Will upload some pics soon
08-10-2010, 04:52 PM
Tech Master
Join Date: Nov 2009
Posts: 1,803
---
My r12 is due to arrive at the shop on 16th it going to be a long week.....

Can someone explain the tire offset thing?
08-10-2010, 06:58 PM
Tech Fanatic
08-10-2010, 07:25 PM
08-10-2010, 08:14 PM
Tech Fanatic
---
08-10-2010, 08:58 PM
---
Originally Posted by
hotdognobun
Haha. you ready?!?!? well with some small parts and some greases the shipping was around $59.00!!! I've learn to accept these kind of prices with this hobby plus its a Yokomo!!! To have it in the US is rare because of the part issue if you crash or something wears out. hey if you like I am selling my old rc12r5 converted to 5.1
http://www.rctech.net/forum/r-c-item...12r5-12r5.html
59.00 ouch...Maybe I better wait.....I have two of those RC12R5.1 ,I may have to sell one or both of them to get the R12..
08-10-2010, 10:11 PM
Tech Apprentice
Join Date: Jun 2005
Location: Tx/Tokyo
Posts: 68
---
R12 released last 31th at Japanese market, 22445 JPY.
If you buy it from Japan, you might prefer to ask distributor for regular mail.
Japanese distributors are as follows.
futaba-sangyou(TOKYO akihabara area shop, they are not understand English
on phone, but e-mail order might be accepted with low price)
phone: +81-3-3255-9984
mail to: ?
http://www.f-sangyo.co.jp/shop/goods...s=639342090105
RC-advisor champ(TOKYO akihabara area shop, they can understand English
by e-mail, same price at above shop)
mail to: osaka[at]rc-champ.co.jp
http://www.rc-champ.co.jp/
RC House Champ
12th pro-shop in west Tokyo area(Proprietor can speak English, maybe by phone,
the price will be around 25000JPY)
+81-42-549-1553
mail to: hot1458[at]rc-house-champ.com
http://www.rc-house-champ.com/
Crest Speed way
My home track and Japanese most exciting course for 1/12th, English maybe dose
not be comprehended, but if I were there at that time, i will reply your mail
by English. R12 kit price is 25480JPY including jananese consumer tax)
Naoto.M practiced yesterday at this track for testing new sanwa servo)
Phone: +81-270-75-5933
mail to: info[at]crestspeedway.net
http://crestspeedway.net/
anyway,
I built it with 10days or so. I think this R12 is roughly excellent car.
For example, all of carbon materials and alloy parts are highly precised.
However, I found this car have some of problems. They are mostly
caused by composite material.
---
Last edited by landau; 08-11-2010 at

08:42 PM

.
08-11-2010, 07:55 PM
Tech Addict
Join Date: Oct 2007
Location: Perth Australia
Posts: 602
---
The yokomo rears mount about half way down, not at the end like all the other wheels, fronts are the same as other by the looks of things I haven't measured the offset on my fronts yet to make 100% sure.
Here's a picture from redrc standard wheel on the left and yokomo on the right. Only issue vie got now is where to get the foam donuts on there own from ? I ordered a few yokomo ones to hold me over as that's all I could find so far.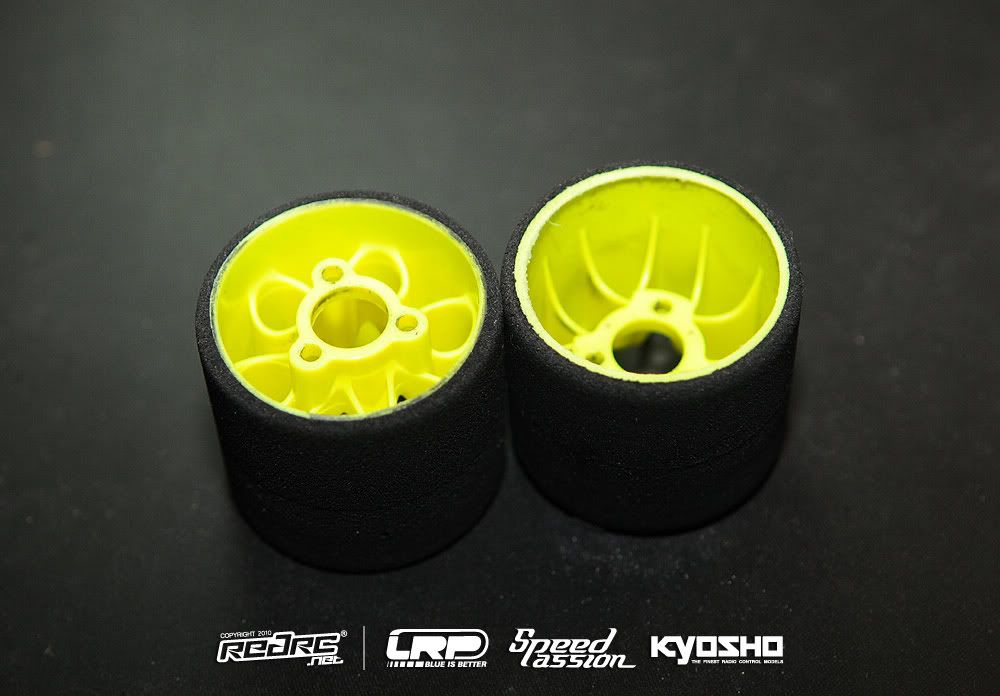 Other side
08-11-2010, 08:31 PM
Tech Master
Join Date: Nov 2009
Posts: 1,803
---
08-11-2010, 08:55 PM
Tech Fanatic
08-13-2010, 05:28 AM
Tech Addict
Join Date: Jun 2008
Location: Netherlands, Sweet Lake City
Posts: 500
---
Guy's

Where do you order some parts for the Yoko R12?
Some links perhaps?

Thanks,

Robert
08-13-2010, 07:09 AM
Tech Adept
Join Date: Jan 2010
Location: Paris, France
Posts: 132
---