Team Losi JRX-S Pro mod for LiPo's
02-18-2010, 02:11 PM
Tech Apprentice
Team Losi JRX-S Pro mod for LiPo's
---
Note. This mod is for using 3800mAh LiPo Packs and smaller.

These are the smallest lipo's currently that i have found to fit:
ProTek 3800 (discontinued)
Venom 3800 (Same size as ProTek)
Thunder Power 3200
Orion 3200

I run VTA and have found that a Thunder Power 3200 will run for more than 20+ min and has the same amount of power throughout a race.

Other small lipos may fit as well. Will update if i find others that fit.

Parts for the JRX-S Pro can be found here:
http://www.losipartshouse.com/servle...168/Categories
First you want to modify the middle and rear bulkheads to allow the LiPo to fit. Use a bench grinder to remove most of the material. Then use the dremel to "fine tune" the fit of the LiPo.
Next you will need to cut the arms of the rear bulkheads that connect it to the rear top plate. You will also need to cut the top plate like what is shown in the pic. this will allow the LiPo wires through. It will also let the chassis flex more but to your advantage if racing VTA like i am.
(Red Circle: You may need to sand this to allow the bottom of the LiPo to set lower and more flush with the underside of the chassis.)
(Yellow circle: if you run the diff in the low position, you may want to bevel this area under the diff to keep the belt from rubbing on the chassis.)
(Blue Circle: There are 4 brackets to keep the LiPo centered in the chassis to prevent it from slamming into the rear diff gear and center belt pulleys. More info on this further down)
When the rear bulkhead and center bulkhead are moded, you will now need to fine tune the chassis for the proper fit of the Lipo. Take a little bit of material off at a time and check the Fit. This may take some time, you dont want to remove more that you need to. I had to remove material in the red circle to allow the LiPo to slide into the chassis.
to keep the battery in you may have to cut the battery tray WAY down like this. Yea there is not much there, but the LiPo will stay in the car securely.
Now here are the brackets i put in the car to keep the LiPo in the center of the car. it is CRITICAL that you do something like this or the LiPo WILL break the rear diff gear. the LiPo just kinda "Floats" in the middle of the chassis and something is needed to keep it centered. Brackets are circled in blue. Now for the front brackets, i used a .010 feller gauge in between the front two pulleys and the LiPo, then tighten down the brackets to keep the LiPo centered. It is a really close fit between the pulleys but there is enough room.
This mod does work and i do race my JRX-S Pro in VTA. So far i have had a solid car that runs stronger than ever.
If there are any questions about this mod, just ask. i will update this if i find out more info while racing.
---
Last edited by bigshow4u; 05-02-2010 at

07:29 PM

.
04-18-2010, 07:37 PM
Tech Regular
---
how did this lipo fitment go? I'm about 2 do one. cheers
04-19-2010, 12:59 PM
Tech Apprentice
---
the lipo's that i have found to fit are the Orion 3200 and Thunder Power 3200. AMainHobbies.com used to carry a ProTek 3800 that fits but no longer make's that pack.

I have been racing it for over a month and is a great competitor at my track. I have been consistent in finishing in 4th to 2nd place. but usually get beat by someone running more timing on their motor where i am running with none (or stock timing, Havok 3S w/ss 21.5 motor)

I feel that the Orion pack fits better and has a smaller profile. i believe if there is a 3800 pack that would fit also.
04-19-2010, 08:45 PM
Tech Regular
---
so u dont joint the top deck to the rear diff housing how much effect does it hav on flex on the chassis
---
Last edited by mihy; 04-19-2010 at

09:54 PM

.
04-20-2010, 03:52 AM
Tech Apprentice
---
no they don't join together. this actually helps the chassis flex more which helps this chassis in this class (VTA). also if you find you need more steering, use TC4 steering blocks. you have to take some material off by the steering links in order to fit in the wheel without rubbing.

are you gonna race VTA?
04-21-2010, 05:30 AM
Tech Regular
---
i dont know what VTA is. im going to drift it occasional , no one races on road or off road in my area
. just love the car so i got one...
04-21-2010, 11:28 AM
Tech Apprentice
---
VTA is Vintage Trans Am. But if you do drifting then your fine too.
09-06-2011, 10:52 AM
Shorty battery in JRXS-Pro
---
I am not ready to give up on my JRX-S Pro yet. I love the way it handles in VTA. And still think that it is one of the best balanced cars out there. But the lipo fit is still stumping me.

Tried many batteries ended up doing the center bulkhead mod and still have problems. Ended up strapping taping the battery in the bottom. Which worked OK, but I am heading to a big race that might not allow it.

Question, has anyone tried the Losi 22 Shorty batteries? They are much shorter (which is the main fitment issue!).

Current battery that ALMOST fits:
Gens Ace 4000 - 139.2 x 41.9 x 18.9
Orion Carbon 3200 - 137.5 x 46.7 x 23

ProTek Shorty 3800 - 93 x 46.5 x 25

The 45mm difference in length will allow it clear the Spur and Diff gear. That would still give me a little for/aft movement of the battery for weight distribution. The Orion fits fine width wise, so that shouldn't be an issue. Little worried about height, I will measure it when I get it in front of me.

Just wondering if anyone has tried it.
09-06-2011, 10:53 AM
Shorty battery in JRXS-Pro
---
Double Post, Sorry!
09-09-2011, 10:18 AM
---
Anyone?....Anyone?.....Bueller!......Bueller!
05-02-2012, 05:16 PM
09-19-2012, 02:46 AM
Tech Regular
Join Date: Oct 2008
Posts: 392
---
This car worked great! I also did the MOD when brushless/lipo became the way to go. I used an Orion 3800 pack.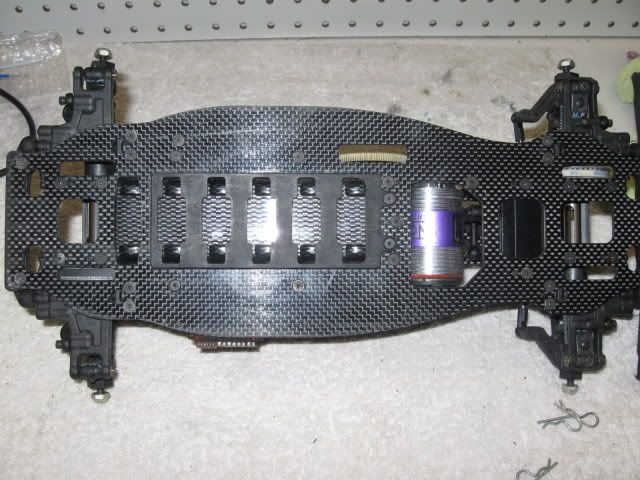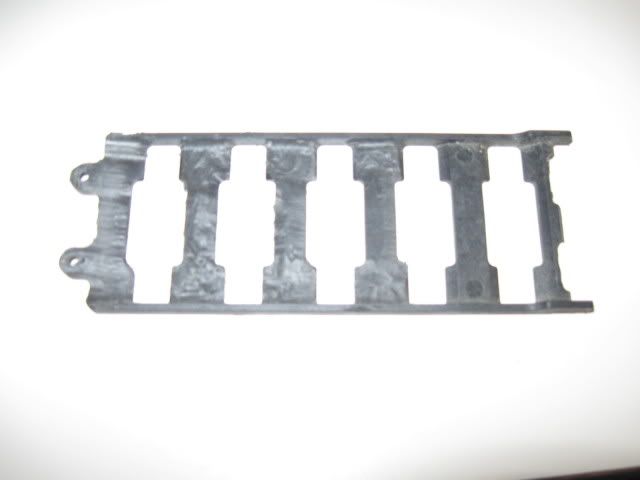 09-25-2012, 03:51 PM
---
got my jrx-s pros in today. Looking at the battery area, is there a reason why you can modify the part where the upper deck over the battery tray to sit on top of the mount positions? That would give it more room. Sorry if this has been addressed before, it just seems like it could be done.