Sweep Racing Tires 1/10th Sedan thread
05-25-2010, 12:21 PM
Tech Fanatic
Join Date: Dec 2004
Location: OC
Posts: 815
---
Man I wish i was in the east coast. Sweep is throwing some really fun races
What can be better than racing RC cars next to the beach.
Eric
05-25-2010, 08:05 PM
---
hey I love my sweep exp tires on my sedan but I was wondering have you guys thought about getting into the f1 market? Maybe make some exp pre mounts for the f103 and f104 and f10 rubber tire of course. Just a thought.
05-26-2010, 10:05 AM
Tech Master
---
We wanted to mention F1 tires to Sweep CEO when he was here a couple weeks ago for the Sweep Challenge in CT. But we were too busy fighting about spoke wheels for the TC.
We will get back on the F1 tires request.
F1 is big in Asia and they might be working on it because they said they were busy with several projects.
05-26-2010, 09:17 PM
Tech Elite
Join Date: Mar 2003
Location: The Sky
Posts: 2,555
---
What are the diferences between AQUA SWA-M and AQUA EXP-M inserts? I'll be using EXP36E tyres this weekend to try it out, I already have the AQUA inserts from my previous SQT 40 tyres mounted set (not sure if its SWA-M or EXP-M), can I just reuse this with my EXP36E tyres.
05-27-2010, 06:08 AM
Tech Champion
Join Date: Jan 2004
Location: Rockville, MD
Posts: 5,058
05-27-2010, 11:25 AM
Company Representative
---
Originally Posted by
dameetz
What are the diferences between AQUA SWA-M and AQUA EXP-M inserts? I'll be using EXP36E tyres this weekend to try it out, I already have the AQUA inserts from my previous SQT 40 tyres mounted set (not sure if its SWA-M or EXP-M), can I just reuse this with my EXP36E tyres.
hello
SWA-M Medium inserts
and
EXP-M inserts
are difference in shape, the thickness and the pricing. EXP's are wider, thicker and slightly more in pricing.
none of previous tires from past distributor came with the EXP inserts, all of US branded pre-glued tires set(EXP, QTS, R40) comes with the EXP inserts.
your SQT40 should be from past distributor, therefore it came with SWA-M inserts.
hope this explains it all.
05-31-2010, 04:54 AM
Tech Master
---
The SweepUSA team drivers Mike Haynes and Randy Bernard are on to a great summer outdoor asphalt season.

Mike (LOSI JRSX-Type R) and Randy (XRAY T3) started off the season by qualifying 1 & 2 for the Sweep Challenge in Connecticut. They then met again and qualified 1 & 2 for the Jackson RC 2nd Memorial Day race.
This race was special because Mike and Randy were running against some of the East Coast most talented electric racers-there were several national champions in the house.
Another brand was the spec tire for this race. Once the team gets to the track, we first put on a set of Sweep EXP36 to learn the track , and get the racing lines correct at speed.
We do this for about 2 battery packs. Then the spec tires are installed and another 2 battery packs are run while changing the setup of the car to suit the spec tires. Surprisingly, Randy did not have to change anything on setup. But the spec tires did have less initial grip when the car was thrown into a corner.
Although the Sweep EXP36 cost $5 more per set, we would only have to use a maximum of 2 sets all day. We found out that the Sweep EXP36 will get maximum grip once they are broken in after the 2nd and 3rd run.

This is why the 1st Sweep Challenge Race was OPEN tires. We wanted to prove the point that a better tire cost less and performs better in the long run.
We are taking a week break and getting ready for the next Sweep Challenge in Staten Island NY. Here is a few pictures and videos of the SweepUSA team in action. -- "Sweep 'em all"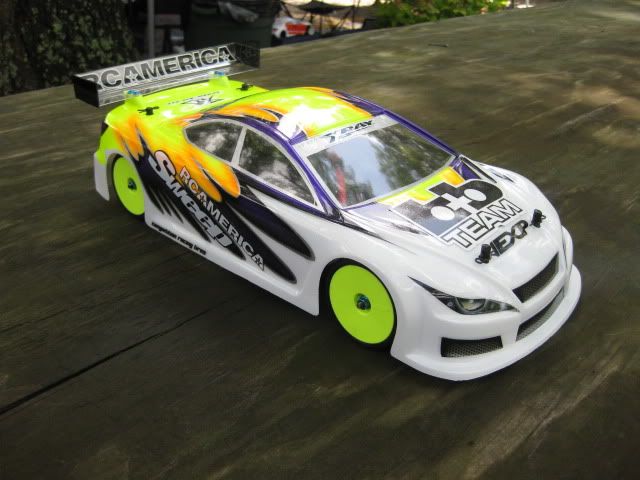 Qualification 2 to retake TQ and P2
The 13.5 Race
---
Last edited by TeamB&B; 05-31-2010 at

06:06 AM

.
06-12-2010, 05:20 AM
Tech Master
06-12-2010, 05:44 AM
---



Now send me some tires Kenny Ken!
06-12-2010, 05:52 AM
Tech Master
Join Date: May 2007
Posts: 1,267
06-12-2010, 06:43 AM
---
06-15-2010, 04:08 PM
Company Representative
---
race report from Turkey
5 out of 10 drivers ran our TC tires for their victory!
Congrats!
06-16-2010, 04:51 PM
Company Representative
---
Race report from
Korey Harbke
I raced at the EGTC Series in Lynwood/Everett Washington on Saturday.
I arrived ready to run open modified, but not enough people showed up, so I ran the stock class.
So far I was one fo the few running Sweep tires at this track, so it gave me good grounds to do some promotion for us!
I started off with
EXP 30s and the pink inserts
just to get a feel for the track. I used the
X3
sauce with no warmers, just let it sit for about 10 min. The car had amazing grip... but too much. IT was slowed down in the corners a lot. Since it was getting warmer, I decided to try
EXP 36s with the aqua insets
, and that proved to be a major improvement in drivability and lap times after they warmed up. Many people were struggling to make enough grip, but I had no problems what so ever. For the main, I threw a few sets of soem used tires I had to others in the stock main for them to try. All were very impressed and should be grabbing them from a local dealer, or ordering direct very soon. Fast lap, TQ and win does a lot to promote the product
Sunday was a little more of a struggle for me.
Fantasy World Toy and Hobby is a very interesting and low/high grip (yes... low and high) track. It depends a lot on the temperature of the track surface and if it has rained recently (and it has.... a lot). So grip was pretty low. In the morning I didnt even bother with EXP30s this time, I just broke out the tire warmers and ran 36s. So far, this seems to be working the best for me.
Baking in the traction compound seems to give the best overall results. I baked for about 10 min at 60 deg C. I use X3 sauce when the temps are a little cooler, and X1 when it starts to get hot. X3 seems to get a little greasy in the last minute of the run if I started to push really hard.
I ended up qualifying last because of some overheating issues with motor/esc testing for ORCA. So I went back to a known setup that worked well... went from last to 3rd in 2 laps. then I was battling it out with the TQ, our very own
Kody Knudson
for the remainder of the race. Swapped positions a lot, but his car was obviously better. After a small mistake, he got a little breathing room and ran away.... this time. 1-2 Finish for sweep in the open modified class, with MANY of the other drives using Sweep tires. I didn't get a tally, but there were a lot.
I also tested LS inserts vs the aquas in the
EXP36s. So far I like the LS inserts
a little better at fantasy world. The Aquas creat so much grip in the middle of the corner, it wanted to bind my car up a bit in the corners. When I switched to LS inserts, it seemed like it rolled though the center of the corner better for me. Overall, very impressed. Now I'll have to keep both sets of premounts in my box as a tuning aid.
.
-Korey