Project: Team Kassanova Tc10
01-24-2010, 01:09 PM
Tech Master
Project: Team Kassanova Tc10
---
I have an extra tc3 laying around and after looking at cars like the tc5 and the xray's and just about every other belt drive car out their (except the E4 and JRX-s) I got to thinking their has to be a better electronic layout than to have the motor hanging out so far and the battery far from the center to. So I started playing around in solidworks and came up with a few different layouts. This I found would be the best out of them: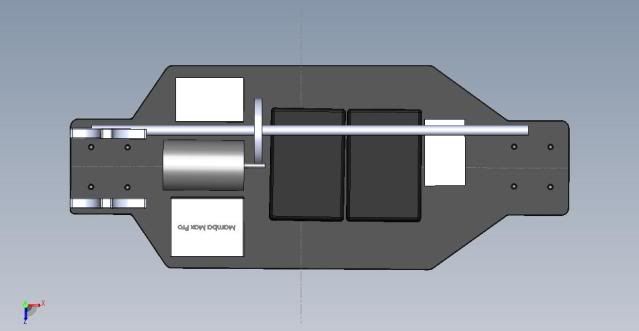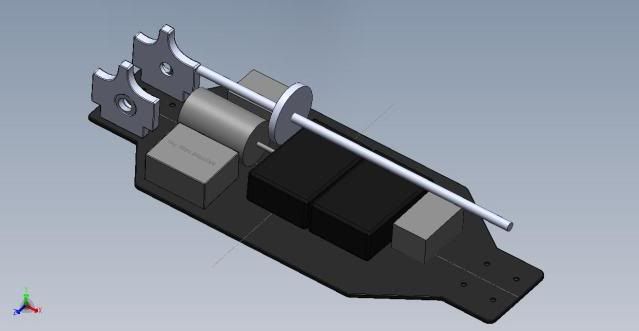 I'm not thrilled about using a saddle pack but some of my other projects use one so I figured it would be alright.
As far as balance goes with the electronics I will be using...
Rear: 361-348g
Front: 244-220g
I decided since I have the parts why not try it out and thus the project began.
Drivetrain:
-To get it so that the shafts won't be in the middle I will be mounting another diff gear on the other side of the stock one except it will be facing out towards the wheels
-In order to get the shafts high enough to clear the saddle pack I will be using a set-up similar to the Durango's with angled input shafts and center shafts hooking up to a center spur.I will be making a custom motor mount and center bulkhead like the center bulkheads on the B44 except out of 1/4 lexan. I will be making custom bulkheads that will look sort of like the bulkheads on the XLR8 out of ( though I will be adding a lexan cover) also out of lexan
Steering:
-To keep things in the middle I plan on using a steering set-up like the 1/12th cars have, ( hooking the turnbuckles directly to a servo saver on the servo) like such..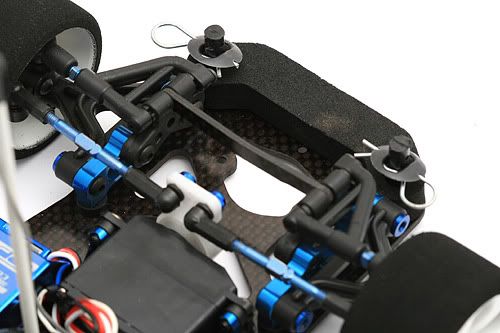 Chassis:
I already start on the chassis and got it cut out. I purposely cut it wider than it will end up being to make sure I could fit the electronics on with any layout. Once I make sure everything will fit I will trim it down and sand everything nice and smooth
Next I will be working on the bulkheads. If you have any questions or comments I would be glad to hear them. You can find all the pictures and latest up dates on my website..
www.teamkassanova.webs.com
( I will be posting updates & pictures on the forum I post them first on my website)
Ethan
Team Kassanova
01-24-2010, 01:56 PM
Tech Regular
Join Date: Oct 2007
Location: Hernando, MS
Posts: 427
---
No expert here, but it seems that your Front to Rear weight with the weight being largely biased to the rear will hinder a 4wd TC in the On-Power steering department.

I would think something closer to 40-60 or 45-55 would be more ideal for a TC.

One of the problems with using a direct link servo is that you will not have any or much ackerman adjustment, and this can also hinder some performance on the high end.

There are other belt drive cars out there that use centerline type mounting of most of the heavy stuff, ie Team Magic and Losi are 2 if I remember correctly. Both of those are belt drive. You might take a look at those just for a different design comparison instead of the standard belt in the center everything else on the sides.

Looks good and I applaud creativity )

Keep us updated on your progress.
01-24-2010, 02:03 PM
Tech Master
Join Date: Nov 2003
Location: Highwood, IL
Posts: 1,789
---
Interesting placement of the motor. I was wondering if an offset shaft would be feasible. Hopefully you can get this going...I'd like to see more.
01-24-2010, 02:18 PM
---
that is nice indeed, but yeah ackerman and on-power might be something to worry about. Honestly though i think it would be more impressive to integrate a chassis design utilizing shaft drive with a perpindicular mounted motor (like the Awesomatix car) but i can see how accomplishing it with that layout would be difficult.
01-24-2010, 02:23 PM
Tech Addict
Join Date: Jun 2005
Location: Scotland
Posts: 545
---
I echo the comments about the motor placement, too much weight in the ass makes for alot of weight transfer to the front of the car during corner entry. Suppose if thats what your aiming for with a spool to make up for the lack of corner entry steering it should work fine but i'd aim more for the 50/50 weight balance and work from there.

You should be able to adjust the ackermann just fine with some washers and really long ballstuds on the servo saver, most of the current tourers are running with the ballstuds on the rack pretty close to each other just like they would be on a small servo saver.
01-24-2010, 07:39 PM
Tech Master
---
As far as ackerman , I can adjust it like Conrad said by using spacers or on the chassis I can make slots where the servo mounting screws go and I can slide the servo back and forth.
For the weight distrubution its very interesting everyone has been telling me different. Some people say you need more weight in the front than the rear others say you need more weight in the rear than the front. While others say 50/50.From what I have read it sounds like 50/50 is the best. What makes it complicated is the teeter-totter affect.(don't know official name on of it) the idea that the closer to the center a item is the less it affects it.On the other hand it will affect it alot more when its far away from the center. If you look at a tc5...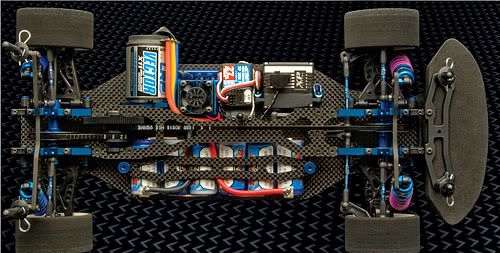 Rear: motor , 1/2 of the battery, and the esc
with the electronics I will be using this adds up to 414g
Front: Reciever, 1/2 battery, servo
with the electronics I will be using this adds up to 191.5g
But all the items are close to the center as far as front to back goes.
I do think the layout I posted has too much weight on the rear because the motor is so far back so I came up with a couple more layouts.
The first one is close to 50/50 but since the rear saddle has to be farther back it is probaly more like 60/40.
The next one is basically the Durango except the motor in the middle and the esc on the other side of the receiver. I looked and I would have to also put the servo in the middle with the direct link set-up. This is very close to 50/50 with a very slight emphasis on the front. If I where to move the receiver by the saddles it would 50/50 within a few grams.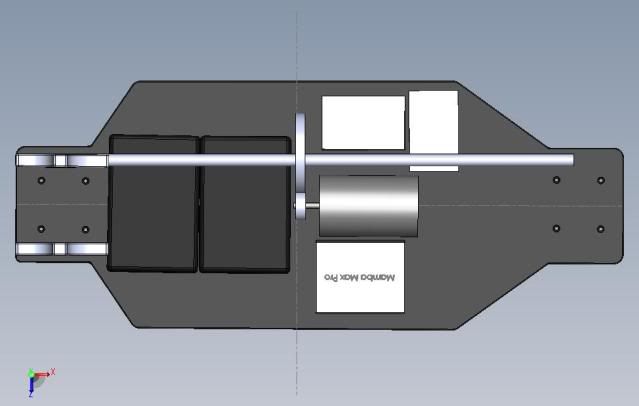 Which do you guys think would be the best?
thanks
01-25-2010, 06:20 AM
Tech Master
Join Date: Aug 2006
Location: europe
Posts: 1,110
---
the best would be to think of a way to actually build the drivetrain and route the shafts over the batteries before actually cutting your cf plate... I like optimistic persons but it seems to me like you just wasted a good amount of this precious material. I would LOVE to be proved wrong, though.
50-50 is definitely what you should aim for in TC maybe maximum 53% rear and 47 front but nothing more. And looking at a picture doesn't tell you anything, you have to use scales.
keep us updated of you project !
01-25-2010, 06:58 AM
Tech Addict
Join Date: Apr 2005
Location: UK
Posts: 721
---
I had a similar idea as the first design, but with the servo on one side and turned 90deg, to maybe fit in a stickpack LiPo and a small steering rack (like that Cyclone TCD). Though the idea never got further than in my mind and I don't know about spacings etc, its nice to know at least one other person has thought of it
Buggy layouts are a bit unique to buggies as they have more space to play with internally. It should go pretty well though, because the rotor in the motor rotating should weigh more than the shaft.
01-26-2010, 08:24 PM
Tech Master
---
Heretic: Oh don't worry I have been planning this project for months in my head..unfortunately, I haven't developed Solidwork skills to match my designs yet. I always try to start my projects from the bottom up. If I didn't know I could make the shafts clear the batteries I wouldn't have cut the chassis. I see you are skeptical of my abilities...what is it because I am only 17?? haha I will enjoy and love proving you wrong
How is this for a start?
(more on that later)
Sounds like 50\50 will be the best and that's what I will shoot for. I would have to disagree that looking at a picture doesn't do anything.. since all the weights of the electronic components are only online by using a little math I can pretty accurately estimate the balance of the car.
Academy: Yea I really wanted to use a stick pack but it would have been very hard to mount a steering rack while having a good steering geometry. On top of that using a stick pack elongates the weight over the chassis making it harder for the car to turn quickly.
Back to the diffs... in order to have an offset shaft I had to modify the diffs quiet abit. I didn't want to have to mess with the suspension blocks or a-arm length so I decided to build around those. For the diffs I started by throwing the long side of a stock tc3 outdrive into the drill and trimmed off the bearing stopper so that I could move the bearing closer to the inside of the outdrive. I had to use this longer outdrive so that I can cut it down so that when I mount the diff both sides are equal. I then took a ring/diff gear and flipped it so it was facing the wheels then I took a couple screws I mounted it onto a old spur gear using the diff ball holes. The diff ball holes wont be used on this side. Then I trimmed down the spur gear (white plate) and then drilled a hole matching the outside holes in the spur in the diff gear that's in the stock location. Put a couple screws through it and that seemed to work. It works just like a regular diff. I think I will end up using small screws to hold it all together as the large screws add a lot of weight
Next on the list is the bulkheads...
Currently Active Users Viewing This Thread: 1
(0 members and 1 guests)
Posting Rules
You may not post new threads
You may not post replies
You may not post attachments
You may not edit your posts
---
HTML code is Off
---