Hot Bodies Cyclone S: Counter Steer Drift Build
01-20-2010, 12:18 AM
Hot Bodies Cyclone S: Counter Steer Drift Build
---
So some of you are probably asking yourself,

"What is counter steer drift?"

Read this intro and follow the post!
Its spawned its own Fast & the Furious movie, has become all the rage amongst adolescents all the way up to middle aged men, and is quickly becoming known as the most dynamic motorsport ever to be witnessed on U.S. soil. Drifting has spawned its own counter culture here in the United States, even spawning it's own R/C culture. While many R/C enthusiasts have undoubtedly seen some advertisement for a companie's R/C drift products, it is safe to assume the average enthusiasts mind at some point or another has thought about drifting. Most would be content assuming that it is consists of simply throwing some drift tires on their touring car and being done with it. But the growth of the R/C drift scene has proven that wrong time and time again. With this growth came evolution, evolution brought innovation, innovation lead to Counter Steer; this is the how countersteer drift cars came to be.

The origin of the whole "counter-dori" or counter steer drift craze will vary depending on who you ask. One thing for sure is that the Japanese did it and perfected it way before we had even thought about coming up with something like it. For me, I got exposed much like everyone else in the R/C drift scene; reading threads on the many different forums with speculations, reports, and eventually setups. The first three people that I truly got to experience and learn about counter steer drifting from were Jhon Mundo of Team D-Style, Katsumi Kuwakino, and Mike Chung; both of whom are members of Team Arai. While some of you are likely scratching your heads asking who these guys are and what the big deal is there are a few points that must be pointed out. First, most people that are into the r/c drift scene are seeking one thing that other forms of r/c do not cater to very well: realism, see the appeal of drifting is the realism that enthusiasts are able to attain. With after market body kits for the bodies, licensed replicas of different wheels, different types of GT style wings, light kits with enough lights to light a Christmas tree, and exhaust mufflers; it is very clear that styling and realism is key to this sub culture of R/C. Secondly, drifting has begun to loose its luster and following due to the economic downturn and general lack of events in the last year. Finally, R/C drifting simply reached its natural plateau that would inevitabely happen. So you're probably asking yourself what is with this "counter" culture within the R/C drift scene? (and yes I did intend for the pun) Well simply put, R/C drifting has hit it's wall; enthusiasts began to get bored and needed something to regain their interests. While many enthusiasts still drift traditional R/C drift cars, a sub set has arisen. A small counter culture of die hard enthusiasts that have geared, modified, and tinkered with their car to behave much more like a normal rear wheel drive car than the insanely over powered all wheel monsters that most of us are used to driving. Spending countless hours as well as pouring blood, sweat, and tears into a vehicle that they are hoping will dance right along the edge of being in control and out of control. Here is where counter steer drifting came into play.

With such a strong attraction to our fellow drifters in Japan, videos on Youtube began to surface with people having to hold countersteer much like a real drift car. People in the states were amazed by what they saw and quickly attempted to figure out what they could do to emulate these video heroes and live out there own drift experince in much the same way. By now you are probably asking yourself, don't these vehicles already counter steer? Well, to be honest, yes and no. To a degree one will definitely have to counter steer when driving a normal r/c drift car, but they will not have to hold the counter steer to guide the vehicle through drift, these vehicles usually use counter steer to set the car into its line but return to normal steering through the rest of the course. Essentially meaning you can sloppily pitch the car sideways and not worry about having to save it from spinning. Counter steer vehicles on the other hand require meticulous steering and throttle input to keep the car from spinning out or losing drift, essentially having to constantly steer into the turn to guide the car. These vehicles require precise planning and thought into the line that one will take, amount of speed that they can drive with, and generally requires more accuracy and precision with one's driving.

So whats the big deal? Well there are a few things about this, first off you begin to take touring car principles into drifting. By over gearing and under gearing the front and rear you get a different bias and final drive ratio for these vehicles one can adjust how dependent on counter steer the vehicle will be. Next you take another step toward realism, making these cars look that much closer to their full scale counterparts down to steering movement. Finally, it is the next stage in R/C drifting, while still in it's own subsect, drivers are quickly realizing the challenge in it. As R/C drift has grown over the past five or six years, the last year has seen it become stagnant and repetitive. With no real innovation or development drifters were left to their own devices. This is where I began to take notice. Having known Jhon Mundo for quite some time I kept dibs on his various threads on several R/C drift forums about his personal experience with counter steer modifications. Jhon was the first person that showed me a competitive example of a counter steer drift car, using his personal Hot Bodies Cyclone as a test bed of modifications to attain counter steer nirvana. As word began to get around about his exploits others followed suit. I remember reading forum posts from Katsumi regarding his testing at his own personal track, Arai Drift Land, and seeing his progress. As well occassional visits to pick his brain about setup and tips. This is what began to spark my own interest and undoubtedly other peoples interest as well, finally I remember stumbling upon Mike Chung's blog and realized the jack pot of information it was. I vividly recall looking at his blog while at work, getting ideas for my own counter steer project and taking note of what worked and did not work on his vehicle; learning from his mistakes to make sure my car ran effectively. For myself, these three gentlemen were the basis and authority of counter steer drifting to myself.

Not only does this show the progression and evolution of a small sub section of drifting, but it also shows where this scene is potentially headed. Drifting is no longer just slapping on a set of tires branded for drift specific purposes, but rather really taking the time to understand both vehicle and tire dynamics. Meshing the two together to build and pilot vehicles that dynamically handle against extreme conditions and tolerances to defy what the normal person expects from an R/C car. With drivers becoming tuning experts on their own, learning how to use setup boards, tweak stations, and other tools such as these; drifters are becoming more serious about this hobby and showing although we are not the largest subset nor genre in the R/C community, we all share the bond of wanting to ensure the survivability of our pastime. In the end, counter steer drifting becomes what we want it to be, the key turning point that brings back together drifters to help revitalize and rejuvenate our scene.

SO, that is what Counter Steer or Counter Dori is about, with that heres my current counter steer setup, stay tuned as I will be updating this thread with more information as I get around to tuning and setting up the car more and more! For now, this is stage 1, initial testing of the setup and identifying weak points in the setup, this will eventually culminate in another build of what I will deem, "the Ultimate Counter Steer Cyclone"
Make: Hot Bodies
Model: Cyclone S
Date: 12/30/2009
Track surface: Conrete
Tire: HPI LP Type T tires
Motor & ESC: HPI Flux ESC & Motor
Front
Camber: -6 degrees
Toe: 3 degrees
Kick up: 2mm
Caster hubs: Stock
Ride height: Stock
Springs: HPI titanium drift spring orange
Bumper weight: None
Trailing Steering Block: Stock
Sway-Bar: none
Shock Oil: 30wt
Other:
-Using LP29 Tires and Wheels with an additional 4mm of spacers to achieve max steering angle
-Milled the rear pivot block, ball cups, pulley, and knuckles to achieve larger steering angles
-Added 4mm of spacers to the steering arm
-Ball studs moved to the furthest forward position on knuckles
Rear
Camber: -2 degrees
Toe: 2 degrees
Kick up: None
Ride height: Stock
Springs: HPI titanium drift spring orange
Sway-Bar: None
Shock Oil: 30wt
Other:
-Using HPI LP35 Wheels and tires
-Milled the middle plate to clear 23t pulley
-Fitted Sprint 2 rear body posts onto rear bulkhead
Drive Train
Gearing: Ball diff front/ Spool rear
Front: 40t (Team Associated TC5)
Center: direct drive pulley front 15t (HPI Sprint 2)/ rear 23t (HPI r40)
Rear: 33t (Yokomo YR4)
Spur: 96t
Pinion: 21t
I built this Cyclone to tinker with, but after going to a few sessions with it and tinkering with settings on my own, I feel like CS drifting is what will bring rebirth into the hobby. After talking to alot of people and consulting different online tutorials I decided that this cyclone is going to be my test car. I am going to do all my tuning and breaking of parts with this car, once I get a setup I like, I will transfer over all my knowledge onto a new Cyclone S and build up what I hope will be "the ultimate CS cyclone"
Considering this, I will give myself 3 to 4 months to really get this vehicle setup, hopefully by May or June I can start building my "ultimate" CS cyclone! Keep in mind that the car is pretty much a beater test car, so with the following pics, excuse the dirtyness lol
01-20-2010, 12:39 AM
---
Someone PM'd me this so I thought I would share my opinions:

"Im curious, why did you choose to use the Cyclone as a platform when you had to out source so many parts to different manufacturers?"

Good question, heres my answer.

The Cyclone in all its forms is a very good car, Ive had 3 myself and they have never disappointed me. From drift to RCGT to Stock class racing, the chassis has never left me with a sour taste in my mouth. It handles well, is easy to work on, parts are easy to find, and most people have some degree of experience with it.

I wanted to do this build to help put it out there and give people a guide on what they can expect if they want to do something like this on there own. Simply put, the Cyclone is a great baseline car and works well in this situation as companies that make after market hop ups for the Cyclone generally make after market hop ups for other vehicles as well, i.e. 3Racing or Yeah Racing. Along side this, the car is popular which helps me and allows me to reach that many more people as well as giving me the opportunity to get more opinions on th chassis and what should be done to get it to handle more ideally.

Simply put, it comes down to preference. I like the Cyclone, it works well and should be a good candidate for this type of setup. With many people already using this chassis in this manner as well as having setups already available from Japan, it becomes clear that this chassis stands out by being popular enough to appeal to both the DRIFT and GRIP crowds.

The fact that I had to source out so many parts is simply part of the game, other companies are already creating conversion kits, but simply put, its no fun to slap in something premade, the biggest fun is testing and tuning. Seeing what works and doesnt work, the fun lies in having to work on your car yourself rather than buying something and slapping it on. Taking the time to work on your own car and getting excited to take it out to a session simply to see whether or not your changes made any positive effect, that is why I chose a Cyclone, to know that I am building something from scratch that no one else will or can!
01-20-2010, 12:50 AM
---
Good post! Really nice intro article as well. Pretty wild difference in ratios front to rear! Have any links to good CS drift videos? What is that on top of our servo? Why not replace the battery foam with lead, that will give a cleaner appearance, plus you may be able to use less weight to balance the car.
Also, those look like VIP wheels! Interesting choice for a drifter!
PS- Please clean your car
01-20-2010, 12:54 AM
---
There are alot of really good ones, if you look for D-Like Drift on youtube you will find a jackpot!
On top of my servo is the HPI light unit controller, pretty cool piece of kit!
As for the wheels they are more VIP style, they are Work LS406's I belive in HPI's new LP series 3mm in the front, 9mm in the rear, with an extra 4mm of spacers in the front sit flush with a 200mm body and to get more clearance for angle!
As for the dirtyness, I know, but it is simply a test car, nothing much to really get crazy about, in JDM terms it's my missle car!
Cheers!
01-20-2010, 01:09 AM
---
http://www.youtube.com/watch?v=iWaGRZPv1jc
Oh my god. So amazing!!!!! Watch this and you will really understand the counter steer RC drift. Regular RC drifting really is lacking after you see the counter steer. I think I've heard that music before too, in a JDM Option video.
Please do post pics of the car when completed!
01-20-2010, 01:15 AM
---
hahaha

Definately still one of my favorites, the J-guys have it down so much better than us but then again theyre like old men where as we more like toddlers with the whole counter steer thing. Slowly but surely my car is coming along, its not as stable as that one but itll get there!
01-28-2010, 12:06 PM
---
Sorry the lack of updates guys,

I have had a horrid past two weeks dealing with an incompetent professor who has failed me for "cheating" when I used a template he provided to my class

Either way, I am cleaning the car up this weekend and should have a few minor updates, my aim is to rid the car of its akward snap oversteer when transitioning from side to side!

I'll keep all of you posted!
02-07-2010, 08:54 PM
---
a few little things have happened to the car!
So I added more camber all around and it seems to help the snap oversteer which is leaving me more confident, i havent had a chance to get it on a setup board though to get things properly measured
BUT
I did get graphics and my body is looking closer and closer to being ready!
Anyone here in socal has undoubtedly seen me rocking the Race Factory shirt and is sure to recognize that I am running with them season! So sure enough I got in touch with Alfie Alfares from Advanced Graphics in Hawaii and he sent me a very nice surprise!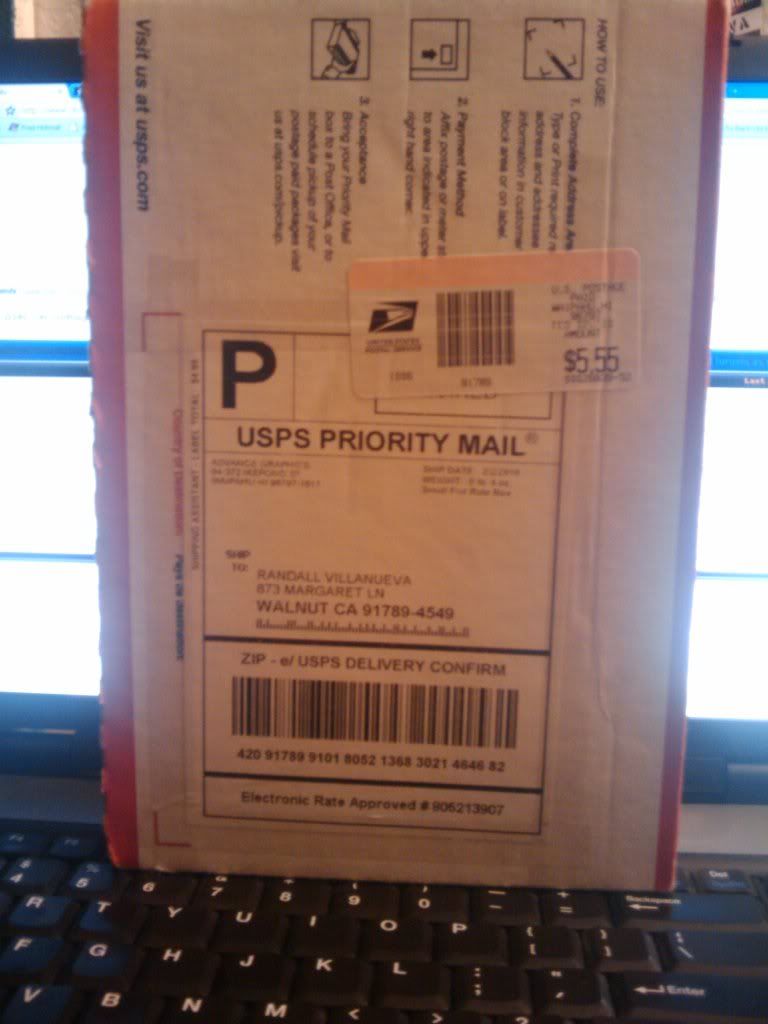 Well what could this be?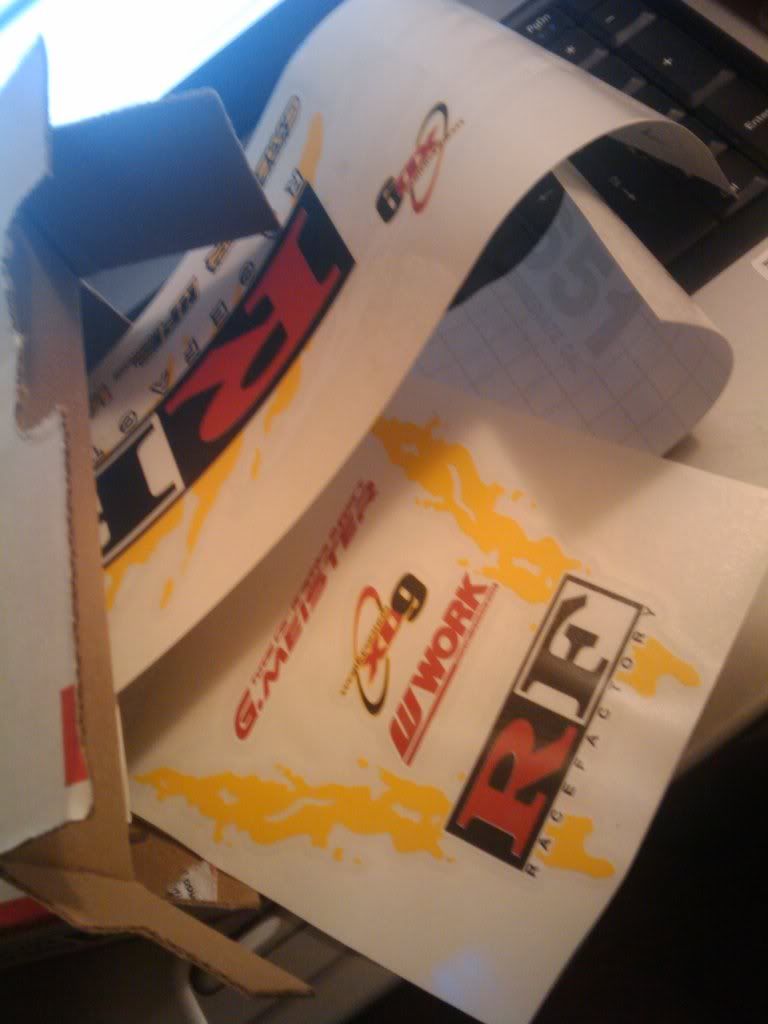 HOOOOOOOOOOOOOOOOO BRAH! Jackpot! lol
SO whats it going on?
teaser!
But for anyone looking for graphics to get done, definitely contact Alfie, his work is top notch and he is a great guy! Heres his contact info
Alfie Alfares @ Advanced Graphics
Email:
[email protected]
Hopefully more updates after midterms!
02-25-2010, 01:04 AM
Tech Rookie
Join Date: Feb 2010
Posts: 1
---
Very good threat u have here!
I have cyclone s rtr drift, and i was seraching for a good tarmac setup sheets. This will help alot to get started.
What kind of surfaces are u driving?
Do u have some partnumbers of those drivetrain parts, and how "bolt on" are them?
Could you do a setupsheet to help us beginners to copy ur settings?
02-25-2010, 05:02 AM
Tech Adept
Join Date: Jul 2008
Location: São Paulo, Brazil
Posts: 115
---
Hello !! JDMmonkeybear do you have some movies about your car? I really want to see more about counter in Cyclone-S
03-18-2010, 07:24 PM
---
Hey everyone

sorry for the lack of updates!

Ive been crazy busy with things at school and pretty much got shafted appealing my grade, so I decided to take some time for my neglected R/C

Im working on the car right now and will have pictures and updates tonight!

Anyone coming out to RCX, feel free to say hi and chat me up about setup, always here to lend a helping hand to fellow enthusiasts!

-randy
03-19-2010, 02:08 AM
---
I say update, I mean update
Lol, nothing really new to the car itself but check it out guys!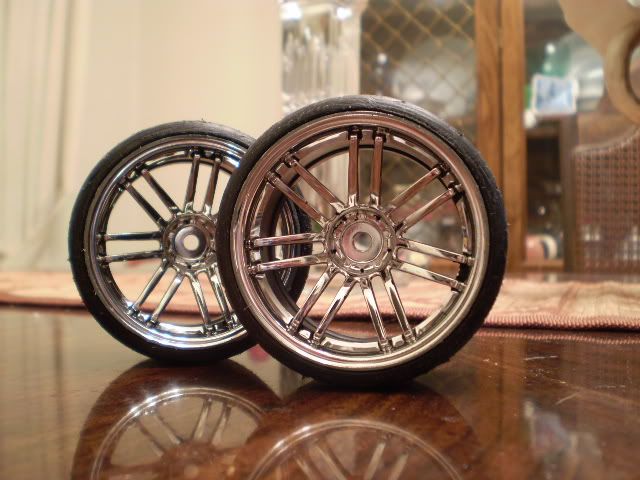 Got some nice deep rears! KEEP YOUR MINDS OUT OF THE GUTTER PEOPLE!
Courtesy of Travis Brock at HPI, definate dopeness!
Had to get some fronts to match, since the car is CS I had to run 3mm HERRA SPACED!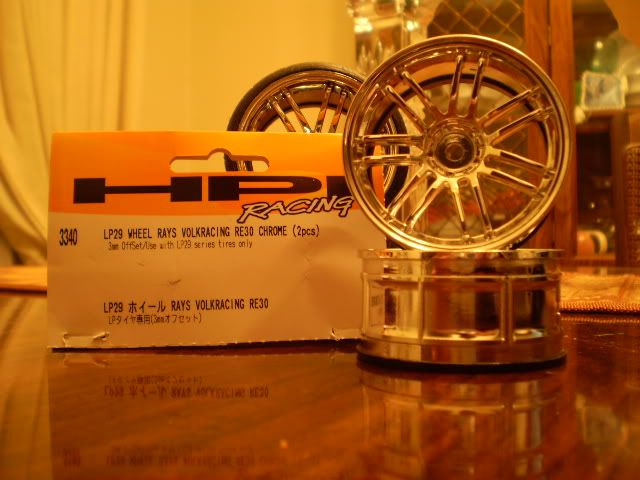 Unnecessary Closeup
Unnecessary Closeup #2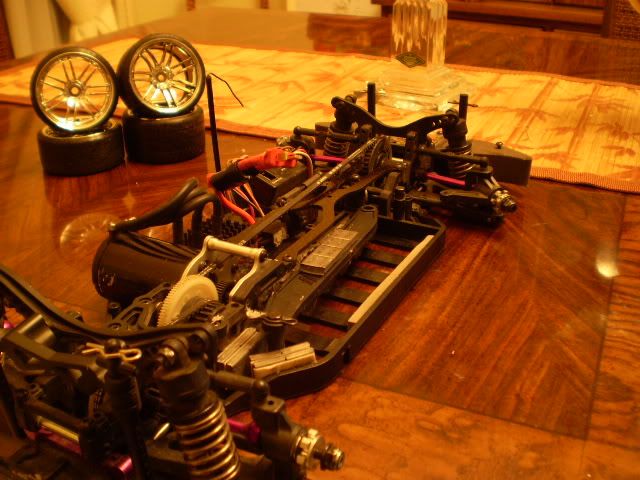 Random chasis shot where it appears clean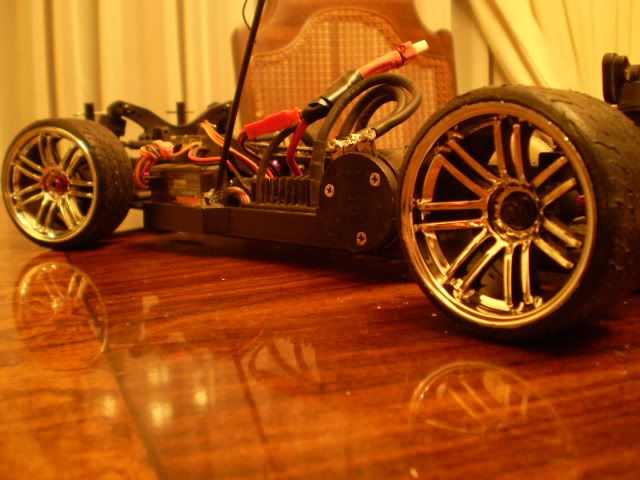 Test fitting wheels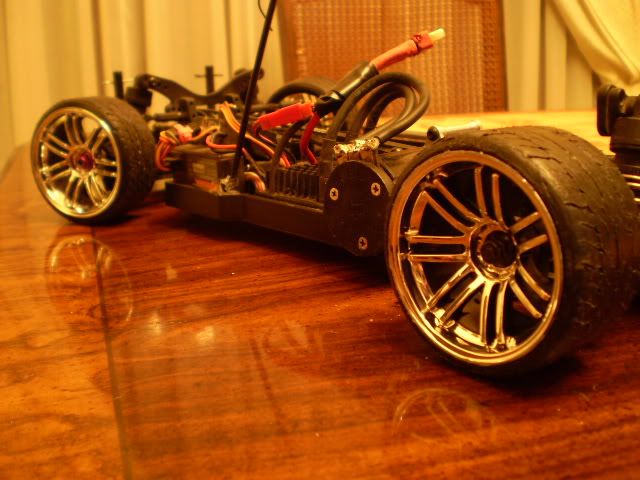 Just making sure they look good!
Small preview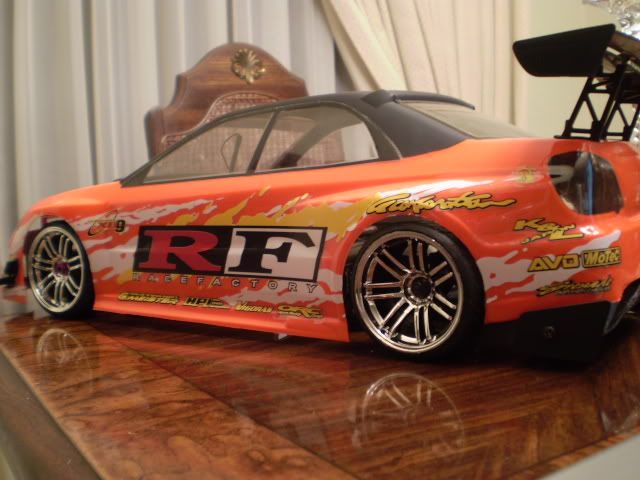 Screw it, this is what it looks like! BASK IN THE GLORY LOL!
V-Crest Rear Diffuser, works quite well!
So thats the vehicle so far, still working on a few odds and ends but it'll be out saturday with the guys at RCX
Hope to see all of you there!
-randy
05-01-2010, 05:05 PM
Tech Rookie
Join Date: Mar 2010
Posts: 3
---
Nice work, I was planning to get a Cyclone, your thread gave me the extra push now that I know that CS is possible
05-02-2010, 10:12 AM
Tech Regular
Join Date: Mar 2008
Location: NE Ohio
Posts: 382
---
Very nice....
i have a couple questions.

1. Are you making light buckets?
2. Does your sticker guy have a website?
05-05-2010, 02:12 AM
Tech Apprentice
Join Date: Feb 2010
Posts: 63
---
looks good so far man!!! i have a countersteer ta05 so i know the woes of a decent setup! sounds like your getting there tho