Best touring car at it's time.
12-18-2009, 06:35 PM
Tech Addict
Join Date: Jul 2009
Location: Somewhere In Time
Posts: 611
---
Gona date myself here, but back in ~97ish I would say the YR4M2 Pro followed a yr later by the RoadRunner Xpress. The later was incredible light weight for it's time with delrin outdrives and super thin belts.
But my favorite had to be the YR4M2 Pro with its chassis stiffness center spring and micro shocks.
12-19-2009, 12:31 PM
Tech Adept
Join Date: Mar 2009
Location: Ontario, Canada
Posts: 229
---
That had better be an 850 wagon body if it's from Works or Factory Works or whatever that brand was called. So awesome!

Micro shocks, chassis shock, aluminum arms, all you need is some super narrow tires and you have a late 90's contender!

I'd post a pic of my TA01, but it's in a million pieces. I do have the HPI graphite plastic chassis that placed the battery front to back for it though! Not too many of those around I reckon.
---
Last edited by ErikO; 12-19-2009 at

04:13 PM

.
12-19-2009, 01:03 PM
Tech Addict
Join Date: Jul 2008
Posts: 607
---
I bought a used YR4M2 last year off tamiya club. I run saddle cars off-road
so it only made sense for me to get one. Didnt know it had some history
behind it. The only problem is me finding parts when something gets broke.
The bulkheads seem durable, and I have blue aluminum arms on it like the one
above, and the previous owner put lunsford turnbuckles on it.
---
Last edited by electricguy007; 12-19-2009 at

01:49 PM

.
12-20-2009, 10:45 AM
Tech Addict
Join Date: Dec 2007
Location: Brandon, MS
Posts: 543
---
Without question, late 90's, Losi Street Weapon.

Ed M.
12-20-2009, 10:56 AM
Tech Master
Join Date: Dec 2003
Location: 89052
Posts: 1,084
---
Back then it's was dominated by Yokomo YRM2, Losi Street Weapon, Tamiya TA03 David Jun Edition and then followed by HPI RS4.
12-21-2009, 07:34 AM
Tech Master
Join Date: Aug 2002
Location: Somewhere you've never heard of
Posts: 1,614
---
The original TC3 I owned was a simply horrid car with terrible parts quality (I remember once breaking a rear arm after accidentally dropping it from about 6" onto a flat table, and you didn't actaully have to hit anything to break c-hubs, arms etc), issues with the "revolutionary" steering system constantly coming loose and bags of under steer... its wasn't UNTIL AE started releasing updates it started to become competitive but by then I had grown to hate it so much I've never owned an AE car since..

Like a lot of others, one of my favorite cars was the Yokomo YR4 series... they were cheap and easily made competitive...

My absolute pick has to be the TA03F... simply because it beat everything when it most counted (in those days the ROAR Nationals were the considered the pseudo worlds).
02-08-2011, 06:52 AM
Tech Fanatic
Join Date: Feb 2006
Location: kuala lumpur,malaysia
Posts: 954
---
Originally Posted by
spongerX
I had the model before the one with all the red anodizing. Got it about 10-12 years ago. Worked with almost any tire on dirty tarmac and NEVER broke. Only thing I changed in 2 years of racing car parks were some pulleys and belts that got chewed by rocks. I wouldnt call it an HPI clone as it had a fairly innovative front suspension with infintely variable caster. Also unlike the RS4s of the time that were always snapping arms this thing had bullet proof solid plastic arms that were fairly flexible. I pulled it out of storage to compare chassis flex to my TC5r and it was so much more flexible which I guess is where the traction came from.
agree with this,The Kawada Sv-10 alcyon, in 2001 i race cost control with a ratio of 7.8, everyone had to use that ratio or higher, i used 7.9, and the MR4TCs couldnt catch me, they were all dumbfounded, even made me open up my pulleys so that they could count the ratio. it was so damn efficient, and i was the only guy still driving it at the time, so it really put a smile on my face. my vote is the alcyon2 EX,the second version of the alcyon, with longer suspension arms, and a normal top deck, more upright shocks, its very versatile and can fit any lipo battery in on the chassis, i still drive it today.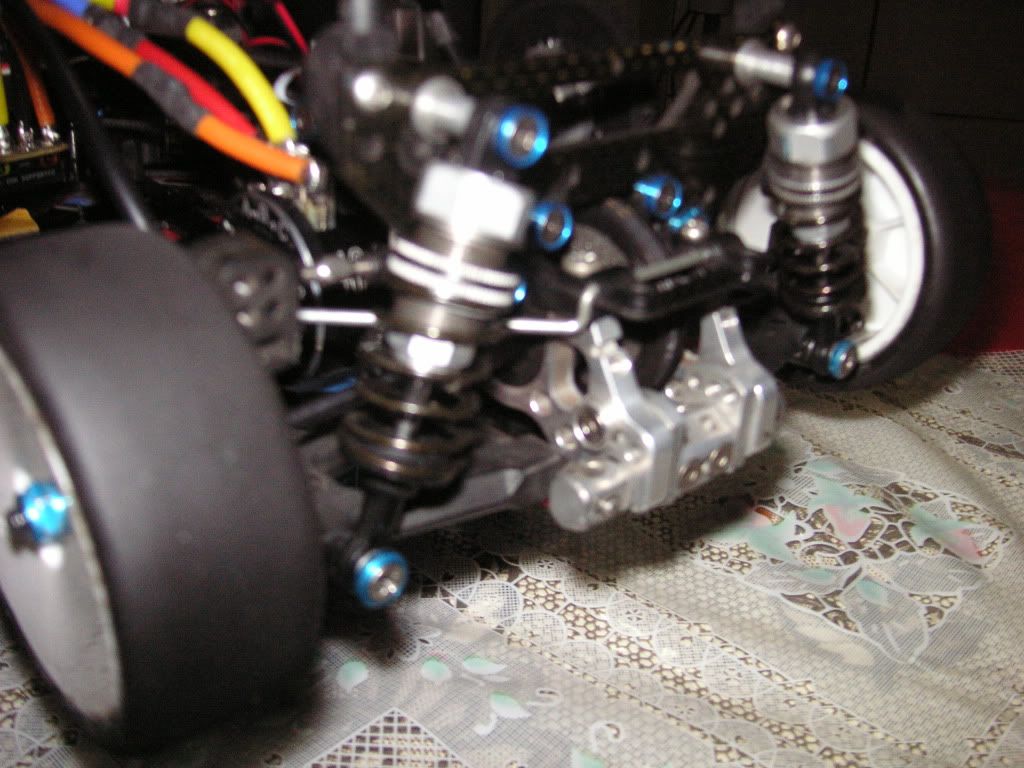 02-08-2011, 09:00 AM
Tech Master
Join Date: May 2010
Location: Oxfordshire, UK
Posts: 1,002
---
If the question is "Best touring car at it's time", the only answer is the TC3. It took TC racing to another level and dominated for years.

If the question is "What is your favourite" (which seems to be what a lot of people are listing), mine would either be...

My TTech Predator as that's what I started winning races with, and totally thrashed the early Yokomos and Schumachers that the others at the club were running.

Or, the Schumacher SST 99 which gave me my best overall results, got me my first team drive, and was a truly great car to drive in all conditions.
02-09-2011, 05:08 AM
Tech Addict
Join Date: Feb 2002
Location: Getting practice 1/10 stock onroad
Posts: 654
tc3 for sure
---
i had a losi street weapon it was ok for its time. then i got a tc3 it was the first sedan id ever setup alone. but that car was dialed on rails with a simple setup. i love running the tc3. i use to try an get the freest spinning drivetrain, i would even time how long it would freewheel. i started to win more an more races with the tc3 than i did with any other car.
02-09-2011, 05:37 AM
Tech Fanatic
Join Date: Jan 2004
Posts: 902
---
HPI RS4 Pro 2
The first race TC I had, tough car, good handling, never broke a thing on it except for replacing with fresh and tight parts.
Continued racing it for 2 years after selling the Pro 3 I had for a short while.
Still remember the free, revised lower chassis update from HPI
02-09-2011, 07:27 AM
Tech Apprentice
Join Date: Jan 2011
Location: Peterborough
Posts: 73
---
I'll stick with the MR-4TC SD all the way
Currently Active Users Viewing This Thread: 1
(0 members and 1 guests)
Posting Rules
You may not post new threads
You may not post replies
You may not post attachments
You may not edit your posts
---
HTML code is Off
---