Indoor Track Barricade Materials?
12-09-2009, 06:48 PM
R/C Tech Elite Member
Indoor Track Barricade Materials?
---
Hi, we're looking to upgrade our track a bit. We've gone through wooden barricades, and are now using plastic downspout held to the carpet with velcro. (a great low buck solution, btw)

We're now looking to upgrade to something a little more "professional." We've looked at the CRC stuff, and I've seen the Road Dome product online, but I'm wondering if there are any other alternatives.

Our basic needs are quick set up and tear down, and rounded, rather than 90 degree corners.

Anyone have any thoughts on this?

Jim
12-09-2009, 07:28 PM
Tech Master
Join Date: Aug 2009
Location: Trabuco Canyon-- in the Pines!!
Posts: 1,769
---
The easiest simple setup for the track sides are 4 x 4 boards--with a 8" section out of the end-- same on both ends--then the board can "overlap" each other when laid end to end--drill a vertical hole through both boards and pin them together with a large nail. For the turns at the end of a aboard-- use plow disks. Simple, cheap, effective. Look at the 1/5 scale page for LARCRC and you'll find some pics of the track---the inner boards are what I"m proposing.
FWIW
Tim
12-09-2009, 08:46 PM
Tech Elite
Join Date: Nov 2002
Location: NY/FL
Posts: 3,378
---
No other alternatives as far as I know. I personally use the Road rails and love them but would only consider them if you're running stock class racing. We run RCGT and everyone likes them. The CRC track does look good. Have you ruled out getting PVC pipe? There has to be a thread on how to bend PVC somewhere in the rctech archive. The basics are that you can use whats called a "hot box". Plumbers use it to heat the pipe and then bend it without crimping it.
12-09-2009, 10:22 PM
R/C Tech Elite Member
---
Our primary classes are Tamiya Mini and TT-01. We also have the occasional touring/12th scale night. The only thing that holds us back from the CRC system is cost. The PVC downspouts we use now are incredibly cheap per foot, but don't allow for good corners with a nice radius.

We considered PVC pipe, but it has the tendency to grab the nose of the car and jam it into the carpet.

I'm thinking now that if we could just find a decent system for creating corners we could be in good shape and still maintain our budget.

Jim
12-09-2009, 11:19 PM
Tech Master
Join Date: Aug 2009
Location: Da Burbs
Posts: 1,119
---
back in the day our club used cut strips of convayor belt screwed to wood blocks (both sides) that would insert into our straight board sections
12-09-2009, 11:38 PM
Tech Regular
Join Date: Dec 2008
Posts: 411
---
My local club uses 3x3 PVC drainpipe for the straights. Then plastic strip for the corners, which plugs into the piping with bits of 3x3 timber.

Another club I race at does the same thing with the straights, but for the corners, they have hosepipe, wrapped in pipe lagging, then plastic strip. Works really well, as when hit hard it takes some of the impact away.
12-10-2009, 12:55 AM
Tech Master
Join Date: Feb 2009
Posts: 1,920
---
we used 20mm high MDF cut at 45 degree angles for the straights , with another 20 X 20 piece on top of the main straight for saftey
then for some sweeping corners we used yellow gas piping 30mm high
this is screwed down to the floor but the wood sections were stuck down with carpet tape
the green dots were made from carpet cut under a large round bucket then stapled to the wood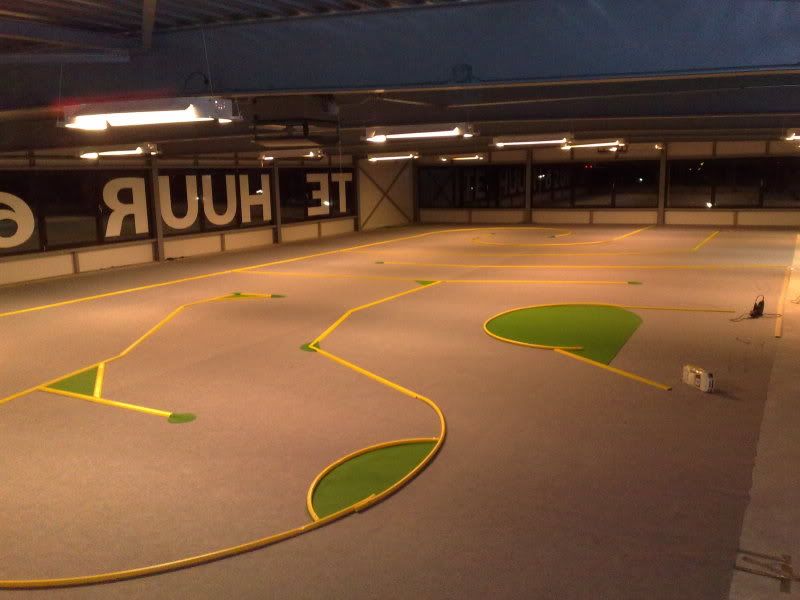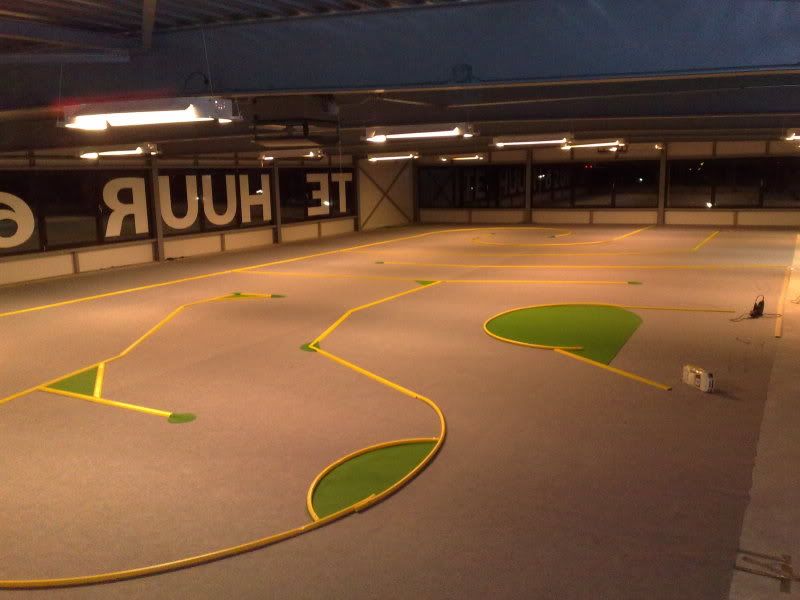 and a youtube link
http//www.youtube.com/watch?v=eF3Lq-uLot0
12-10-2009, 07:46 AM
Tech Elite
Join Date: Nov 2002
Location: NY/FL
Posts: 3,378
---
With all due respect to RobK, the Road Rail system has been good for many club tracks around the country. Yes, you can get airborne if precautions aren't taken. By using another rail attached upside down to the top of an existing rail all chances of getting air are gone. Do this in places where jumping a rail would cause a problem for other traffic. As for radius turns...next best thing to formed PVC. Easy to make radius turns. For your type of racing they would be great.
12-10-2009, 08:02 AM
R/C Tech Elite Member
---
Hey guys, thanks for all the ideas so far. I'm going to concentrate on getting the corners sorted out and work from there.
One thing we need to be wary of is that a lot of our racers are just starting out and board jumping is quite common, even with our 2" tall downspouts. TT-01s are amazing that way!
If you're bored, check out our website. There are a few links to race videos there.
KARZ
Jim
12-10-2009, 08:02 AM
Tech Master
Join Date: Mar 2008
Location: Indiana
Posts: 1,821
---
Here's my thoughts on some option I have seen and used at various tracks

2x4's, too hard, (great for the track owner as you break a lot of parts, doesn't make great radius)

1x4's (these actually work quite well and is much more forgiving than 2x's)

gutter down spout ( this option is best bang for the buck and quite forgiving on the cars, keep some duct tape on hand for repairs though)

CRC click track (this stuff is the ultimate barrier, super strong, very forgiving, makes small tracks look much longer and cleaner, the only downfall is the price...
12-10-2009, 08:13 AM
Tech Master
Join Date: Sep 2006
Location: Ontario, Canada
Posts: 1,634
---
I have seen big boat mooring line used for tracks (it was like 3" diameter I think). They got it used or free from a ship yard or something. Easy to make smooth corners, easy set up and tear down and heavy enough not to move much. Just throwing it out there.
12-10-2009, 08:35 AM
Tech Master
Join Date: Feb 2006
Location: Richland, WA
Posts: 1,151
---
if you cut 3 of the 4 sides out of sections of the downspout you should be able to bend it to create corners. I havent done it personally, we are using pvc, but one of the tracks in Washington uses vinyl fence material and cuts 2-3 sides out in sections they need to bend, and it looks pretty good. Downspout definately cheaper though.
http://www.rctech.net/forum/attachme...i-dsc_3155.jpg
upfront and middle of that picture you can see the section that is cut and bent
12-10-2009, 09:02 AM
---
At H30, we're going with downspout in the new year. Square sides and very forgiving. We have PVC now, but it's tough on 1:12 scales and is hard to secure to the carpet. We have a bunch of metal plates with posts and velcro that jab through the pipe and hold it in place. The only problem is that the pipe wants to grab the cars as it is, and the extra 1/8" that it's elevated makes it worse. It's not as bad for sedans, but we like our pan cars, too.

I think the downspout will be great. It sounds like you need a corner solution more than barrier change. We'll be using a combination of dots and high density plastic.

Todd M.
12-10-2009, 11:18 AM
R/C Tech Elite Member
---
I think you're right about us needing a corner solution. There seem to be some good ideas here already.
I've attached a pic to show what our track usually looks like, with all it's angularity.
Jim