Pro 10: 235mm Le Mans Prototype Pan Car Discussion
08-07-2012, 10:39 PM
Tech Initiate
Join Date: Feb 2009
Posts: 34
---
Originally Posted by
spence88mph
So I took my RC10LS to the track after not driving a pan car for a good 10 years, anyway traction was very low, track was very dusty. Car is running a 6.5T, everytime I throttled a but of power, like 40% it would snap left very hard. I loosened the diff, this helped a little but it would still do it. I got used to driving the car around at very low speed and it turned in quite well but any time i gave it a little throttle it would just turn very abruptly. Any ideas? I think it might be something with the diff... I ended up having quite a crash chasing my friend's TC, I damaged the NOS carbon chassis, broke a servo mount, de laminated a bit I will glue and clamp it....

After my car was dead I drive his TC, they are so forgiving! Very easy to drive on a low traction track.
try to make the central dumper extremely soft, using some 20WT oil, but be sure the chassis is not touching the ground. be sure there is some 5-10mm "fall" of the rear end while you take your car up from the ground.. the rear end has to work..
08-08-2012, 02:58 AM
---
These are 3mm 7075 t6 aluminium. The original L2 podplate is 2.2mm thick. The original podplates have a tendency to bend more easy. I had a L2 podplate bend last weekend. (not sure how long it was bend, maybe i have driven a couple of races with it but found out on monday after dissasembling the pod).
They will be for sale through an online shop once the podplate is final. It will not be long.
Just something for the T-bar loving crowd
---
Last edited by 2wdrive; 08-08-2012 at

03:34 AM

.
08-08-2012, 03:57 AM
Tech Initiate
Join Date: Jun 2011
Posts: 28
---
Thanks a lot for the info, I have noticed I can't get any droop out of the pod, I think my T-bar must be really think. It is the stock one that came with the kit. I also think I need to spend some time balancing the car, I will stick with trying to dial it in. A few friends at the track were saying the 6.5 is just too much for that old car, shame on them!
2wdrive - Cool, do you have an online store or on someone elses?
THEBIGBULL - PM sent, thanks!
08-08-2012, 09:49 PM
Tech Master
Join Date: Jan 2003
Location: St Albert AB. CA
Posts: 1,304
---
Hey 88, I didn't receive your pm, try it again or email me at
[email protected]
Be Kool
TJ
08-13-2012, 02:58 PM
Tech Adept
Join Date: Apr 2012
Location: Cancun, Mexico
Posts: 167
Dusty days doin' donuts
---
The RC10LSS wide hooked up pretty good ........until the tires filled with the evil red paint dust. Then it was donut time. We are concerned that if we sweep the track the broom will cause more of the paint to separate from the asphalt surface of the outdoor basketball court that we use making it an even worst situation. Perhaps using a leaf blower?? no water is available to wash the track.
08-13-2012, 03:57 PM
Tech Master
Join Date: Aug 2009
Location: Tucson, AZ. USA
Posts: 1,247
---
A heavy duty commercial blower will do the job, though it might also erode the paint a little. It's much better than sweeping. It is also a hot, dirty job that requires ear plugs and possibly a face mask. I used the plugs, but not the mask, depends on sensitive you are to the dust. Start at one end and work toward the other.
08-15-2012, 06:57 AM
Tech Fanatic
Join Date: Jan 2009
Location: Poland, Warsaw
Posts: 778
---
Hi!
Maybe stupid but why not ask?
I just put fluid cs competition grip (this thicker one) on pro10 lilacs tires (spec ones) for ~16h, tires put to bag for night.
Now next day foams are very nice, under finger are more nice then same tire/compund with markus mobers foam fluid 30min.
Now what I think and maybe want.
In my 200mm pan car with sophia body (rules like wgt), tires with markus mobers start working bad when they "over soaked". It looks like rear end has too much grip or something like that, must drive few times on dusty place
Question is, tires prepared with another fluid can be better? few sets for all event, just take them from bag and put on car?
Just thinking, same tricks do drivers when can do with 1/8th nitro on road scale
put thicker fluid on foam day before ...
Also I think about small machine like capricorn to made soaking tires better
Regards and sorry for that stupidyty
m.
08-15-2012, 08:45 AM
---
pre soaking has it merrits but what if it rains on race day
? The tires will be more or less useless when they get soaked too long in a bag.
We don't wear the tires in one go like they do in 1/8 scale so any additive that is still in the tires will degrade the foam further.
Tuning on the spot is not possible either.
Best thing to do is to find out how much you need to soak before it wears off during the run. Anything more is wasted and will degrade the natural rubber in the foam even more then usual. Degraded/soft foam is more wear and less traction when re-using the same tires.
At least that is my experience.
08-15-2012, 04:08 PM
Tech Fanatic
Join Date: Jan 2009
Location: Poland, Warsaw
Posts: 778
---
Thank you for answer.
I will just prepare one set of jacos/lilacs + bsr lilacs for rear end.
Then I will try it.
If rain I usually no race, there is no roof for drivers
so need 2nd one with umbrella
Regards!
michal
08-27-2012, 04:29 AM
Tech Elite
Join Date: Nov 2001
Posts: 2,644
---
German pancar nationals just been held last weekend. Here you can see a video from the 3rd leg of A-Mains
http://www.youtube.com/watch?v=tXmsQcyav-U
Fastest laptimes are about 0.5s faster than 1/8th cars track record. Motors are either 4T or 4.5T or 6 - 7T delta wind and 2S battery of course. Data logging from one car is showing about 90.000 rpm from the motor at max. speed what equals to about 140 km/h.
08-27-2012, 05:39 AM
---
awesome.........42 pro10 drivers! Wish i could have been there....
instead i had a race in the WET with a handfull of drivers.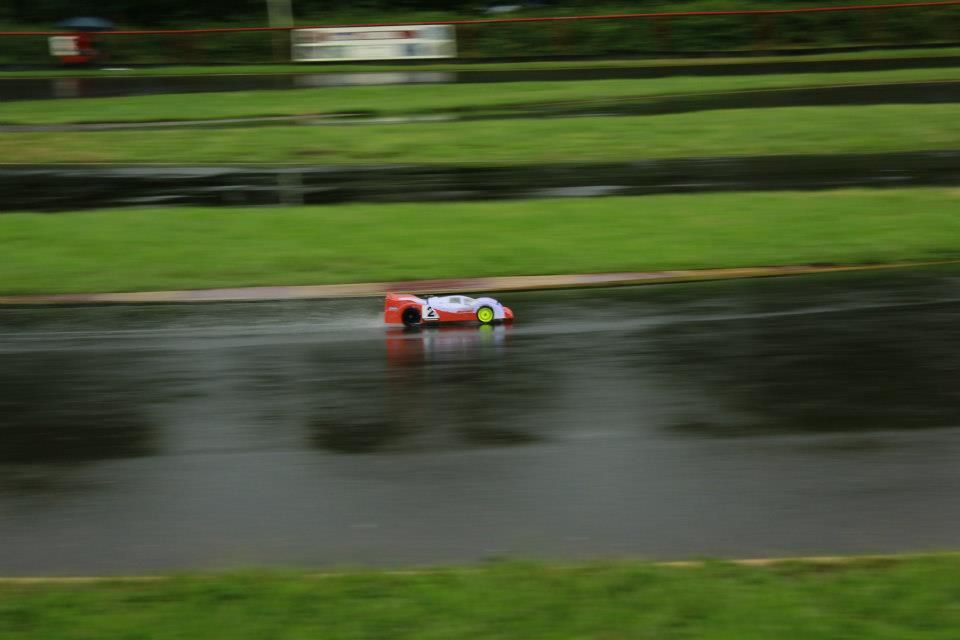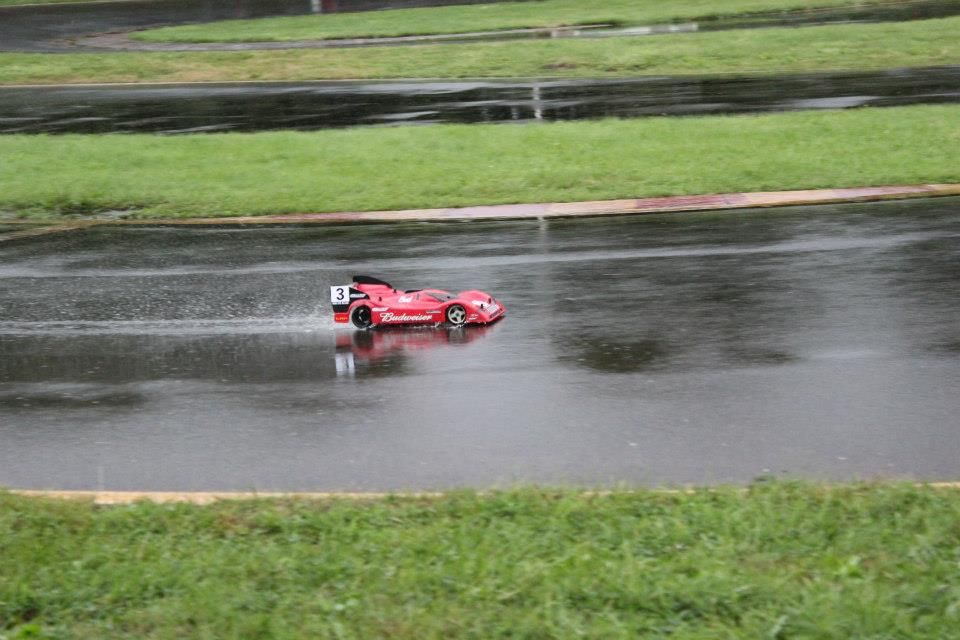 ---
Last edited by 2wdrive; 08-27-2012 at

06:19 AM

.
08-27-2012, 08:08 AM
Tech Regular
Join Date: Jan 2008
Location: Sweden
Posts: 345
---
I wish it was possible to get hold of the tires, I guess it is rubbers?
The motor is that sensorless? what brand and turn/Kv?
Thanks!
Johnny, from an all to often wet Ostersund in Sweden
08-28-2012, 12:06 AM
---
The wheels are tamiya caps on pro10 tires.

I use a corally red line sensorless 13.5t and a fake ezrun 60A esc. Others use 10.5t. My ride height is 10+mm.
08-28-2012, 04:42 AM
Tech Regular
Join Date: Jan 2008
Location: Sweden
Posts: 345
09-01-2012, 08:33 AM
Tech Elite
Join Date: Aug 2001
Location: Santa Rosa CA
Posts: 2,597
---
Originally Posted by
2wdrive
I have read in the 1/10 pancar thread years ago that someone tried it out and that they didn't work. The rubber on those BSR capped tires is a harder kind of rubber designed for dry asphalt. It is not the same rubber as the Tamiya caps that are very soft and specially suited for the rain.
you ever try bike tubs. My old friend make what was cal torpedo tubs for dirt oval. They might work also and if they do you spend about 5 but for 20 tires worth.