Pro 10: 235mm Le Mans Prototype Pan Car Discussion
09-07-2009, 10:50 AM
---
the sp10v ,loved that car
became dutch champion with it in 1994
i've got a picture of it in superspeed way trim and twin schockabsorbers and a mmsII
see if i can find it
ps:and always nice to see that i'am not the only one who visits my site(the sp10v pics)
09-07-2009, 11:51 AM
---
the blast from the past
09-07-2009, 12:05 PM
Tech Master
Join Date: Mar 2009
Location: The Netherlands
Posts: 1,316
---
Great pics!

i think i saw a configuration like that before but i am still looking at how those shocks are attached to the chasis so they absorb the roll or back and fron movement. Is the upperplate where the shocks are connected to attached to the pod?
09-07-2009, 12:07 PM
---
dat leg ik je wel uit op het andere forum
and in english:i will explain that on the other forum
09-07-2009, 12:18 PM
Tech Master
Join Date: Mar 2009
Location: The Netherlands
Posts: 1,316
---
09-07-2009, 01:50 PM
Tech Adept
Join Date: Dec 2006
Location: Somewhere over there, S.E. PA
Posts: 243
---
I run an Assoc RC10LS. I dug it out of retirement when the WGT cars came out. I figured I'd run it to help get the class going and then buy a WGT. There were a few guys that came out with their WGTs on a regular basis. Then they sort of disappeared from the track. I did make it out to a big nitro track (1/8 friendly) twice this summer to work on getting my Pro 10 to handle and to see how fast it could go. It can handle but I was no where near where I need to be speed wise. I was running 19T brushed and 6 cells. Next year I'll move to lower wind brushless. I seem to be the only one running Pro 10 around Philadelphia. There is a "vintage" race in Conneticut in October where one of the classes is Pro 10. Wish I could make it up there for that.

Anyway Cheers and keep the rubber side down.
---
Last edited by Lee_123; 09-07-2009 at

02:03 PM

.
09-07-2009, 02:46 PM
Tech Master
Join Date: Dec 2005
Location: Tewkesbury, UK via Plymouth, UK.
Posts: 1,259
---
If you look at the picture above, you'll notice there are a couple of holes next to each of the rear bodyposts. There is a nut and bolt directly underneath these holes which you could attatch a post too. Those posts then stick up through the cross brace and one end of the shock attatches to it. The other end of the shock bolts along the length of the links on the side of the chassis. This would only further control forward to aft motion as the motor pod moves left and right independantly of the forward to aft motion of the links. Hope that makes sense!!
To be honest, I did wonder how the rear end worked on this chassis many, many years ago but after having one, it all makes sense!
I also have a couple of SP12V's here, and the rear end on them works in a similar, but differant way.
09-07-2009, 05:19 PM
Tech Apprentice
Join Date: Mar 2009
Posts: 90
Pro 10 in Houston
---
In Houston we run Brushless 3.5s with minimum of 6000 Lipo's. John Stranahan has pioneered a wicked double a-arm car with a true 3 link rear and it is just scary fast but stable.

Our World Gt cars are 10.5s on 3400 Lipo 2 cells and some of us think they are fun, but Pro 10 UNLIMITED is where it's at. Now if John would just engineer AWD it would be heaven.
09-07-2009, 07:04 PM
Tech Master
Join Date: Dec 2005
Location: Tewkesbury, UK via Plymouth, UK.
Posts: 1,259
---
Here's the track I recently ran my GT10 car on. I was using a 9x2 with a 4 cell pack, and it was not that good. Plently of traction and what have you, just too slow! Geared at 65mmpr it was a real dog going through the infield, and was n't that quick going up the main straight either! I used to race Pro10's at the same track many years ago, and they were awesome. Once I get back to the UK, I am looking forward to going back up to the track and having a blast with my new Pro10, with a 4.5 brushless in it, haha!!!
09-07-2009, 07:11 PM
Tech Champion
Join Date: Sep 2008
Location: Deerfield, WI
Posts: 5,879
09-07-2009, 07:24 PM
Tech Champion
Join Date: Sep 2008
Location: Deerfield, WI
Posts: 5,879
---
09-07-2009, 08:13 PM
---
This is 145' x 65'. WGT here runs 1c/10.5 and it works well. Nitro TC is a bit tight in the infield, but certain layouts get into 2nd gear a few times per lap. Pro10 UNLIMITED would look great dancing on these curbs, but the shear speed would probably be too much.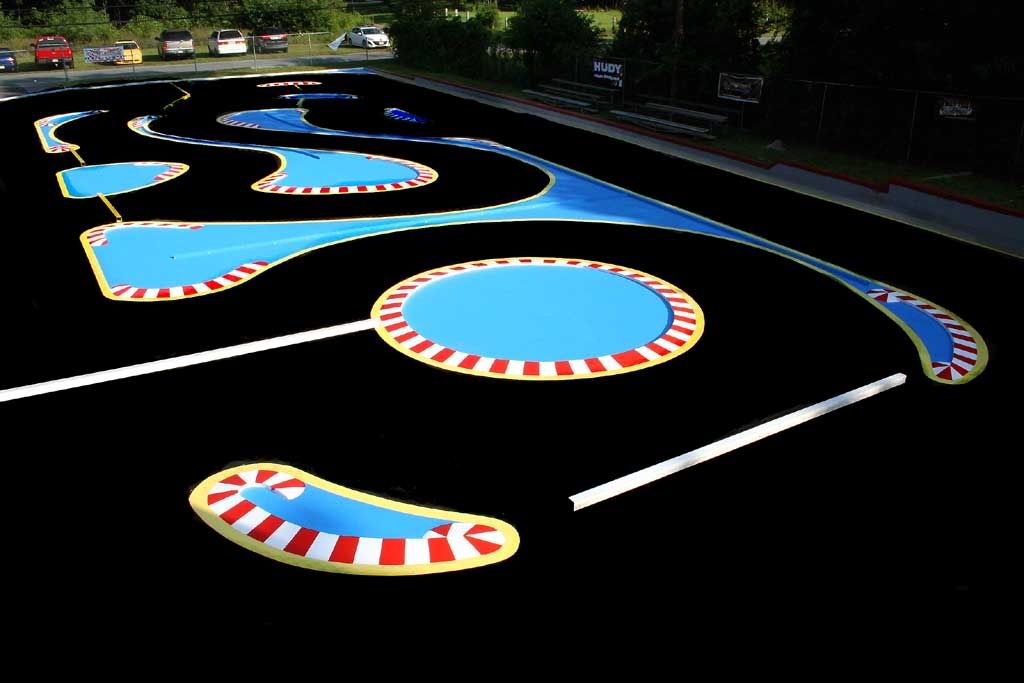 09-08-2009, 10:59 AM
---
That looks pretty good man. Speed is a bit of a concern (the last thing we need is something like this:
http://www.youtube.com/watch?v=TtV1DZ3imW0
) but the Euros have shown that Pro10 can be done in a way that can be safe and still fun)