Pro 10: 235mm Le Mans Prototype Pan Car Discussion
09-04-2014, 02:09 AM
---
I have to admit Dale, that would be an excellent idea to make the medium downforce 905B again.
It's a great body that's just inbetween the 905B HD and the Nissan P35.
We really miss that body over here...
09-04-2014, 09:05 AM
Tech Elite
Join Date: Jan 2012
Location: North America & Europe
Posts: 3,782
09-04-2014, 09:12 AM
---
And for those who are still guessing about the wheels on my car. Yes they are Xceed or Shepherd tires...
09-04-2014, 09:26 AM
Tech Champion
---
We've (Organic Mechanic, celt and I) been running the Xceed Enetti carpet tires and really like them. I've run the medium and hard compounds front and rear. I really like the mediums. The wheels are rigid and don't flex much with the bonus of not being brittle. They are 2 mm taller out of the box than BSRs, so roll out change is needed to get similar performance. I have about 15 packs through the mediums with almost no rear wear. Fronts are a bit coned due to driving with unknown damage. I have 2 more front sets coming.
09-04-2014, 09:50 AM
Tech Addict
Join Date: Nov 2003
Posts: 634
---
A big "THANKYOU" to all you guys that answered my question about the wheels in the photo.
It so nice to see that the Pro10 classis is increasing in popularity. I've always thought that the class was totally cool.
With the modern technology, I can't even imagine how fast they are. Sweet!
OK....more questions. Thanks in advance for your answers. The more input I receive from you guys, the better my understanding of how to make a better mousetrap. When I'm able to hear
"many"
opinions, then I look for a common thread that weaves through them - and that helps me to draw a more sure conclusion.
Where does the Hi-Downforce 905B have too much unwanted downforce:
Front?
Rear?
Both front and rear?
What type of tracks does the Hi-DF 905B have too much unwanted downforce?
Large paved?
Small paved?
Indoor carpet?
Bruce at Speedmerchant is hard at work on an all new Pro10 body. From what he has told me - it will be awesome. I'm trying to give him some solid advice on the project. I think he's shooting for a release sometime this fall.
Thanks again guys - Dale
09-04-2014, 10:12 AM
Tech Master
Join Date: Nov 2001
Location: SoCal
Posts: 1,460
---
Dale, the front wing is what is given to much down force on the HD version for carpet and asphalt tracks small and large. The Medium down force version is a good balance overall for any track. If you could make a 10th scale version of the AMR body that would a good body. My favorite body is the hot bodies Toyota GT1, great overall balance. The 905B medium down force is my second choice.
09-04-2014, 10:45 AM
---
Wow wow wow... Wait up guys...
The downforce is definately wanted on the body. We run on large outdoor asphalt tracks and on some of them the HD is great!!! So keep on making this body please...
It's just that on some tracks, you need a different body because the weather is warmer or the grip is different.
In my opinion, the best advice you can give Bruce is... Make the 905B MD body!!!
Why reinvent the wheel when it's already turning great.
09-04-2014, 10:58 AM
Moderator
Join Date: Aug 2001
Location: Corvallis, OR
Posts: 9,161
---
It's not that the HD 905 has too much downforce overall, it has too much front downforce or perhaps the front wing is actually deflecting air all the way over the rear to create an imbalance. That thing is just a snowplow on an otherwise great body. Outdoors, you'd have to stiffen your front springs to compensate and then you'd wind up setting up to a body rather than using the body as part of your setup. Indoors, it made the Pro10 cars twitch like a 1/12th scale regardless of speed and even running brushed stock years and years ago, it was a "slow" body in a straight line.
Of the "back in the day" bodies, the HB Toyota was always my starting point; just balanced; then I would go to the MD 905 if I needed to free the car up a little on the rear or the P35 to tighten it up.
New GTP/"LMP1" bodies would be a huge step towards bringing the class back though.
09-04-2014, 11:00 AM
Tech Champion
---
I'm all for a 10 scale AMR! That would be sweet. My biggest issue is fitting a foam bumper under the body. The notch in the 905B is a PITA to shape around. I'm enjoying my current P 905B HD on carpet. I always know where my car is and what it is doing. Rear end is planted at high speed and the car is still planted with steering in sweepers. I'm not having any over steer or under steer issues, mind you its a very high bite track. I have yet to traction roll, much less pick up an inside front tire. The diff only chirps on sharp turns leading to high speed sections.
09-04-2014, 11:16 AM
---
Last Benelux+ the 905B HD brought me to the podium in second place. First place was also an HD and third a P35.

As I said, we don't drive small tracks nor carpet. Large 8th. scale tracks with high speeds and cornering.
It's definately a great body but we need something between the HD and the P35.
09-04-2014, 11:20 AM
Tech Fanatic
Join Date: Apr 2014
Location: Mt. Morris, WI.
Posts: 833
---
+1, please continue making the 905B HD, it works great on indoor carpet.

905B HD, 905B MD, and Nissan P35 are the bodies I would regularly buy. Also would buy a Protoform version of the Blitz P908 body for outdoor mod Pro10, but many fewer of those. I'm open to other bodies as well, those 3 are just the one's I know enough about.

On a side note, I seriously keep 5 new 905B HD's hanging on my wall at all times just so I know I'll have one and won't run out lol.
09-07-2014, 02:58 PM
Tech Addict
Join Date: Sep 2003
Location: Auckland NZ
Posts: 615
---
Had first shakedown test of full test car yesterday, still some work to do with the rear end geometry/rollcentre.
Car was fine on full size new tyres out of the box (UFRA) apart from massive amounts of wheelspin out of slow corners, got better and better as the tyres got smaller though with a few settings changes as well
At the end of the day was matching mod TC car for pace, we run 13.5 2S in pro10 here, happy enough for a first run.
Shocks are now layed over compared to this pic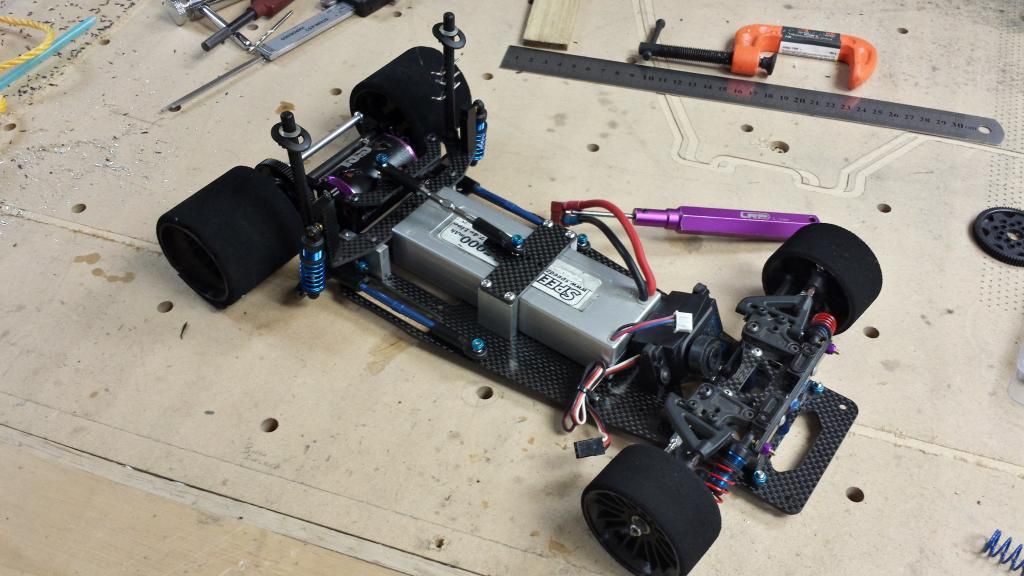 Had to cut the Xray chassis to clear the links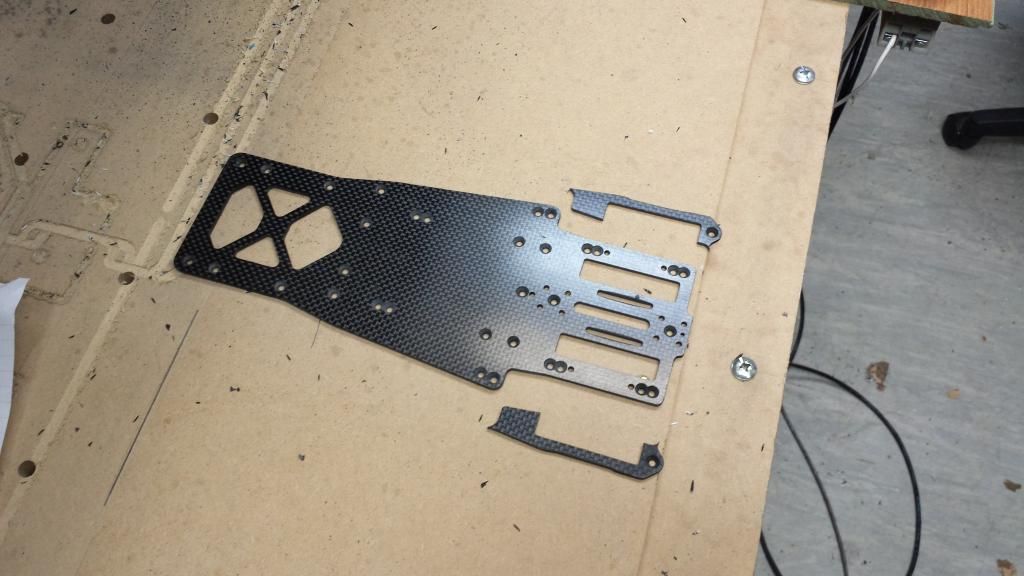 Finished it late the night before and chucked it on the scales before tweaking etc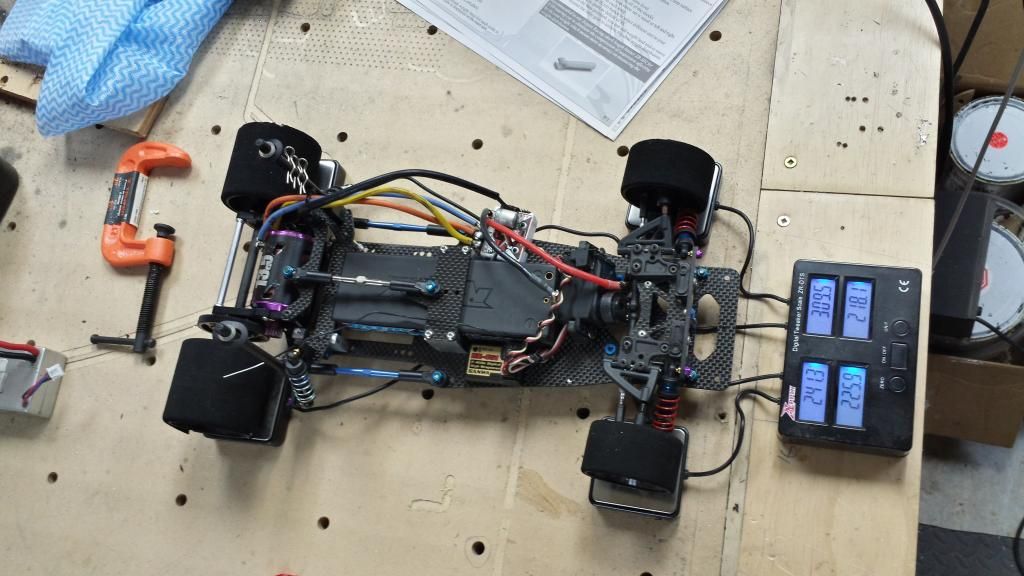 At the track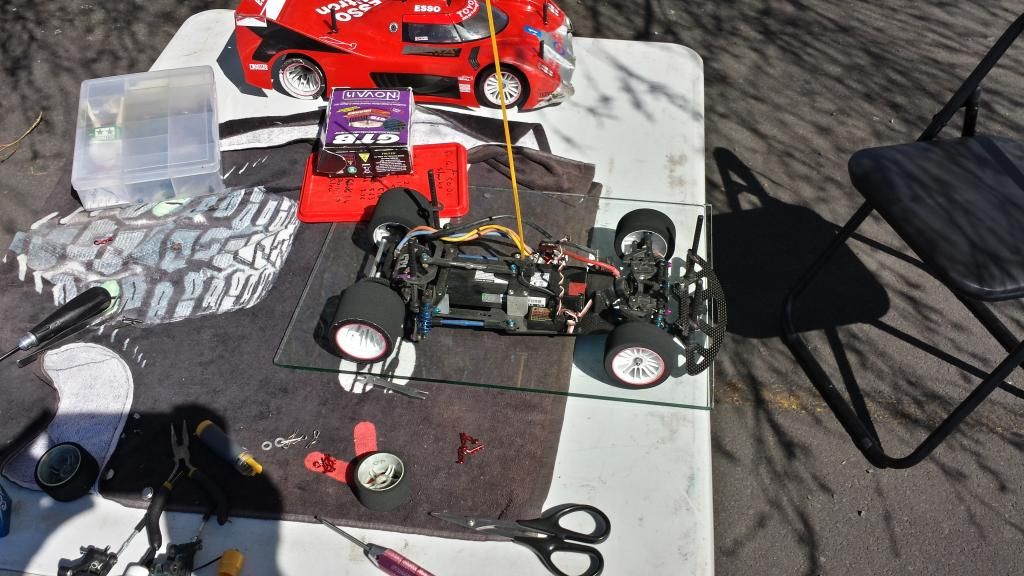 09-07-2014, 03:12 PM
Tech Elite
Join Date: Nov 2012
Location: North Carolina
Posts: 2,448
---
@Fathead,
That's a cool design. The car that I race with the Sports Car Club of American has a three link rear suspension with a panhard bar like yours.
Looking at your corner weights, it seems that the difference between 309.5 and 241.3 seems pretty big. Did you race it with this big of a difference?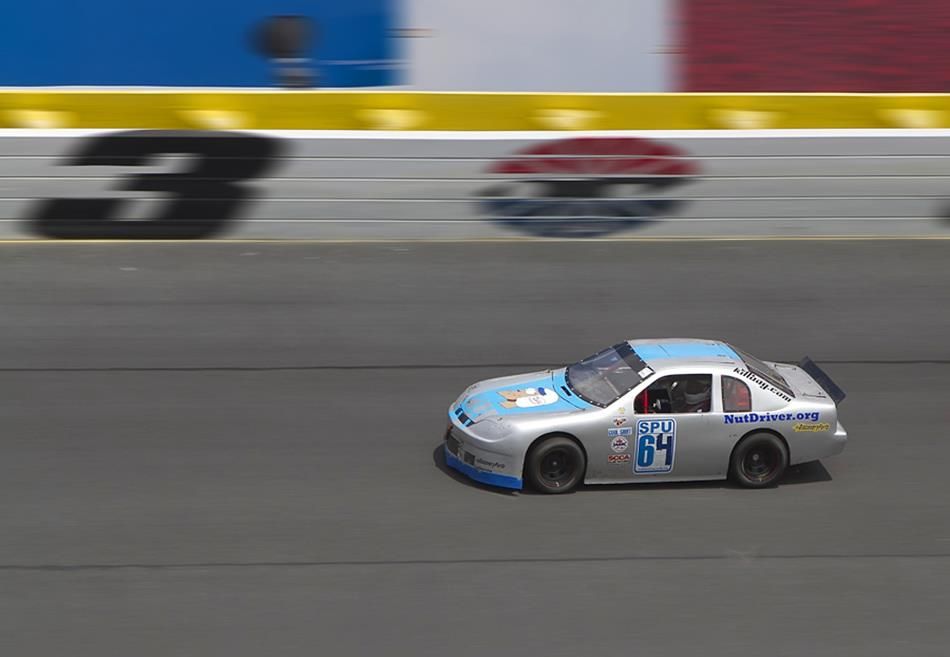 09-07-2014, 03:31 PM
Tech Addict
Join Date: Sep 2003
Location: Auckland NZ
Posts: 615
---
Cool man! Yeah the 3-link with panhard is a pretty well proven design on full size cars, might switch over to a watts linkage on my car yet too.
Been toying with the idea of using an a-frame link to eliminate the panhard bar too but that's for another day.

I forgot my scales when I went to the track so I don't know! I did manually check the tweak on the setup board at the track after a few final adjustments and it came up alright so who knows, I don't have the car with me at the moment to check it either, my friend who is testing it has it currently.
09-08-2014, 03:01 PM
Tech Champion
---
Roadkill is back in service. Some more spares would be nice.