Tamiya F104 Pro!
12-08-2011, 09:29 PM
---
Originally Posted by
arix
It will not drop right in, but you can make it fit. You dont need to buy any other chassis to do it either.
Go read this and you will see how to do it.
http://www.tamiyausa.com/articles/fe...article-id=551
12-09-2011, 08:39 AM
---
Originally Posted by
al dente
by loosening the side roll, i would assume that you are talking about the dampening tube. i have run with it off. i have also narrowed the t plate trying to free it up that way as well. i have tried loosening the center screw, i will try that some more. and i will lengthen the shock as well



rubber.

thanks guys
Sweet! Mario in an F1 ride.
12-09-2011, 11:02 AM
Tech Adept
Join Date: May 2010
Posts: 137
---
So today I decided to proceed and buy the motor + esc for the f104x1 I will be building soon, the rules at the track is 13T brushless, doesnt matter what esc or motor, the guys at the track all have the Hobbywing 13 brushless esc + motor but I was thinking that there should be another solution out there.
I noticed that the motor (hobbywing 13T) has very big cooling fins and the actual size of the can is not as big as a standard sized motor which concerns me about the performance, any other options out there for around $100 ?
Maybe a 13.5T with higher kv rating from hobbywing as well?
Here is the one they are using:
http://www.hobbypartz.com/ezrun-35a-...tem-combo.html
I was thinking maybe buying the hobbwing 60A ESC:
http://www.hobbypartz.com/ezrun-60a-...-1-10-car.html
And this Hobbywing full size 540 13.3T 3300kv motor:
http://www.hobbypartz.com/ezrun135t.html
Is the 60A ESC worth it for the extra performance? or is the power draw to much? My friend has the 35A ESC and a 5000mah lipo which gives him 40min of runtime.
---
Last edited by arix; 12-09-2011 at

01:02 PM

.
12-09-2011, 11:03 AM
---
F1Paitlabs Decals are available at TQ RC RACING
Click Here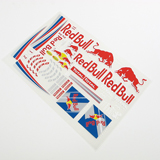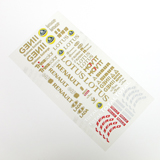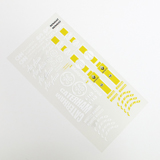 FYI, Thanks.
12-09-2011, 11:21 AM
Tech Fanatic
Join Date: Jan 2005
Location: Northwest Ohio
Posts: 980
12-10-2011, 07:26 PM
Tech Fanatic
Join Date: Dec 2009
Location: Aliso Viejo, CA
Posts: 902
---
Can anyone confirm the part number for the roll damper piston itself? Turns out when you break T bar the roll damper piston is susceptible to breaking as well. Thanks in advance
Available someday soon I suppose:
Originally Posted by
TPhalen
Until then superglue I guess :/
---
Last edited by Tron; 12-10-2011 at

09:31 PM

.
12-12-2011, 03:09 AM
Tech Adept
Join Date: Feb 2009
Location: Europe
Posts: 131
---
Oil damper could be a nice upgrade I think. My roll damper piston is also getting loose from a set srcew (looks not broken).
12-13-2011, 04:23 PM
Tech Initiate
Join Date: Oct 2010
Posts: 38
A or B
---
Tamiya foam rears for med to high grip carpet. Usually run b front A rears, anyone have luck with B's all around?
12-14-2011, 02:14 AM
Tech Rookie
Join Date: Mar 2009
Posts: 4
Foam tires
---
I bought a f104 pro a coupla months ago.......and was just wondering what type of foam tires come with the kit. What are the fronts? What are the rears?
What are the shore count also? Anybody know?
12-14-2011, 03:58 AM
Tech Adept
Join Date: Jan 2003
Location: Melbourne/Australia
Posts: 131
---
Hi Guys,

Just got myself a F104x1 and ready into F1.

However, I have purchased Tamiya rubber tires and tamiya foam rims..

I searched around and know that Pitz tires can be glue on foam rims, but wondering are those tamiya rubber tires also able to glue on foam rims? Or do I have to purchase those tamiya mesh rims.

Many Thanks

Zenkins
12-14-2011, 04:09 AM
---
12-14-2011, 10:17 AM
Tech Addict
Join Date: Jul 2011
Location: United Kingdom
Posts: 556
---
How do you guys like your F104 to handle?
Understeering and predictable or Oversteering and a bit of a handfull

How do you attack corners? do you take the "perfect line" and keep it all in control? or do you like the rear to steer the car a touch?

I actually change my driving style for foams vs rubber which I think is probably a bit odd, but I like understeer with rubber and to get it to really take smooth lines and the ideal line. Where as with foams I like the back end to be a bit looser and to be able to get the car to rotate in the rear and slide a touch.
12-14-2011, 12:08 PM
Tech Apprentice
Join Date: May 2007
Location: Socal
Posts: 99
---
hey guys, I just put on the aluminum diff housing on my F104w, but now the axle is too short to mount the tire.

Is there another part I need to make this work?

TIA,
Ron
12-14-2011, 12:16 PM
Tech Apprentice
Join Date: May 2007
Location: Socal
Posts: 99
---
nvm, just found it, needs carbon shaft